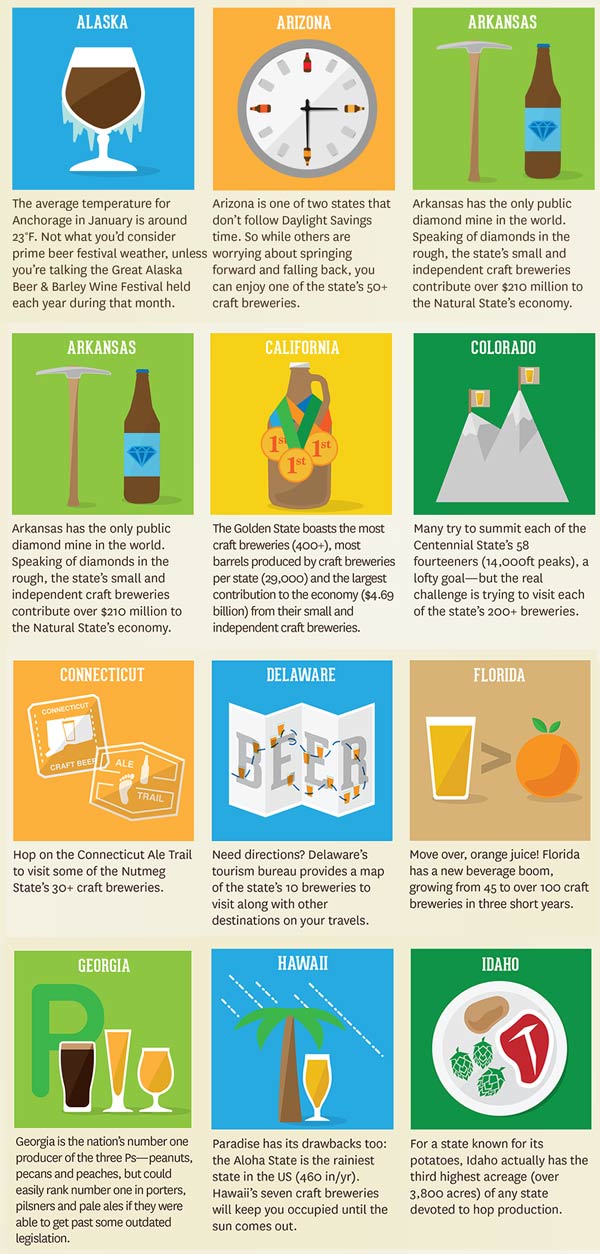 Cheers to the Sweet Land of Li-beer-ty
American Craft Beer Week® Celebrates Small and Independent Brewers for 10th Consecutive Year, May 11-17, 2015
Boulder, CO • April 30, 2015—From California to New York Island, from the redwood forest to the Gulf stream waters, beer lovers everywhere will celebrate the country's small and independent craft brewery renaissance during American Craft Beer Week (ACBW), May 11-17. All 50 states will hold events including exclusive brewery tours, special craft beer releases, food and beer pairings, tap takeovers and more to honor the ever-advancing craft beer culture and unite tens of thousands of beer lovers nationwide.
"American Craft Beer Week has provided independent beer fans across the country a chance to support their local breweries since 2006," said Julia Herz, publisher of CraftBeer.com and craft beer program director at the Brewers Association. "With celebrations happening in all 50 states, this is truly an annual national event that recognizes all those involved in making craft beer from small breweries in the U.S. such a success."
In the spirit of celebration this year, CraftBeer.com created an interactive graphic with fun facts to commemorate each state and their commitment to craft brewing.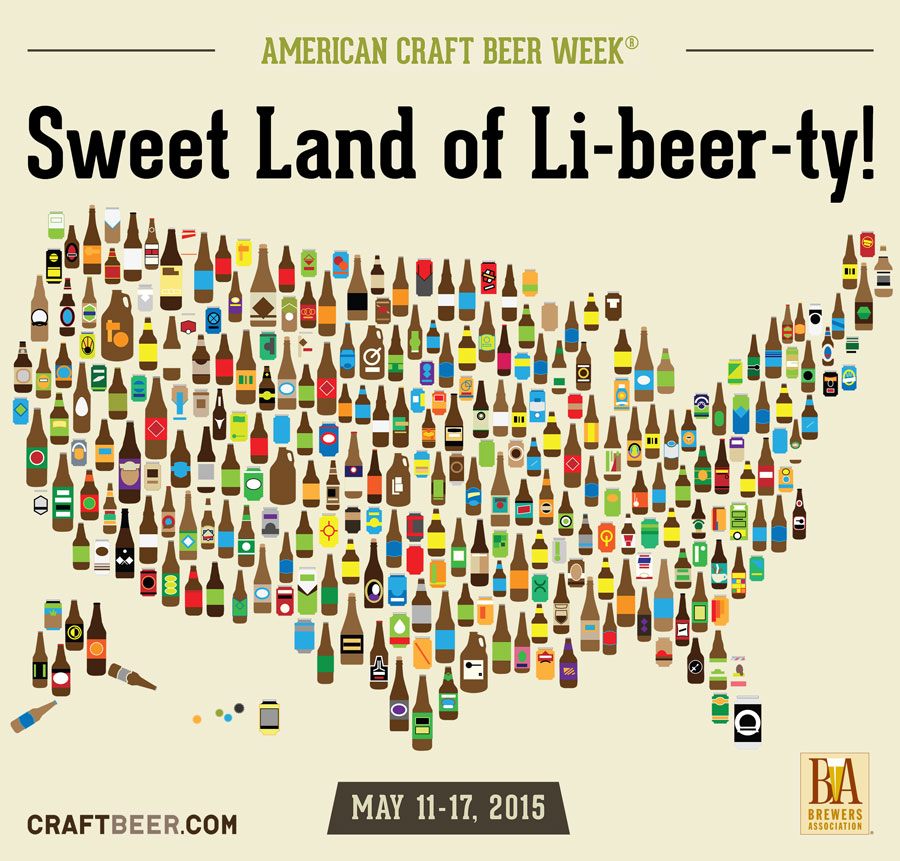 Download the high resolution version of the featured graphic
Untappd, the mobile-based social network that connects breweries with craft beer lovers, is once again offering an American Craft Beer Week badge for users who check in during ACBW events.
To find a local celebration, event or promotion, visit CraftBeer.com/ACBW. A selection of scheduled 2015 celebrations includes:
• ACBW ~ Beer & Cheese Pairing @ Copper Kettle Brewing, Denver, CO • AmeriCAN Canned Craft Beer Festival, Scottsdale, AZ • American Homebrewers Association Rally at Independence Brewing Co., Austin, TX • Buffalo Wild Wings Toast their Local Brewers, Nationwide • Finger Lakes Craft Beer Week, Finger Lakes, NY • Jazz Lights in the Park Craft Beer Garden, Little Rock AR • Kalona Brewing Co. Brew Master's Dinner, Kalona, IA • One Well Brewing Pumpkin Peach Ale Release, Kalamazoo, MI • Over 80 Fox & Hound, Champps, and Bailey's restaurants are transforming into Craft Beer Central, Nationwide • Triton Brewing Company Tap Takeover at Brixx Wood Fire Pizza, Fishers, IN
Find an expanded list of U.S. beer weeks, join the conversation on Twitter with #ACBW and look for updates on the ACBW Facebook page.
###
About the Brewers Association The Brewers Association is the not-for-profit trade association dedicated to small and independent American brewers, their beers and the community of brewing enthusiasts. The Brewers Association (BA) represents more than 70 percent of the brewing industry, and its members make more than 99 percent of the beer brewed in the U.S. The BA organizes events including the World Beer Cup®, Great American Beer Festival®, Craft Brewers Conference & BrewExpo America®, SAVOR℠: An American Craft Beer & Food Experience, AHA National Homebrewers Conference, National Homebrew Competition and American Craft Beer Week®. The BA publishes The New Brewer magazine and its Brewers Publications division is the largest publisher of contemporary and relevant brewing literature for today's craft brewers and homebrewers.
Beer lovers are invited to learn more about the dynamic world of craft beer at CraftBeer.com and about homebrewing via the BA's American Homebrewers Association. Follow us on Twitter.
The Brewers Association is an equal opportunity employer and does not discriminate on the basis of race, color, national origin, gender, religion, age, disability, political beliefs, sexual orientation, or marital/familial status. The BA complies with provisions of Executive Order 11246 and the rules, regulations, and relevant orders of the Secretary of Labor.
Contact Info
Company: The Rosen Group (on behalf of the Brewers Association)
Contact: Raquel Hochroth
Email: Raquel@rosengrouppr.com
CraftBeer.com is fully dedicated to small and independent U.S. breweries. We are published by the Brewers Association, the not-for-profit trade group dedicated to promoting and protecting America's small and independent craft brewers. Stories and opinions shared on CraftBeer.com do not imply endorsement by or positions taken by the Brewers Association or its members.