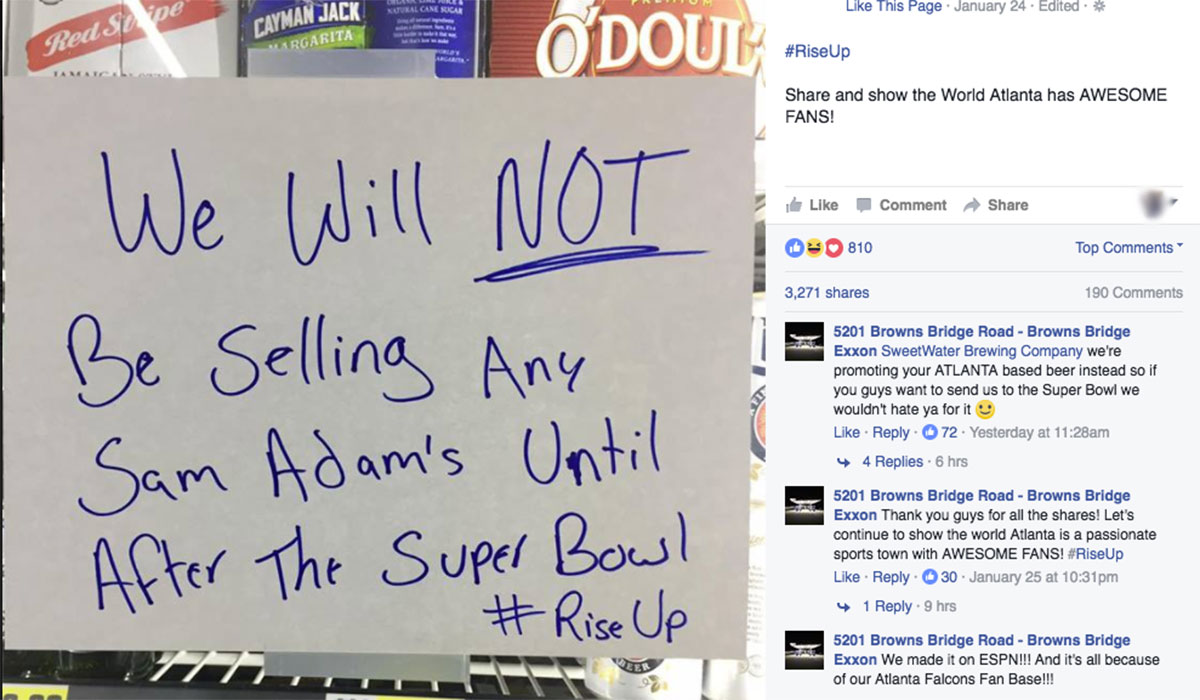 SweetWater and Sam Adams Talk a Little Smack on Twitter Ahead of the Big Game
A Georgia gas station manager, incensed by a Boston sports writer's slam on Atlanta Falcons fans, lit a match that sparked twitter smack talk between two of the biggest craft brewers in the U.S. ahead of next Sunday's big game.
Atlanta's SweetWater Brewing and Samuel Adams, made by Boston Beer Co., took aim and lobbed tweets back and forth Friday. It all started when SweetWater tweeted a link to a story about Viral Chhadua, a Gainesville, Georgia, gas station manager who decided not to sell the Boston-based beer until after the super bowl game between the Atlanta Falcons and the New England Patriots.
(MORE: 9 Breweries You'll Want to Follow on Instagram)
ESPN reports Chhadua was frustrated by a column titled "It's hard to get pumped up about a Super Bowl against … Atlanta," by the Boston Globe's Dan Shaughnessy.
"This article pops up and belittles our sports teams and fan base," Chhadua said. "I was irritated at the shots this guy took at the fan base and Atlanta as a whole."
Chhadua posted a photo to the gas station's Facebook page saying he'd be promoting Atlanta's SweetWater instead.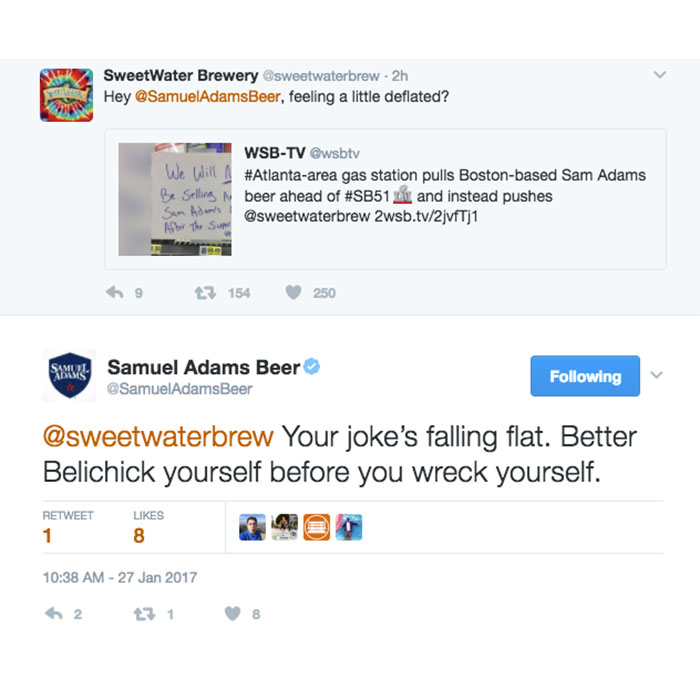 SweetWater, already known locally for poking the bear on Twitter with fellow Atlanta brewery Monday Night, was quick to playfully taunt Sam Adams: "Hey @SamuelAdamsBeer, feeling a little deflated?" poking fun at so-called "Deflategate," where the NFL accused members of  the Patriots staff of deflating footballs during the 2015 AFC Championship game — an obvious sore subject for die-hard New England fans.
(MORE: Travel Website Ranks Best Value Cities for Biking and Beer Lovers)
The Sam Adams' social media team was quick to respond, saying "@sweetwaterbrew Your joke is falling flat. Better Belichick yourself before you wreck yourself," a hat tip to an epitaph Patriots fans rattle off in honor of Patriots' head coach Bill Belichick.
Even before SweetWater got in the mix, Sam Adams had poked fun at the story.
@SamuelAdamsBeer And don't worry Atlanta. We're still drinking @CocaCola . ?

— Samuel Adams Beer (@SamuelAdamsBeer) January 26, 2017
We're waiting to see if the two breweries throw a friendly wager down on the game. Stay tuned, beer lovers.
CraftBeer.com is fully dedicated to small and independent U.S. breweries. We are published by the Brewers Association, the not-for-profit trade group dedicated to promoting and protecting America's small and independent craft brewers. Stories and opinions shared on CraftBeer.com do not imply endorsement by or positions taken by the Brewers Association or its members.