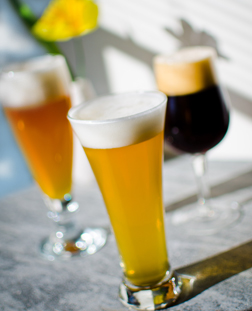 Craft Beer Spring Seasonals 2013
While it may still be cold in many places, the anticipation for warmer temps and time outside make beer lovers thirst for craft beer spring seasonals by America's craft brewers. These diverse beer offerings will start hitting the shelves soon.
"The first signs of spring come every year when craft brewers across the country announce their specialty crafted gems which take advantage of the springtime's light, refreshing and thirst quenching flavors," said Julia Herz, publisher of CraftBeer.com and craft beer program director of the Brewers Association. "During the season of renewal, these palate pleasers tease the taste buds and offer a newfound appreciation for the ingenuity of small brewers."
To celebrate these special seasonal beers, we asked Brewers Association member breweries to share their latest releases. Here's what they had to share:
---
Hell or High Watermelon | 21st Amendment Brewery San Francisco, CA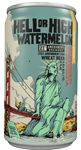 Like Lady Liberty, we stand for independence and perseverance. In the pursuit of innovative beer, there is no obstacle too great. No journey too long. No fruit too gigantic. This American wheat beer is brewed with real watermelon, for a flavor that's surprisingly crisp, dry and refreshing—summer in a can.
Availability:   AK, CA, GA, DC/MD, ID, MA, MN, NC, NJ, NY, OH, OR, PA, VA, WA
Alaskan Black IPA | Alaskan Brewing Company Juneau, AK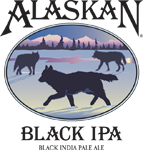 Alaskan's spring seasonal release is a new beer experience created from a combination of traditional beer styles. Alaskan Black IPA has the appearance of a porter or stout, but combines roasted, malty characters with the refreshing flavor and bright aroma of an American IPA.
Availability: AK, AR, AZ, CA, CO, ID, MN, MO, ND, NV, OR, TX, WA, WI
Anaheim Helles | Anaheim Brewery Anaheim, CA
Anaheim Helles is a traditional Bavarian-style helles, brewed with our proprietary lager yeast.
Availability: Anaheim, CA
Mai Bock | Atwater Brewery Detroit, MI
Traditional German-style helles bock, golden in color, 7.5 percent ABV, brewed to welcome the spring season.
Availability: CT, IL, IN, MA, MI, MN, NC, NY, OH, PA, WI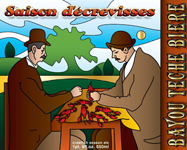 Saison D'Ecrevisses (Crawfsh Season Saison) | Bayou Teche Brewing Arnaudville, LA
While experimenting with five-gallon test batches on the antiquated propane rig our brewery uses for weekend crawfish boils, brewmaster Gar Hatcher crafted a biere to complement the spicy epitome of Cajun cuisine—boiled crawfish. Saison D'Écrevisses (Crawfish Season), our spring seasonal, is a Belgian-style saison spiked with a generous amount of rye malt and fermented with a distinctive Belgian yeast that gives this beer its dry and peppery finish.
Availability: LA
Dirtbag Dunkel | Bonfire Brewing Company Eagle, CO
A Munich dunkel lager, Dirtbag is released as the snowpack and seasonal crowds begin to dwindle in Colorado ski country. Medium brown with some ruby red highlights, the Dirtbag utilizes Saflager yeast, and a light dose of Mt. Hood hops.
Availability: Eagle County Colorado
Bullpen Pale Ale | Carolina Brewery Pittsboro, NC
Carolina Brewery is proud to offer this special beer created for the Durham Bulls Athletic Park. Bullpen Pale Ale is crisp and mellow, with a soft maltiness, balanced with a flavorful American hop character. This deep-golden ale is the perfect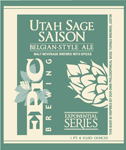 thirst-quenching complement to a day at the ballpark.
Availability: NC
Utah Sage Saison | Epic Brewing Company Salt Lake City, UT
Three different premium malts, rye, wheat, saison yeast and strong American hops create an extremely complex base for this saison. Sage, thyme and rosemary, as well as a dry hop charge of Citra hops adds herbal and tropical notes. An extremely dry, nuanced beer with touches of sage, papaya, guava is wrapped up with a crisp, peppery finish.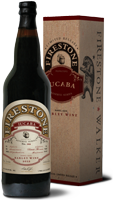 Availability: AZ, southern CA, CO DC, ID, MI, MN, NC, NJ, OH, OR, UT, VA
Sucaba | Firestone Walker Brewing Company Paso Robles, CA
Big, boozy bourbon and American oak aromas are combined with soft, chocolate, malty undertones with hints of cocoa, vanilla, tobacco, coconut and just a touch of dark cherry. This is definitely a sipping beer, best served in a brandy snifter.
Availability: nationwide
Cottonwood Low Down Brown | Foothills Brewing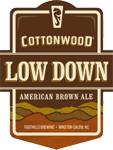 Winston-Salem, NC
Skillfully hopped with Amarillo, Willamette and Magnum hops, Low Down is brewed with North American, German and British malts. A hint of oats for roundness and silky goodness makes this one profound American brown.
Availability: NC, SC, eastern Tennessee, western Virginia
Creme Brulee Double Yummee | Freak'N Brewing Company Peoria, AZ
Creme Brulee Double Yummee an imperial stout that looks Yummee and tastes like desert. This is a lovely dance of chocolate, vanilla and caramel on the nose and tongue, wrapped in the smooth creamy texture of milk.

Availability: AZ
Orabelle Belgian-style Tripel | Great Divide Brewing Company Denver, CO
Orabelle is brewed with barley, wheat, oats and rye. This Belgian-style tripel is a golden beauty. Its two yeast strains, orange peel and a dash of coriander impart surprising complexity and richness to this delicate ale. Don't let Orabelle's demure nature fool you; this is one flavorful pour. Watch out, she's a charmer—one sip and you'll be in love.
Availability: CO, AL, AZ, CA, FL, GA, IL, IN, KS, MA, MD, MN, MO, NC, NE, NJ, NY, OH, OK, OR, PA, SC, TX, VA, WA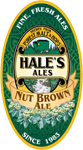 Nut Brown Ale | Hale's Ales Brewery Seattle, WA
Nut-brown in color, Hale's spring seasonal is made in the tradition of Irish mild ales. This session beer is firmly satisfying and nicely balanced, with a distinct, malty character. An ideal accompaniment with traditional pub style fare, excellent with fish and chips. This beer is also great when served with grilled or roasted meats and vegetables.
Availability: AK, ID, MO, OR, WA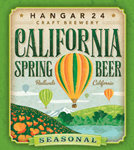 California Spring Beer | Hangar 24 Craft Brewery Redlands, CA
Renew your taste buds with our California-style spring beer, a unique fusion of a hoppy wheat beer brewed with a blended fermentation of Belgian and American yeast. Pours a hazy gold with a thick, white head. Floral hop aromas abound, complemented by the taste of tangy wheat and spicy Belgian yeast notes with a bitter, slightly sweet, bready finish.
Availability: southern and central California, in the San Francisco Bay Area and greater Sacramento area

Little Hump Spring Ale | Highland Brewing Company Asheville, NC
This American pale ale is meticulously handcrafted for full floral hop aroma and flavor. Brewed with grains from America's heartland—Simcoe® for bittering, Amarillo® and Cascade (both dry hopped) for aromatics—this beer finishes crisp and clean. Little Hump, like all our other seasonals, is named for a feature of the Southern Appalachian landscape. Little Hump is a mountain top in the Highlands of Roan, right beside the Appalachian Trail.
Availability: FL, GA, NC, SC, TN, VA
Barrel-aged Wreck Alley Imperial Stout | Karl Strauss Brewing Company San Diego, CA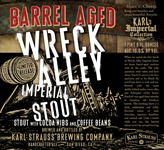 When we tasted the first batch of Wreck Alley Imperial Stout, we knew barrel-aged versions were in the cards. The only questions were when and how often? Batch #1 answers the first question, and as for Batch #2, you'll just have to wait and see. Brewed with the same darkly-kilned malts, cocoa nibs and Ethiopian coffee beans, Batch #1 was aged for three months in American oak bourbon barrels. The resulting brew is a dark, unblended and richly flavored union of dark chocolate, espresso, bourbon and toasted oak. Grab a bottle while you can, this limited release won't be around for long.

Availability: CA
Twin Sisters Double IPA | Left Hand Brewing Company Longmont, CO
A literal hop farm with twice the amount of hops as most IPAs, Twin Sisters grabs your nose upfront with its sweet pine and citrusy aromas. Balanced with a robust earthy backbone, Twin Sisters is incredibly drinkable and approachable for a double IPA.
Availability: nationally
Spring Hop Ale | Mayflower Brewing Company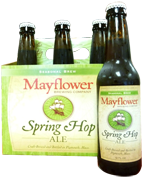 Plymouth, MA
Welcome the return of spring with Mayflower Spring Hop Ale. Here in New England, the new season brings an explosion of earthy scents and floral fragrances. We celebrate that renewal with a hoppy red ale that is all about the aroma. Four varieties of American aroma hops create a flavorful and citrusy brew that will reawaken your senses.
Availability: MA, NH, RI, CT
German Pilsner | Millstream Brewing Company

Amana, IA
It is not easy to make a beer pure enough to really let the hops stand out, but that is the goal of our pilsner. We use Saaz and Mt Hood hops that are a delight to the senses and impart an arousing aroma and satisfying flavor. The end result is a full bodied beer that has a pleasing hoppy aftertaste. When finished, our pilsner pours clean and bright. The palest of light straw color, it shines as a sparkling work of beauty and speaks volumes of our brewer's care.
Availability: IA, MN, SD, limited in Wisconsin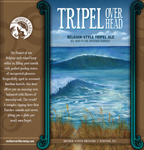 Tripel Overhead | Mother Earth Brewing Company Kinston, NC
Our barrel-aged Tripel Overhead pours a gold color and offers likable malty sweetness coupled with a bourbon forward aroma. It's a complex beer that transforms as it warms, exposing vanilla and coconut notes in the taste and finishing with a bit of heat.
Availability: GA, NC, Washington DC
Spring Batch | Mother's Brewing Company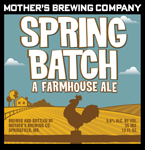 Springfield, MO
Inspired by the saisons of yesteryear, our unfiltered Spring Batch embodies the season of rebirth. With a deep golden hue and medium body, this farmhouse ale is born of love and balances earthy, floral and slight yeast flavors. Add a touch of fruity hops for a bright, dry finish and you'll feel renewed with every taste.
Availability: southwest, MO, southeast, MO, Columbia, MO, Jefferson City, MO, Lake of the Ozarks, Kansas City, MO and Kansas City, KS
Monks Trunk | NoDa Brewing Company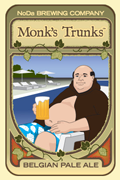 Charlotte, NC
This Belgian pale ale utilizes traditional Belgian malts and European hops. The Belgian yeast brings flavors of apple, banana, vanilla and grapes naturally through its fermentation and accented with seeds of paradise. This blend is an intriguing palate pleaser.
Availability:Local Charlotte bars/restaurants and our tap room in growlers and on tap.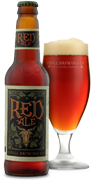 Odell Red | Odell Brewing Company Fort Collins, CO
The Rocky Mountain Goat is no ordinary goat. Just like Odell Red is no ordinary red. We took the American-style red to a whole new level by adding a variety of aggressive American hops giving this ale a distinctive fresh hop aroma and flavor.
Availability: AZ, CO, ID, KS, MN, MO, NE, NM, SD, WY
Son of a Peach | RJ Rockers Brewery 

Spartanburg, SC
Wheat beer with 150 pounds of Carolina-grown peaches.
Availability: GA, MD, NC, SC, VA
MoM Hefeweizen Ale Brewed with Rose Petals | Rogue Ales Newport, OR
Dedicated to the Mother in each of us, MoM Hefeweizen features the likeness of Mo Niemi (1912-1992) whose spirit has indelibly shaped the daily life of Newport, Ore. Mo, founder of world famous Mo's Restaurants, was Rogue's first landlord and surrogate mom in Newport.
Rogue is a revolution which expresses itself through handcrafted artisan ales, lagers, stouts, porters, meads and spirits.
Availability: nationwide
Alpine Spring | Samuel Adams

Boston, MA
Samuel Adams Alpine Spring is a crisp, unfiltered medium-bodied lager with bright floral and citrus notes. Smooth and refreshing, this brew compliments the season with a balanced hop and malt profile, an unfiltered appearance and a slightly higher alcohol content.
Availability: nationwide
Sex Panther | SanTan Brewing Company Chandler, AZ
Sex Panther is made with Colonial Rosewood Cocoa and a large dose of chocolate malt—there's no chance of missing the chocolaty flavors in this brew!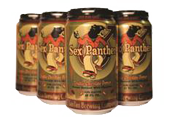 Hints of truffles and molasses, are balanced with summit hops. Then, white wheat is added to give Sex Panther a smooth, creamy head that lasts all night long.
Availability: AZ
Saranac Red IPA | Saranac Utica, NY

This red IPA was created to showcase the brewery's ability to brew beers true to style, but with a fresh take. Brewed with dark English caramel malt, which gives it a deep amber color, this beer is a new twist on and IPA. After noticing the color, the hops quickly shine through. U.S. bred and grown aromatic hops from the northwest were used to create this unique brew.
Availability: nationwide
Sunnyside Ale | Sawtooth Brewery Ketchum, ID
Sunnyside Ale is light, crisp and clear. Provides great hydration after a day of activities in the central Idaho mountains.
Availability: Sawtooth Brewery tap room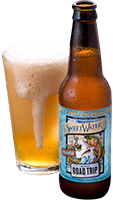 Road Trip | SweetWater Brewing Company Atlanta, GA
Road Trip is brewed with Cascade, Sterling and U.S. Golding hops, yielding hints of citrus and herbal hoppy notes. Unique for most pilsners, Road Trip is actually fermented at warmer ale temperatures giving this craft beer fuller flavor, capped with an intense, spicy hop finish.
Availability: FL, GA, TN, AL, SC, NC
Dog Days | Two Brothers Brewing Company Warrenville, IL
Dortmunder-style lager. Brewed in the style of Dortmund, Germany, this golden lager has a delicate, caramel malt character, balanced by a light body and mild German noble hops, creating a crisp, refreshing finish.
Availability: IL, IN, OH, NY, MN, FL
Coolcumber | Wicked Weed Brewing Company Asheville, NC
An ale brewed with fresh basil, cucumber and juniper berries. This beer is reminiscent of a cucumber, gin cocktail and is meant to be enjoyed outdoors on a warm, spring day.
Availability: 91 Biltmore Avenue in downtown Asheville, NC
CraftBeer.com is fully dedicated to small and independent U.S. breweries. We are published by the Brewers Association, the not-for-profit trade group dedicated to promoting and protecting America's small and independent craft brewers. Stories and opinions shared on CraftBeer.com do not imply endorsement by or positions taken by the Brewers Association or its members.