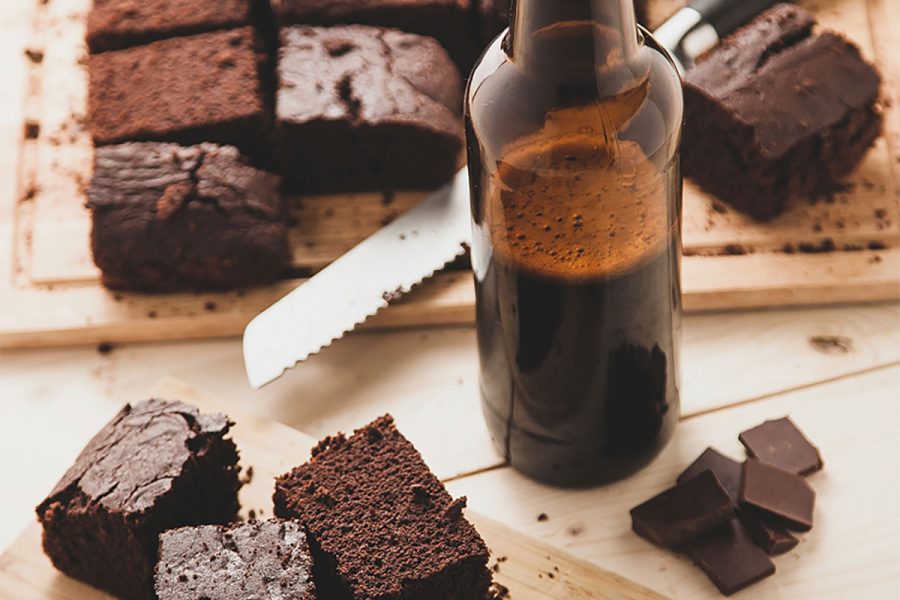 Chocolate lovers be warned, these brownies are moist, fudgy, and deeply chocolaty. If you're having trouble finding a coffee stout, substitute 2 ounces sweet stout mixed with 1 ounce brewed espresso.
Ingredients
Butter for coating pan
1 tablespoon cocoa powder
1 stick (1/2 cup) unsalted butter
4 ounces chopped bittersweet chocolate
1 cup granulated sugar
2 tablespoons brown sugar
2 large eggs
2 egg yolks
1 teaspoon vanilla extract
1/3 cup coffee stout
2 tablespoons bourbon
3/4 cup sifted all-purpose flour
1/4 teaspoon salt
1 cup chopped nuts, such as macadamia, pecans, or walnuts (optional)
---
Directions
To make these delicious fudge stout brownies, preheat oven to 325°F.
Prepare a 9-inch metal baking pan by buttering it well and dusting inside with 1 tablespoon cocoa powder. Set aside.
In a large 2-quart saucepan, melt stick of butter over low heat until liquid.
Add chopped chocolate, stirring often, until melted and smooth.
Remove saucepan from heat and let cool to luke-warm (still liquid but not hot).
Stir in sugars and mix well.
Beat together 2 eggs, yolks, vanilla, stout and bourbon in a large measuring cup until smooth.
Sift flour with salt.
Stir stout mixture into saucepan by thirds, alternating with flour by 1/3 cupfuls, and batter is just blended. Stir in nuts if desired. Do not over-beat.
Scrape batter into prepared 9-inch-square metal pan and bake at 325°F for about 1 hour.
Let cool to lukewarm before slicing.
Use a knife dipped in warm water and wipe clean with each slice. Otherwise, because of the very fudgy texture, the brownies will clump.

This recipe is reprinted from The Best of American Beer & Food by Lucy Saunders, ©2007 Brewers Publications. Photo ©Souders Studios - All rights reserved.