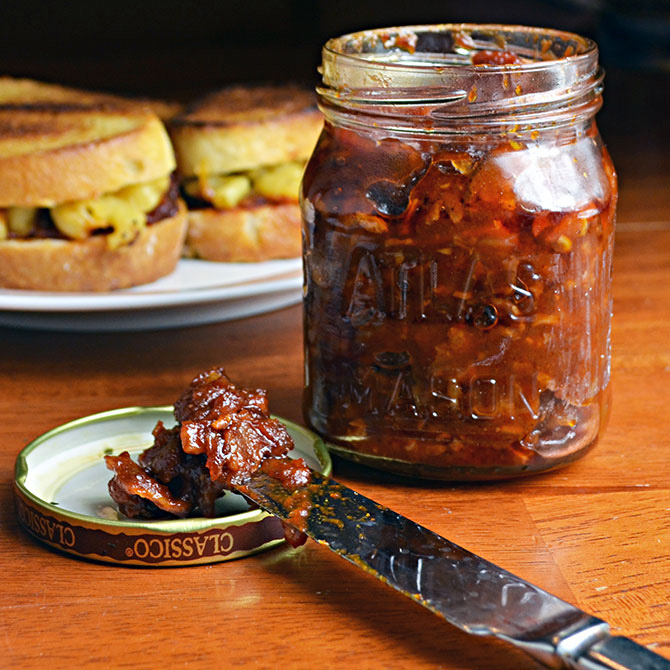 Forget the cellophane-wrapped yellow squares, this grilled cheese uses mac n' cheese for its gooey filling. Not to mention it's topped with a bacon, beer and tomato jam, adding the perfect amount of slaty sweetness to this delicious sandwich.
Ingredients
Mac n' Beer Cheese
1/2 lb elbow macaroni
3 tablespoons unsalted butter
3 tablespoons all-purpose flour
1/2 cup half and half or milk
6 oz beer
Smoked paprika, chipotle chili powder, and nutmeg, optional
2 cups grated white cheddar cheese
2 cups sharp cheddar cheese
Salt and pepper, to taste
Bacon, Beer and Tomato Jam
1 lb smoked bacon
1 1/2 cups crushed tomatoes
4 cloves garlic, smashed
1/2 cup yellow sweet onion, finely diced
12 oz beer
2 tablespoons brown sugar
2 teaspoons apple cider vinegar
Salt and pepper, to taste
Sliders
1 baguette
Butter, for frying the grilled cheese
10 slices white cheddar cheese, broken in half
---
Directions
Make the Jam
In a large pan with high walls, cook the bacon, working in batches to avoid overlap. Once all of the bacon has been cooked, allow it to cool and then roughly chop.
Pour out all but about 1 tablespoon's worth of drippings from the pan. Heat the pan again and add in the onions. Cook the onions until they have become translucent, about 3-4 minutes. Then, add the garlic and cook for a minute.
Pour in the brown ale and apple cider vinegar and deglaze your pan using a wooden spoon.
Add the brown sugar, chopped bacon, crushed tomatoes, salt and pepper and stir well.
Place the lid over the pan, cracked so that the steam can vent slightly, and allow the mixture to boil for a minute. Then, reduce the heat to maintain a simmer. Cook until much of the liquid has evaporated and you are left with a thick, chunky jam, about 1 hour.
Make the Mac n' Cheese
Cook the macaroni according to the directions on the box.
Heat a pot over medium-high and add the butter.
When the butter melts entirely, whisk in the flour to create a roux. Cook until it begins to bubble and turns a gold-ish color.
Slowly add the milk and beer while whisking the mixture. Then, add the cheeses a little bit at a time, and stir constantly until the mixture is smooth.
Turn the heat down to medium and keep stirring for another 5 minutes or so as the mixture thickens up.
Add the salt and pepper. You may also choose to add a bit of chipotle chili powder, smoked paprika and/or nutmeg, depending on how you like your macaroni and cheese. I add a pinch of each.
Mix in the cooked macaroni.
Assemble the Sliders
Slice your baguette to your desired thickness. Butter one side of each slice.
Heat a large pan over medium heat.
Place a piece of cheese on the unbuttered side of one slice of bread, and scoop a generous amount of mac n' cheese on top of the cheese. Place, buttered-side down, into the hot pan. Do this with 3-4 pieces at a time. Place another piece of cheese on top of the mac n' cheese.
Top each with another slice of bread that has been spread on the unbuttered side with bacon, beer and tomato jam.
Fry until slightly browned and the cheese binding the sandwich has begun to melt. Then carefully flip each slider over to fry the other side. Serve warm.