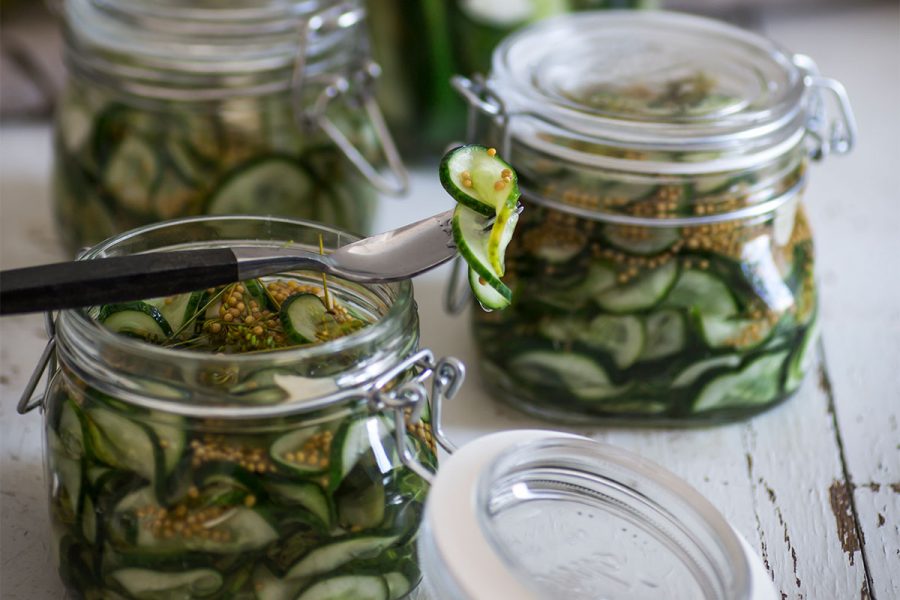 These beer pickles made with pale ale have a sweet flavor with a spicy punch. They are the perfect addition to burgers or a charcuterie board.
Ingredients
3 lbs pickling cucumbers, washed, ends trimmed and sliced 1/8" thin on a mandolin or with a sharp knife
12 oz pale ale
1/4 cup water
1 cup white distilled vinegar
1/2 cup sugar
1 Tbsp salt
1 Tbsp yellow or brown mustard seeds
1 Tbsp black peppercorns
1/2 tsp of red chili flakes (optional - omit or add more based on your taste)
2-3 crushed garlic cloves (optional)
---
Directions
To make these beer pickles, in a medium saucepan combine pale ale, water, vinegar, sugar and salt.
Place over medium-high heat and stir occasionally to dissolve sugar.
Bring to a simmer and then turn off heat.
In a clean, large glass jar (or a multiple smaller jars) distribute cucumber slices, mustard seeds, garlic and chili flakes.
Pour the pickling liquid over the cucumbers and spices, making sure that they are completely covered.
At this point, if you're preserving the pickles, you'll seal them using a canning water bath and process for ten minutes.
Preserved pickles can be kept in a cool dark place for up to six months.
Refrigerate after opening. If not, seal the jar or jars and let rest in the refrigerator for at least two days before eating.