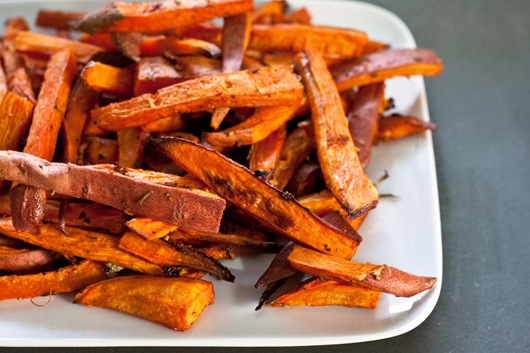 Her garlic, salted, beer-baked fries were such a hit, we asked The Edible Perspective to share her delicious brown ale-soaked sweet potato fries version of the recipe. Enjoy!
Ingredients
3 lbs sweet potatoes
1 bottle of brown ale
3 Tbsp sunflower oil (or olive, etc..)
2 large garlic cloves, finely minced
1 sprig fresh rosemary, finely chopped
1 tsp salt
black pepper
---
Directions
To make these sweet potato fries, preheat oven to 425°F.
Scrub potatoes, and cut per instructions above. Leave the skins on.
In a large bowl, soak the cut fries, in brown ale (author used Big Sky Brewing Co.'s Moose Drool Brown Ale).
Let soak for 15 minutes, tossing 1-2 times.
Drain brown ale and toss with olive oil, garlic, rosemary, salt and pepper, until well coated.
Line a large baking sheet with parchment (optional, but nice for quick clean up!) and spread the fries, in a single layer on the pan. Use two pans, if needed. You don't want them stacked.
Bake for 45 minutes - 1 hour, depending on how done you like them, tossing 3 - 4 times.
Add more salt and pepper to your liking.