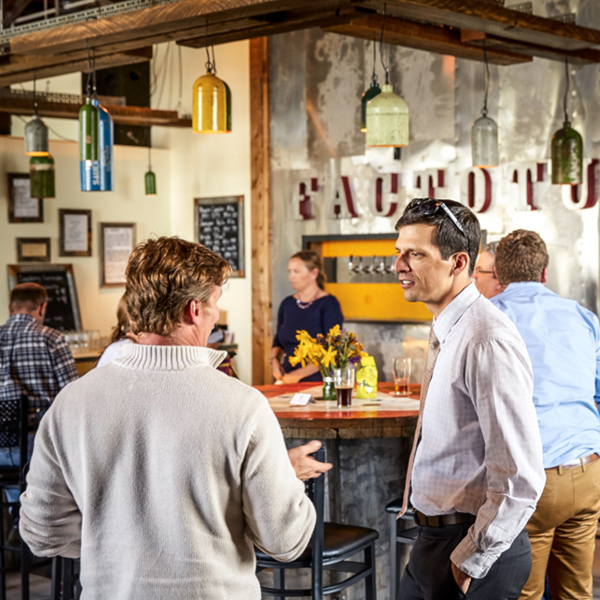 Walk This Way: A Beer Lover's Guide to the Denver Highlands
The Denver Highlands neighborhood rises just to the west of downtown, separated from the steel and glass towers of the business district by the South Platte River and I-25. Comprised of small houses and tree-lined streets, the gentle slopes of the Highlands are home to several small breweries focused on serving residents of this working class/new bohemian neighborhood as well as beer tourists in search of creative works.
Three of these distinct fresh beer emporiums within easy walking or biking distance of one another are Diebolt Brewing Company, the Factotum Brewhouse and Prost Brewing Company, the latter with a majestic view of downtown.
These three small tap rooms each have a distinct decor in addition to their beers, making the Highlands a wonderfully walkable neighborhood for craft beer lovers. Here's how to make the best of it.
(MORE: 5 of America's Beeriest Lake Towns)
Diebolt Brewing Co. | 3855 Mariposa St.
I decided to start on the upslope and work my way down the long Highlands hill, which meant a visit to Diebolt Brewing first. Located just north of 38th Ave., which means it is technically one block north of Highlands in Sunnyside, Diebolt is a family business launched in 2013 by a homebrewing father, Dan Diebolt and his son Jack. In a story reminiscent of how the West was settled by a variety of cultures, the signature beer is a French Ale called Anton Francois, named after Dan's great-grandfather Anton and his brother Francois, who emigrated from the Alsace Lorraine region of France.
The Diebolt (pronounced dee-bolt) family is deep in fermenting talent. The family still produces the Diebolt-Vallois champagne in France. In the brewing area at Diebolt is an exquisitely preserved hand-cranked press used to crush grapes and make wine in America by previous generations.
Currently, Jack is in charge of the brewing and the French Ale recipe developed by him, made from all French ingredients, has a distinctive earthy malt flavor. This delicious petite biere de garde with a 5.5 percent ABV has a dry, slightly bitter finish.
If you've ever been to a countryside French bar, the minimalist furnishings of the rectangular tap room are true to style and a good setting for the company's signature Art Deco lightning bolt. Except for the Anton Francois, most of the chalkboard list beers are made with Scottish yeast. The brown ale called Braggarts is as close to a porter as you can come while remaining a tangy, translucent brown. This one garnered a silver medal from the Great American Beer Festival.
In the summertime, the Wiggy Wiggy, a honey hibiscus saison seasonal, has a flowery kick to it at 6.0 percent ABV and lives up to its energetic name derived from an Elvis movie. In a locale gaining a reputation for sours, given that Crooked Stave has its production brewery just up the road in Sunnyside, this tart Diebolt saison is worth the walk — or bike ride. The brewery also cans (in blue of course) the French Ale and has 225 accounts in the Denver area, so the beer travels locally as well.
Factotum Brewhouse | 3845 Lipan St.
Factotum Brewhouse is literally around the corner and down the street from Diebolt. Also in a re-worked business building, Chris Bruns and his sister Laura operate a one-of-a-kind teaching brewery. Bring your own recipe, a preferred style, just a specific flavor ingredient or even an occasion such as a wedding and Chris Bruns will help you fashion the final recipe — and then help you brew it. The guest brews are put on tap, so there's no end to variety and creativity at this bar.
If the idea of brewing on a 7-barrel system sounds intriguing, or if you like the homebrew approach to the beers you drink, Factotum is a very engaging place to visit. I sampled a Kentucky Common called Kuzzin KYsser brewed by a fellow named Ian Martin; the Soldier's Reward Pilsner, the house beer brewed by Bruns and his assistance Ray Packingham; a milk stout called Mandelmilch by Trina George and Matt Stanley; and Chickory Stout, a rotating beer made in-house on the 1/2-barrel system.
My favorite was this latter Chickory Stout, because it intimated a bitter coffee without necessarily being overly roasty. There was a "Gentleman Johnny" English-style IPA brewed by one of Factotum's regulars in honor of a family member known by that handle in England. The beers were done well, a testament to Bruns' deep experience as a homebrewer and teaching skills. According to bartender Matt Schenck, all of the guest beers have made it to the chalkboard and taps. They are scheduled to ensure a variety of beer styles on the board.
In addition to name recognition, another benefit for guest brewers is a Brewer's Night for those introducing their beers to friends at the tap room with a polished-metal theme. The idea of a regular putting up his own beer on the chalkboard, then hosting an open tap for friends takes the neighborhood brewery approach to its ultimate conclusion. Now in its second year, the concept appears to be working and new guest brewing opportunities are not available until the spring of 2017.
(Head's up: the brewing is not necessarily done on weekends, so a day off from work may be required.)
(MORE: Single-Hopped Beers to Test Your Palate)
Prost Brewing Co. | 2540 19th St.
Highlands is an easy Uber-hood, but if you're up for a walk of a mile or so, the path to Prost Brewing follows tree-lined streets and eventually takes in the LoHi district closer to downtown where the bourgeois bohemians, or BoBos, enjoy dining and drinking in converted, retro-fitted retail buildings. In my case, I took a bike along the new Inca Trail, a concrete pathway that starts several blocks east from Diebolt and Factotum. After crossing under I-25, eventually there's a ramp up to the 20th St. bridge leading to Prost.
Serving German-style beers since 2012, Prost has the long fest tables on the patio as well as inside, which is festooned with Bavarian banners and colors.
Although I-25 is in the lower "front yard," the patio provides an easy view of downtown. Like Diebolt and Factotum, the brewery is busiest in late afternoon and early evening hours when people stop off on the way home or to a restaurant. (Food at all three of these breweries is limited to packaged snacks and locally made baked pretzels until the evenings, when food trucks arrive.) The sightlines from Prost include Coors Field, the home of the Rockies, which is just a 15-minute walk on game days.
Prost, which is also distributed in bottled six-packs, focuses on Bavarian styles (assuming you believe pilsner to be as much Bavarian as Bohemian), but Kolsch and Altbier are on the menu as well. There is a local angle in that the beers tend slightly toward a more hoppy approach. My favorite was the Keller-Pils, a cloudy unfiltered version of the classic which won the gold medal for Zwickelbier at the GABF in 2013 under former head brewer Bill Eye. The more robust keller style is not easy to find in the U.S., much less a cloudy, yeasty pilsner. The GABF medal-winning Maibock is a spring seasonal. Similarly, the Marzen (fall) and Doppelbock (winter) are brewed seasonally, which means they're found on the menu until the season has passed.
Tours of the German-built brewing equipment at Prost cost a small fee and require at least eight participants. There are other places to visit in the Highlands including the tap room for the Denver Beer Co. near Prost. It was recently opened to replace the tap room at the production brewery in Sunnyside, which is undergoing a remodeling. West Highlands is home to neighborhood breweries Hogshead Brewery and Tennyson Street's Call to Arms and little De Steeg Brewing Co., located in an alley. Further south in LoHi and closer to Mile High Stadium is Little Machine Beer.
When in Denver and looking to drink local while also meeting the locals, head for the Highlands.
CraftBeer.com is fully dedicated to small and independent U.S. breweries. We are published by the Brewers Association, the not-for-profit trade group dedicated to promoting and protecting America's small and independent craft brewers. Stories and opinions shared on CraftBeer.com do not imply endorsement by or positions taken by the Brewers Association or its members.