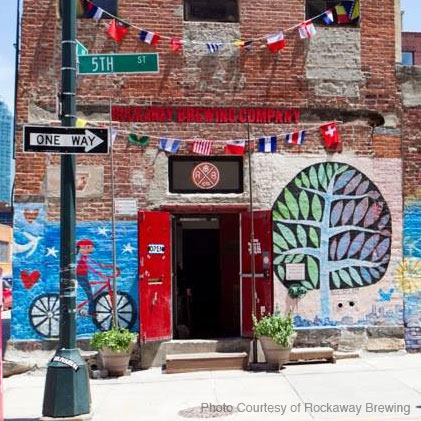 Walk This Way: A Beer Lover's Walkable Guide to Long Island City, New York
Not long ago Long Island City was an industrial center, but these days it's the fastest growing residential and manufacturing neighborhood in New York City. It also boasts beautiful waterfront parks with unbeatable views of Manhattan, several art galleries and institutions, a diverse collection of bars and restaurants and a thriving craft beer community.
There are currently four craft breweries (with more in planning) that make up the Long Island City beer trail, each with its own unique space, tasting room format and style focus. And they're all located within a one and a half mile radius of each other (the trail is two miles long) making them accessible by bike, foot or taxi with countless places to stop in between.
As a transportation hub, getting to Long Island City from anywhere in the city is incredibly easy. There are several subway and bus lines serving the area with rides as a short as five to 15 minutes from Grand Central Terminal in Manhattan and Williamsburg in Brooklyn. The East River Ferry makes a stop at LIC Landing in Gantry Park and is the most scenic transit option. For the more adventurous, New York's bike share system, Citi Bike, has several rental stations located throughout the neighborhood and there are several dedicated bike paths.
Transmitter Brewing Company | 53-02 11th Street
Founders Rob Kolb and Anthony Accardi first shared a beer in 2005 and realized they shared a "love of food and a passion for making it" themselves. They built a lasting friendship while experimenting with different recipes and eventually started brewing beer together. In 2014 they opened Transmitter Brewing Co. in a space located beneath the Pulaski Bridge which connects Long Island City to the neighborhood of Greenpoint in Brooklyn.
As food lovers, they focus on traditional and farmhouse ales that can stand on their own, but also pair well with a meal. According to Anthony, the process they use to create each beer is similar to cooking: "It's about layering and balancing elements." With over 20 isolated strains of Brettanomyces, Lactobacillus and Pediococcus, as well as a brewhouse library of traditional Belgian, French, English and American yeasts, they're creating "yeast-driven beers with complimenting grains and hops" that are exciting and approachable.
Their tasting room is small, but incredibly inviting. They offer complimentary sample pours of their most recent bottle releases, which are also available for sale. There are two picnic tables located off the side of the tasting room in the brewery's cellar — prime seats for enjoying a bottle onsite. It's also not uncommon to spot one of the owners at work in the cellar, which makes the experience even more enjoyable as you witness the beer-making process firsthand.
(MORE: 9 Airports to Find Craft Breweries)
Rockaway Brewing Company | 46-01 5th Street
Located less than a mile away from Transmitter Brewing is Rockaway Brewing Company. On the way there, stop by any number of restaurants, bars and shops along Vernon Boulevard, or take the slightly longer route along the waterfront for breathtaking views of Manhattan and the vintage Pepsi-Cola sign.
Founders Marcus Burnett and Ethan Long opened Rockaway Brewing Company in 2010 and have since watched the neighborhood build up around them. They had previously been homebrewing in the Far Rockaways, a beach town located in the southernmost corner of Queens, "mainly so [they'd] have something to sip on after a day of surfing."
Fast forward six years and their tasting room is one of the busiest in New York City. The brewery focuses on more traditional, easy drinking styles and strives to create "a vibe, and beer, that welcome locals, beer novices and hard-core fans to feel at home with each other."
Stop in for a pint of Rockaway ESB, the brewery's flagship beer, or go for the tasting flight to sample them all. Whether you're in the mood for a tried and true pale ale, a dry Irish stout (Black Gold, one of the best in the city), or a nitro cream ale, there's something for everyone.
Big Alice Brewing Company | 8-08 43rd Road
A little further north is Big Alice Brewing Company, named after the nickname given to a massive electric power generator nearby (Big Allis).
Kyle Hurst and Scott Berger founded Big Alice Brewing Company, a nano brewery, in 2013 and focus on creating unique, small-batch, one-off beers which gives them "the flexibility to continually experiment with ingredients, styles and brewing techniques." On any given day, the tap list may include a spicy beer, a potato beer, a honey beer, a sour ale, a farmhouse ale and maybe an IPA.
The tasting room is cozy but comfortable, with chairs upholstered in grain bags and seating near the brewhouse behind the front bar. They also offer generous helpings of complimentary trail mix, which is a welcome snack alongside their tasting flights.
(Walkable Guides for Beer Lovers: Asheville's South Slope | The Denver Highlands)
LIC Beer Project | 39-28 23rd Street
Ending the Long Island City beer trail is LIC Beer Project, the newest addition to the local craft beer community. Founded in 2015 by Damon Oscarson, Gianni Cavicchi and Dan Acosta, the brewery primarily focuses on Belgian-style and wild ales, but has recently been releasing some of the city's best hoppy beers.
Head Brewer Dan Acosta fell in love with good beer while backpacking through Belgium. He enrolled at the Siebel Institute and developed a deep fascination with yeast. His brews often highlight wild yeast strains and he's no stranger to brewing with Brettanomyces. In fact, LIC Beer Project boasts New York City's first coolship, a vessel used for open-fermentation to attract local wild yeast, and an extensive barrel-aging program is already underway. They also feature hop-forward ales in their new Street Art series which focuses on creating beers that enhance the characteristics of the hops. One of their newest releases is a pale ale brewed with buckwheat and oats that features Centennial, Simcoe and Amarillo hops.
The space is defined by large ceilings and a bar made of white marble and wood. The walls are decorated with murals and stacks of beer filled barrels, while two sets of cornhole fill the space leading to the brewery. There's also plenty of seating (and it's possible to have pizza delivered) which makes it the perfect final stop along the Long Island City beer trail.
CraftBeer.com is fully dedicated to small and independent U.S. breweries. We are published by the Brewers Association, the not-for-profit trade group dedicated to promoting and protecting America's small and independent craft brewers. Stories and opinions shared on CraftBeer.com do not imply endorsement by or positions taken by the Brewers Association or its members.