The air in Chattanooga's walkable, historic Southside neighborhood crackles with promise. You can feel that it's getting ready to explode. New craft breweries fling open their doors by the minute, darling eateries take over recently empty historic storefronts, and funky coffee houses sprout up in every nook and cranny.
I wandered into Kenny's — an adorable minimalist eatery that recently opened in an exposed pipe, wood floor, wide-open room — looking for advice from locals. The staff is super friendly (and hip!). The manager says many of the places like Wanderlinger Brewing are new. I asked if now was the time to open a business or buy property in this rapidly developing, tucked away section of Chattanooga. The answer is yes.
The city is attracting everyone from creative entrepreneurs to foodies and beer geeks. If you're looking to explore this new Southern hot spot, here's a walkable guide to Chattanooga's southside breweries.
(VISIT: Find a U.S. Brewery)
Chattanooga Brewing Co.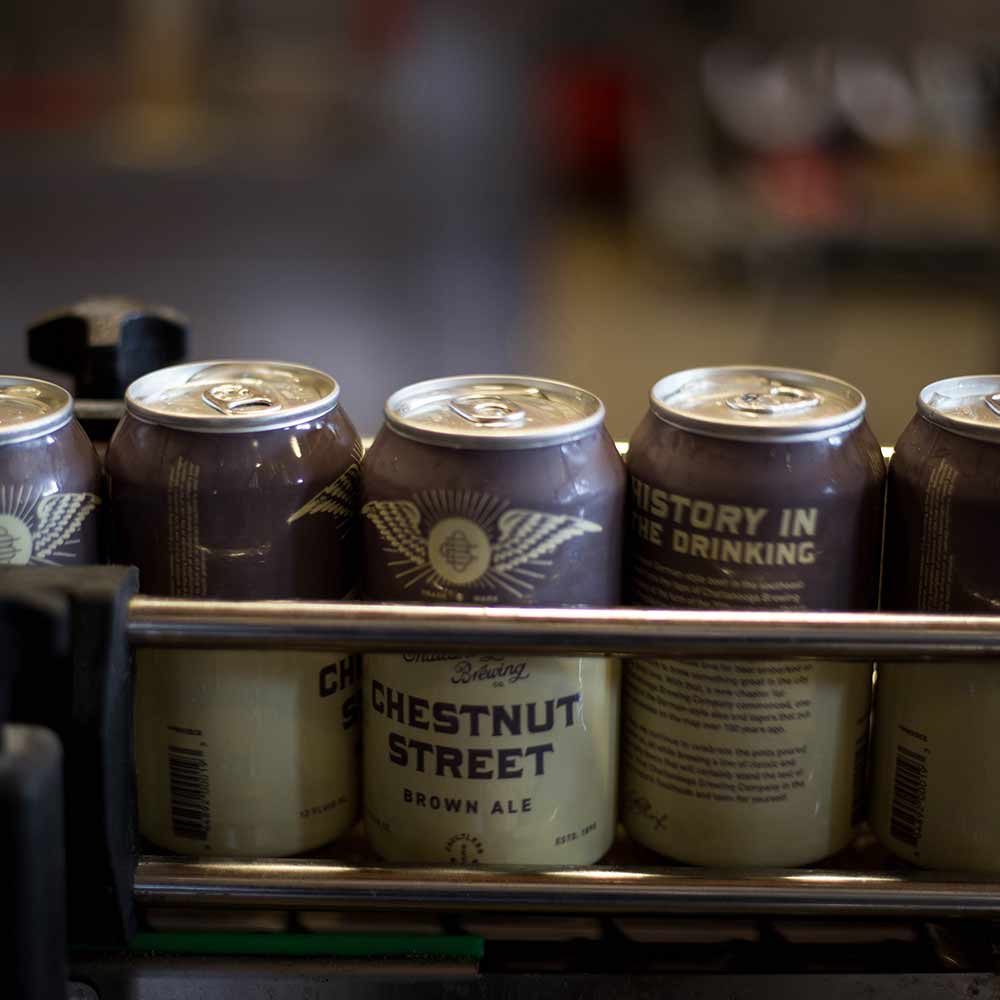 The folks behind Chattanooga's oldest brewery seek to connect to the past.
"This area had a large German-speaking population in those days, and our namesake produced high quality beers for the community," says Mark Marcum, co-owner of Chattanooga Brewing Co.
The original CBC opened in 1890 and inspire the name of their mug club. Prohibition closed it down 25 years later.
Today, the brewery sits across the street from Finley Stadium, home for Chattanooga FC, an amateur soccer team, along with University of Tennessee at Chattanooga's football and soccer teams. Home of easy-drinking beers, CBC's most popular brew is the Chestnut St. Brown Ale. Be sure to try it before or after catching a game.
(READ: The American Brown Ale Beer Style is Anything But Boring)
Wanderlinger Brewing Co.
Southside also has the distinction of being home to The University of Tennessee at Chattanooga, which certainly adds to its charm and infuses the area with a youthful persona.
In fact, brothers and co-owners Chris and Mike Dial fell in love with the city during their college days when Mike would make the nearly two-hour drive from Middle Tennessee State University in Murfreesboro.
"It was only natural to decide to open our business together in this vibrant, amazing city," says Chris. "Chattanooga is becoming a mini-Asheville. With 10 breweries and more to come, we are creating a brewery destination city in an already amazing city that draws in folks from all over the country."
He foresees five to seven more breweries opening within the next three years. The walkability between seven of Chattanooga's current breweries certainly makes the budding city attractive to hopheads, Chris says.
And like Chattanooga Brewing Co., Wanderlinger aimed to honor the city's rich history by revitalizing a 110-year-old building, which took three years to renovate.
Bonus: It's kid-friendly until 8 p.m. and pet-friendly all the time. There's music three nights a week, and they often have food trucks.
As Chris says, Wanderlinger is all about guests "lingering" as long as they'd like.
(TRAVEL: 2019 Great American Beer Bars)
Hutton & Smith Brewing Company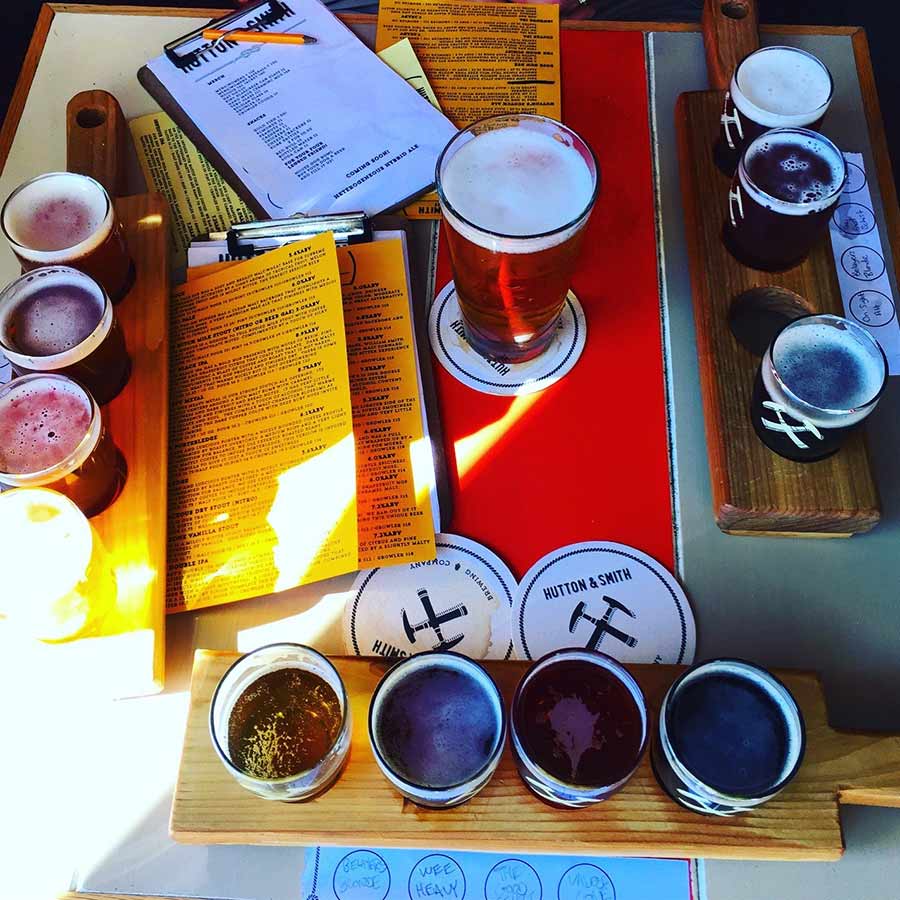 For Melanie and Joel Kratstrunk, Chattanooga's sizzling potential as one of the country's next amazing craft beer hubs drew them to move and open Hutton & Smith Brewing Company in 2015.
"Chattanooga has a real outdoor community, and the people here are friendly — [it's] growing exponentially. I expect to see at least twice the number of breweries here in the next three years," Melanie says.
Hutton & Smith is best-known for three of its IPAS: Igneous, a dry-hopped IPA; Bivoauc, a black IPA, and Promenade, a juicy IPA.
Melanie also nails exactly why Chattanooga is on the brink of big things: "[It has] all the benefits of a big city in a small town, and many of the breweries here are in a walkable distance from either another brewery, or a great local attraction."
More Chattanooga Breweries
Of course, you can add many more breweries to your beercation agenda in Chattanooga.
There is the new Naked River Brewing across the stadium from Chattanooga Brewing. Heaven & Ale Brewing Co. is in an industrial-chic spot. OddStory offers a sleek lounge vibe, and long-standing Terminal Brewhouse, inside a flatiron building that abuts the former train station.
Southside has some darling vacation rentals popping up as locals realize how lucrative Chatt's growing tourism market can be.
Keep in mind that besides the amazing walkability of this up-and-coming city, you can also jump on the Choo Choo. The free shuttle will cart you to and from downtown.
CraftBeer.com is fully dedicated to small and independent U.S. breweries. We are published by the Brewers Association, the not-for-profit trade group dedicated to promoting and protecting America's small and independent craft brewers. Stories and opinions shared on CraftBeer.com do not imply endorsement by or positions taken by the Brewers Association or its members.