With over 20 million tagged photos on Instagram, it's safe to say brunch is much more than a meal. It has morphed into an event unto itself much like visiting breweries over a long weekend or beercation. So why not combine the two?
If you're a brewery brunch newbie, be aware it can easily take up the better part of a Sunday. Forget boring brunch buffets and omelet stations! Check out these 13 breweries that have whipped up a stellar brunch that pairs perfectly with their beers.
[newsletter_signup_box]
Revolution Brewing | Chicago
Brunch is one of Chicago's favorite past times and Revolution Brewing adds to that storied tradition with an admirable commitment to quality utilizing local farms and making everything from scratch. This brewery brunch menu leans towards comfort food which is ideal in the frigid Chicago winters. Don't miss their biscuits and gravy made with buttery, flaky biscuits baked in house topped with a spicy sausage gravy. The result is a very rich, hearty breakfast that is great for those who might have attended FOBAB the night before. Pair these with a hoppy Anti-Hero IPA to cut through the richness of that gravy. Eggs in a Hole is another favorite made with thick sourdough that makes a great basket for a couple of runny eggs. And because it's all about using that bread for soppin', they pour a generous pool of Cross of Gold beer cheese over the plate. If you need a little something sweet check out their bakers Donut of the Day that changes every week. The pub has 18 Revolution beers pouring at all times, so there's something for everyone ranging from their crisp Rev Pils to barrel aged beers like the Deth's Tar Imperial Oatmeal Stout.
Dogfish Head Brewings & Eats | Rehoboth Beach, DE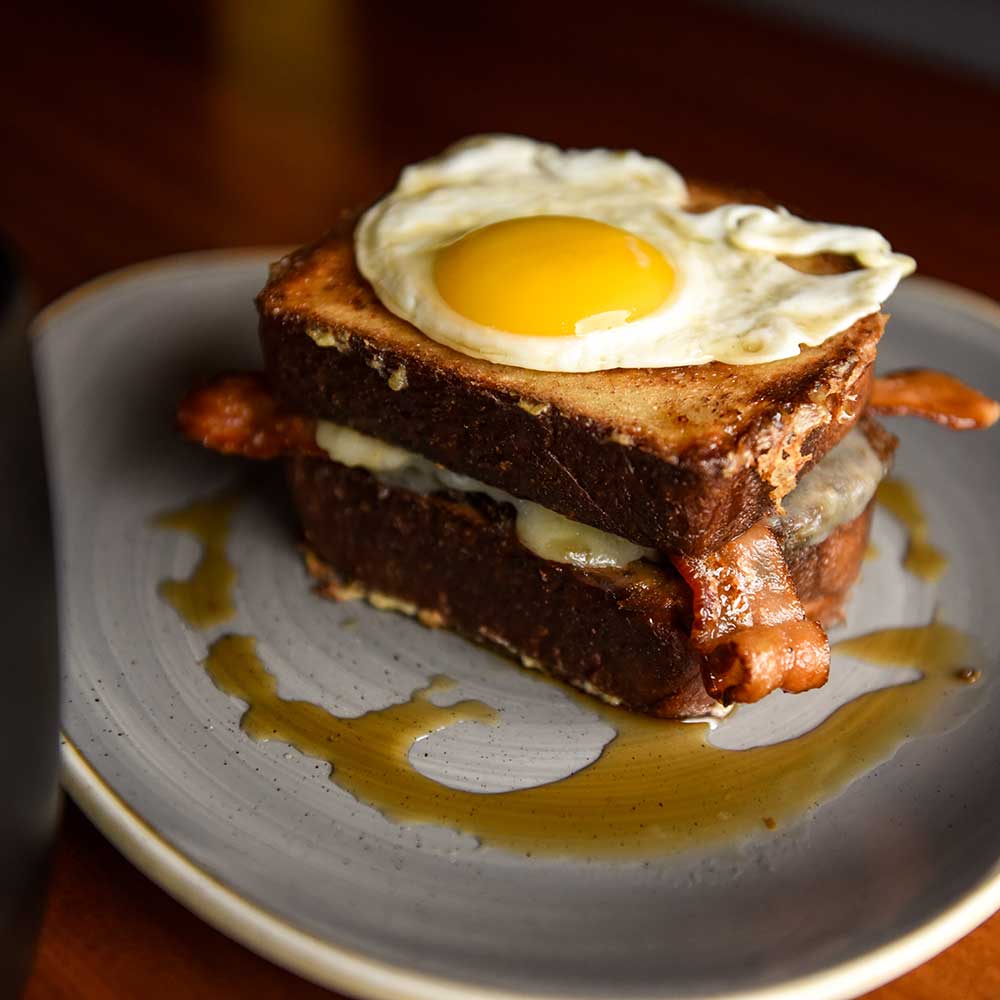 Since 1995, Dogfish Head Brewings & Eats has been serving up off-centered ales and creative pub fare. This pub is the OG of Dogfish Head and gave founder Sam Calagione the flexibility to indulge his experimental inclinations by grabbing at the time unusual ingredients like raisins and coffee from the pub kitchen to try in beers. Dogfish Head Brewings & Eats is still the heart of Dogfish Head and what better way to experience their creations and feed your soul than at Sunday brunch. The chicken and waffles are a must and perfect choice for IPA lovers as the chicken is brined in the brewery's Flesh & Blood IPA. Delaware toast is the best mix of sweet and savory thanks to brioche french toast, bacon, cheese, and a sunny side up egg while the Death in the Afternoon Pizza made with scrapple, sausage, home-fries, ricotta and egg is something totally different and may get you ready for an afternoon nap. Order one of the classic beers alongside or try one of the brewpub exclusives like the Lapsang Souchong Porter featuring smoky aroma and flavor of Lapsang Souchong tea from China into a roasty, robust porter.x
Taxman Brewing | Bargersville, IN
Known for their take on Belgian style beers, Taxman Brewing serves up a laid-back and craveable brunch in Bargersville, Indiana. The brewery sources from local farms and in order to highlight what's in season, the menu changes often. Bring your pooch along and hang out on the patio while indulging in pancake corn dogs and breakfast frites (basically everything that's good about breakfast on top of twice-fried in pork fat Belgian French fries, eggs cooked your way, sausage gravy, bacon, cheddar cheese, scallion and jalapeno crema). Nothing says Sunday Funday like the 8.5% ABV Exemption Belgian tripel or indulge like the king or queen you are with the beermosa, a blend of OJ and the biere de champagne Royalty.
(List: A Beer Geek's Travel Checklist)
Hinterland Brewery | Green Bay, WI
The land of beer and cheese and monster bloody mary's, Wisconsin knows how to do brunch right. It should come as no surprise that a brewery in Green Bay, Wisconsin, is on this list. Hinterland Brewery is in the heart of the Titletown District and conveniently next door to Lambeau Field, home of the Packers. If you're not into football, Hinterland's brews and brunch are reason enough to visit. Year-round beers like their Citra Pale Ale and Packerland Pilsner are great alongside dishes like Bill's Crab Cake Bennie piled high with smoked ham and red hot butter. On the sweeter side, you can't go wrong with the Pumpkin Bread Pudding French Toast topped with whipped cream, candied pecans, and blueberry maple syrup and a Nitro Stout. Hinterland's beer hall boasts two wood-burning fireplaces to keep beer lovers cozy all winter and in the summertime the garage doors open to the beer garden so you can enjoy the short Wisconsin summer.
The Brewer's Table | Austin, TX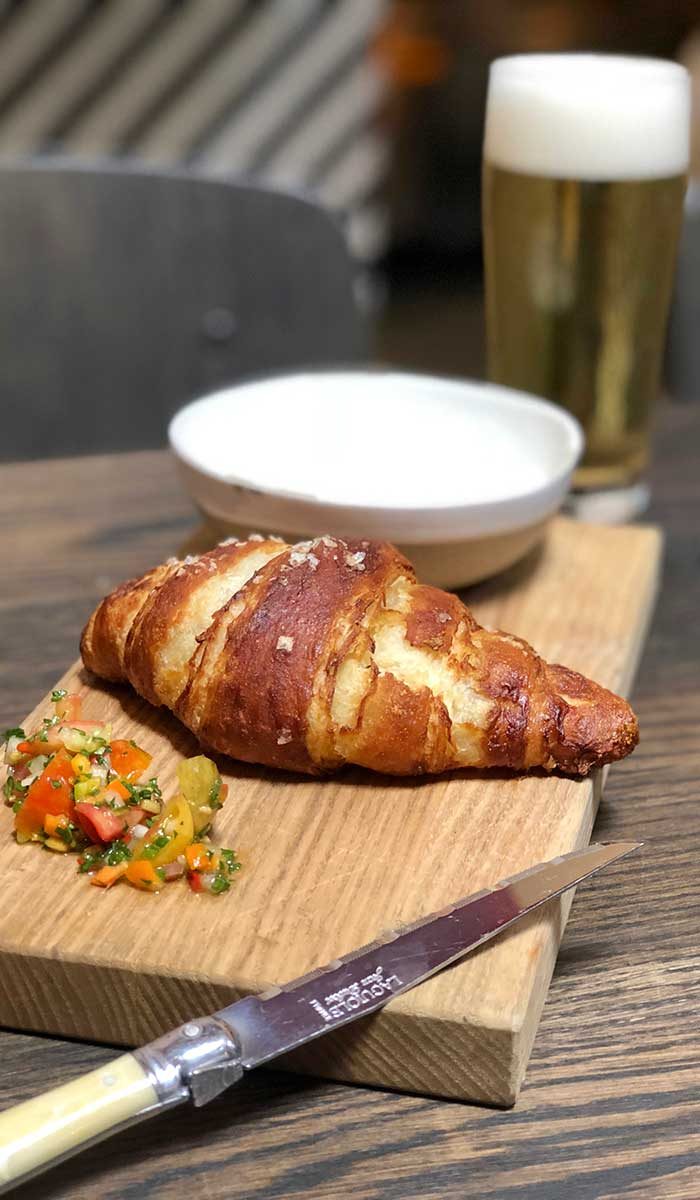 The Brewer's Table is a place where beer and food share the spotlight. Named one of "20 craft breweries where the food is as big a draw as the beer" by Food & Wine, they credit this success to the creative partnership between brewer and chef whose crossover of ingredients are used to make beer as good as food as good as beer. The Brewer's Table Brunch is available from 11 a.m. to 2:30 p.m. every Saturday and Sunday, and keeps in line with their mission of putting out food as good as beer. The brunch menu delivers a playful take on classic brunch fare, with something for everyone including decadent sweet and savory dishes like a pretzel croissant with beer cheese foam, heirloom tomato toffee and banana pancakes with grilled banana, sunflower seed toffee, mesquite maple syrup Try one of their house beers like their flagship Common Lager or Reinheitsgenot festbier with smoked acorn squash and Thai basil or a Mich-a-lager featuring Vor Ort lager with fresh squeezed lime juice, house bloody mary mix and chili salt rim. Don't forget to save a little bit of room for the mini ice creams cones. Solidifying that beer = food, Chef Zach Hunter utilizes a portion of each brewing waste product, ending up with a delicious, yet tiny, indulgence comprised of toasted barley ice cream, yeast caramel, hop honey and beer grain waffle cone.
(VISIT: Find a US Brewery Near You)
Edmund's Oast | Charleston, SC
Located in one of the hottest food scenes in America, Edmund's Oast needs to be added to your list of breweries to visit. They have an impressive lineup of ales and lagers, complex sours, refined, locally sourced pub fare, and creative cocktails. The vibe is cozy and unpretentious but elegant, kind of like the Lowcountry itself. The restaurant is always packed with beer fans and diners that often hang out for hours sampling small plates and house-made charcuterie alongside a flight of their choice. The brunch menu is always changing but there are a few standouts that are always available. The Brewer's Breakfast is their take on a classic English breakfast complete with ham, sausage, bacon, eggs, mushrooms, butter-beans, potatoes and red-eye gravy. Pair this with the Ol Puffery English Pale Ale. This light golden and softly bitter beer is right at 4% ABV and polite to all the senses. We frequently have this beer on regular CO2 tap as well as on cask. For something truly decadent and fun, try the french toast with peanut butter, banana cream cheese, bourbon caramel and peanuts. Paired alongside the Session Confection stout with cacao nibs and vanilla, prepare your taste buds for a flood of vanilla, whiskey, and caramel notes that take this combo to a whole new dimension. The staff is incredibly knowledgeable and friendly so if you need help deciding on your order, just ask.
White Squirrel Brewery | Bowling Green, KY
Seekers of a Sunday Funday, families and the post-church crowd can all find common ground at White Squirrel Brewery's Sunday brunch in Bowling Green, KY. For beers, you can keep it classic with their Nut Brown Ale or Kolsch, or you can try their seasonal Pumpkin Ale. This brew is autumn in a glass sourcing its pumpkins from local Kentucky farms with a hint of sweet cinnamon and caramel. The dishes are twists on Southern classics like chicken and homemade biscuits with lavender honey and lemon butter and Nashville hot chicken and waffles with blueberry maple syrup. Live local bluegrass music makes this a real Kentucky brunch.
(RELATED: Brewpubs with Impressive Menus)
Trophy Brewing | Raleigh, NC
Located in the heart of downtown Raleigh you'll find Trophy Brewing Company's Trophy Tap + Table. This craft beer bar serves a rotating selection of 12 Trophy beers, produced less than 2 miles away in their production facility on Maywood Ave, and a diverse menu of upscale Southern cuisine. Brunch favorites include the Fried Green Tomato Sandwich and the Shrimp + Grits (pro tip: don't forget the loaded tots as your side). Head up to the rooftop patio and start your weekend brunch off right with a Good Morning Vietnam cocktail, made using Trophy Brewing's Slingshot Coffee Porter and locally-roasted Larry's Coffee.
Cibolo Creek Brewing | Boerne, TX
Cibolo Creek Brewing Co. is one of the coziest breweries located in a historic house in downtown Boerne, about 25 minutes north of San Antonio. Sustainability is a focus for the brewery's restaurant choosing to buy sustainable Texas raised meats, dairy and produce. Sunday brunch items rotate each week but you can expect hearty dishes like fried chicken with pancakes and fried eggs alongside with an Early Bird Hefeweizen with a shot of orange juice in it. The Bier Buns, homemade potato roll stuffed with browned goat, cabbage, and cheese, are a lunch mainstay but add an egg to make them a brunch crowd pleaser.
(Seek the Seal: Post Your Photos on Instagram)
Carver Brewing Company | Durango, CO
Carver Brewing Company opened in 1988, Durango's first brewpub since prohibition, and among Colorado's original brewpubs. Durango features over 100 award-winning restaurants, and Carver is known for serving the best breakfast in town. Characterized by the flavors of the Southwest, including Hatch green chiles, poblanos and chipotle, Carver Brewing is known for having the best brunch in town. Try huevos rancheros smothered with green chilies or the Anasazi Benedict with chipotle ham and poblano cream sauce. Alongside their 12 in-house brews, they serve locally roasted, organic, fair trade cold-pressed coffees on nitro and have a creative selection of brunch cocktails, including the Brewer's Breakfast, a half nitro cold press coffee and half Imperial Stout, also from the nitro tap for a creamy, delicious pint. No milk or sugar needed.
Fishtown Brewpub | Philadelphia
A neighborhood favorite in the heart of Fishtown, Fishtown Brewpub is a place where locals and visitors alike kick back and enjoy a few beers and delicious food. The menu combines Philly-specific favorites and modern pub fare to go along with their classic German and English-style beers and unusual seasonals like the Cool Beans Golden Ale brewed with vanilla and over 5 gallons of cold brew coffee or the Black Magic Pumpkin Stout that is a stout first giving way to subtle notes of cinnamon, nutmeg, and clove. Prepare to gorge with dishes like the South Philly Omelette with long hots and aged Provolone or the lobster roll with saison steamed claw and knuckle, smoked tomato aioli, celery heart, pickled red onion, on a top split bun. If you're craving sweet then get the coconut crusted french toast with chai apple butter and ginger maple syrup.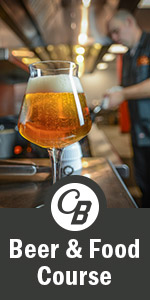 Mill House Brewing Company | Poughkeepsie, NY
Located in Poughkeepsie, New York, Mill House Brewing is known for giving every guest a "holy s#*t" moment" with every bite and sip. The brewpub's Sunday brunch delivers by taking classic dishes to the next level. Start with the house-made brioche donut bites topped with lemon poppy seed glaze and one of their Bloody Beer cocktails with the Kold One Kolsch, Fresh Lime, House Bloody Mix, Chili-Lime Salt, Stout Float. For main dishes try the poutine with house cut Belgian fries with caramelized onion gravy, cheddar cheese curd, swiss, pickled jalapeños, and scallions or the Reuben Benedict with house-made rye and pastrami.
City Acre Brewing | Houston
As Houston's highly rated brewpub, City Acre Brewing brunch is a local favorite. Just like their beers, everything from the sourdough bread for sandwiches to the jams made from berries and peppers in their garden is made in-house. French toast is a definite stand-out: it's more of a cinnamon sugar toast, with the melting butter on top mixing with the sugar crust to make its own syrup. Eat it by itself or top it with the fried chicken. The breakfast tacos are some of the best in town, and the tasso benedict is unlike any other brunch item you'll get in Houston or elsewhere. If you're thinking french toast, pair it with the Tweaky Wheat: Sneaky Wheat Stout infused with City Acre's own nitrogenated cold brew coffee.
After a long weekend of brewery tours and tastings, a delicious brunch is in order. With these brewery brunches the weekend is looking even more delicious. Pass the bacon and pour another.
CraftBeer.com is fully dedicated to small and independent U.S. breweries. We are published by the Brewers Association, the not-for-profit trade group dedicated to promoting and protecting America's small and independent craft brewers. Stories and opinions shared on CraftBeer.com do not imply endorsement by or positions taken by the Brewers Association or its members.