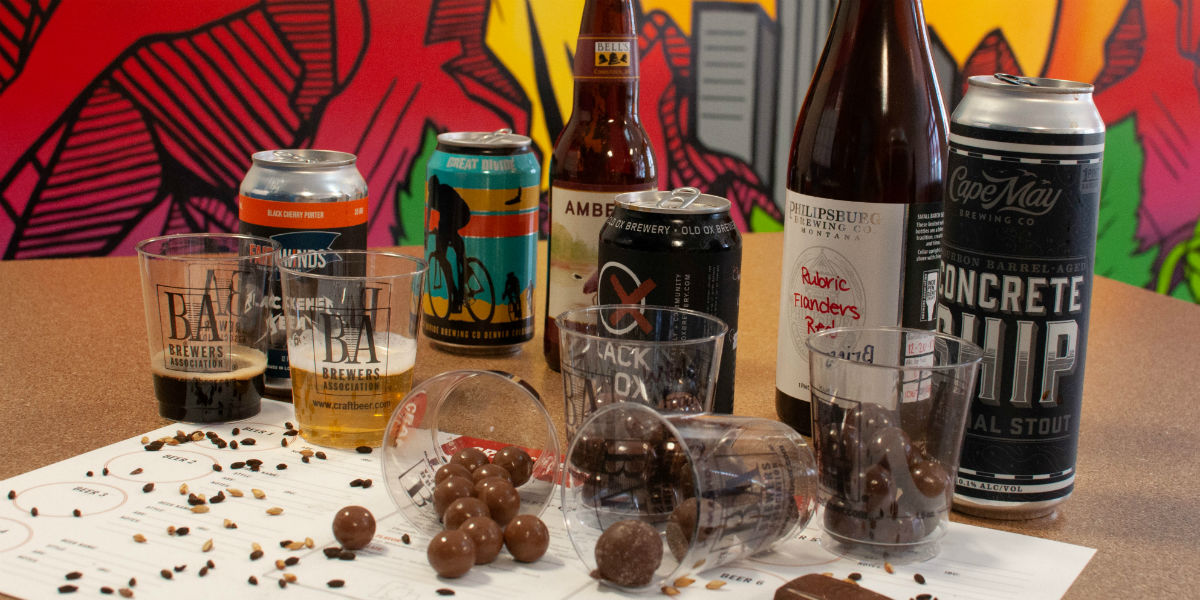 How to Plan a Malted Milk Ball and Craft Beer Tasting
For many of us, malted milk brings back memories of fumbling with a box of malted milk balls at the movie theater or creamy milkshakes on a hot day. But what is malted milk and why is it so tasty?
Most malted milk powders are made-up of a blend of dehydrated malted barley extract, wheat flour, dehydrated milk, salt, and baking soda. Malted milk is primarily used in baking to add sweet and toasty flavors to bread and other pastries or confectioneries.
When a colleague of mine pitched organizing a craft beer and malted milk ball tasting, I was in. What could be better than pairing something I loved as a kid with something I love as an adult? I also decided to up the challenge and make malted milk balls from scratch.
Making Malted Milk Balls from Scratch
I assumed it would be easy to find a recipe for malted milk balls online, but there were very few resources available. The malted milk ball recipes were either in the form of chocolate-covered meringue cookies or chocolate truffles with added malted milk powder. Neither method seemed to produce the crunchy texture we wanted for our beer pairing. I tried the meringue method and the density of the malted milk powder kept collapsing the meringue when baked, turning them into flat-brown malty disks. The truffle-method made sense, but I really wanted a crunchy texture.
My final recipe attempt married both methods. I pulsed some vanilla meringue cookies in a food processor into a small enough grain so that the crunchy meringue bits would incorporate well into the malty chocolate truffle base. To accentuate the malt flavors, I added some pilsner DME (dehydrated malt extract) to the malted milk powder. Flaked sea salt was also added to complement texture and add some depth to the flavors, providing a savory boost. You can find the winning malted milk ball recipe in CraftBeer.com's recipe section.
These malted milk balls can be dipped in any chocolate. I chose dark chocolate to add some bitterness to complement the hops in the beers. The final result is chocolatey, salty, malty balls of goodness.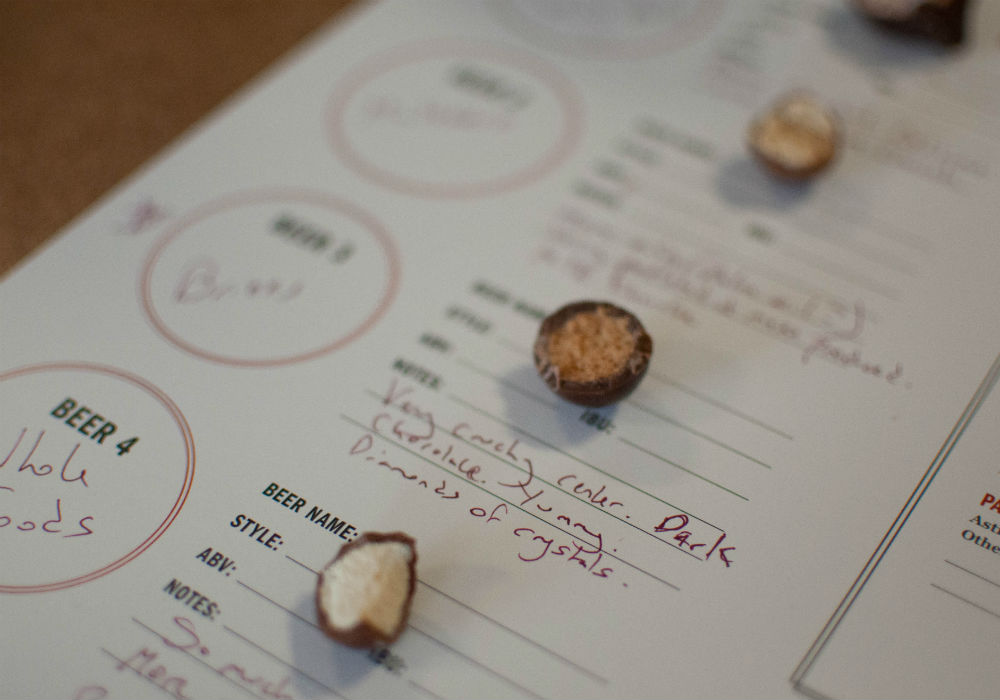 Our Malted Milk Ball and Craft Beer Tasting
For our beer pairing, we acquired some commercial and grocery bulk-aisle malted milk balls to compare with my homemade version. We tasted each of the candies alongside a few different beer styles.
You'll notice that there aren't any hop-forward beers on our list. They tend to completely overshadow the candy. But that's not the case with all beer styles. Check out some of our favorite craft beer and malted milk ball pairings.
Great Divide Brewing's Roadie Grapefruit Radler & Grocery Bulk-aisle Malted Milk Balls
I don't think a beer lover's first thought would be to pair a radler beer with malted milk candies, but the two complement each other nicely for a light and refreshing finish. The grapefruit brought out the malted milk and caramel flavors while cutting through the sweetness of the candied center.
Bell's American Amber Ale & Commercial Malted Milk Balls
Many of the commercial malt balls you'd find are typically made with some sort of oil and corn syrup mixture, which gives them a sugary bite and waxy mouthfeel. The amber ale beer stood up nicely to these, adding some complexity to sweetness of the candy while also bringing out more of the beer's stone-fruit flavors. The amber beer also cleansed our palates of any residual sugar flavor and waxy texture.
(Related: Girl Scout Cookie Beer Pairing Guide)
Philipsburg Brewing Company's Rubric Flanders Red & Malted Milk Chocolate Bar
This Flemish-style sour red ale paired best with the malted milk chocolate bar. The chocolate bar had a higher ratio of milk chocolate to the malted milk crunchiness imbedded in the bar itself. The bright acidity of this sour beer cut through the milk fat of the chocolate bar in an almost cheese-like creaminess, melting the chocolate off the tongue. The malted milk flavors brought out the beer's complex notes of fruit and spices, ending with a dry, palate cleansing finish.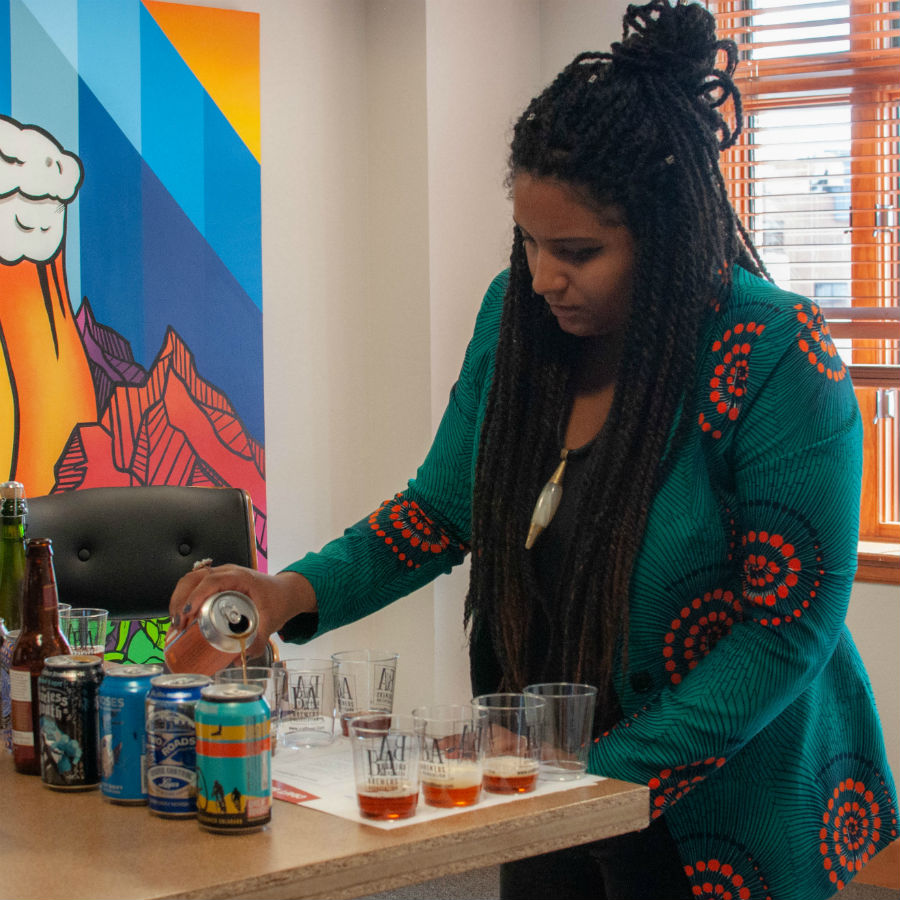 Old Ox Brewery's Black Ox Rye Porter & Homemade Malted Milk Balls
This beer seemed to overshadow the other malted milk candies with its hints of smoke and spiciness from the rye. But the homemade malted milk balls stood up nicely thanks to the flaky sea salt I added to the recipe to give them texture and extra flavor. The salt compliments the smokiness of the rye porter by adding a savory punch. The dark chocolate brings out a smooth espresso-like finish with a balanced bitterness.
Fair Winds' Blackened Seas Porter with Black Cherries & Homemade vs. Bulk-aisle Malted Milk Balls
I found that both candies paired well with this beer in different ways. The homemade candies brought out more of the black cherry flavors than the bulk-aisle—another win for the sea salt addition. The bulk-aisle candies paired well by adding more sweetness to combat the bitterness of the chocolate.
Cape May Brewery's Concrete Ship – Bourbon Barrel-Aged Imperial Stout & Homemade Malt Balls
Of all the beers, this one paired best with the homemade malted milk balls because the flavors stood up to the intensity of this rich and decadent barrel-aged stout. The bulk-aisle and commercial candies fell a little flat. The saltiness of the homemade candy also balanced out the deep oakiness of the beer.
All in all, making malted milk balls is easy and fun, and pairing them with beer even more so. You can download CraftBeer.com's beer tasting mats to jot down and compare notes. I definitely suggest having some fun with your friends and family with a malted milk ball and craft beer tasting!
CraftBeer.com is fully dedicated to small and independent U.S. breweries. We are published by the Brewers Association, the not-for-profit trade group dedicated to promoting and protecting America's small and independent craft brewers. Stories and opinions shared on CraftBeer.com do not imply endorsement by or positions taken by the Brewers Association or its members.