Pairing beer and cheese is often perceived as complicated, but it's easier than you think. After peeling back the curtain to reveal there is no such thing as a pairing wizard, you should know that the rules are simple.
If it tastes good, then continue on with it.
If it tastes bad, stop and choose another.
Cheese and beer pairing is an adventure.
In the CraftBeer.com Beer & Food Course, we speak in-depth about pairing guidelines. Here are a few of those terms that will help ensure success on your beer and cheese adventures.
Complement
Cheese and beer are no different than our human interactions. If we want to get along with each other, we need to find the commonalities and use them to make connections. A classic food complement is chocolate and peanut butter. The salty, sweet nuttiness combines with the rich and creamy chocolate. In the world of beer and cheese, find the common flavors and use them as a bridge to harmoniously unite the two.
(READ: Peanut Butter Beer is Nostalgia in a Glass)
Contrast
Another food example is peanut butter and jelly where the salty, sweet nuttiness works wonderfully together with the fruity, sweet acid. Basic rules of thumb are sweetness counters acidity, spiciness and bitterness. Not all contrasting pairings work, as in oil and water, but this idea is wonderful to play with.
Cutting and Cleansing
Imagine washing down a gob of peanut butter with fresh, heavy cream from the dairy. They would overwhelm the palate and coat the mouth so heavily we wouldn't taste anything else for quite a while. We need to cleanse our palate so we can enjoy other flavors without one bite dominating our evening.
Bitterness in our beer can effectively cut through the fatty cream and neutralize it. Carbonation uses scrubbing bubbles to cleanse the palate and give it an easy rub down before the next bite. Acidity can also join the team to refresh the palate and prepare it for more. This formidable team works together to prevent palate fatigue (which is an actual thing).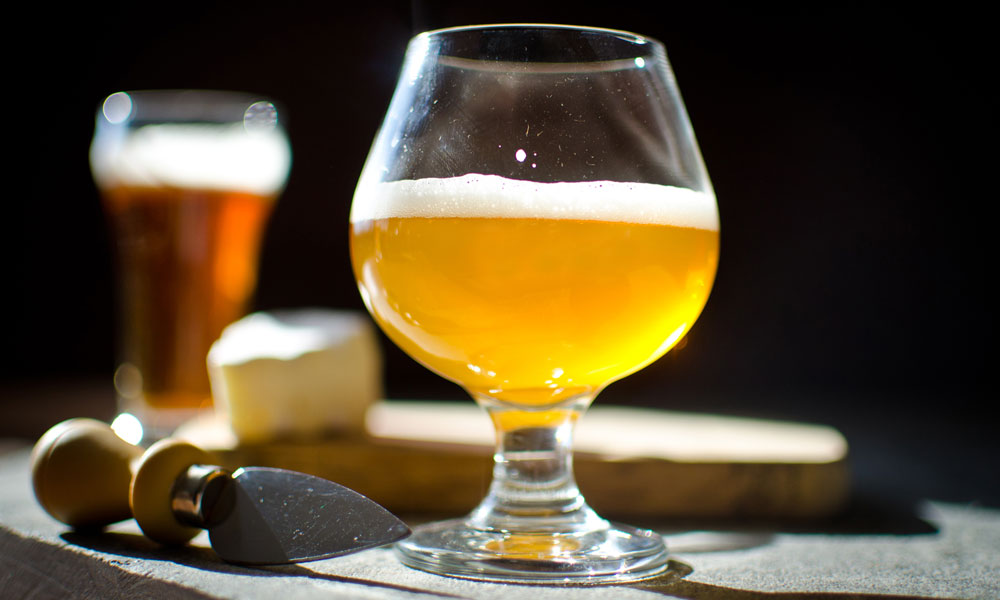 Impact
No one wants to get dressed in a nicely tailored suit only to drive his date in a rusty old clunker that sputters down the road. Equally, a light Pilsner will be dominated by a beef stew and an imperial stout will overpower a summer salad. This is impact.
Simply put, pair light cheese with light beer, and pair that funky, washed-rind, juggernaut of a cheese with a beer so strong and flavorful that it can stand toe to toe with a grin.
(LEARN: Beer Flavors Six Pack)
Here's another piece of pairing advice: That which grows together often goes together. Either through terroir or the home field advantage, products that grow within the same region are generally a safe pairing. Good examples include Mexican beer, guacamole and flip flops, as well as an IPA, Northwest salmon and a flannel shirt. 
Before you dive in, you should know cheese flavors vary within a style as much as beer. Find a cheese expert, like those at the American Cheese Society, to navigate you through the wonderfully diverse world of cheese. The following pairings are meant to help you begin your adventure, not to help finish it.
10 Popular Styles for Pairing Beer and Cheese
Pepper Jack
Pepper Jack is a creamy, sweet cheese with peppers, chilies, herbs and other flavors. Frankly, this cheese can pair with beer either really well or really poorly. The spicy bite of alcohol and the bitter hops can potentiate the spiciness in the cheese.
I prefer to contrast this cheese. I've discovered one of my favorite pairings is pepper jack cheese with a Scottish-style ale. The phenolic character in some examples of the beer seem to provide a bridge to the smoky and spicy flavors of the cheese while the malty sweetness enveloped the vegetal spiciness and began an elegant dance that fuses the two cultures together in a wonderful and surprising way.
Feta Cheese
Feta is one of the cheeses that most often finds its way onto my plate. It is creamy, tangy and briny. It has a dominant flavor that doesn't bully other ingredients, but instead works very well with many dishes.
However, the clear winners came with complementing this cheese in the form of lighter and equally interesting beers such as a Belgian-style witbier or a Belgian-style blonde. Both beers are light but full of character and can pair with Feta any day of the week.
(MORE: Get to Know 75+ Popular Beer Styles)
Goat Cheese
Goat Cheese comes in many glorious forms. The creamy, spreadable, fresh versions often have a distinct, tart, sweet and earthy flavor. Don't dismiss this cheese as light and delicate as it can pair very well with a beer with a bit of alcohol spice on the back end.
The best pairings for a creamy goat cheese tend to be those that complement such as German-style pilsners, American-style pale ales, Belgian-style wits, Belgian-style golden strong ales, tripels and saisons. You can also try a maltier German-style doppelbock or the bananas and clove from a German-style hefeweizen with a semi-firm goat cheese.
Bleu, Stilton and Gorgonzolas
Bleu, Stilton and Gorgonzolas are amazingly complex and diverse, which opens them up to many delicious pairings. Generally speaking, these cheeses tend to be creamy, nutty, mild to sharp, complex, earthy, caramelly, with the distinct character of the Penicillium Roqueforti mold.
With so many bridges that complement flavors in our beer, you could almost cover your eyes and point aimlessly to the beer cooler and pull out an acceptable winner. The trick to pairing these types of cheeses is finding an equal impact. Imperial IPAs, barley wines, tripels and quads, even Baltic-style porters and imperial stouts can be amazing.
Gruyere
Gruyere is a swiss cheese similar to French comté that comes across as sweet, salty, nutty, creamy and earthy. This cheese practically begs for rich and complex malt and spicy or earthy hops to complement it. Try pairing with beers like German style doppelbocks, English bitters, American-style amber ales and Scottish ales.
(LEARN: CraftBeer.com's Big List of Beer Schools)
Parmesan
Parmesan cheese is gloriously sharp, fruity, nutty and savory with a gritty to somewhat creamy texture. However, one of the defining flavors is the saltiness. When you break free from the obvious pairing of pasta marinara with chunks of good parmesan and a doppelbock, the world opens up.
A light and refreshing wheat beer may contrast wonderfully, but I prefer to complement this cheese with a British or American barley wine, a Belgian-style gueuze/lambic, a salty gose, or even the grassy hop notes of an IPA.
Havarti
Havarti is a sweet, creamy, acidic and buttery white cheese that ends up in most of my sandwiches. The creamy smooth texture envelopes the palate and insists on a fairly long finish.
The flavors can easily pivot from contrast to complement, but I suggest using beer's cutting potential as well. Think dry body, a bit of acidity and high carbonation for this cheese. A German Berliner Weiss, Pils, IPA, dry stout would all find a sweet spot with Havarti. For a rare treat, pair your havarti and turkey sandwich with a Grodziskie, which is bone dry, highly carbonated and tastes of light, bready malt and smoked oak.
Cheddar
Cheddar is the classically versatile mild, sharp and extra sharp cheese of British origin that we all know and love. The aged versions of this wonderful cheese are sharply bitter, pungent, earthy, creamy, sweet, even hazelnutty and often the object of palate envy. Following the "if it grows together, it goes together" food pairing guideline, British bitters, stouts, porters, Irish-style reds, browns and Scottish ales are the "dog's bollocks," (which means really, really good in plain English).
(RECIPES: Hundreds of Ways to Cook with Beer)
Manchego
Manchego is one of my all-time favorites. It's a lightly to well-aged Spanish cheese that is also mild, nutty, creamy, grassy, earthy, lightly briney and sometimes subtle.
Manchego is such a clean slate with which to pair any beer that I suggest letting your palate be your guide. Light and fruity lagers and wheat beers are equally as excellent as earthy rye IPAs and barley wines.
Brie & Camembert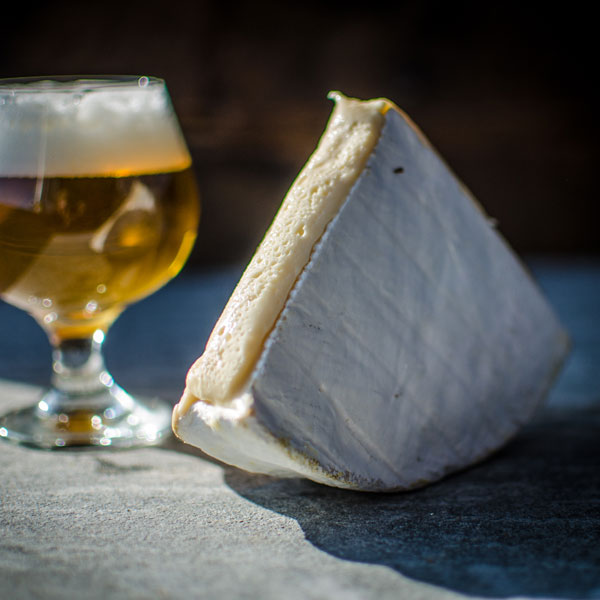 Most people have had a version of Brie cheese, especially baked in a bread crust. It is creamy and buttery. While Brie presents somewhat of a neutral flavor for many pairings, it is so creamy and buttery that I strongly suggest a beer that can cut through it such as German or Bohemian-style pilsners, weissbiers, IPAs or Belgian tripels.
Then along came Camembert, Brie's funky cousin that adds earthy, mushroomy, slightly pungent and barnyard-farm animal aromas. There is a lot of wiggle room for pairings here, but I am so in love with saisons paired with Camembert cheese that I don't see the point in looking any further.
The art and craft of pairing is a delicate balance between these variables. However, there is a safety net to catch us if we lose the balance. After all, it is beer and cheese — we have the odds of a good pairing stacked in our favor. But if we have the occasional bad pairing, there is a world of beer and cheese pairings for us to discover, and it can only get better.
CraftBeer.com is fully dedicated to small and independent U.S. breweries. We are published by the Brewers Association, the not-for-profit trade group dedicated to promoting and protecting America's small and independent craft brewers. Stories and opinions shared on CraftBeer.com do not imply endorsement by or positions taken by the Brewers Association or its members.