During California's Gold Rush, over 25 million ounces of gold were mined from the Sierra Nevada foothills. Much of it was taken from counties along California State Route 49, which is nicknamed the "Golden Chain Highway."
Highway 49 is numbered after the 49ers, the migrants and immigrants who came to the area expecting to strike it rich. The route passes through many historic mining communities established during the 1849 California Gold Rush. Splitting off State Route 41 in the community of Oakhurst in Madera County, it traverses south to north through the counties of Mariposa, Tuolumne, Calaveras, Amador, El Dorado, Placer, Nevada, Yuba, Sierra, and Plumas, reaching its northern end at State Route 70 in Vinton.
Today, gold can be found in the various hues of craft beer brewed along this historic route. If you're planning to trace the steps of the migrants and immigrants who made the hopeful journey in search of riches, be sure to include stops at craft breweries along the Golden Chain Highway. Here's a look at some of the craft breweries along the route, starting in Madera County.
South Gate Brewing Company | Madera County, CA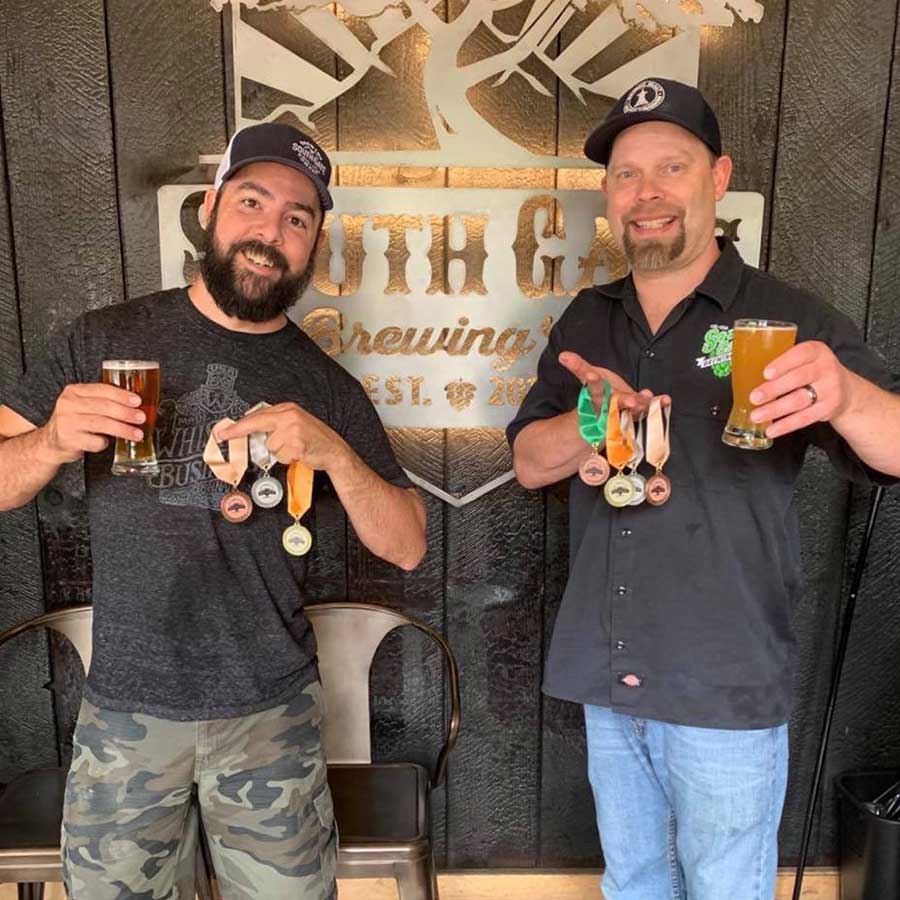 Less than half a mile north of the Golden Chain Highway's southern terminus at CA-41 in Oakhurst, this brewpub produces handcrafted beer and remarkably good pub food.
Brewer Rick Boucke creates pale ales and lagers to barley wines and imperial stouts. Draft offerings change often, so returning visitors are often met with new creations.
Rick entered beers in the 2019 NorCal Brew Fest Competition. South Gate Brewing Co. came home with two golds, two silvers, two bronze, and one honorable mention.
Chef Mike Farr is given the same freedom to devise the pub meals. He makes sure that the food is made from the finest and freshest of meats, cheeses and local produce. As owner Casey Hawkins says, "The only things in the freezer are French Fries and ice cream. Everything else is fresh and locally sourced."
1850 Brewing Company | Mariposa County, CA
Jake Wackerman grew up in a restaurant owning family; his mother also owns a restaurant in Mariposa. Beginning at age 13, he was introduced to the industry washing dishes in a local steakhouse. By age 16, he informed his family and friends that he, too, dreamed of owning his own restaurant someday.
Encouraged by family and friends, Jake and his girlfriend Hanna Dutra opened 1850 Restaurant on May 1, 2013. Ever the entrepreneurs, Jake and Hanna (now married — in the restaurant) expanded the business to include the Loft at 1850, a two-bedroom loft above the restaurant that sleeps up to six.
After brewing science and brewery training at UC Davis in 2016, Jake and fellow brewmaster Dan McMonegal began brewing beers in a 1.5-barrel system.
Jake says his unique selling points include the brewpub's "proximity to Yosemite National Park, catering to a small market, reinvesting restaurant profits into the brewery, and doing the small things right."
Demand has outpaced the limits of the 1.5-barrel brewing system necessitating the purchase of a new seven-barrel brewing system. By April 2020, they expect to have it installed in a new location featuring an on-site tasting room, retail merchandise store and live music.
(TRAVEL: Pacific Coast Breweries)
Bear Tent Brewing Company | Tuolumne County, CA
In 2008, high school friends John McGettigan and Ben Deutsch were trekking in New Zealand. At the end of a day traipsing the Kiwi island, they pondered their futures over a 6-pack of local beer and hit on the idea of becoming brewery owners, although they had never brewed before.
After nine years of homebrewing, John and Ben used their construction job skills to build out a small production facility in Jamestown. Two-and-a-half years ago they opened Bear Tent Brewing Company with two three-barrel and one seven-barrel brewing system. The brewery revolves around locally sustainable ingredients and is developing into a farm brewery. They grow their own Cascade and Chinook hops and hope to expand. "We prefer to brew traditional beers but sometimes get wild with some juniper berry additions," John says.
The founders plan to stay small and serve only the local area (and friends, of course). So far, the only advertising they do is by word-of-mouth and an Instagram presence.
Highway 49 Trip Notes: You can also stop in at Sonora Brewing Co. It's just a few miles north of Bear Tent along the Golden Chain Highway.
Snowshoe Brewing Company | Calaveras County, CA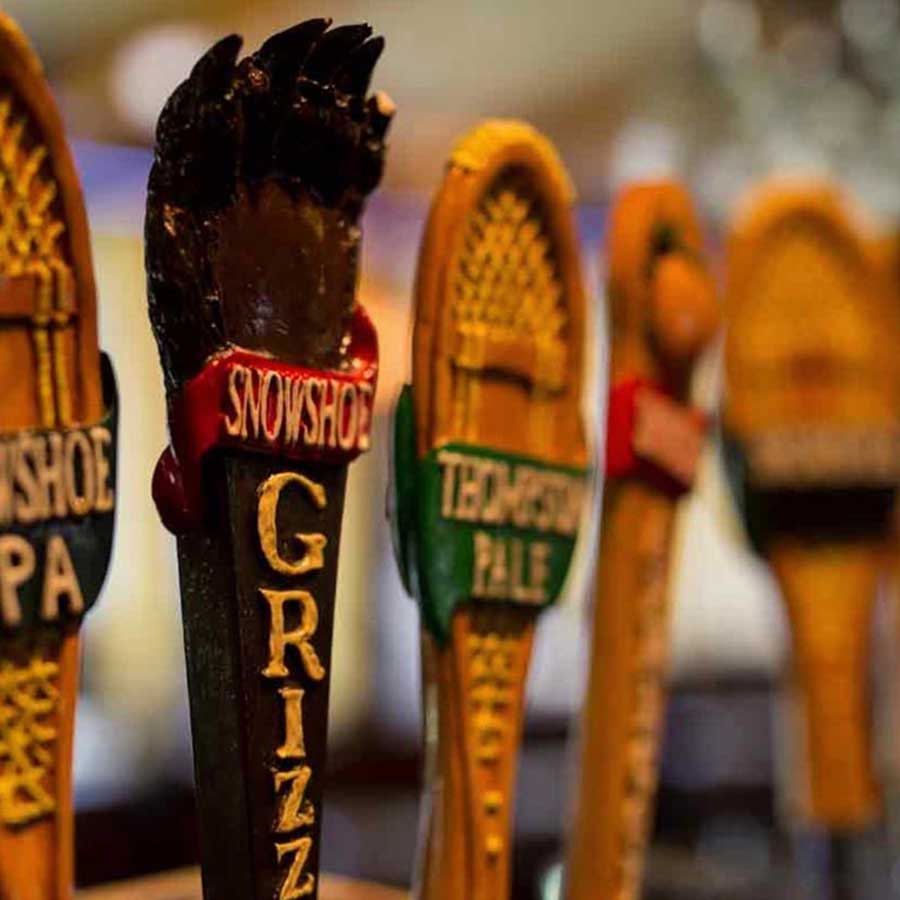 Originally founded by Al O'Brien and Jeff Yarnell, two longtime friends and local business associates, Snowshoe Brewing Company opened in 1995 in the Meadowmont Lodge that overlooks the local golf course. It is the first craft brewery in Calaveras County.
The brewery is named after a local Gold Rush pioneer, John "Snowshoe" Thompson, who is honored with the brewery's signature Thompson Pale Ale. Well known during the California Gold Rush era of the mid-1800s, Thompson delivered mail while frequently crossing the often perilous Sierra Nevada Mountains, even in the dead of winter on his sturdy homemade snowshoes.
Al and Jeff retired in November 2019 and Joe Sunburg and Sheri Chanell took over ownership. Joe and Sheri are planning to remodel Snowshoe in a more contemporary decor. Keeping to the woodsy and kid-friendly atmosphere, patrons of all ages with young minds will continue to be fascinated by watching the brewery process through protective glass, playing in the arcades games section, and sampling the listings in the kids' and family-friendly menus.
Brewmaster Tom Schuermann uses a 15-barrel brewhouse, three 15-barrel fermenters, and three 30-barrel fermenters to give a nod to the local environs, brewing the likes of Snowshoe's year-round beers such as Snoweizen, Grizzly Brown and Thompson Pale Ale.
Amador Brewing Company | Amador County, CA
Will Pritchard began homebrewing in 2008 with the intention of owning a microbrewery. Amador Brewing Company opened its doors on Tax Day in April 2015.
Relying on his construction management and mechanical engineering background, Will designed a big 20-barrel system and brews several batches a week from Monday through Thursday. "Brew days are my favorite days of the week," he says.
Co-owner and brewer Matt Johnson and Will have limited their tap number to eight at any particular time. Their offerings emphasize a few IPAs for hopheads as well as more traditional German-style beers.
The brewery distributes from the Gold Country counties into Northern California.
(TRAVEL: Epic Route 66 Craft Brewery Road Trip)
Placerville Brewing Co | El Dorado County, CA
Echoing the worldwide cry of "gold in them thar the hills" (referring to the Sierra foothills grubstakes that originated in nearby Coloma), Placerville Brewing Company draws on a 1800s heritage as the original Hangtown Brewery. A repository of historical artifacts, the brewpub's decor features an old wooden beer cask, beer shipping crates, photos, and more from past area breweries.
Addressing 21st-century tastes, co-owner and brewmaster Steve Meylo concocts various craft brews. Always on tap are Strong Blonde Ale, Golden Ale, Pale Ale, Stout, Tangerine Ale, Boysenberry Ale and Vanilla Stout. Steve makes sure seasonal ales are timely on tap as well, such as Copper Ale, Bell Tower Brown, Platinum Ale, Pumpkin Ale, and the (530) IPA, and Ale Dorado IPA.
With a touch of whimsy, Steve and co-owner Allen Vickers offer mixed drink combinations like the Dirty Vanilla (a mix of the brewery's Strong Blonde and Vanilla Stout beers), Snake Bite (Two Rivers cider mixed with the Chocolate Stout), Real Beer Float (a scoop of vanilla ice cream floating in a cold pint of Chocolate Stout or the Boysenberry Ale), and others.
On the food side, true Texan Vickers draws on his 40 years of barbecuing expertise and award-winning sauces in preparing Texas-style BBQ food.
The brewpub's woodsy interior is highlighted by wood beams, a classic wrap-around wood bar stationed between the restaurant and bar areas, lots of interesting signs and bottles and scrimshaw, flat-screen TVs, and a large outdoor patio. You can find live music at Placerville almost every night.
Highway 49 Trip Notes: There are several brewery stops along this part of the Golden Chain Highway. Outbreak Brewing is also in Placerville, along with the Jack Russell Brewery Restaurant. A little south are El Dorado Brewing and Solid Ground in Diamond Springs; to the north, you'll find BarmHaus in Garden Valley and Cool Beerwerks in Cool.
Moonraker Brewing Company | Placer County, CA
Minimizing their carbon footprint is priority at Moonraker Brewing Company. Co-founder Karen Powell wanted to build a sustainable brewhouse that reduced typical energy levels and conserved water. "Every bit of production and onsite customer facility is energized by solar-powered electricity," Karen says. Using over 1,100 solar panels powering an electric boiler, Moonraker's system "provides enough electricity to make beer, operate the taproom, and still continue to bank power." They have a 10-barrel brew system in the taproom and a 20-barrel system for wholesaling.
Fittingly, Moonraker opened on Earth Day, April 22, 2016. Catering to the ever-changing tastes of local hopheads, Moonraker's brewers, Aaron Copelin and Brad Johnson, use innovative techniques and ingredients to create new recipes. His talents were recognized when Moonraker was awarded the Best New Brewery in California and No. 9 in the World by Rate Beer in 2017.
Moonraker has earned its fair share of competition awards, including medals at the Great American Beer Fest in 2016, 2018 and 2019.
Highway 49 Trip Notes: Knee Deep Brewing is right around the corner from Moonraker. If you're traveling the Golden Chain Highway, Crooked Lane Brewing Co. and Tap and Vine are also in Placer County, about 25 miles south in Auburn.
(VISIT: Find a Brewery)
Three Forks Bakery & Brewing Company | Nevada County, CA
Three Forks Bakery & Brewing Co. is a unique combination whose name says it all. Owners Dave Cowie and Shana Maziarz concocted an intriguing business plan in 2011 by marrying a true bakery with a small craft brewery. Drawing on Dave's 23 years as a homebrewer and Shana's restaurant experience, Three Forks Bakery & Brewing Company opened its doors in 2014.
Three Forks serves an eclectic mixture of wood-fired pizza, craft beer brewed in a seven-barrel brewhouse, artisan breads, baked goods, soup, salad, sandwiches, fresh drinks, loose-leaf tea, espresso and coffee … whew! Committed to using fresh, organic and local ingredients, much of the produce and meats are sourced from farms and ranches within a 30-minute-drive time from the brewery. Three Forks intends to be as close to zero waste as possible. Coffee grounds, food waste and spent beer grain are used by local farmers to feed their animals.
As brewer Dave says he favors "classic beers that are clean and fresh." Their beers medaled at each of the California State Fair Commercial Beer Competitions from 2016 to 2019.
Highway 49 Trip Notes: Here near the northern end of the route, you'll find three more craft breweries less than 10 miles from Three Forks. Ol' Republic Brewery is just a mile south in Nevada City. Grass Valley Brewing Co. and 1849 Brewery are located in nearby Grass Valley.
These craft breweries along California's Golden Chain Highway reflect the indomitable spirit of the 49ers and pioneering enterprise of innovative entrepreneurs. Concocting unique offerings of craft beer and pub food amidst the gently undulating and steeply sloping terrain of the Sierra foothills, the brewers and chefs of these craft breweries indeed bring "gold" back into prominence.
CraftBeer.com is fully dedicated to small and independent U.S. breweries. We are published by the Brewers Association, the not-for-profit trade group dedicated to promoting and protecting America's small and independent craft brewers. Stories and opinions shared on CraftBeer.com do not imply endorsement by or positions taken by the Brewers Association or its members.