The deep nostalgia unleashed by the decommissioning of Route 66 is not unlike the void left behind when a neighborhood microbrewery gets bought out by Big Beer. The advents of self-driving cars and low-cost airlines have done little to dim the national obsession with honoring a bygone era of filling stations and neon-lit motor inns. Even now that traveling by air is sometimes cheaper than traveling by road, thousands of travelers a year forego frugality and expediency to cruise Route 66 the old-fashioned way: in jam-packed cars, motorcycles and even on bicycles.
[newsletter_signup_box]
While getting a taste of historical hardships and charms, contemporary road warriors are paying their respects to The Main Street of America in their own modern ways. They snap selfies in front of vintage buildings and ghost towns. They buy kitschy memorabilia at roadside stands using Apple Pay and Android Pay. Also, they now count on a new set of attractions that have only recently begun popping up on Pinterest boards and blog listicles: craft breweries along Route 66.
It should come as no surprise that the craft beer revolution has made it to The Mother Road. Brewing and drinking craft beer is about being open to new experiences and honoring artistry over efficiency; elbow grease and gumption over automation and industrialization. Route 66 was once about all those things, too, and it continues to be a symbol of American boldness and ingenuity.
(TRAVEL: 5 Epic Craft Beer Road Trips)
So this summer, pay tribute to one of America's most famous streets by answering the call of the open road with this Epic Route 66 Craft Brewery Road Trip and get caught up in the throwback wonders of the pre-digital age. While you're at it, bring a few empty growlers, because "filling stations" have taken on a new meaning.
A Snapshot of Route 66
For nearly a century, Route 66 has inspired intrepid adventurers and down-on-their-luck wanderers to hit the road. First came the Dust Bowl escapees in search of a better life out West. Then, World War II soldiers and factory workers plied the patchwork of Main Streets, state roads and rural trails linking Chicago to Los Angeles. Finally, postwar suburbanites and road warriors packed into shiny cars and beat-up jalopies alike to get their "kicks on 66."
The cottage industry of roadside attractions that sprang up to cash in on the motorized travel craze gave way to some of the country's most peculiar landmarks. Many of these marvels still stand, scattered along the roughly 2,400 miles of route between the Great Lakes and Pacific Ocean. Their decades-old patina makes them even more delightfully tacky today than when they were first erected. Included in these notable sights are the world's (former) largest rocking chair, the leaning water tower of Texas and Cadillac Ranch, to name a few.
The Mother Road withstood periods of war, economic depression and civil unrest, but it could not survive America's obsession with prioritizing efficiency over leisure. In 1956, around the time we had finally accepted that bemoaning "Are we there, yet?" was an American rite of passage, an initiative to hack the Main Street of America to pieces was launched.
Over the next three decades, straight lines of asphalt were dynamited through the desert bluffs that had for decades been gently hugged by curvy, meandering detours. Four-lane asphalt flyovers replaced beautiful arching bridges. Entire towns were bypassed by the Interstate system and left to shrivel up and die like discarded hops plucked from the vine.
Route 66 gave rise to the concept of the "road trip," forever etching itself on the country's soul and topography, but all good things come to an end. On June 27, 1985, Route 66 was decommissioned.
(READ: Breweries Worth the Detour)
On the Road Again
Today, Route 66 is more a concept than an actual road. A new generation's social media feeds showcase stylized images of the cultural artifacts the motorway left behind. To the thousands of travelers from all over the world who choose to travel what is left of Route 66, the road is so much greater than the sum of its many shattered parts. It is a journey that reinforces the notion that the path of least resistance is nowhere near as interesting as the road less traveled.
However, if the prospect of being in a wheeled metal cage for days-on-end is not your cup of tea (or pint of beer), several of the breweries mentioned in this article can be visited on day-trips or urban excursions near airports and car rental facilities. This is not a comprehensive list by any means, so remember to keep your eyes peeled and your mind open. That's the way the greats who have come before you did it best.
Also, remember that all masterful works tend to have many iterations, and Route 66 is no exception. There are many "original" Route 66s, known as "alignments." So as you're exploring craft breweries along the route, if you come into a town with Route 66 signs that seem to have been designed by the Mad Hatter, do not fret. Just pick the direction that makes most sense to you and go with the flow. As writer Erol Ozan puts it, "Some beautiful paths can't be discovered without getting lost."
(READ: 50 Fastest Growing U.S. Craft Brewers)
Illinois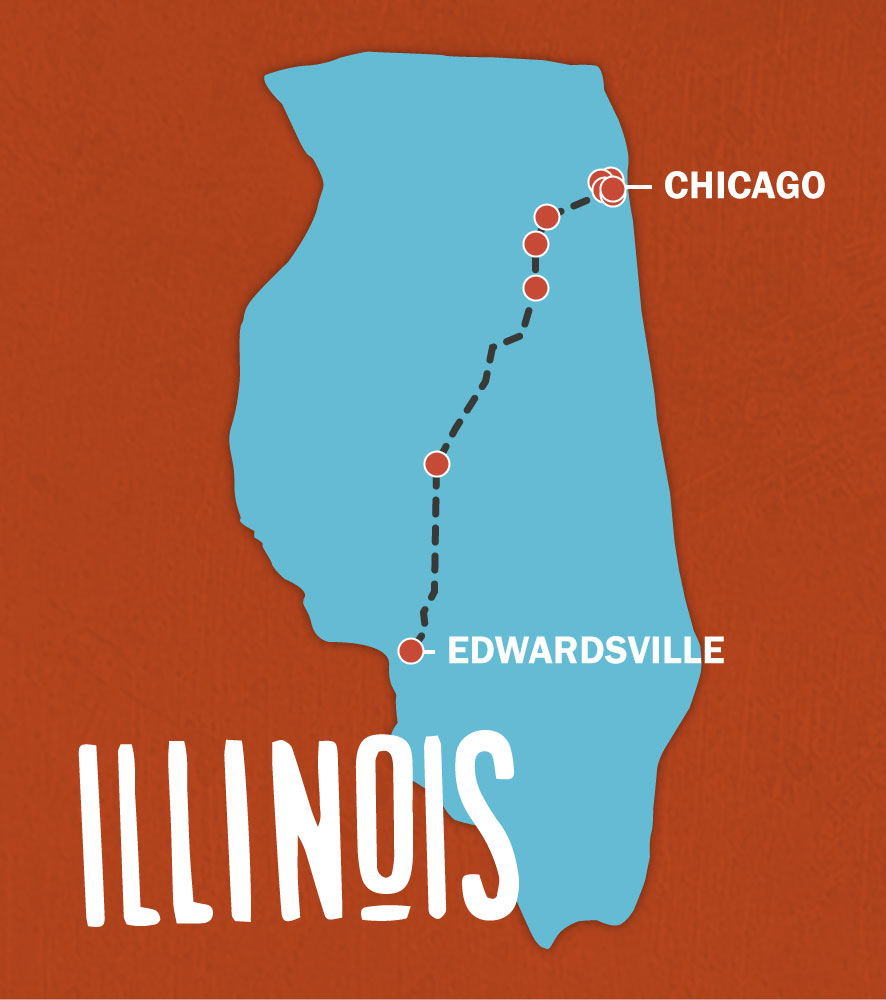 Illinois marks the beginning and the end of Route 66. For those heading west, Route 66 starts in downtown Chicago and veers south. The famous "Route 66 Begin" sign is near the intersection of East Adam Street and South Michigan Avenue, although an older sign can also be found one block west on South Wabash Avenue. If you are coming the other way, you will know you have reached the end of the road when you see the "Route 66 End" sign on East Jackson Boulevard and South Michigan Avenue.
Chicago – Plenty of craft brewing happens in the unofficial capital of the Midwest, and you could spend months exploring Chicago's many brewpubs. Narrow down the field so you can get your road trip started by focusing on the many breweries near or within "The Loop" (Chicago's downtown area).
Motor Row Brewing is an excellent drinking hole to gather inspiration for your journey. The craft brewery is part of a historic building in Chicago's original car dealership district. Here, you will find beer themes harkening back to the four-wheeled beauties that used to cruise the Mother Road. Their New Phenix, named after an early 1900s vehicle, is an unfiltered lager with a hint of rye. For a darker, roasted malt flavor, give the Fleetwood Black lager a try. Drag Race, a New England-style double IPA, has a bold flavor that is probably best avoided by uninitiated beer drinkers.
Other breweries near or within The Loop include Gino's Brewpub, which opened in 2017 and serves up the famous Chicago-style pizza of the iconic Gino's East. Rock Bottom Brewing, Birreria at Eataly, Cruz Blanca and Haymarket Pub and Brewing are other breweries within two miles of where Route 66 begins and ends.
Romeoville – Metal-Monkey Brewing currently cranks out as much beer as its three-barrel system will allow, but the goal is to eventually grow to a 10-barrel operation. Try their Funky Mucker Stout, because now that you are an adult, you do not have to justify to anyone why you eat things that taste like a chocolate peanut butter sandwich.
Joliet – MyGrain Brewing Company has been open for less than a year, but it has already become a popular landmark along Route 66. Located in the historic Union Station building, patrons are encouraged to laze around and watch trains zip by while sipping on one of the 15 craft beers on tap. The new downtown train station, adjacent to MyGrain Brewing Company, opened in April and serves the Metra line along the Heritage Corridor.
Bolingbrook – Gordon Biersch Brewery became the Rock Bottom Restaurant in January. They still brew beer and it is still well worth the short, 1.5 mile detour from Route 66. The brewpub aims to have beers on tap that craft beer lovers would enjoy, and they also stock beer for new converts that are easing into the bolder flavors. Their honey lavender lager is suitable for cocktail drinkers, while their Belgian Triceratops caters to those wanting an oversized Belgian-style tripel. Its hints of cardamom, orange peel, coriander and goji berries will leave your taste buds delightfully confused.
Normal – Just minutes away from Historic U.S. Route 66 is DESTIHL Brewery. This 47,000 sq. ft. building features 37,000 sq. ft. of production brewery space, including a 60 BBL conventional brewhouse, 240 BBL sour kettle brewhouse & a 10 BBL pilot brewhouse. The Beer Hall features an exclusive menu of bold pub fare 30 taps with many selections from DESTIHL's Wild Sour Series, barrel-aged Saint Dekkera® Reserve sours as well as other wood-aged beers, classic styles and exciting seasonals.
Springfield – Obed and Isaac's Brewing is located in a historic building not far from Abraham Lincoln's home. While enjoying a game of bocce ball, do try the Mother Road Route 66 APA, a hoppy beer with hints of grapefruit.
Edwardsville – Recess Brewing is your last chance for a craft beer along Illinois' stretch of Route 66. This school-themed brewery features a bar, tabletops and signage made from reclaimed barn wood dating back to the Civil War. This is America and you are on America's Main Street, so it makes sense that this brewery is also launching their own version of a Mother Road APA.
(VISIT: Find a U.S. Brewery)
Missouri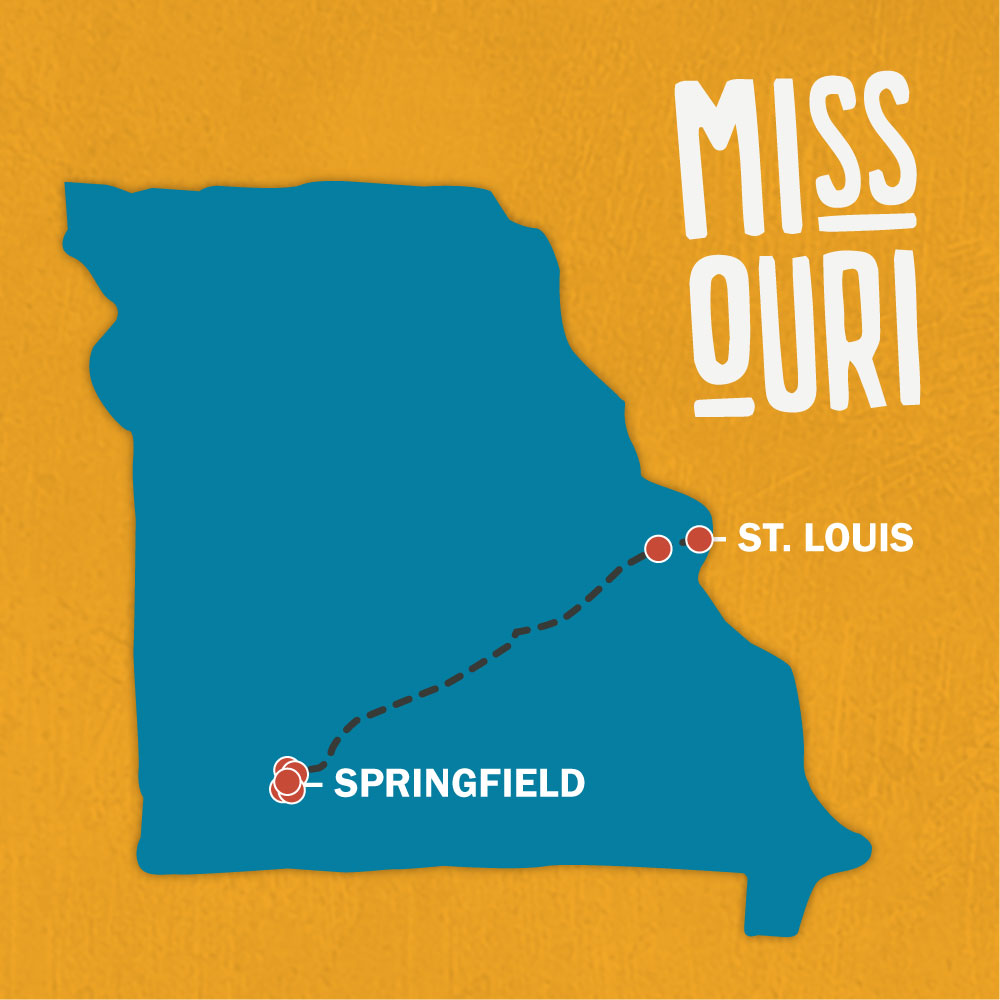 Now that you are in the Show Me State, you are definitely on a more east/west trajectory. After crossing the mighty Mississippi River, you will be heading into the heart of the Ozarks. This is a relatively large stretch of Route 66, but it is sparsely populated except for a couple of cities and towns. Springfield and St. Louis are definitely the brewing hot spots of this section of the route.
St. Louis – Urban Chestnut Brewing features a communal beer hall so you can easily make new friends on the road. Sustainability reigns supreme here, and the brewery is a LEED (Leadership in Energy and Environmental Design) Silver certified, zero-waste facility. This location in the up-and-coming Grove neighborhood hosts events, festivals and concerts.
Springfield – Lost Signal Brewing is in an old radio station along Route 66 in downtown Springfield. Since the owners have taken care to preserve as much of the original building as possible, the radio tower still looms large over the brewery and its bright lights at night act as a beacon for the thirsty. There is a large patio where kids and pets can run free. Mothers Brewing Company is also in downtown Springfield and offers free tours of their brewery every Saturday. There is live music on Fridays and Saturdays. Although they do not sell food at the brewery, food trucks frequently park nearby, so you do not have to go hungry while sampling one of their 21 beers on tap. While in the area, you can also check out Springfield Brewing Company, which has been making craft beer in Springfield since 1997.
About a half mile from Route 66, located in a 1924 converted gas station, White River Brewing features many nods to life along the Missouri River. They also host live local music on weekends.
Kirkwood – Although travelers many times opt to skip this Route 66 alignment, the prospect of spending time at the Frank Lloyd Wright house in Ebsworth Park and Kirkwood Station Brewing Company might sweeten the deal. The family-oriented brewery is located in downtown Kirkwood and has 12 craft beers on tap.
(READ: Farm Breweries to Visit This Year)
Kansas
The 13-mile stretch of Route 66 in Kansas is the shortest of the eight states the road traverses. Although there are no breweries in the area, that could change very soon. Joel Stewart has been homebrewing for 20 years and he is determined to open the Jolly Fox Brewery in the town of Pittsburg, Kansas, just 10 miles from Route 66. "My dream is to open this little brewery that seats about 75 people," says Stewart. "Nothing extravagant, just good beer and some food. I want local vendors to make the hamburger buns and a local butcher to provide the meat." Stewart says he has been raising funds and educating himself on the permitting process of opening a brewery for two years. He is optimistic that his little brewery will be up and running sometime this year.
Oklahoma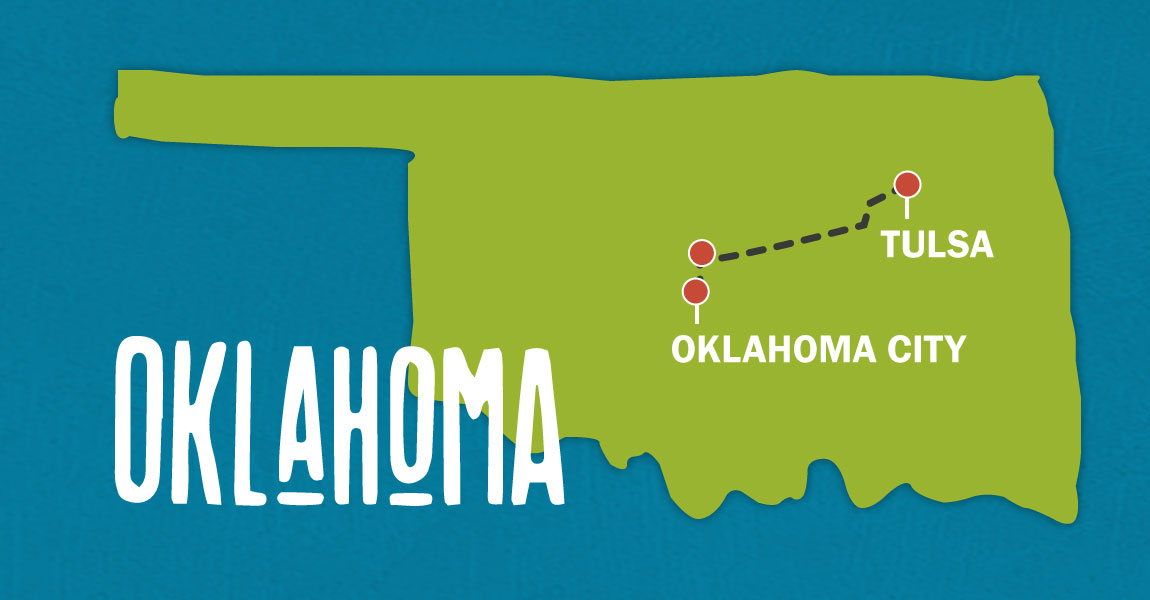 In his famed novel, "The Grapes of Wrath," John Steinbeck wrote about the hardships endured by those fleeing Oklahoma's Dust Bowl on Route 66, and until recently, Oklahoma craft beer-lovers also had it pretty rough. Unlike other Route 66 states, which have less-restrictive alcohol laws, Oklahoma is on the opposite end of the spectrum. Prior to 2010, homebrewing was illegal here and up until two years ago, taprooms were not allowed to serve full-strength beer directly to consumers. Things are changing in the Sooner State, though. Right now breweries can have their taprooms open until 9 p.m. and as of October of this year, they will be allowed to remain open until midnight. So help usher in a new era of craft beer appreciation in Oklahoma and visit some of these brewing pioneers.
Tulsa – Eric Marshall owns Marshall Brewing, just a half-mile away from Route 66. This decade-old brewery, housed inside a former warehouse, is expanding. Marshall says that after the news spread about the alcohol law changes, he became a whole lot more optimistic about his business. Patrons can expect a new beer garden soon. The flagship beer here is the Atlas East Coast-style IPA.
Renaissance Brewing is just one block south of Route 66 in a quickly changing part of town. The Mother Road Market, Tulsa's first food hall, is slated to open this summer across the street. Also, you will soon be able to stay in the brewery, since the owner is currently working on two bed and breakfast apartments to rent out above the taproom. Try the Saison 66 and 66 Chevel, which will debut in late-summer.
Edmond – The best seller at Battered Boar Brewing, along Route 66, is the Coconut Cream Stout. Owner Mike Sandefur says he loves operating a small brewery serving beers with big flavors. Housed in an industrial park, this taproom has a selection of 14 beers. For those of you collecting stories on the road, be sure to ask how this brewery got its name. The harrowing tale involves a fearless dog, a 475-pound Russian boar, a knife and the brawny stuffed swine that now hangs above the bar.
Oklahoma City – Route 66 skirts Oklahoma City on the north side of town, so finding breweries here can be tough without a detour toward downtown. The 9-year-old Coop Ale Works is one of the oldest and largest breweries in town. In addition to serving the local public, they distribute their beers in Texas, Kansas, Arkansas and Nebraska. Free tours are offered on Saturdays at 1 p.m. and 6 p.m. When the weather is nice, the outdoor patio in the back of the brewery is open to the public, and if you are lucky, you might get to see a blacksmith demonstration taking place.
(READ: Craft Breweries on Major Airlines)
Texas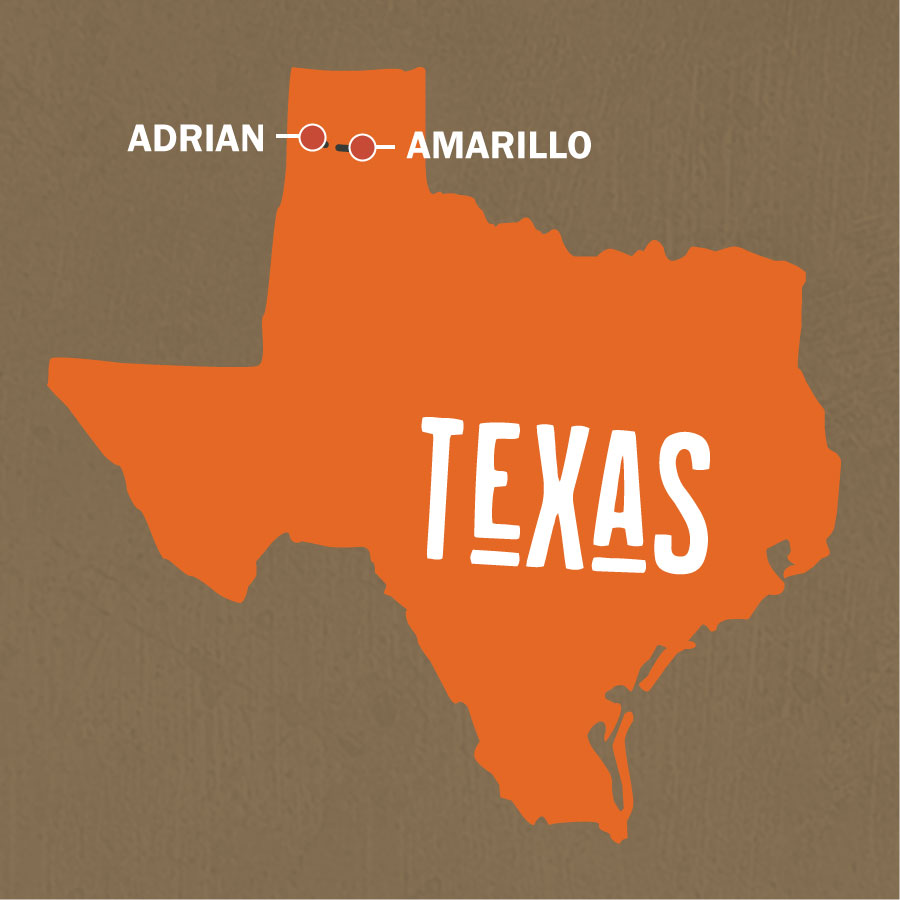 Things are definitely bigger in Texas, but Route 66 only goes through the panhandle. Be sure to drop by Cadillac Ranch near Amarillo and also snap a selfie at the route's midpoint in Adrian, Texas. The inspiration for the Flo character in Disney's Cars came from the lady who ran the Midpoint Café there.
Amarillo – Long before crossing any state lines into the Lone Star State, you will begin to see huge billboards advertising a "free 72-ounce steak" at The Big Texan in Amarillo. If you are not a vegetarian, that will be a hard lure to resist. If the idea of a giant portion of cow on your plate is not for you, The Big Texan now serves up craft beer as well – but unlike the 72-ounce steak, you do not get it for free if you finish it in under an hour.
The Long Wooden Spoon is Amarillo's first standalone commercial brewery. The family-owned and operated taproom is lively and crowded on weekends, so arrive early. The vibe attracts locals and tourists, so expect to quickly make friends here. Food trucks usually park outside, and a limited food menu is also sometimes available at the bar. They have a gift shop open every day except Sunday and Monday.
New Mexico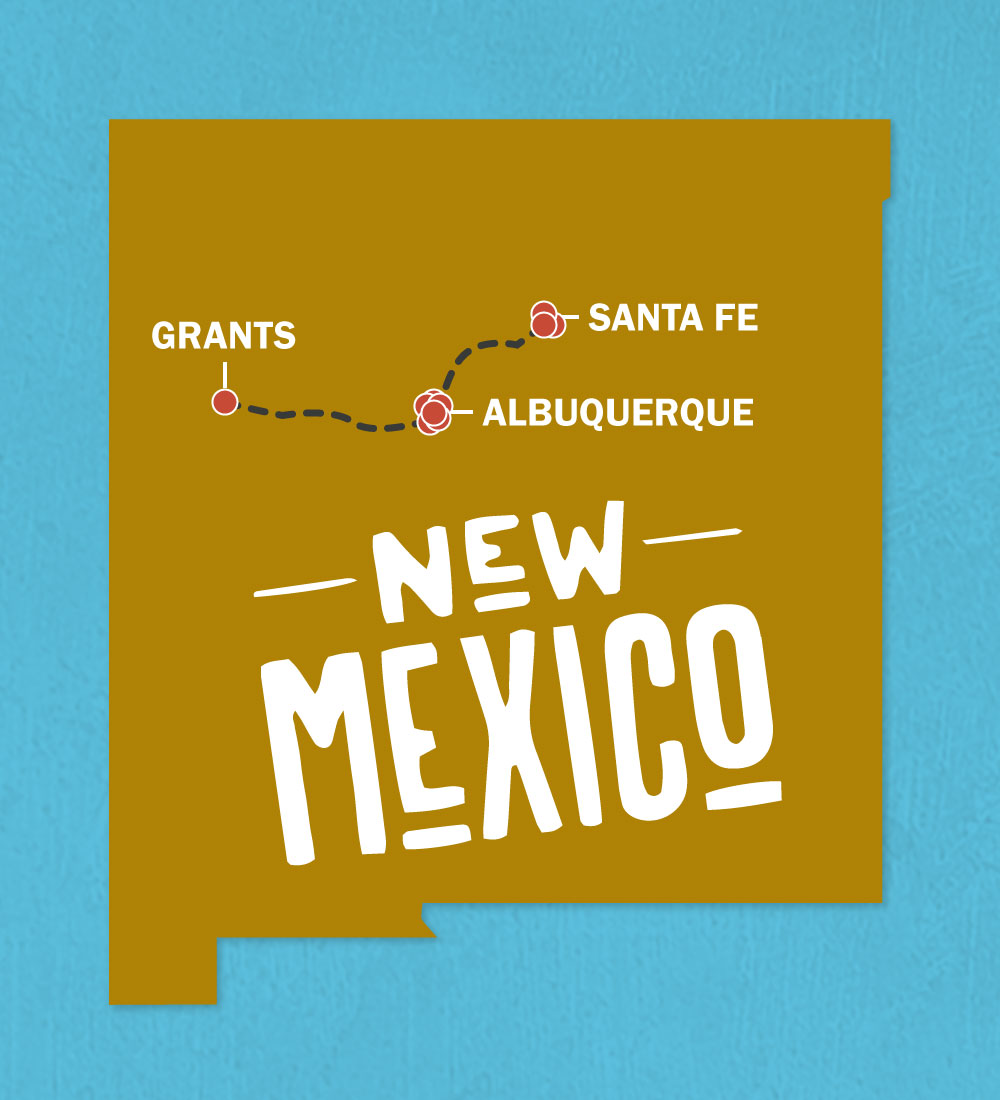 Albuquerque –Two Route 66 alignments intersect in the center of this beer mecca. The older alignment curves northward toward Santa Fe, the oldest state capital in the country, while the newer alignment cuts straight across the state from east to west. If short on time, head straight to Albuquerque and take the one-hour highway drive to Santa Fe instead of the more scenic alignment that goes through the mountains. If you are tired of driving, a train known as the Railrunner runs daily between Albuquerque and Santa Fe.
Fun fact: believe it or not, the huge, steep hill just south of Santa Fe, known locally as La Bajada (Spanish for "The Descent"), used to be even steeper and scarier during Route 66's heyday. The black-and-white pictures of cars caravanning down La Bajada are actually cars ascending in reverse because the sharp incline would not allow gravity-fed tanks to pump fuel to the engine when attempting the ascent head-on.
Santa Fe – With so much art and history to take in, you will definitely need to recharge. Brewery patios are a big deal in New Mexico and with 280 days of sunshine per year, you will very likely get a chance to enjoy the weather outside in the spring, summer and fall.
Head to Santa Fe Brewing, the oldest brewery in the state. This brewery is constantly pushing boundaries while also respecting tradition. Their well-known staple beers, like Happy Camper IPA, are always on tap along with innovative creations that rotate throughout the year. They have multiple taprooms throughout the state, so if you cannot make it to ones in Santa Fe, try the one located inside a shipping container in Albuquerque. Also remember, New Mexicans do not really do subtlety when it comes to food and drinks, so expect tooth-enamel melting flavors if you are with a local. The wonderfully potent 7K IPA feels like inhaling a bouquet of hops.
All of the serving staff at Second Street Brewery are Cicerone® Certified, so if you need some guidance, they will be more than capable of helping you out. As one of the veteran breweries in the state, Second Street has three taprooms throughout the capital city, one of them right next to the train station at the Santa Fe Railyard District. If you want a more local vibe, the Rufina taproom might be more your taste.
Rowley Farmhouse Ales is a brewery and farm-to-table restaurant. Their specialty is sour ales, but they also have a wide selection of craft beers from other breweries in New Mexico.
Albuquerque – Breweries in the Duke City are scattered throughout town, but many are right on Route 66. In the Nob Hill District, Kellys Brew Pub is likely the most Route 66-centric of the breweries in town. Located in a converted gas station and car dealership, complete with vintage gas pumps and large garage doors, this 19-year-old brewery has been serving up craft beer long before Walter White made Albuquerque a household name.
A few blocks down the road you'll find Tractor Brewing Company and Bosque Brewing Company, both within walking distance from the University of New Mexico campus and the neon Route 66 signs.
In downtown Albuquerque, where Route 66 intersects itself, you will find plenty of breweries on or near the alignments. Duel Brewing, Boese Brothers, Sidetrack Brewing and Marble Brewery are all walking distance from downtown. Also, a brewery tour of the area is available aboard a 14-passenger bicycle called the Duke City Pedaler.
Grants – The Route 66 Junkyard Brewery has fought hard for their right to call themselves by their chosen name. Shortly after opening, they were sued by a European company who owns the trademark for Route 66 beer in the United States. Drop by to support an American little guy trying to stick it to the man.
Arizona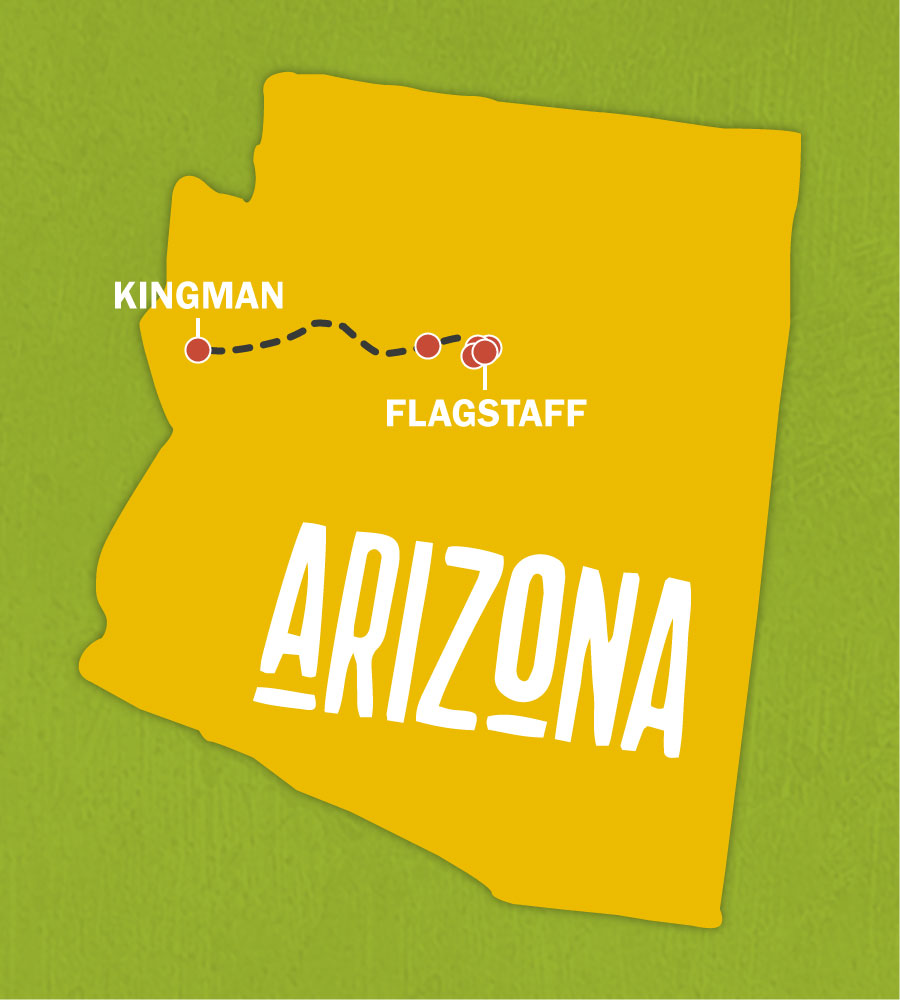 The Grand Canyon State offers stunning, sweeping vistas of the kind of scenery most people have only seen on Wile E. Coyote cartoons. Besides the mining towns and wigwams, there is plenty of natural beauty to take in. Petrified Forest National Park is the only park in the National Park system that is crossed by Route 66. Although most people think of deserts as being flat and hot, the deserts in the Southwest are flanked by high alpine forests, so be ready for drastic temperature drops as you climb in altitude.
Flagstaff – This small, mountain college town is the gateway to the Grand Canyon. Its charming downtown area is filled with rustic restaurants, shops and a whole lot of breweries considering the town's size.
Beaver Street Brewery and Lumberyard Brewing are owned and operated by an intergenerational family of brewers. Beaver Street was the first brewery to arrive in town back in 1994. Lumberyard Brewing opened eight years ago. Both are already Flagstaff mainstays.
Dark Sky Brewing celebrates Flagstaff being officially designated as the first International Dark Sky City. Tacos and burritos are available by the Merge food truck parked in their outdoor patio.
Flagstaff Brewing Company is right on Route 66 and shares a patio with the Flagstaff Coffee Company, which is owned by the same proprietor. You can fill a growler or try a beer flight at Historic Brewing Company, which has a dozen principle beers that they serve up along with their rotational Pilot Series and specialty barrel-aged brews.
(READ: Can Craft Brewers Save the Verde River?)
No other brewery does more to honor Route 66 than Mother Road. Every beer is themed after a Route 66 landmark, lights are made out of folded maps, and even their fermentation tanks carry the names of defunct car companies. Their beer is so popular in town that demand was outstripping supply, so they opened a new location in February 2018. While at either taproom, see if you can taste the Munich malt difference — it is used in every beer.
Wanderlust Brewing is also right off Route 66. If you drop by, be sure to try their 928 Local farmhouse ale. They fill 32-ounce and 64-ounce growlers using their counter-pressure filling station so your beers taste the way they are supposed to taste when you pop the lid off at your next stop.
Williams – On your way to the Grand Canyon, you can drop by the Grand Canyon Brewery and stock up not just on craft beer but on craft distilled spirits as well. The brewery and restaurant began distilling earlier this year.
Kingman – It is hard to imagine Flagstaff not providing more than enough breweries to explore along Arizona's stretch of Route 66, but if you need another pit stop before California, Black Bridge Brewery in downtown Kingman is there to serve you. They also serve cold-tap coffee and ginger beer.
California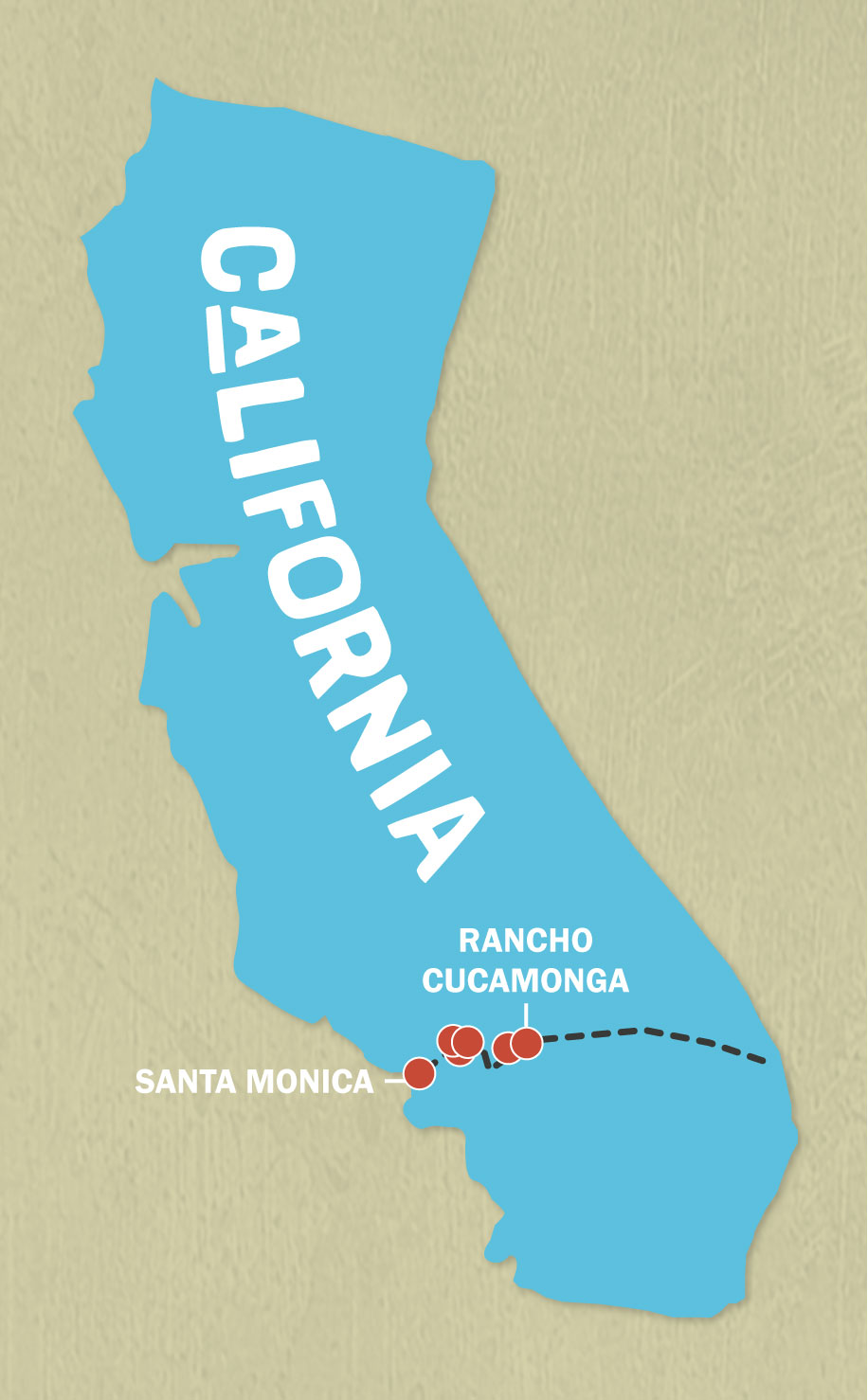 This is it! The end of the road. The desolate landscape near the California-Arizona border will begin to give way to denser populations and greener pastures as you near the coast. Also, there will gradually be more and more breweries to explore. Remember that you will ultimately be entering one of the most congested metropolises in the country, so plan accordingly.
Rancho Cucamonga – The first brewery you are likely to encounter on Route 66 is Hamilton Family Brewery. To make sure that you understand that this is a family-friendly environment, they have juice boxes available for kids.
Upland – Last Name Brewing has a beer garden with picnic tables and shade to block the sizzling California sun. Best of all, they are open seven days a week. Rescue Brewing and Rok House Brewing are also good options, unless you arrive on Monday and Tuesday, since both breweries are closed those days.
(MAP: Craft Breweries Near Major League Baseball Stadiums)
The home stretch – More than 2,400 miles from Route 66's start in Chicago, you are nearing Santa Monica. There is a brewery in Azusa called Congregation Ales, another in Monrovia called Hop Secret Brewing Company. Mt. Lowe Brewing Company in Arcadia is your last chance to grab a pint of craft beer before entering the promised land.
Santa Monica – It's over! You made it! Time to celebrate at Santa Monica Brew Works. Everything about this brewpub screams California. It is warm out here, so lighten things up with their 310 Blonde Ale. If you have leftover growlers from your trip, you might not be able to fill them here. California has laws on the books about growlers needing to be unbranded in order to be filled. That's okay though – you are less than two miles to the beautiful Santa Monica Pier, where Route 66 ends, so no need to stockpile anymore. Sit back, soak in some sun, and relax. You earned it!
CraftBeer.com is fully dedicated to small and independent U.S. breweries. We are published by the Brewers Association, the not-for-profit trade group dedicated to promoting and protecting America's small and independent craft brewers. Stories and opinions shared on CraftBeer.com do not imply endorsement by or positions taken by the Brewers Association or its members.