The drive from San Diego to Seattle covers 1500 miles of ridiculously gorgeous Pacific coastline along Highway 101 (or sometimes Highway 1 in California). Even though it could technically be tackled in two 15 hour driving shifts, as every traveler knows: it's the journey not the destination.
[newsletter_signup_box]
Having said that, if your summer road trip plans include this top-to-bottom stretch of jaw-dropping scenery, check out these 15 Pacific Coast breweries along the way, all conveniently located close enough to the beach to hear the waves crashing.
(TRAVEL: 5 Epic Craft Beer Road Trips)
Pacific Coast Breweries: California
Brewmaster Jeff Bagby of Pizza Port fame launched his eponymous brewery in San Diego's North County a Frisbee's throw from the beach. Need proof that this craft brewery caters to the hop geeks? Sip on pints of Dork Squad, Nerd Herd, Doofus, and Dinkus. That said, Bagby Beer Co. offers a world of pitch-perfect beer styles to discover beyond IPAs including German roggenbiers, Belgian-style blonde ales and Czech Pilsners.
Newport Beach Brewing | Newport Beach, CA
An hour north in Orange County where breweries are nearly as ubiquitous as surfboards and strip malls, this became the OC's second craft brewery in 1992 and this neighborhood joint has kept up with the times. Sessionable beers rule the draft board and many take on the tropical flavors befitting the palm trees towering over the pub including a blood orange IPA, a blonde ale infused with coconut, and a kettle soured beer with pureed mangos.
Surfer-dude pretty-boy Hansel, the Owen Wilson character in "Zoolander," put it succinctly: "I grip it and I rip it." Get "riiped" at this smaller spot on the OC coast that knows how to please locals and national beer judges alike as evidenced by their silver medal for Supercalifragilisticexpialidocious at the 2016 Great American Beer Festival (GABF) in the almighty American-style India Pale Ale category. Typically shortened to "Super-Cali," this IPA is indeed supercalifragilisticexpi-delicious and pops with bitter orange zest and other citrus notes atop a biscuity malt bill that still packs a 7.2% ABV punch.
(TRAVEL: Epic Route 66 Craft Beer Road Trip)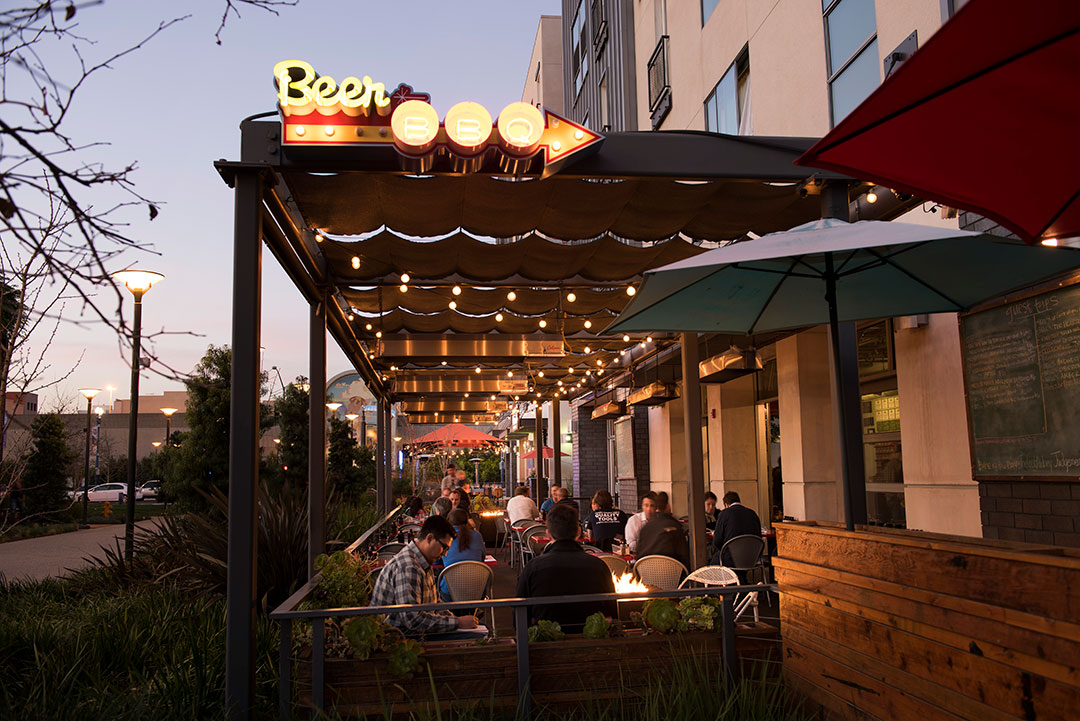 Beachwood Brewing | Long Beach, CA
For a brewery with an outsized reputation, a visit to Beachwood Brewing is sort of two breweries in one since there's the brewpub that boasts one of Long Beach's longest beer lists (crowd fave juicy IPAs include Thrillseeker and Melrose while stouts include Udder Love and Kilgore Stout). Sour beer lovers can then pop right around the corner into The Blendery where a nonstop parade of fruited sours (including the "Careful" line, like Careful with that Peach, Eugene, and Careful with that Pluot, Eugene, to give you the gist). All said and done, Beachwood has racked up more than a dozen GABF medals in the past five years.
Topa Topa Brewing | Ventura, CA
North of Los Angeles and below the Topatopa Mountains you'll find Topa Topa Brewing where head brewer Casey Harris, who cut his teeth researching hops and writing recipes for Stone Brewing, creates over a dozen fresh beers on tap. The small tasting room offers a sunny patio where you can enjoy the various hop delivery vehicles as well as a few coffee-infused beers. Can't make up your mind which to go for? There's Howler Coffee IIPA.
Telegraph Brewing | Santa Barbara, CA
Surrounded on three sides by wineries (and one side by the beach that's five blocks away), Telegraph Brewing is the brewery that put the "American Riviera" on the beer map. Their IPA is a benchmark of the West Coast style and California Ale is an earthy, yeasty Belgian-style pale ale. But for beer nerds and wine lovers alike, the Obscura series of wild ales makes Telegraph Brewing a destination. The sour beers, often aged in area wine barrels, sometimes get a boost from local citrus or stone fruits such as Gypsy aged on plums.
The Libertine Pub | Morro Bay, CA
Libertine Brewing's ambitious beers are often made using the steinbier brewing method, which employs superheated rocks plucked from the bay. Launched as a tiny brewpub in tiny, charming Morro Bay, Libertine operates a larger brewery and tasting room inland in San Luis Obispo now but this waterside brewpub and music venue remains terroir-minded. The gose uses Pacific Ocean water for the requisite salinity. This cozy, entrancing joint offers dozens of taps ranging from session IPA to saison with several devoted to their in-demand, wild, barrel-aged creations.
Sante Adairius Rustic Ales | Capitola, CA
Sante Adairius Rustic Ales, dubbed "SARA" by those in-the-know, is a small brewery with a larger-than-life reputation. Most formidable for beer lovers is West Ashley, a pinot noir-aged saison with apricots. Each visit is a game of chance since you never know what they'll have available, but if you come across Westly, which they could've called Westlier since it's apricotier and oakier than West Ashley, do not miss your chance.
North Coast Brewing | Fort Bragg, CA
The North Coast Brewery Taproom's clams are steamed in Blue Star Wheat and one pint will make you as happy as one of those mollusks. Old Rasputin (or "Old Raspy") Russian Imperial Stout is so iconic, Russian River Brewing's Vinnie Cilurzo swore off ever making an imperial stout out of respect. Not only can you catch some great live jazz at the pub, North Coast also supports jazz via their Brother Thelonius Belgian-style Dark Ale benefitting the Thelonious Monk Institute of Jazz for jazz education.
(READ: Farm Breweries to Visit This Year)
Pacific Coast Breweries: Oregon
7 Devils Brewing | Coos Bay, OR
Carmen Matthews and Annie Pollard had mused about opening their own brewpub as homebrewers before they'd even met and got married. Now 7 Devils Brewing with a seven-barrel system has given this Oregon southern coastal town the community hub it craved. Families, including four-legged "children," dine out in the eco-friendly rain garden. For a true taste of terroir, try the Ebb Tide Oyster Stout, a velveteen dry Irish stout made with Coos Bay oyster shells.
Rogue Ales | Newport, OR
Having racked up more than 30 GABF medals since launching in 1988 (well, since it first medaled in 1990, really) Rogue is one of the best-known American craft beer brands worldwide and it all starts here in the marina of the Yaquina Bay. Legendary brewmaster John Maier's greatest hits include Dead Guy, Shakespeare Stout, and that nuttily delicious Hazelnut Brown Nectar, but it's their Rogue Farms-to-beer concoctions like 4 Hop IPA, 5 Hop (and up to 10 Hop) that show they keep forging new paths just as they did 30 years ago.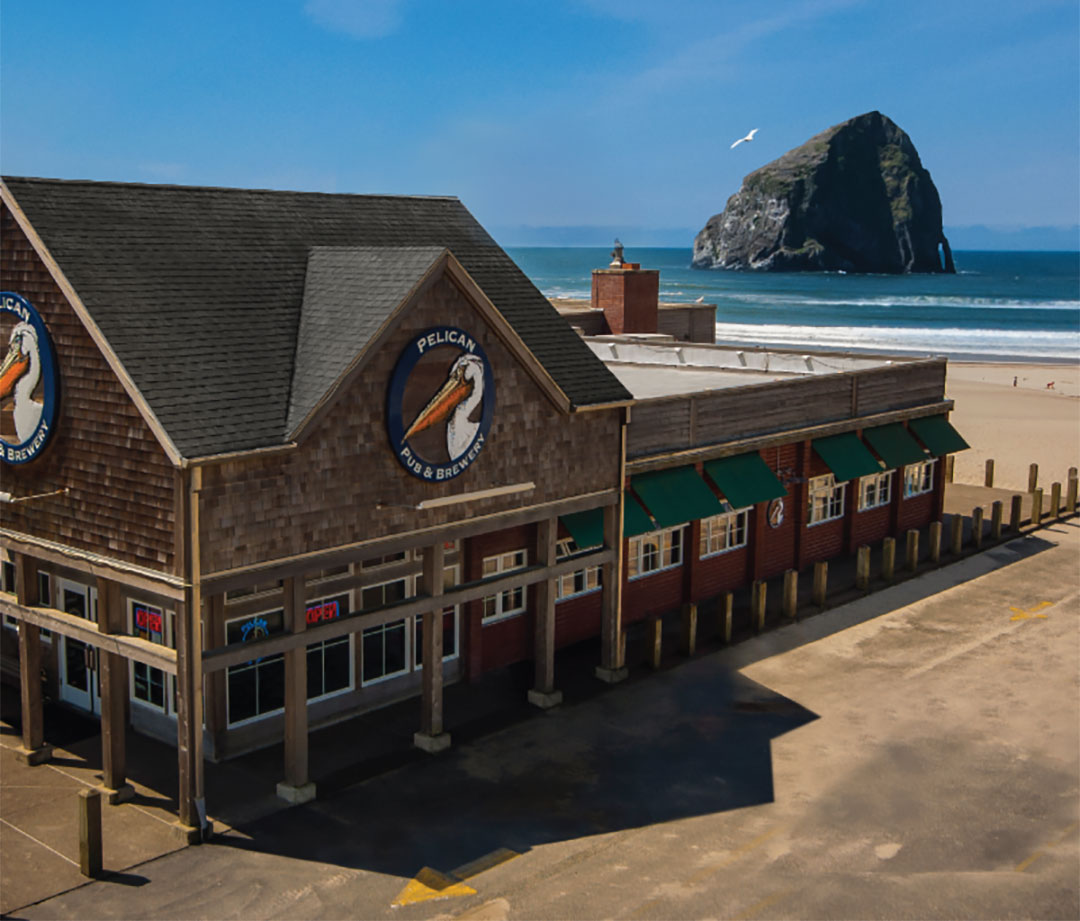 Pelican Brewing | Pacific City, OR
There are Pacific Coast breweries near the beach, but Pelican Brewing is the only one I know of that's on the beach. As you gaze at Haystack Rock offshore or watch the dory boats, wiggle your toes in the warm sand while sipping imperial pints of Kiwanda Cream Ale on the patio, named for the Shore Pine-topped Cape Kiwanda that ameliorates the view. It's not just the view, though. Pelican has garnered more than three dozen GABF medals across myriad categories. If you find it, dive into their 2018 World Beer Cup gold medal winning Queen of Hearts (Saison du Pélican aged in gin barrels) in the wood- and barrel-aged category.
Ft. George Brewing + Public House | Astoria, OR
OK, so Ft. George Brewing + Public House is a bit inland, but it is right off Highway 101 where it crosses from Oregon into Washington state and the view of the mouth of the Columbia retains its coastal aesthetic. Although their Festival of Dark Arts celebration of mega stouts makes beer lovers swoon in February, summer's ideal for sitting on the patio and quaffing Vortex IPA bursting with Amarillo, Simcoe and Centennial hops for a huge trop-hop bomb that smells as good as it tastes. In fact, in a state rife with hop maestros, sample all the IPAs because Fort George bitters with the best of 'em.
(MORE: Great American Beer Festival 2018 Ticket Sales Announced)
Pacific Coast Breweries: Washington State
North Jetty Brewing | Seaview, WA 
You, the readers of CraftBeer.com, recently voted North Jetty Brewing the best beer bar in Washington state. Far from the beer temples of Seattle, this southern Washington joint on the Long Beach Peninsula offers 12 beers from its 10-barrel system and a chill environment in which to enjoy them. The CDA, er, American-style dark ale will never die in Cascadia so enjoy Simquinox, a beer as dark as a winter's day featuring Simcoe and Equinox hops. The local favorite, Leadbetter Red, is a malty Scottish ale that clocks in sub 5% ABV.
Blackbeard's Brewing | Westport, WA
Although it's 177 miles from the northwest corner of Washington state, Blackbeard's Brewing is actually the northernmost brewery along the U.S. Pacific Coast. Where the Chehalis River flows into Grays Harbor, it's no surprise the beers in this serene fishing town often feature pirate or seafaring named beers like Shiver Me Citra and Cannon Ball Cream Ale. But even more than Blimey Blueberry Wheat, it's the strawberry blonde ale that's plundered most frequently.
Yes, it's a long drive. It's literally a cross-country trip, just one from south to north (pro tip: you could easily do this in reverse.) Either way, when you end up in Seattle or San Diego, there are several dozen excellent Pacific Coast breweries to check out at the bookends, but not a single one comes with quite the same view.
CraftBeer.com is fully dedicated to small and independent U.S. breweries. We are published by the Brewers Association, the not-for-profit trade group dedicated to promoting and protecting America's small and independent craft brewers. Stories and opinions shared on CraftBeer.com do not imply endorsement by or positions taken by the Brewers Association or its members.