The craft beer movement has been credited with reviving abandoned industrial zones and local economies, but a new trend is emerging. Established breweries who are looking for the perfect place to build a second location are opting to open farm brewery destinations.
Farm brewery destinations are good news for the rural communities where these breweries put down roots. As South Dakota State University's Community Vitality Field Specialist Paul Thares reported in December 2018, "All across the country in rural areas and within downtrodden neighborhoods, craft breweries are helping communities overcome economic hurdles." And NPR shared that "the idea of a craft brewery as a model for small-town revitalization is being tested across the Midwest."
Grab your fellow beer lovers and hit the country roads to visit these farm brewery destinations.
Trillium Brewing Company | Connecticut
With a stated mission "to create a lifestyle through craft beer," Trillium has grown to five locations, with Trillium Farm serving as its New England farmhouse destination in North Stonington, Connecticut, which will feature beers made with estate-grown ingredients. "The farm coexists with our other breweries in a symbiotic and sustainable relationship as an agricultural resource and value-added outlet for our organic waste streams, which include spent brewers grain and kitchen scraps. Ultimately our farm is an extension of our supply chain that helps clearly articulate our values to our customers while contributing to the Northeast grain shed and local food supply chain," says owner JC Tetreault. He's practicing a lesson in patience as his team completes a rigorous multi-year master planning process "while using this interim time to restore the soil ecology. We have a 'forever' time horizon for both Trillium and the farm, and while it will take further years to reap significant harvests, if you have the perspective of what we are trying to achieve in our lifetimes and beyond, its helps to set the perspective that it's really not so long to wait."
(More: New York Farm Breweries are About Local Agriculture, Not Location)
Bad Martha Brewing | Massachusetts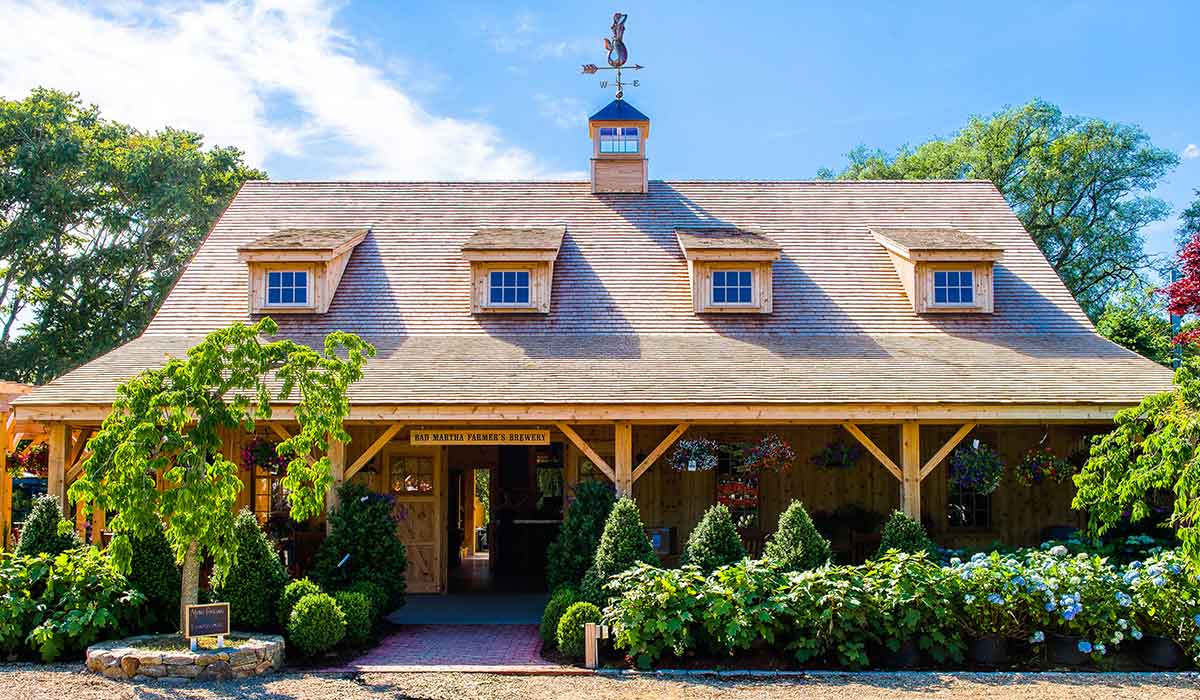 General Manager Joshua Flanders says that owner Jonathan Blum dreamed of opening a grain-to-glass brewery during his corporate years as an executive at Yum Brands. When he retired, he did just that with a "focus on an artisanal craft process and utilizing as many local and special ingredients as possible." They decided to open their East Falmouth Farmer's Brewery & Tasting Room five years after the grand opening of their Edgartown location located on Martha's Vineyard. Flanders says strategic expansion came about because "being in Falmouth allows us to stay open year-round and have easy access to the mainland while keeping with the people and culture we know so well here on Cape Cod and the islands. It was a natural next step for us." Their neighbors are Mahoney's Garden Center, which has been growing hops, herbs, and other ingredients for the brewery, but Bad Martha will grow its own hops this year.
Sierra Nevada Brewing Co. | North Carolina
At its second location near Asheville, North Carolina, Sierra Nevada Brewing Co. likes to say they're "pouring from the garden." The back deck overlooks a large garden you can stroll through filled with flowers, herbs, fruits, and vegetables that go directly into their batches of beer that sit in stunning copper pots. "What we primarily focus on in Mills River is 'farm to table' by supporting the taproom. That being said, we do grow ingredients for brewing from time to time and are looking for ways to increase this down the road," explains Sierra Nevada's Natural Resource Team. They made a huge investment in sustainability, becoming the first U.S. production brewery to be certified LEED® Platinum, and employ an Estate Garden Technician.
Tree House Brewing Company | Massachusetts
The team behind Tree House added what it dubbed as "the third vertex to complete the Tree House Triangle: Tree House Orchard & Farm Fermentory!" This 100-acre working farm in Charlton provides grass-fed cattle, a produce and flower program, apple trees, and plenty of prime soil so they can play with adding ingredients to their innovative, ever-changing 25 craft beers on tap and is slated to open this spring.
Fonta Flora | North Carolina
Fonta Flora's Todd Boera says going plow-to-pint was part of their concept "from the jump. Our concept and guiding compass was creating beers with a sense of place and agricultural purpose. Even at our original location in downtown Morganton, North Carolina, we brewed all of our beers with local malt and a wide variety of different local farmed and foraged ingredients. From that, building our second location and production facility on a farm seemed like a natural progression that would allow us to cultivate our own ingredients and truly represent what it means to be an agriculturally focused brewery." They revived the idyllic 53-acre, historic Whippoorwill Dairy Farm in 2019 by combining forces with the Foothills Land Conservancy, who acquired 44 of the acres and immediately donated them to Lake James State Park, which borders the property.
(Related: Their Illinois Farm Brewery is Totally Off-the-Grid)
Hardywood Park Craft Brewery | Virginia
Hardywood Park's owners snapped up a 22-acre parcel in West Creek about 20 miles from the brewery's first location near downtown Richmond, Virginia. The team invested about $30 million to include a taproom, beer garden, orchard, and natural amphitheater. They actually scouted more than 100 locations before finding this beauty.
Oskar Blues Brewery | North Carolina
After riding his bike in Pisgah, North Carolina, owner Dale Katechis knew that Brevard was the place for his East Coast operations, which opened in 2012. Then in 2014, he purchased a 145-acre historic farm eight miles away in Hendersonville that butts up to the Pisgah National Forest. They aren't utilizing the property as a production farm; instead, they've transformed it into a biking destination and event venue, hosting the brewery's Burning CAN Festival there every August. Aaron Baker, Oskar Blues' senior marketing manager, says that the setup has been a challenge: "For the REEB Ranch, the most challenging aspect is simply communicating to folks about what it's all about. It doesn't fit into any established categories so it can be tough to describe," Baker says. The venture has led to the company also launching a mountain bike brand, REEB Cycles.
Burial Beer Co. | North Carolina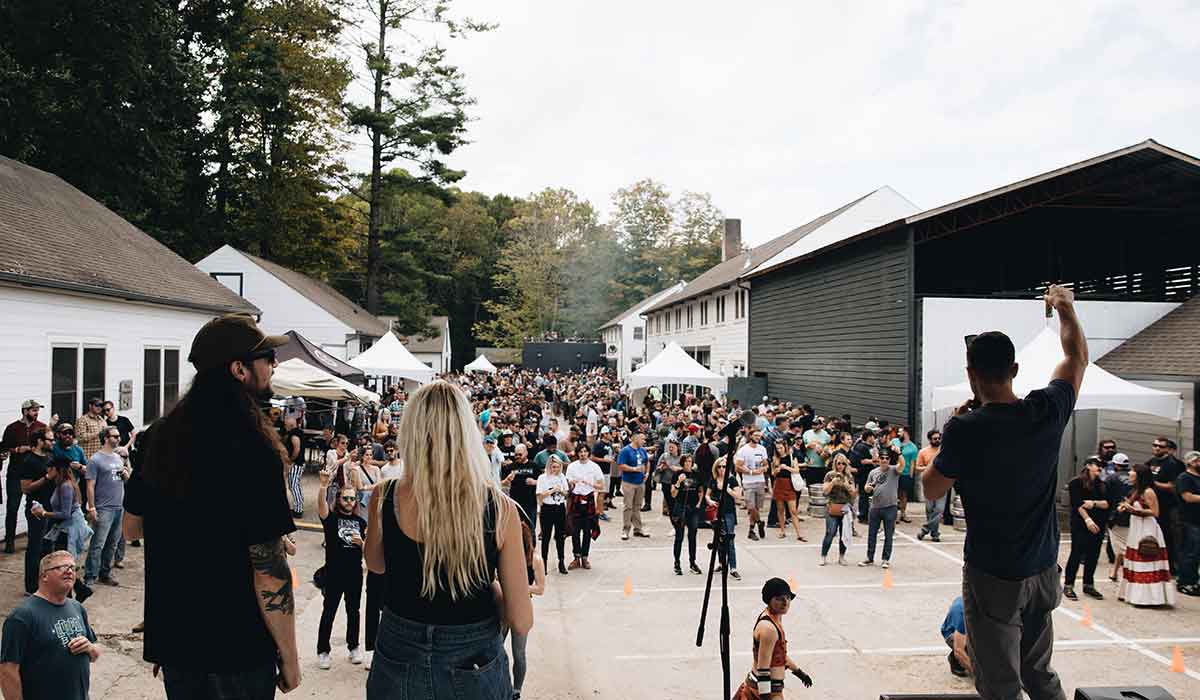 Burial Beer out of Asheville, North Carolina, also purchased an historic slice of land–formerly barracks for Civilian Conservation Corps under FDR's presidency–a few miles from their original taproom in Asheville's South Slope beer district. Although the six buildings on the 2-acre tract look like barns and the property has a farm vibe, owners Jess and Doug Reiser and Tim Gromley aren't growing their own goods. They opened this destination and production brewery to show off other local farmers, potters, and artisans, as well as "showcasing breweries from around the country and world, winemakers, and craft distillers" at their on-site farm-to-table restaurant, Forestry Camp Bar and Restaurant, explains Jess. She says they chose Asheville because, "It's a place where people want to live, they care so deeply about this city and it shows through their interactions with one another and the intention behind their daily lives. This city is very inspirational and while we loved Seattle, we were looking for a place that we could really impact and vice versa, and feel supported by."
(More: There's No Taste Like Home: Booming Beer Agriculture Supports Local Brewers)
Ever Grain Brewing | Pennsylvania
Ever Grain Brewing in Camp Hill, Pennsylvania, announced in late 2019 that it is also venturing into the farm brewery world. The brewery's founders were inspired by "the owners' love of funky farmhouse beers they drank from Jester King and Forest and Main," head brewer Derek Testerman tells BreweriesInPennsylvania.com. The second location will feature oak fermented, bottle conditioned, mixed-culture beers, experimental ales, and native ales.
Rogue Farms | Oregon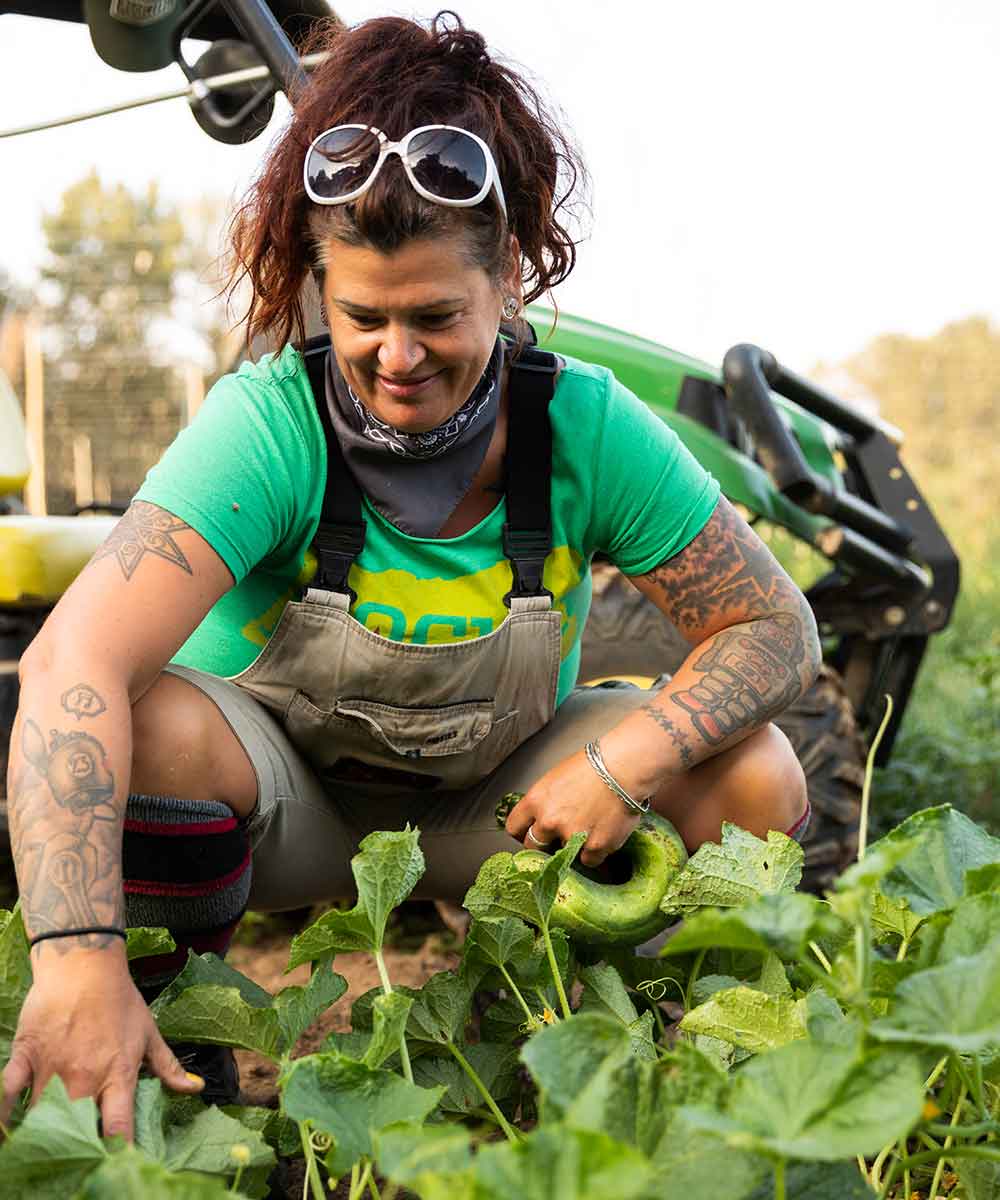 Rogue has built quite the empire, with a total of nine "Rogue-ries" located throughout Oregon and a brewhouse in Issaquah, Washington. Their farm brewery also has a taproom featuring a limited menu and 12 beers on draft, many created using the farm's bounty. Communication and Marketing Manager Amanda Zessin shares that the global hop shortage in the mid-2000s–due to poor weather and a storage facility catching fire in Washington–prompted Rogue to open the farm in 2008. "To prevent ever having to tell our brewmaster at the time, John 'More Hops' Maier that we couldn't get enough hops for him to brew with, we decided to grow our own. We went through the yellow pages to call every hop farmer we could find and Coleman Agriculture in Independence, Oregon, called us back."
So pack a picnic, load your favorite road trip playlist, and make your next beercation plans to visit a farm brewery this year.
CraftBeer.com is fully dedicated to small and independent U.S. breweries. We are published by the Brewers Association, the not-for-profit trade group dedicated to promoting and protecting America's small and independent craft brewers. Stories and opinions shared on CraftBeer.com do not imply endorsement by or positions taken by the Brewers Association or its members.