Big Thorn Farm and Brewery, named after the large thorns of the locust trees on the property in Georgetown, Illinois, runs on solar power. Anna Schweig and Aaron Young built their farm, brewery and tiny house one piece at a time, paying careful attention to sustainable energy.
[newsletter_signup_box]
Reducing Energy Usage and Going Off-the-Grid
"If you are going to run on solar power, the main goal must be reduction of electrical usage," Young says. "When we were building, we were consistently seeking ways to reduce or eliminate our need for electricity. By rethinking our energy use, we were able to strip down the brewing process and mix old-world technology with the best modern brewing techniques."
Temperature control during the brewing process is a large part of electrical usage, so Schweig says they adapted Big Thorn's brewing system to use "the earth for greater temperature control and propane for cooking and heating."
"Our goal was not to build a conventional brewery and then figure out how to power it with solar. Our goal was to build a brewery that uses an insanely small amount of electricity and build our solar needs from there," says Schweig.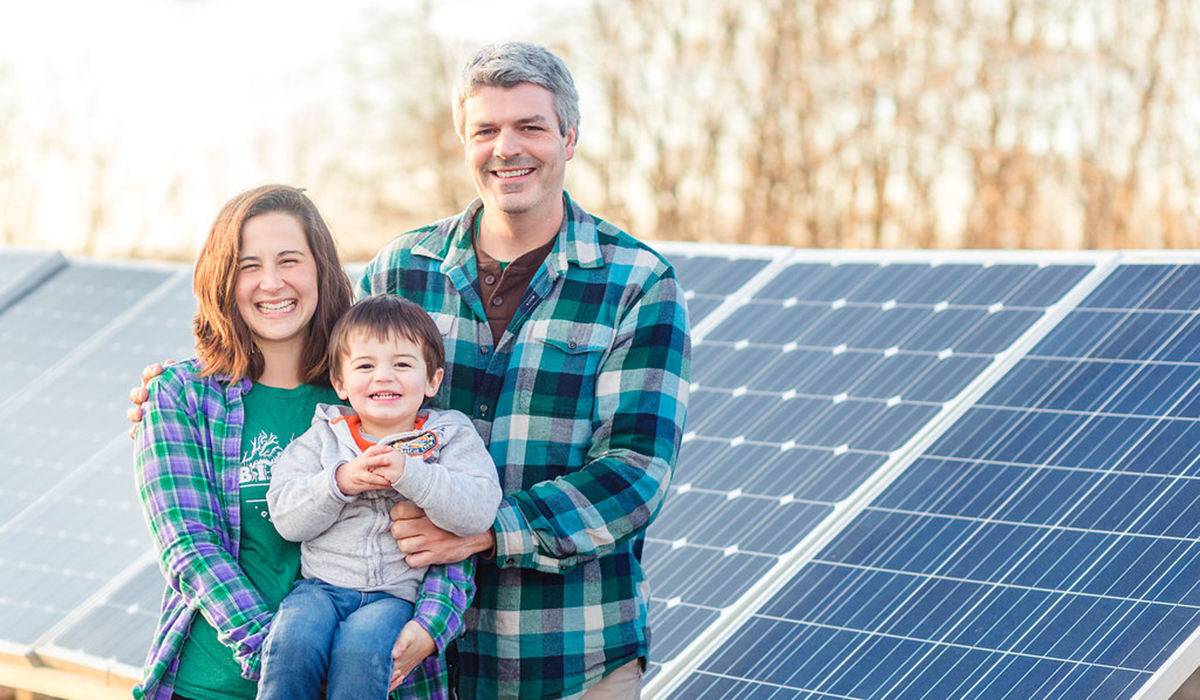 Some solar collectors are still connected to the grid which allows them to pull from a traditional power source if solar is running low. But that's not how Big Thorn operates. Instead, it's an off-grid operation, which means they have to provide their own power back up or do without. Big Thorn utilizes four 190-watt solar panels and four 265-watt panels, or 1.8 kilowatts of power in total.
Their decision to build off-grid arose as a challenge to themselves. The property they purchased did not have electricity. To connect to the grid meant footing an expensive bill to have wiring ran from a distance.
"People said we couldn't do it. We wanted to prove them wrong," Schweig says.
They taught themselves how to make the brewery run on solar. They absorbed online videos and books; they experimented with a small solar kit. Once they felt ready, they installed everything themselves.
"We shocked ourselves and went without power after the sun went down for the first couple of years. But we learned to coexist with our system and now we continue to add to it," Schweig tells me.
Their setup is straightforward. The electricity generated by their solar panels charges 10 12-volt marine batteries, wired as a 24-volt system. A power inverter converts the DC power of the solar panels into AC power. A solar charge controller keeps the panels from overcharging the batteries. A small inverter gasoline generator is kept on hand to power the battery bank during low sun times. This year, they will install a 400-watt windmill to replace the generator as a backup.
Another detail that saves Big Thorn energy consumption is naturally carbonating their beer. They package the beer "still," or uncarbonated, with a small amount of fermentable sugar and live yeast. The yeast consumes the oxygen and sugar in the container, creating carbon dioxide.
"Oxygen is a huge beer spoiler, so with natural carbonation you get the added assurance that oxygen will not be present in your beer," Young says. "This method allows us to drastically reduce power consumption and increase the shelf-life of our beer because we have built-in protection against oxygen spoilage."
(READ: 8 Farm Breweries to Visit)
Experimenting with Ingredients from Their Farm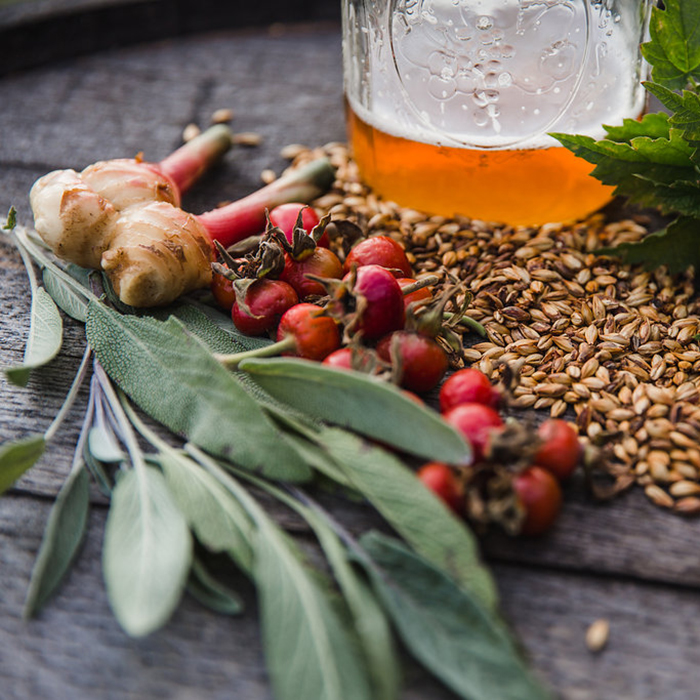 Young, drawing on his professional eight-barrel brewing experience, designed Big Thorn as a three-barrel system. The purpose of the three-barrel system is to use all the farm ingredients Schweig began cultivating in 2011. The variety of plants on the farm is extensive: blackberries, gooseberries, rhubarb, grapes, chocolate mint, apple mint, sage, thyme, ginger, lemon balm, anise hyssop, rosehips, almonds, pears, cherries and blackcurrants. They're adding paw-paw and persimmon trees, too.
"Brewing in small batches enables us to experiment and master the nuances of these different ingredients throughout the seasons. If we went bigger than a three-barrel system, we wouldn't have the time to give our specialty ingredients the attention they deserve," explains Schweig.
(MORE: Maui Brewing Goes Off-the-Grid)
Big Thorn log-ages beer using wood harvested from the farm. The wood is debarked and charred then placed in the primary fermenters located in their custom-built cellar. Schweig explains how using fresh wood during the primary and secondary fermentation gives the beer characteristics that cannot be achieved through barrel aging: "The beers finish with a distinctive yet mellow flavor of lingering wood. Hickory, oak, cherry, mulberry, sassafras and autumn olive branches have been used. From start to finish, our beers exhibit the flavors of our farm."
Since the brewery does not have a taproom, make sure to grab a beer when you have the chance. Tasting the beer is the only way for people to experience this sun-powered farm.
Editor's Note: This article was revised in November 2019 to feature the addition of the video.
CraftBeer.com is fully dedicated to small and independent U.S. breweries. We are published by the Brewers Association, the not-for-profit trade group dedicated to promoting and protecting America's small and independent craft brewers. Stories and opinions shared on CraftBeer.com do not imply endorsement by or positions taken by the Brewers Association or its members.