When you think of a farm brewery, you probably picture a large, wooden barn nestled in a green pasture under a blue sky.
In states like Maine, Illinois and Washington, this pastoral scene is exactly what you'd find. But New York state handles farm breweries differently. They don't have to be on a farm.
[newsletter_signup_box]
In New York, finding a farm brewery surrounded by asphalt, brick, and even skyscrapers is just as likely as visiting one tucked away on a country road.
These breweries are a big part of the state's beer industry. About half of New York's more than 400 craft breweries hold a farm brewery license. They get the moniker not from their location, but from the ingredients they use.
To operate under the farm brewery license in New York, 60 percent of each ingredient used in your beers must be grown in-state.
This number recently tripled from the 20 percent that was required from 2013 until the end of 2018. And it will increase again in 2024 when each beer must be made with 90 percent New York state ingredients.
(READ: Rise of Wine Beers)
These increases were implemented to give the state's beer-related agriculture time to catch up to the demand of local breweries. When the law was first put into effect, there were less than 100 acres of hops grown in-state and no malt houses. Now, there are about 400 acres of hops, 1,000 acres of barley and eight malt houses. This growth makes it possible for farm breweries to use a majority of local ingredients when they make their beer.
So it might seem odd to walk into a farm brewery on a suburban street or in the middle of the city. But you can rest assured that the beer you're drinking is supporting local agriculture.
The Rise of the New York Farm Breweries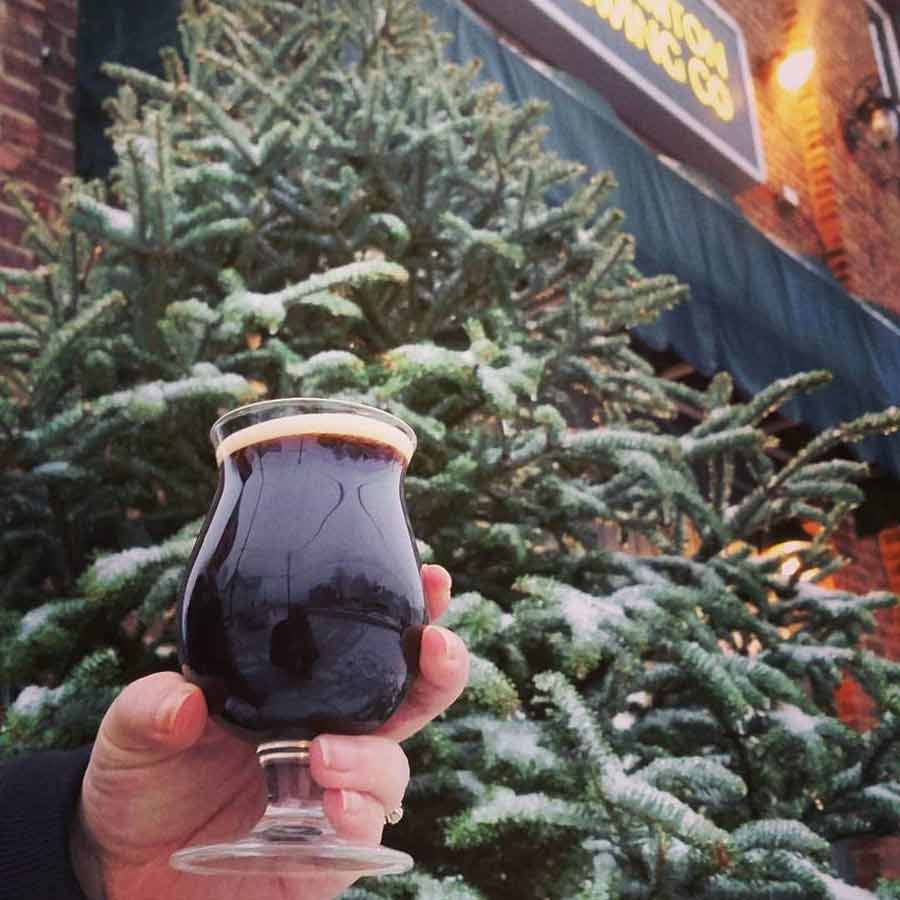 When the New York State Farm Brewery Law was passed, the state's craft beer scene was starkly different than it is today. So was brewery-related agriculture.
If you talk to anyone in the state's brewing scene, they'll probably tell you that in the mid-1800s, New York grew as much as 90 percent of the country's hops. It was the biggest hop producer in the country, and one of the biggest in the world. The state continued to dominate production until Prohibition and a killer fungus made the crop unprofitable.
After Prohibition was repealed in 1933, New York's farmers had moved to different crops. And the Pacific Northwest, with its ideal growing conditions, became hops' new home.
The Farm Brewery Law, put into effect in 2013, was Gov. Andrew Cuomo's way of stimulating local agriculture while also giving the burgeoning craft beer scene a boost.
"I always say without the farm brewery license, we wouldn't have ever opened and been successful as a small brewery," says Kristen Lyons.
Lyons is the chair of the New York State Brewers Association Farm Brewing Committee. She owns Binghamton Brewing Co, a small upstate farm brewery that she founded with Jason Gardner in 2011.
The pair were approved for their farm brewing license shortly after the law was passed.
(TRAVEL: Plan a Beercation)
Farm to Pint
In exchange for buying local, farm brewers pay less for their license than craft brewers. Farm brewers are also allowed to open up to five tasting rooms. And for a time, farm breweries could sell visitors full pints. Other breweries were limited to selling sample sizes.
"I think that's what really pushed forward the craft beer explosion in New York," Lyons says, "Because a lot of the farm breweries tend to be small, and they were able to stay competitive and stay in business because they were able to sell [pints] across the bar."
A few years after the Farm Brewery Law passed, other craft breweries were granted the ability to sell full pints. But the farm brewery license remains attractive.
Buying local has become increasingly popular, which makes the "farm to pint" aspect of farm breweries attractive for conscientious customers. Farm breweries are able to sell local wine, cider and spirits by the glass and bottle without an additional license.
Beyond functioning as tasting rooms and bottle shops, farm breweries can also sell homebrewing ingredients and supplies. That makes a stop by the tasting room even more enticing for craft beer lovers.
These perks have remained appealing for brewers who continue to expand and open new businesses under the license. And farmers have expanded to keep up.
Working with Farmers
For some New York state farmers and maltsters, the Farm Brewery Law was the perfect reason to get into the business.
"It was a motivating factor knowing that there was going to be increasing demand for a product," explains Robert Johnson. Johnson is a co-founder of Niagara Malt. He and his wife, Brenda Young, operate the small malt house together.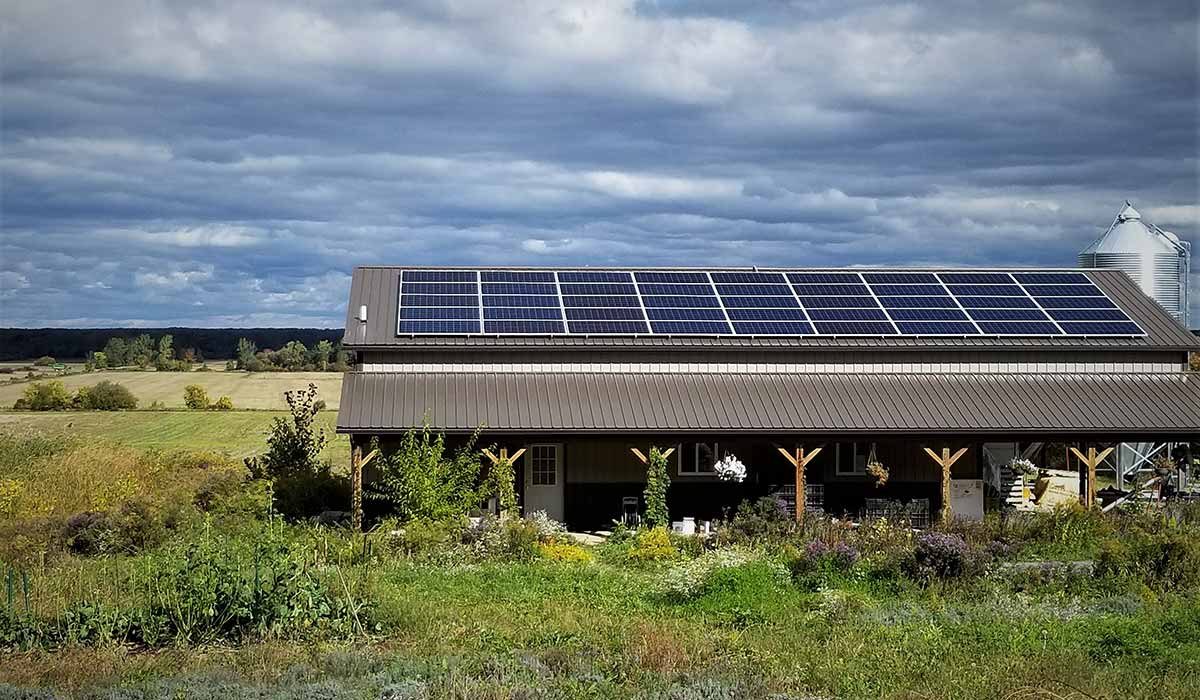 Before the pair owned the malt house, they were in the hops business.
"It was the farm brewers who needed to use New York grains and New York malts. They were concerned that there wasn't going to be enough malt to comply with the New York Farm Brewers Act," Johnson says.
The logistics of the law was a concern for Lyons too. Shortly after she was elected as the Farm Brewing Committee's Chair in 2016, she surveyed brewers to find how much they were producing. She compared that to the acreage that farmers were growing of each ingredient.
"There's enough hops and malt produced in the state to satisfy all farm breweries up to 100 percent," she explained. "Whether it's the correct type, or the quality, or all those other ancillary factors, that's a different part of the discussion."
Now that the quota of New York State ingredients has raised from 20 to 60 percent, those ancillary factors are more important.
(READ: Where Craft Beer and History Meet)
Meeting the Quota
Strong Rope Brewery, a farm brewery in the heart of New York City, has dealt with the logistics of highly localized beer for a while. Since it opened in 2015, the brewery has used 100 percent New York state hops and about 90 percent New York state malts. In 2018, they were able to brew all of their beer – from IPAs to stouts – using ingredients grown exclusively in-state.
"The ingredients are out there, and it's incumbent upon the brewers to find what works, to have a dialogue with the farmers and the malt houses," says Strong Rope owner Jason Sahler. "If there's no feedback, then [farmers] don't know if they're doing a good job or a bad job."
Not only has brewers' feedback led to changes in focus for farmers-turned-maltsters like Johnson and his wife, but it also led to discussions about how New York farm breweries can stay competitive when their ingredients are limited by location.
This discussion has led groups like Cornell Cooperative Extension. It's a team linking efforts at Cornell University, the Cornell University Agricultural Experiment Station and the Cornell AgriTech. The goal is to begin research and development on a New York State proprietary hop. It's still several years in the making.
Until then, Sahler encourages fellow farm breweries to focus on educating customers about why their products might taste different than those from other breweries.
"Being around some of the big IPA brewers in the city – they're some of the best IPAs in the world – so when people come here, it's confusing and it's very different," Sahler says. "We try to tell them that we're working with New York state ingredients. And they taste different than if they were grown in the Pacific Northwest or Australia, New Zealand, or Europe."
(VISIT: Find a U.S. Brewery)
Staying True to Local Products
Different doesn't mean bad, but it does mean that certain popular beer styles can be difficult to achieve. To get around that some breweries have opted to get a dual license. They are both a farm brewery and a craft brewery.
Under the dual license, breweries have to produce a minimum of 50 barrels of beer under farm brewery regulations. Beyond that, they can operate on their craft brewery license and source their ingredients both in and out of state.
Fifty barrels of beer might seem like a low threshold. But Lyons believes that most farm breweries produce well over the minimum. She has a dual license but stays true to the spirit of the Farm Brewing Law.
"Overall, people believe in the product and believe that you want to help New York state agriculture," Lyons said. "I think the farm brewery is kind of a no-brainer."
When you realize your favorite beer is brewed with local ingredients, having a pint at the nearest farm brewery is an easy choice.
CraftBeer.com is fully dedicated to small and independent U.S. breweries. We are published by the Brewers Association, the not-for-profit trade group dedicated to promoting and protecting America's small and independent craft brewers. Stories and opinions shared on CraftBeer.com do not imply endorsement by or positions taken by the Brewers Association or its members.