Visiting a new brewery is a joyous experience. There is an exciting sense of anticipation in getting to try a new beer style or flavor. As an architect, I am particularly drawn to breweries that provide a front row seat to the brewing operation from the taproom. I find it an immersive experience when there is a strong physical or visual connection between the two.
There are some excellent examples you can visit throughout the country. The following list is not exhaustive but illustrates a few breweries and brewpubs that have sought to celebrate the brewing process through their architectural design.
Blackstone Brewing Co. | Nashville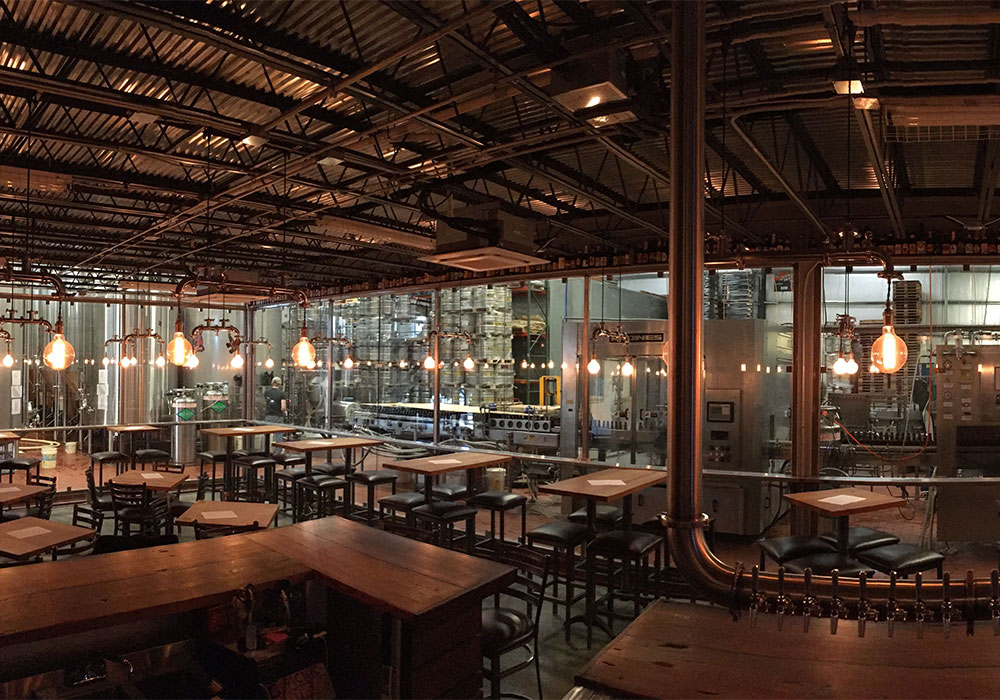 The taproom at Blackstone Brewing Co. is a long, somewhat intimate space with clear glazing along two sides which allows dramatic and tantalizingly open views into the more bright and lofty manufacturing floor. It lends itself to a rewarding interaction and successfully affords a discerning beer lover a full appreciation of the beer they are sipping.
At Blackstone, they have always maintained that the brewery should be an interactive experience for the customer. "We began as a brewpub. Our brewery was up front behind large plate glass. The serving tanks were out in the bar; close enough for customers to touch them. We had an open brewhouse policy. People thought that we were crazy putting everything so accessible to customers but in 20 years we never had anyone bother any of the tanks."
(Related: 12 More Breweries in Historic Buildings: Reviving and Restoring the Past)
Goldwater Brewing Co. | Scottsdale, AZ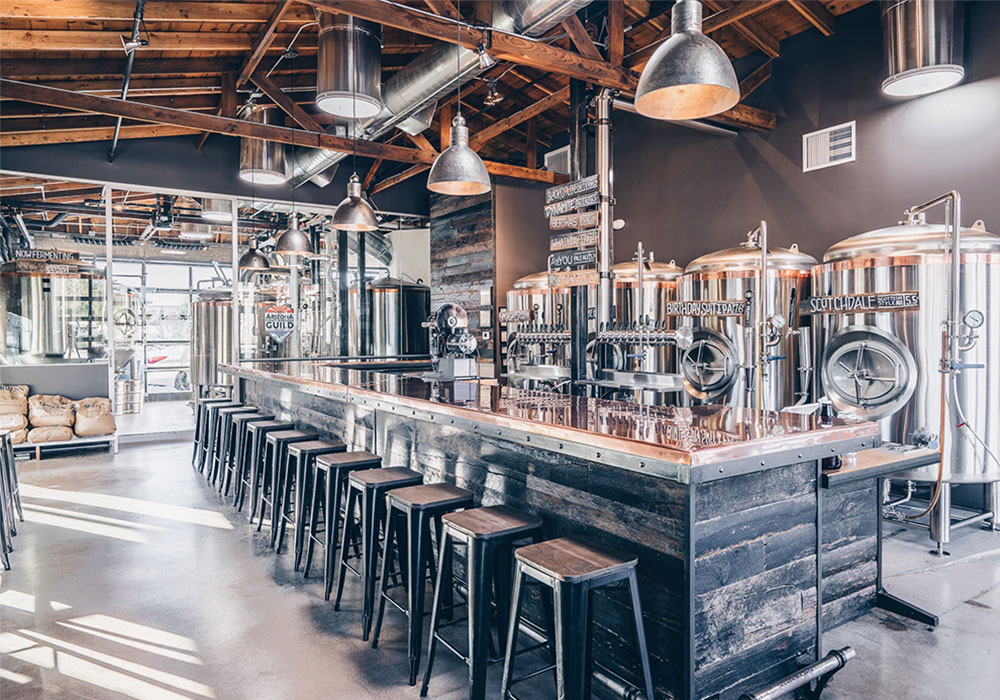 Dillon McClelland at Goldwater Brewing Co. spoke about going to taprooms that felt "like an office with a door at the back into the brewery," and how the place behind the door was where he wanted to go drinking. For Goldwater, they wanted to create a blended experience for patrons so that they felt they were in the brewery as soon as they entered the taproom.
"When we found the spot it was pretty tight," Dillon says. "Our idea was to use half the space as the brewery with the other half for serving beers we make. The city made us put up the glass but at least it wasn't a brick wall."
The spaces still manage to flow, quite literally, between each other with one of the exciting and truly immersive elements being that the beer in the taproom is poured directly into the glass from the brite tanks behind the bar.
 4 Hands Brewing Co. | St. Louis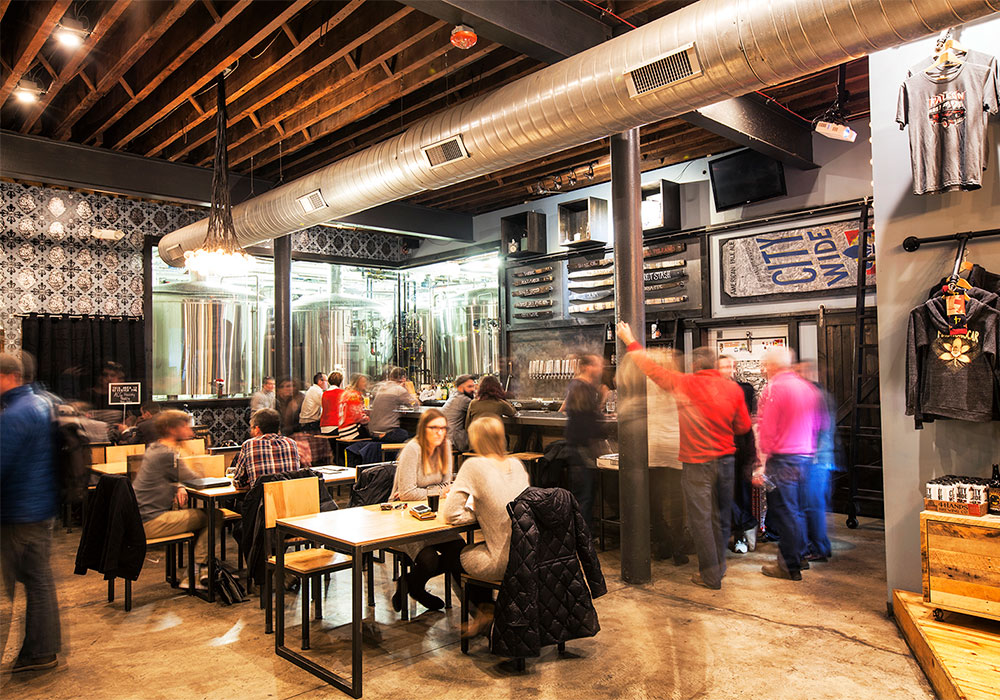 4 Hands Brewing Co. in St Louis has expanded over time to 20,000 square feet and has been conscious of maintaining an open view from its tasting room into the production area since its early days. The ground floor taproom, in particular, creates a coziness with its use of exposed brick, wood beams and ceramic textures while allowing the industrial tanks to subtly draw curious attention to them.
"We thought it was important for our customers to feel connected to the brewing process," says Director of Operations, Martin Toft. "We've had a lot of the same customers coming in since the day we opened and they've been able to watch what was once a completely empty warehouse fill up with tanks over the years. As a result, I think a lot of those customers really feel like they've been a part of that growth."
Bluejacket | Washington, D.C.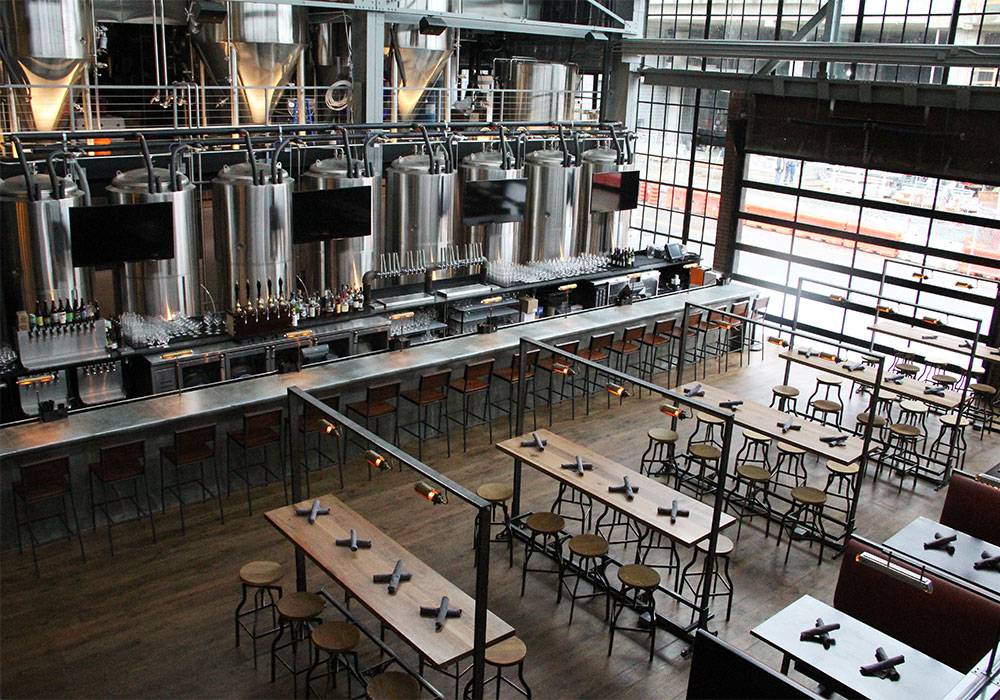 The entire taproom and brewing facility at Bluejacket in Washington, D.C. is a soaring and dramatic space. It uses a healthy measure of glass in its facade to flood the space with natural light and illuminate the tanks and the taproom. Everywhere in the triple-height space there are reminders and parts of the brewing process proudly displayed and functioning. It creates an elegance while remaining true to brewing's industrial nature.
Beer Director at Bluejacket, Greg Engert, spoke about how they deliberately sought out a place with "high ceilings precisely because we wanted a strong connection between the brewhouse and taproom. The idea was to elevate the brewery and fermentation spaces above the taproom so that the guest could feel immersed in the brewing experience while drinking our beers. We were also inspired by the late Victorian Tower breweries of England, where the stages of the brewing process flow downward, by gravity, through multiple levels. By mimicking this setup above our taproom, we arrived at the immersive experience we were after."
(More: Epic Craft Beer Road Trip: Breweries Along the Great River Road)
Almanac Beer Co. | Alameda, CA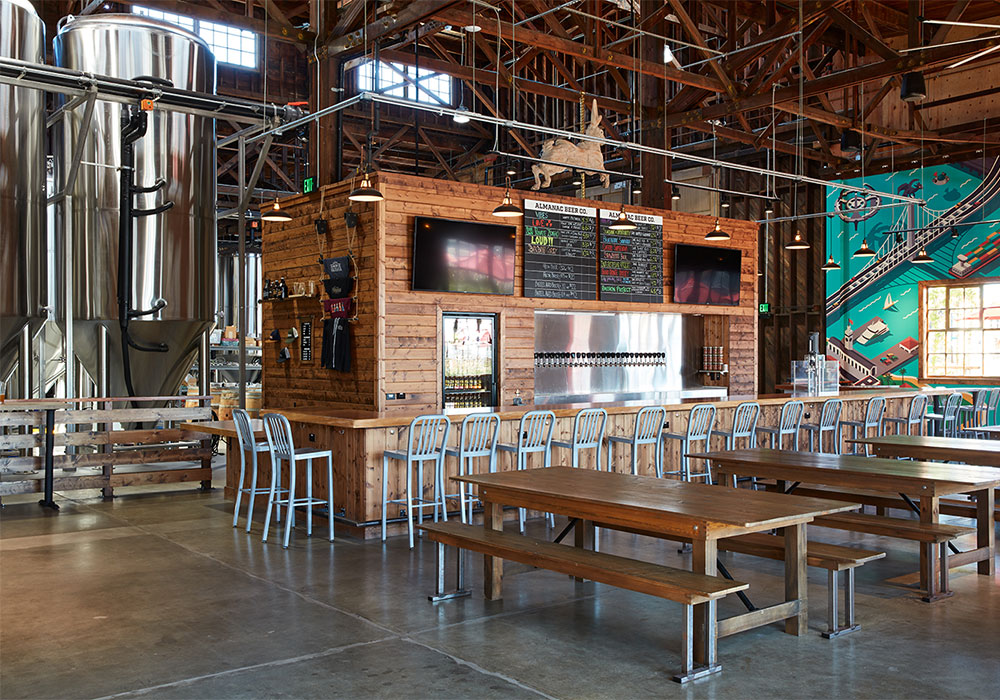 Located on Alameda Island just a block away from the shores of San Francisco Bay, Almanac Beer Co. wanted their taproom to feel connected to the brewery itself so that guests could feel fully immersed in the Almanac ethos.
The repurposed warehouse building retains an industrial feel. Its exposed, clear span truss roof allows for an uncluttered sense of openness whereby you really start to feel you are on the brewhouse floor. In effect, you become the end-point of the artisan process while enjoying a beer in the beer hall.
Workhorse Brewing Co. | King of Prussia, PA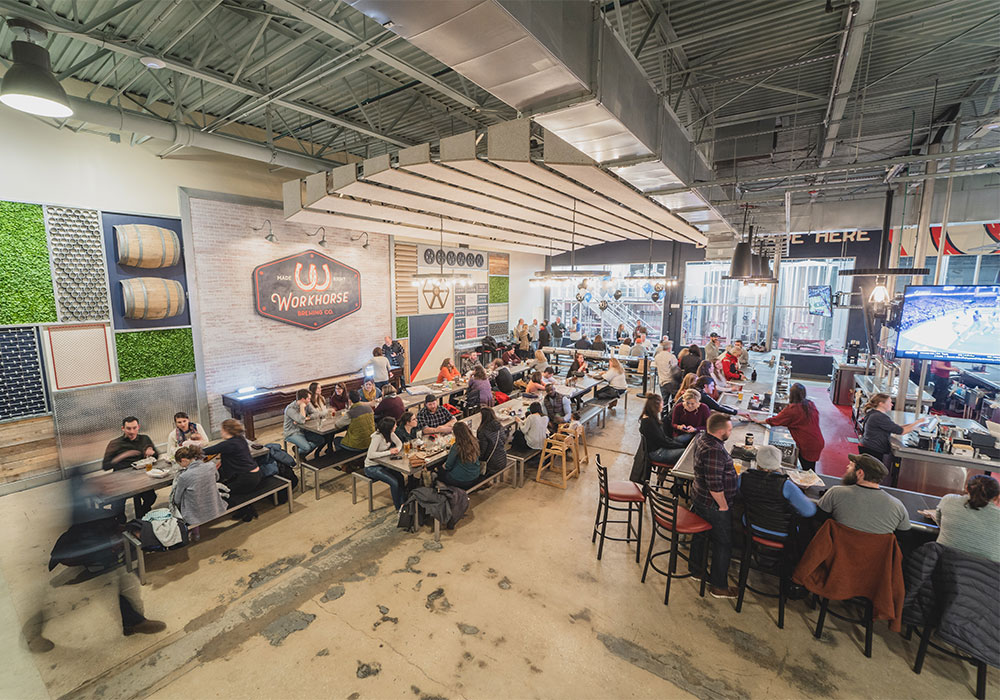 Workhorse Brewing's slogan is "Beer Made Right." It is a bold statement which they double down on with a brand and ethos that is all about creating "meaningful connections to their customers." These concepts delightfully manifest themselves in the layout for their bright and airy taproom which feels like a genuine extension of the brewing process as the u-shaped bar extends proudly from the brewhouse behind.
"We didn't want our slogan to just be a marketing gimmick," says co-founder Dan Hershberg. "We didn't want to open our doors and not showcase our work on the backside, as well as showing our commitment to the brand and the quality. Our goal was to make sure that the space was commensurate with that product. We had to make sure the experience would resonate with people and that it was a place they would feel comfortable in."
Corridor Brewery & Provisions | Chicago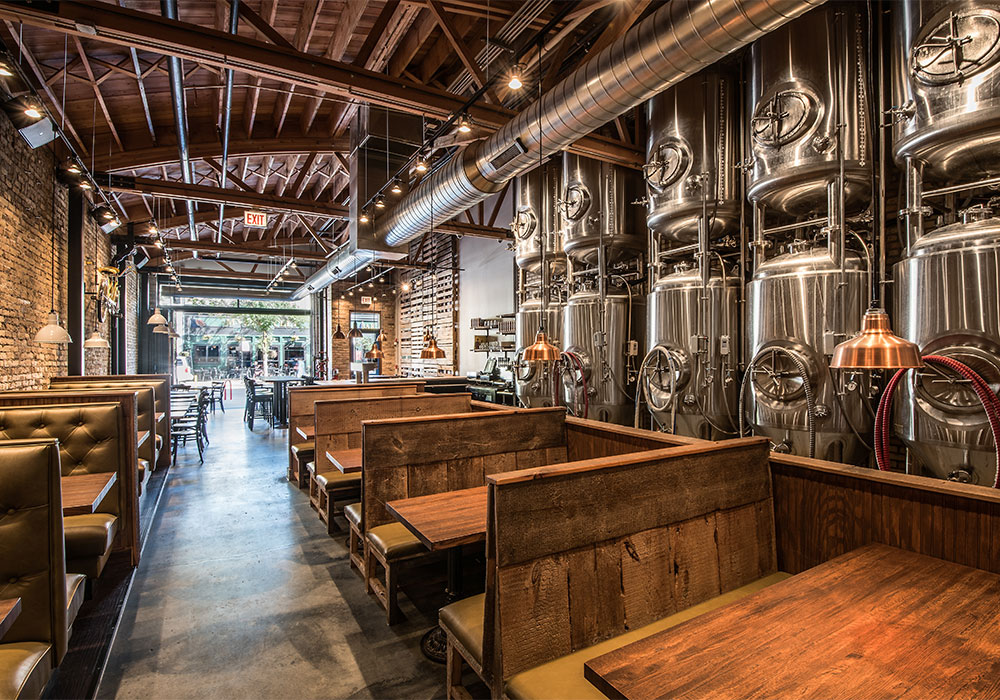 Where many venues on this list let the taproom become part of the manufacturing facility, Corridor Brewery & Provisions in Chicago feels more like the other way around. It looks and feels like a cozy bar or restaurant initially but reveals the secret of its operation pretty quickly on entry with the brewing equipment celebrated as a shining contrast, yet still an integral part of the otherwise rustic decor.
Greg Shuff is brainchild and proprietor behind Corridor and also Dryhop Brewing, both of which are in the Lakeview area of Chicago. He has been a homebrewer since his college years, and his vision for both breweries was for them to feel like "hanging out in a brewery; feeling connected to the craft brewing world; and most importantly, feeling a personal connection to a community of craftsmen."
(Related: 7 Offbeat Places for People Who Like Craft Beer)
pFriem Family Brewers | Hood River, OR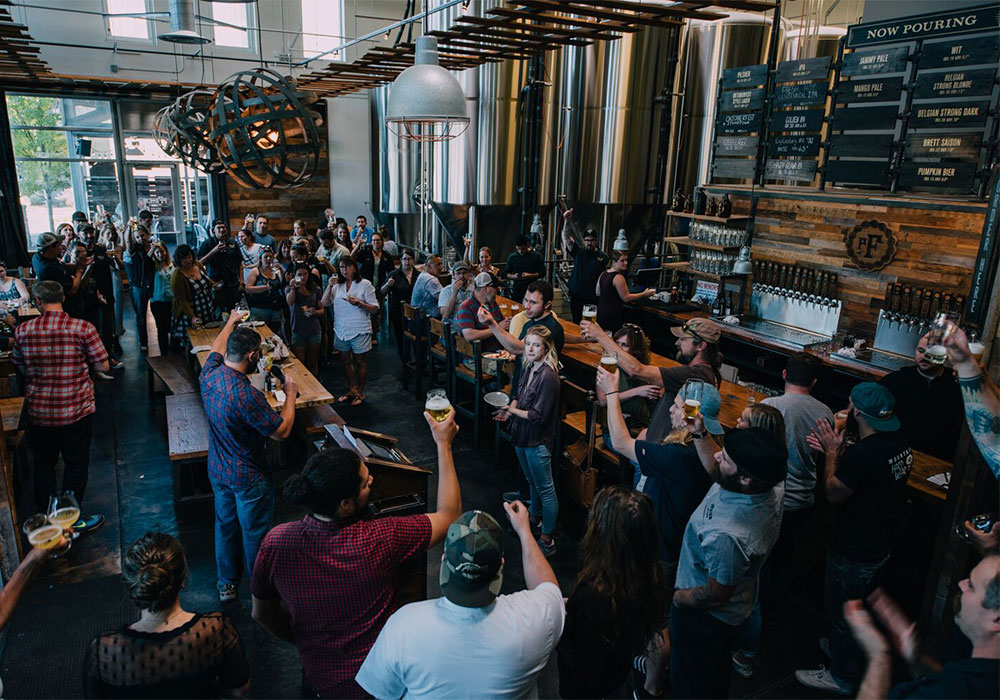 Situated at the confluence of the Columbia, White Salmon and Hood Rivers in Oregon, pFriem Family Brewers (pronounced "freem") take much of their influence from the beers of Belgium and their location in the Pacific Northwest.
For the layout of their brewery, they felt it was important that beer lovers were afforded the opportunity to "see, feel, and smell the craftsmanship that goes into pFriem beer." They wanted to establish a strong connection between the customer and the brewing process.
Founder Josh fPriem spoke about the effort that went into making that vision happen: "I would say the biggest change in doing it the way we have is making sure that safety to the guest is our first priority. In the customer-facing part of the brewery, we do all the work in that area before guests arrive to the brewery. We have also had to put a great deal of work into our HVAC system. A brewing environment and a dining experience are very different when it comes to heating and cooling. This was no simple task to get this where we wanted it to be."
Banded Brewing Co. | Kennebunkport, ME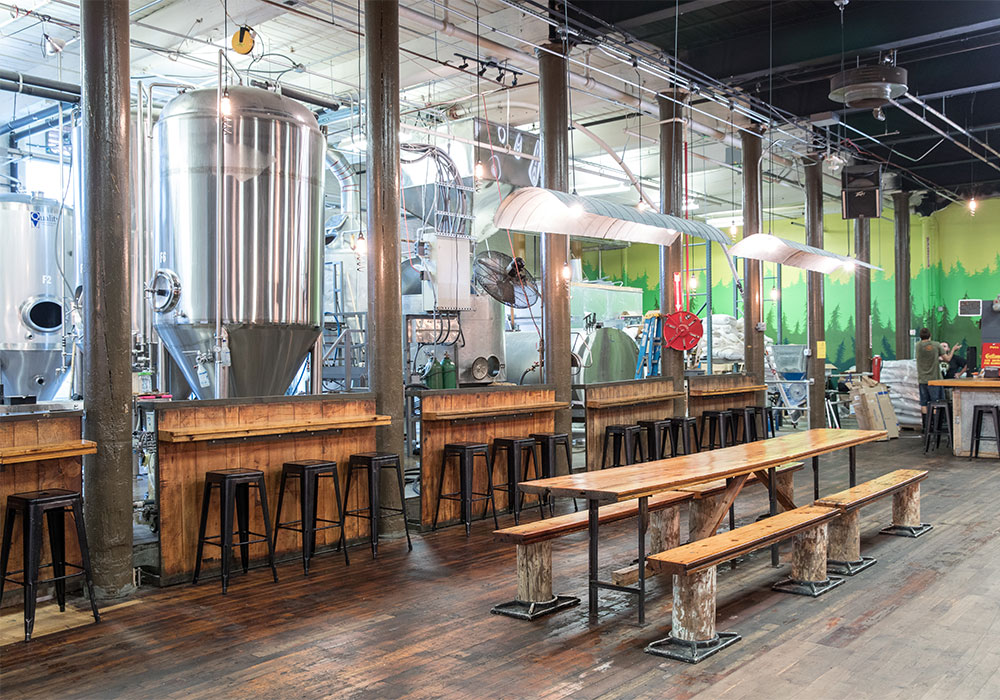 Banded Brewing Co. features minimal separation between the brewhouse and taproom. Owner and Brewmaster Ian McConnell spoke about how he "personally finds industrial things beautiful, especially that a lot of the beauty is in their function." Accordingly, he has always found brewing equipment interesting and believed others would too.
The brewery's name comes from the sense of community it's looking to evoke by "banding together." This was an important idea that Ian wanted to foster by sharing the process through the design of the brewery and taproom so that the product could be enjoyed communally.
"It is about opening our space, our equipment, and our experiences to others," he says.
Trillium Brewing Company | Boston and Canton, MA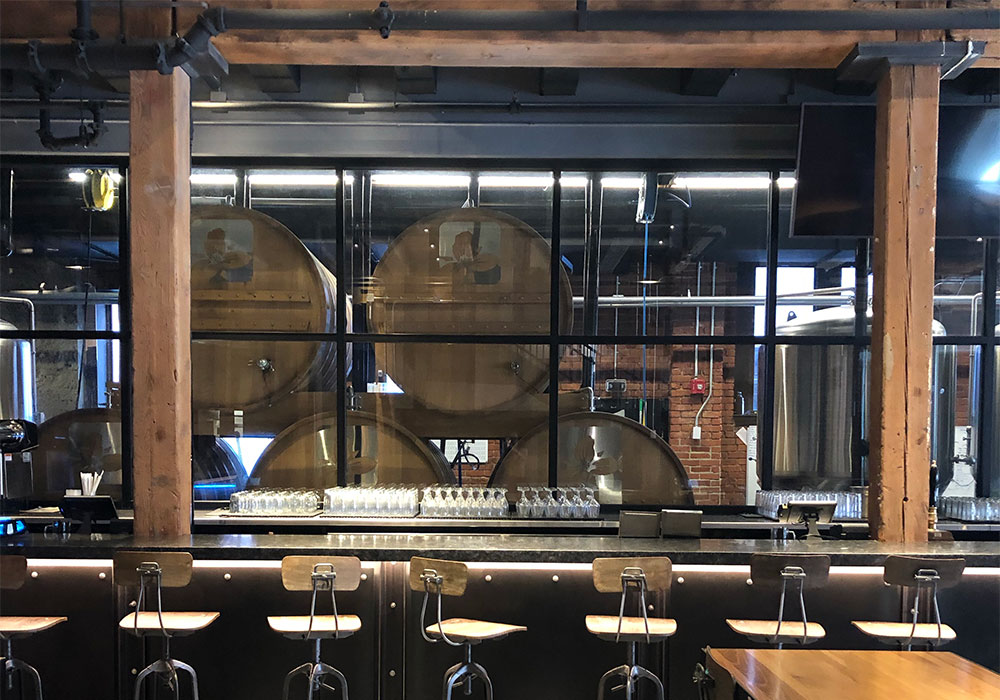 The brewing facility sets the backdrop for the bar in Trillium Brewing Company in Boston and is very much the focal point for the taproom experience. Marketing Director Jonathan Tompkins spoke about how the team at Trillium is naturally curious. They expected others would feel the same way and would appreciate the exposure to their creative method. "If we can provide a glimpse into the process it helps us share our story and show the heart and soul of Trillium," he says.
"It's pretty cool to watch beer being packaged that you're drinking fresh in the taproom! Fans who visit our taprooms regularly comment that being able to see and smell the day's brew makes for a memorable experience. We get a lot of great feedback from guests that love the sights and smells of an active brewery, which creates a memorable full sensory experience."
Connecting with Craft Brewing Through Architecture
Visiting a brewery is, in effect, a visit to a factory. There is an innate satisfaction in seeing how things work, how a beer is crafted, and in enjoying a sample at the end of the production line. Being able to easily observe that operation from the taproom offers a special opportunity to celebrate and engage with the craft in a uniquely satisfying way.
CraftBeer.com is fully dedicated to small and independent U.S. breweries. We are published by the Brewers Association, the not-for-profit trade group dedicated to promoting and protecting America's small and independent craft brewers. Stories and opinions shared on CraftBeer.com do not imply endorsement by or positions taken by the Brewers Association or its members.