A lot of us write "try new things" at the top of our new year's resolution list. While you may have fallen behind on some of the more serious 2017 resolutions (let us guess: you've been to the gym twice?), we thought we'd give you a push in the right direction when it comes to trying new places.
One way breweries work to differentiate themselves is by focusing on the ever-important "location, location, location!" motto. From a remodeled jail to bank vaults to train depots, here are seven offbeat places to add to your beercation bucket list for 2017.
(MORE: 9 Brewery Couples on Strong Relationships and Successful Breweries)
Blackberry Farm | Walland, TN
If you're a fan of farmhouse ales, chances are you've heard whispers about the mythical bottles of Blackberry Farm's traditional farmhouse ales. The family-owned brewery has been gaining attention and praise for their earthy saisons and barrel-aged beers since the brewery's inception in 2011. What you might not know is this brewery is located on a gorgeous 4,200-acre estate in the Smoky Mountains of Tennessee. Although Blackberry Farm doesn't have a traditional taproom, you can enjoy their beers on-site at their restaurant. As if food and beer wasn't enough, this working farm also boasts luxury accommodations, including a wellness center and spa — it's  a grown-up's paradise. Plan your next beercation at this relaxing property and fill your days with delicious beer, culinary adventures, fly fishing and hiking excursions, and a tasting tour of the farm.
Titletown Brewing Company | Green Bay, WI
In the heart of one of the biggest football cities in the country is the Titletown Brewing Company, a small brewpub located in a renovated train station. Originally opened in 1899 as the Chicago & North Western Depot, the building was filled with the hustle and bustle of travel in its day, eventually shuttering its doors in the early 1970s. In its heyday, the depot was also the main port of call for the Green Bay Packers, with all travel to away games for the team always beginning and ending at the depot. When the Packers clinched their first NFL championship in 1929, 20,000 fans attended the team's homecoming at the depot. In 1996 the building was reopened as the Titletown Brewing Company and in homage to the depot's rich history, craft beer drinkers can order up a Pullman Porter or a Steam Engine Common and geek out on the brewery's train-themed decor on the walls.
Salt Springs Brewery | Saline, MI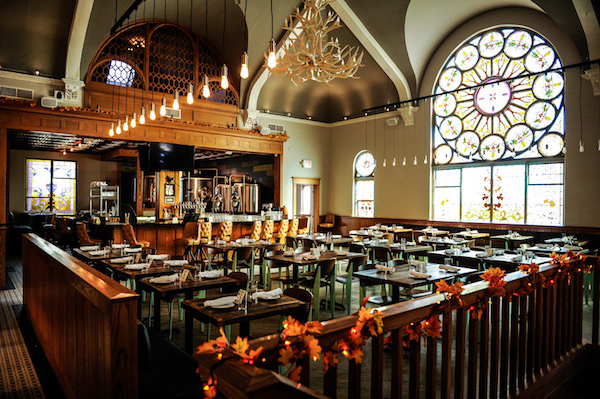 Let's be honest — if more churches had barstools instead of pews and house-made craft beer on tap, we'd all probably attend mass more often. In the small town of Saline, Michigan, that's exactly the scene inside of the Salt Springs Brewery. In 2015, the brewery and restaurant opened up shop in a former Methodist church in the town's downtown drag. The historic building still retains its beautiful brick exterior and colorful stained glass windows which let copious amounts of sunlight into the huge open space that is filled with an open kitchen, large dining room, small brewhouse, and bar area where guests can belly up for one of the brewery's popular Big Brown Bunny Porter — a 6.9% percent ABV dark, rich and slightly sweet beer. And although church services are no longer held inside of this former place of worship, the brewery's delicious weekend brunch menu will make you say amen.
(MORE: 6 Churches that are now Craft Breweries)
The Old Schoolhouse Brewery | Winthrop, WA
In the 1970s, the main street of the historic mining town of Winthrop, Washington, got a makeover that transformed its historic buildings into a picturesque Wild West town. There's a grocery store, a dance hall, an emporium, and most importantly, an old school house building which is currently the home of the Old Schoolhouse Brewery. The charming building may look small from the outside but it extends back to the waters of the Chewuch River where visitors can enjoy a pint and live music on the riverfront deck. About a four-hour drive from Seattle, the small town of Winthrop is located along the scenic North Cascades Highway and is the perfect landing place for road trippers looking to grab a hoppy beer and hearty meal.
Haymarket Pub & Brewery | Bridgman, MI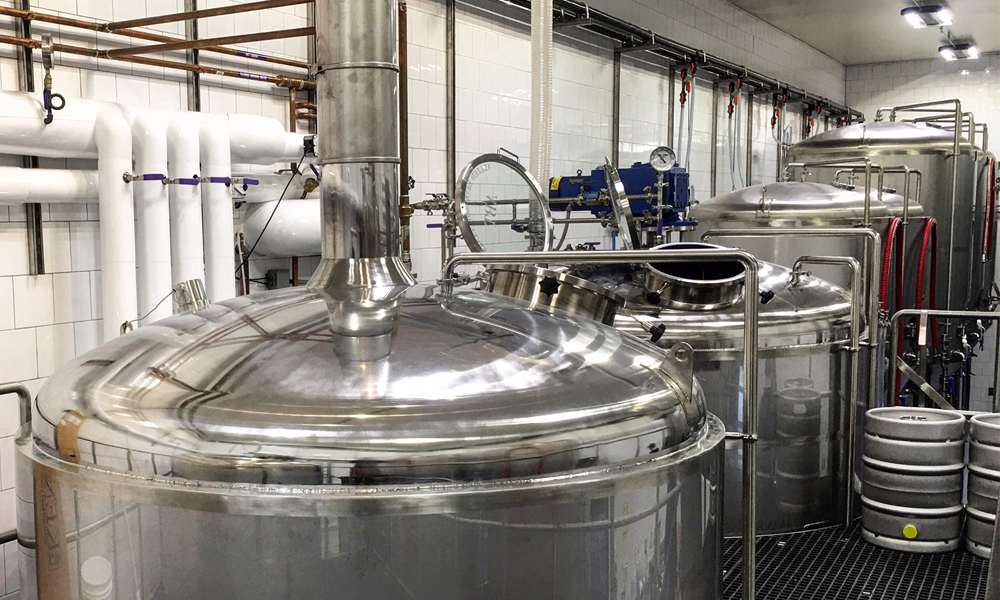 Haymarket Pub & Brewery has added a second location in southwest Michigan, about 90 miles east and one big Great Lake away from its original location in Chicago. The new 30-barrel Haymarket Brewery was built on 18-acres of land that was once home to a Michigan State Police post. The brewery now fills the space that once held the jail cells, but visiting beer lovers will feel anything but locked up sitting at the beer garden out back overlooking 8-10 acres of protected wetlands.
Vault Brewing Company | Yardley, PA
The small town of Yardley, Pennsylvania, is where you'll find one of the only breweries in the country that has an original 8,000 lb. vault door protecting the beer cellar. The Vault Brewing Company's digs are a former National Bank originally built in 1889. Today, the brewery has preserved the building's past and infused its history into nearly all aspects of the buildings current state. An old safe and bank deposit slips can still be found in the building's decor, and instead of a modern day brewery, the vibe inside of the Vault Brewing Co. is more of a throwback to the speakeasy era.
(MORE: The Internet Loses Its Mind Over an Oreo Beer)
Moon River Brewing Company | Savannah, GA
It's no surprise that one of the most haunted cities in America is also home to one of the most haunted breweries in the country. Savannah, Georgia's Moon River Brewing Company has been featured on Ghost Hunters and shares a collection of patrons' ghost encounters at the brewery on their website. The brewery is also routinely featured as a stop on ghost tours that take place throughout the city. The building's history dates back to 1821, but today, beer lovers can enjoy hand-crafted beers and pub fare in one of the city's oldest buildings.
CraftBeer.com is fully dedicated to small and independent U.S. breweries. We are published by the Brewers Association, the not-for-profit trade group dedicated to promoting and protecting America's small and independent craft brewers. Stories and opinions shared on CraftBeer.com do not imply endorsement by or positions taken by the Brewers Association or its members.