As a travel writer, I experience a ton of brewery taprooms. Considering some of my most memorable brewery visits, I started to think about all the remarkable brewery taprooms out there. What makes a brewery taproom good-looking? Is it the beautiful renovation of an old building? The wear and tear of history? Is it a good view, or a bold personality? Maybe it's all the above.
[newsletter_signup_box]
Like beer styles, each brewery has its own unique recipe, and the personalities have grown increasingly diversified in their appearances over the years. Here, we celebrate a few of these remarkable taprooms.
Central Standard Brewing | Wichita, KS
The small craft breweries of America's past were simply neighborhood pubs, and so there must be such an X-factor in brewery design. Central Standard in Wichita, with its communal, share-a-table patio setup on a side road across from a quiet park, has achieved that rare backyard buzz. The inside carries a retro vibe, with an old red marquee displaying the beer list, avocado-green walls and horizontal design lines. The V-shaped bar allows for more socialization between guests, and the brewers play their role, too, working in the same space at the tanks right next to the bar.
The Depot | Reno, NV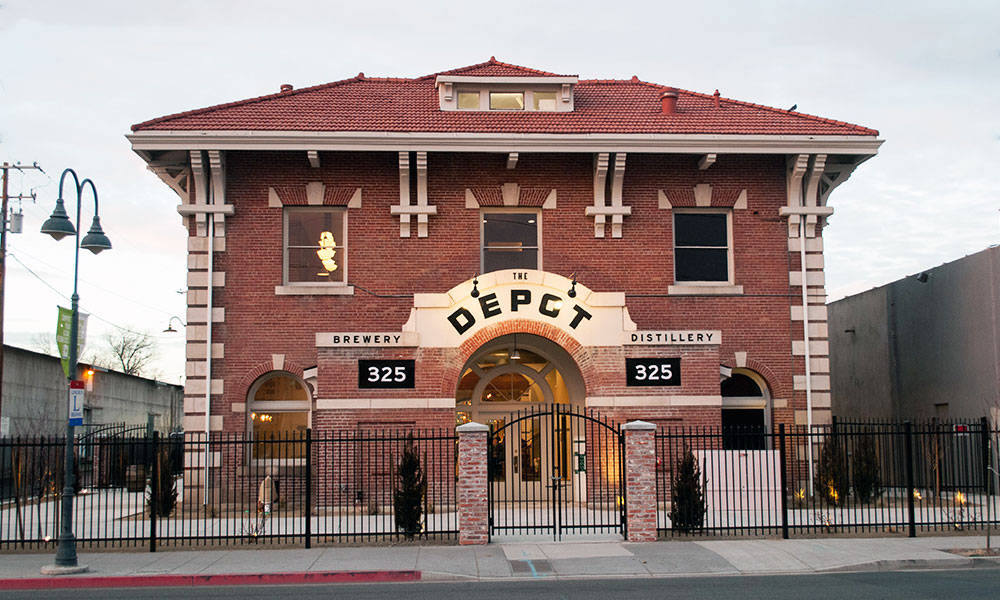 This old train station built in 1910 was once home to the Nevada-California-Oregon Railway headquarters. It mainly served cattle ranchers and farmers, transporting livestock and grain. Now, it's home to The Depot, a craft brewery and distillery, where agricultural products go to different uses. But the station is very much intact and arguably looking the best it ever has. The exterior of the building is magnificent. It's three stories high with rounded entryways and white buttresses. The inside is modern and shiny, with just enough red brick to keep things honest. And there's one very important archway, placed directly behind the bar, that lets you see back into the production room.
(READ: Breweries Take Residence in Historic Spots)
Eppig Brewing Waterfront Biergarten | San Diego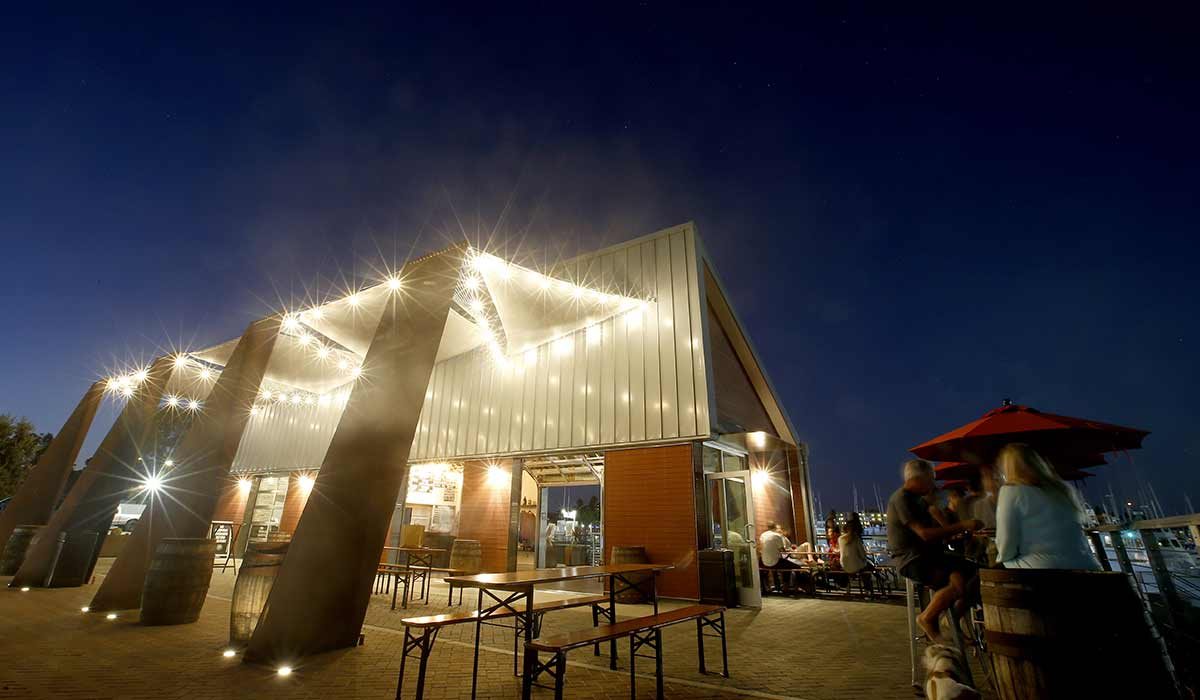 Eppig Brewery's second location along the waterfront will make you forget all about its first location in North Park. Open-aired and smack-dab in the harbor, the view is dominated by all kinds of boats in the foreground and the San Diego skyline in the background. The taproom itself is shaped like a sail, filled with wind thanks to large garage doors that let the salty-breeze sweep through. Though it resides in IPA-heavy San Diego, Eppig specializes in easy-drinking German lagers, which pair well with boat life and the sunset.
Salt Springs Brewery | Saline, MI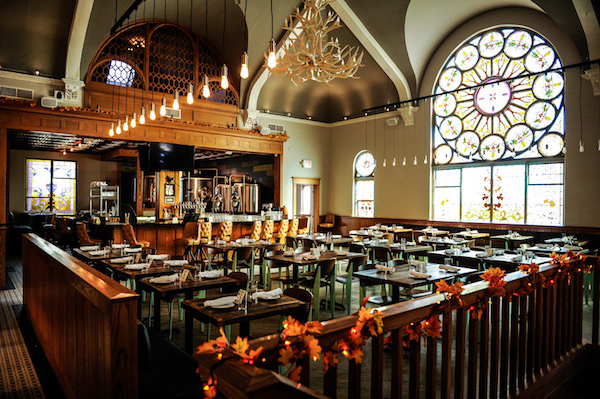 There might be some truth to the idea of beer being a religion, because over the years we've seen a number of breweries open up inside former churches. In Michigan, props to Salt Springs Brewery for doing a little redecorating along the way while retaining the beauty of the church. The exterior of the brewery takes you back to a different time — the church was built more than 115 years ago. And the original stained-glass windows are intact. Contrasting that history is the local flavor and modern touches, such as the antler chandelier and Vegan Wednesdays.
(READ: 12 Breweries Restoring the Past)
Love City Brewing | Philadelphia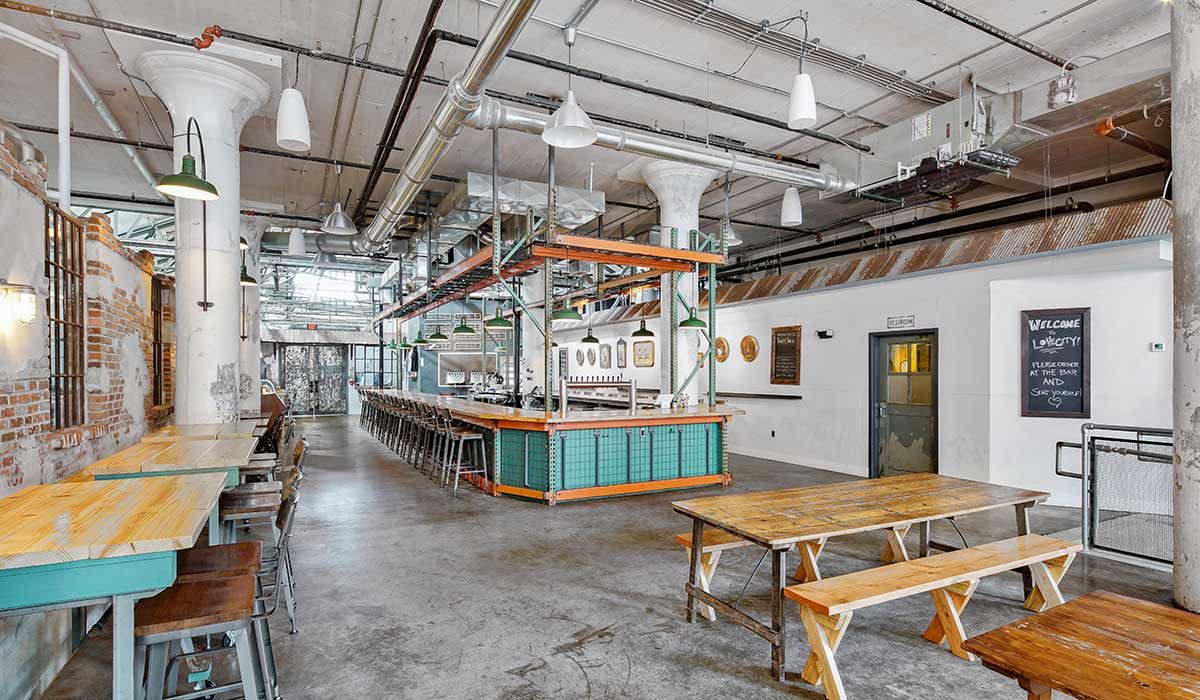 Did someone say something about the wear and tear of history? Love City's warehouse vibe is in full force. It's a great example of the balance that so many breweries seek to accomplish when they refurbish old buildings. Once a manufacturing plant for trains on the Reading Railroad, the brewery has revived the space — sort of. Old machinery, patchy paint, big worn columns, tattered brick walls and scuffed tables reinforce the fact you're in an old space. Even though it's intentional, it feels authentic, an intangible to which you must tip your cap.
Mission Brewery | San Diego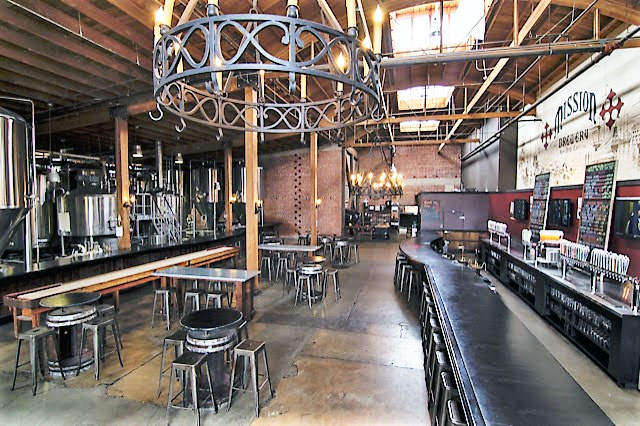 It's fitting that one of the most historic craft breweries in San Diego, Mission Brewery, makes its home in a space once occupied by Wonder Bread, perhaps the country's most-recognizable white bread. With the exterior still donning the Wonder Bread logo and run-down factory appearance, the interior explodes with a combination of early 20th century nostalgia and modern ingenuity. A high-beamed warehouse ceiling, metal chandeliers and manhole covers go along with the state-of-the-art brewing equipment, a long wooden bar and tables made of beer barrels.
(READ: 8 More Awesome Places to Plan a Brewery Wedding)
Toro Creek | Paso Robles, CA
Owner Brendan Cosgrove is from rural Paso Robles, a region that is typically known for its wine. So it's no surprise that we see influences of wine culture at his taproom in downtown Paso. In a beer world where "no-frills" is the mantra of many, Toro Creek's taproom feels warm. It is one of grace, described by Cosgrove as an "elegant farm" atmosphere. Soft colors, antique furniture, a record player, air plants and dried hops are signature pieces in the décor. The dried hops are strung up overhead to complete the harvest vibe. But it's not all talk — it's also in the beer. Toro Creek grows its own hops on a farm and uses them in pale ales and IPAs.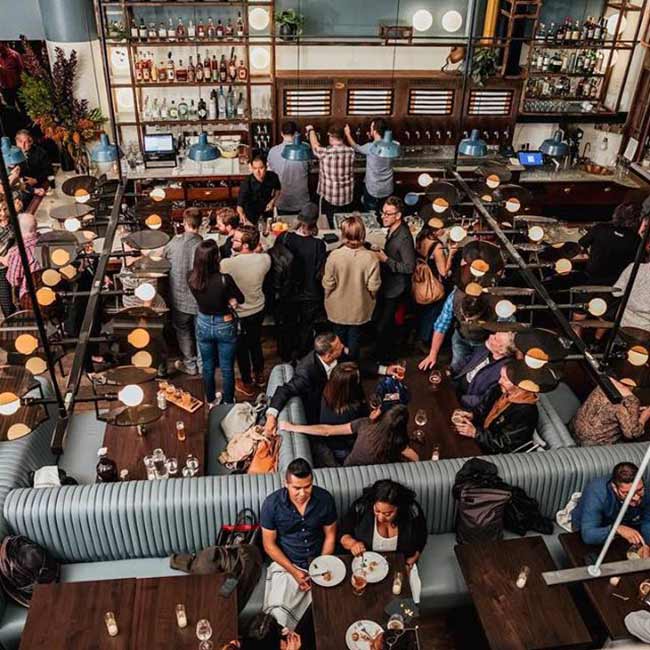 Magnolia Brewing | San Francisco
These days, garage-door and industrial style breweries are in abundance, so it's fun to appreciate the other end of the spectrum. Toro Creek is an example of a simple and soft, perhaps even traditional, method of sprucing things up. Magnolia Brewing's Dogpatch location is an example of what happens when you back off the rural traditions and push forward with the modern city in mind. It's not often you find a craft brewery with plush leather booths (that aren't ripped), with a style that makes a shirt and tie feel more appropriate than shorts and a T-shirt. Hey — businesspeople need beer, too, and if you're going to get dressed up, you might as well drink the good stuff from Magnolia.
Engine House No. 9 Brewery | Tacoma, WA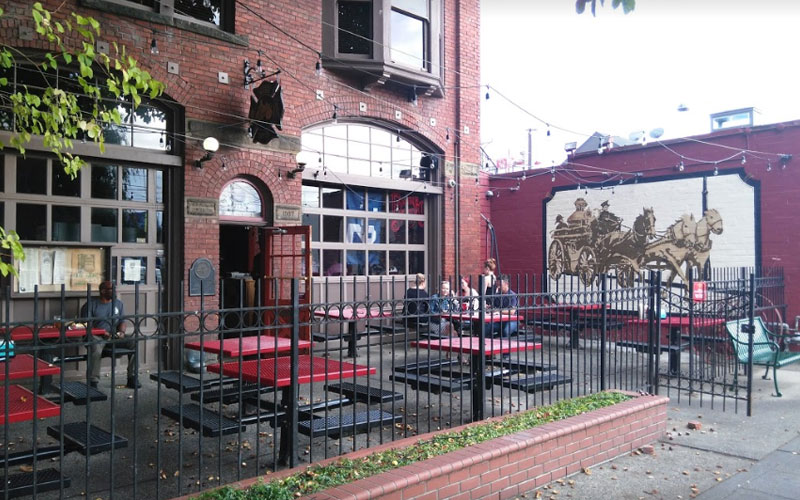 Engine House No. 9 in Tacoma was built in 1907 and served its community as a horse-drawn carriage firehouse for decades before being turned into a tavern in the early 1970s. That set the stage for it to become the home of Tacoma's first craft brewery in 1995, Engine Brewery. The beautiful brick building has two large firehouse-style doors in the front, big windows that give off a Victorian vibe, and a huge chestnut tree that shades the patio. The interior feels like a sports bar. But it carries on the firehouse legend with historic items and décor, like track lighting attached to old ladders.
Brewery taprooms come in all shapes and sizes, and you must try them in bunches to see what fits. Have a favorite brewery taproom of your own? Let us know.
CraftBeer.com is fully dedicated to small and independent U.S. breweries. We are published by the Brewers Association, the not-for-profit trade group dedicated to promoting and protecting America's small and independent craft brewers. Stories and opinions shared on CraftBeer.com do not imply endorsement by or positions taken by the Brewers Association or its members.