As beer lovers, most of us know more about the style of beer in our glasses than we know about U.S. history, but several breweries across the country are changing that. As craft brewers take up residence in historic spots, they've found that it inspires their beer and branding. They are also using their location as an opportunity to educate customers, while keeping important stories alive and reconnecting with younger generations.
Historic Architecture at Almanac Beer Co.
Almanac Beer Co. had been contract brewing in the San Francisco Bay Area since 2011. The team was searching for a spot to call their own when they were presented with a rare opportunity. It was 30,000-square-foot space in an abandoned building at Alameda Point in Alameda, California. The area is the former home of a naval base that has seen some renovation with new businesses, breweries and distilleries over the past few years. [newsletter_signup_box]
"It looked like a cathedral to barrel aging," says Damian Fagan, co-founder and CEO, as he thinks back to when they first toured the building with their future landlord.
(MORE: The Competitiveness of Barrel-Aging Beer in American Brewing)
The building is constructed of redwood with 37-foot-tall ceilings and has doors at each end that stand at 22 feet tall. They soon learned that the building played an important part in U.S. history during WWII.
Nodding to those towering doors, Fagan says, "Those are there because a train ran through this building." They had to remove the tracks inside to make way for brewery equipment, but evidence of the rail line remains just outside the door.
In 1942, the building was used for dry goods storage and as a depot for navy airplane parts. A train car would roll into the building, and parts would be loaded into the car. It would then roll through to a larger building next door where the plane would be assembled. These newly built planes went off to battle in WWII.
This space has not only been instrumental in allowing the Almanac team to take their production and experimentation to the next level. Here, they feel a part of something larger and more meaningful.
"A lot of heroes worked in this building. It has a lot of really interesting meaning for me that way," Fagan reflects.
Keeping History Alive at Home of the Brave Brewing Company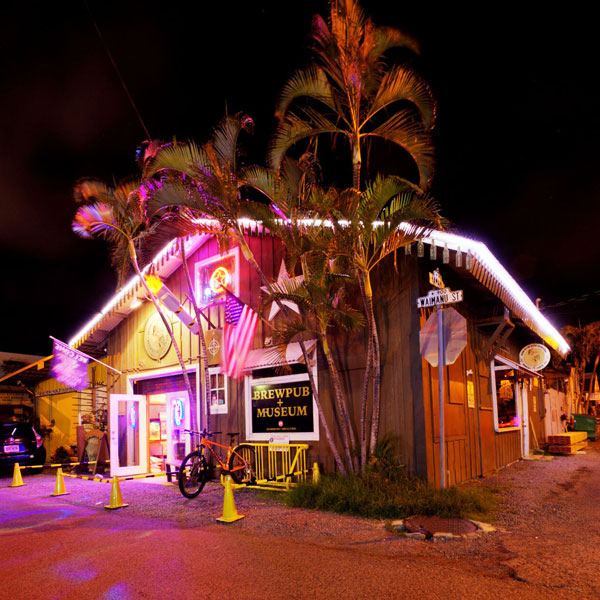 On the island of Oahu in Hawaii, Home of the Brave Brewing Company president and founder Glen Tomlinson experiences a similar draw to the history of WWII. In 1991, during the 50th anniversary of the attack on Pearl Harbor, he began offering tours to survivors and families that explored nearby fighter command posts and battlefield sites. With overwhelming popularity, it quickly became a hobby turned job.
As the 75th anniversary approached, challenges began to arise. The WWII veteran population was aging. Not only were fewer people attending tours, but the important stories and memories of WWII threatened to disappear.
(LEARN: What is Craft Beer?)
"We started asking ourselves, 'How can we keep these stories alive?'" says Tomlinson. At that time, his son was attending college in Fort Collins, Colorado, and was suggesting starting a brewery back home. It seemed like an ideal opportunity to reach a younger crowd and keep the WWII stories alive.
The endeavor evolved into a local brewery operating with a small brewing system and beers available at their Brewseum, a spot that was a stop on the historic tours just 10 miles from Pearl Harbor.
"Our goal is to reconnect with a younger generation," says Tomlinson. As a result, their craft beers bring an inviting touch to an educational experience in their space, which is overflowing with WWII memorabilia donated by veterans and their families.
'Brewed with Heart' at Newburgh Brewing Company
Along the Hudson River in New York, Newburgh Brewing Company is influenced by a military history that dates back much further than the World Wars. Just outside the window of the historic building where the brewery is located sits General George Washington's Headquarters, where he was stationed at the end of the Revolutionary War.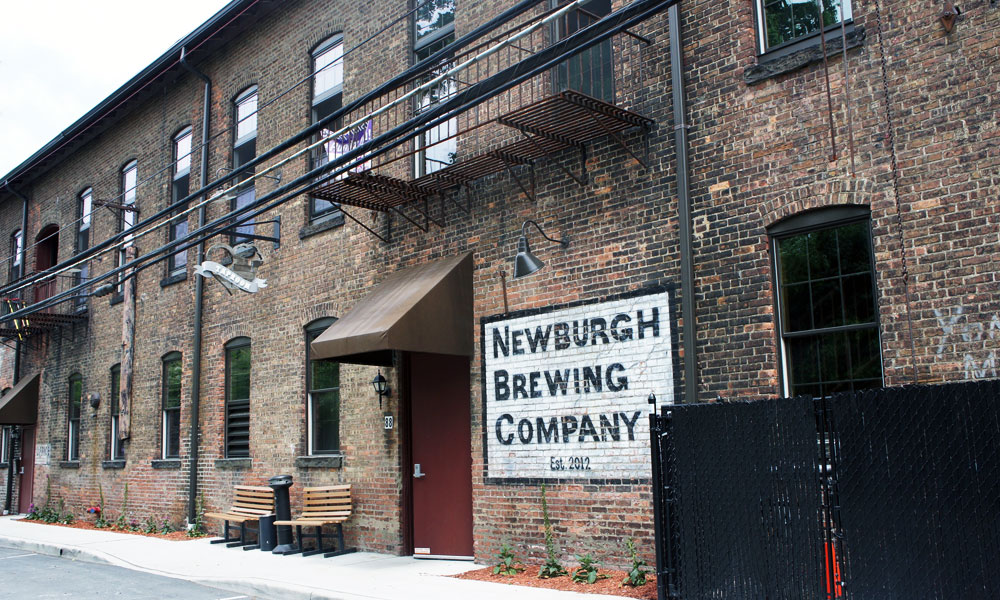 It was in this space that he awarded the first Badge of Military Merit, which later became the Purple Heart. "It was the first award for enlisted soldiers," says brewery president Paul Halayko.
As they were settling on their branding, Newburgh Brewing Company was on the search for something deep in the history of the city that could be incorporated into their logo. Brewmaster Christopher Basso was taking a tour of the headquarters when he learned of the Badge of Military Merit. He took those thoughts and ideas to their graphic artist, and the brewery's current logo emerged along with their slogan, "Brewed with Heart."
Three Notch'd Brewing Revels in the Revolutionary War
Also during the Revolutionary War, a thoroughfare named Three Notch'd Road ran east and west through the state of Virginia. It sits less than a quarter mile from Three Notch'd Brewing Company in Charlottesville.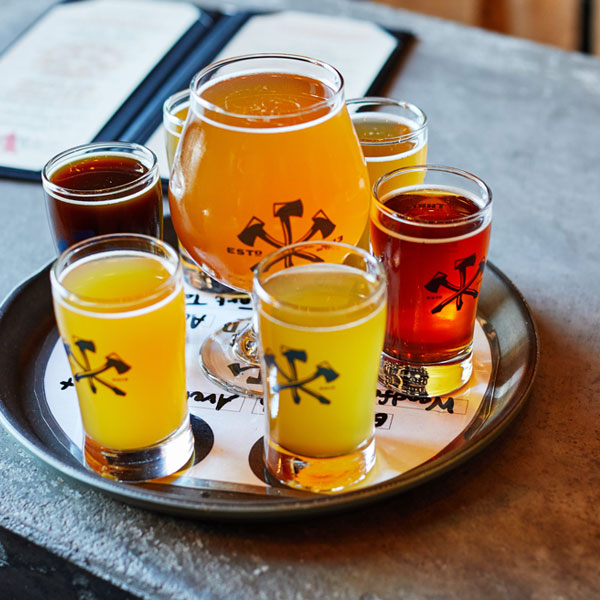 It's believed to be named for notches made in the trees to signify the trail which is the same path that Jack Jouett, the "Paul Revere of the South," rode in 1781 to warn Governor Thomas Jefferson and other state officials of the approaching British Army.
(Find a Brewery: CraftBeer.com's Brewery Finder)
"We all love the rich history of Charlottesville and we wanted to embrace that. The history is something we really latched onto early with branding," says Scott Roth, Three Notch'd Road's founder and president.
The location and history inspired their mission. "'Leave Your Mark' became our guiding principle," he says. Relating back to those war heroes who left their mark long ago, through great beer and collaboration, they hope to inspire patrons to leave a positive mark in their communities.
Craft Beers Offer a Taste of History
The connection of breweries to U.S. history does not end with missions, buildings and logos. They have also used their locations to inspire the styles and names of the beers that they serve.
"We released a three-part barrel aged brown ale series, each named for a recipient of the Badge of Military Merit," says Newburgh's Halayko. Their Russian Imperial Stout is named for the Newburgh Conspiracy, a pivotal moment in history when General George Washington overturned a planned revolt. The brewery also works closely with the state historic site for special events. Reenactors dressed in appropriate attire for the era have even served beer in their taproom.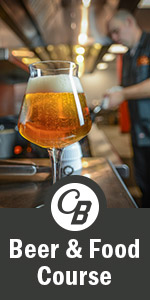 Home of the Brave Brewing Company often names its beers after war heroes. Their flagship Taylor & Welch Pilot Pale Ale honors two brave pilots. According to Tomlinson, beer names spark questions about the famous military they are named after, providing the opportunity to educate his customers about WWII history.
The flagship beer at Three Notch'd Brewing Company carries the name 40 Mile IPA after Jack Jouett's 40-mile ride. Their Minute Man New England Style IPA is named for the famous minutemen that also played an important role in the American Revolutionary War.
The compelling stories of their locations and strong connection that these craft breweries have to this country's history is helping to ensure that stories carry on. These accounts range from well-known events of past wars to personal family stories of those challenging times.
Whether you go for the history or the beer, as a visitor to these historic brewery locations, you are sure to walk away saying, "I learned something today." That is worth raising your pint in a toast to our inspiring past –and to the present and future of great craft beer.
CraftBeer.com is fully dedicated to small and independent U.S. breweries. We are published by the Brewers Association, the not-for-profit trade group dedicated to promoting and protecting America's small and independent craft brewers. Stories and opinions shared on CraftBeer.com do not imply endorsement by or positions taken by the Brewers Association or its members.