Last year, we shared 9 Breweries That Prove You Can't Beat a Brewery Wedding, so we wanted to create another collection for couples on the hunt for a brewery wedding venue that ups the fun quotient. As Mary Mayo, Catawba Brewing's creative director, surmises, "Anybody who is even considering a brewery wedding is automatically a really fun person!" Unique design also typically comes built-in at many breweries, and the juxtaposition between beautiful flowers, centerpieces, and other decorations against historic brick warehouse walls, exposed pipes or aging barrels makes for striking photo backdrops.
[newsletter_signup_box]
And while not every brewery has stepped into the wedding market, those that have tend to give couples lots of freedom when it comes to planning their big day, since a laid-back attitude and atmosphere are what make breweries so fun to hang out in — wedding day or not! So get inspired by the creative brides and grooms who've held weddings at these eight unique brewery venues.
Catawba Brewing | Charlotte, NC
Barrel Room: 230 guests seated
Catawba Brewing's success hosting weddings at their Asheville brewery led them to invest in building out a 4,300-square-foot private barrel room in their Charlotte location. They specifically wanted to create a space that would be stunning for both ceremonies and receptions."It actually saves them money and frustration," Mayo says, "and we love being such an important part of our customers' lives."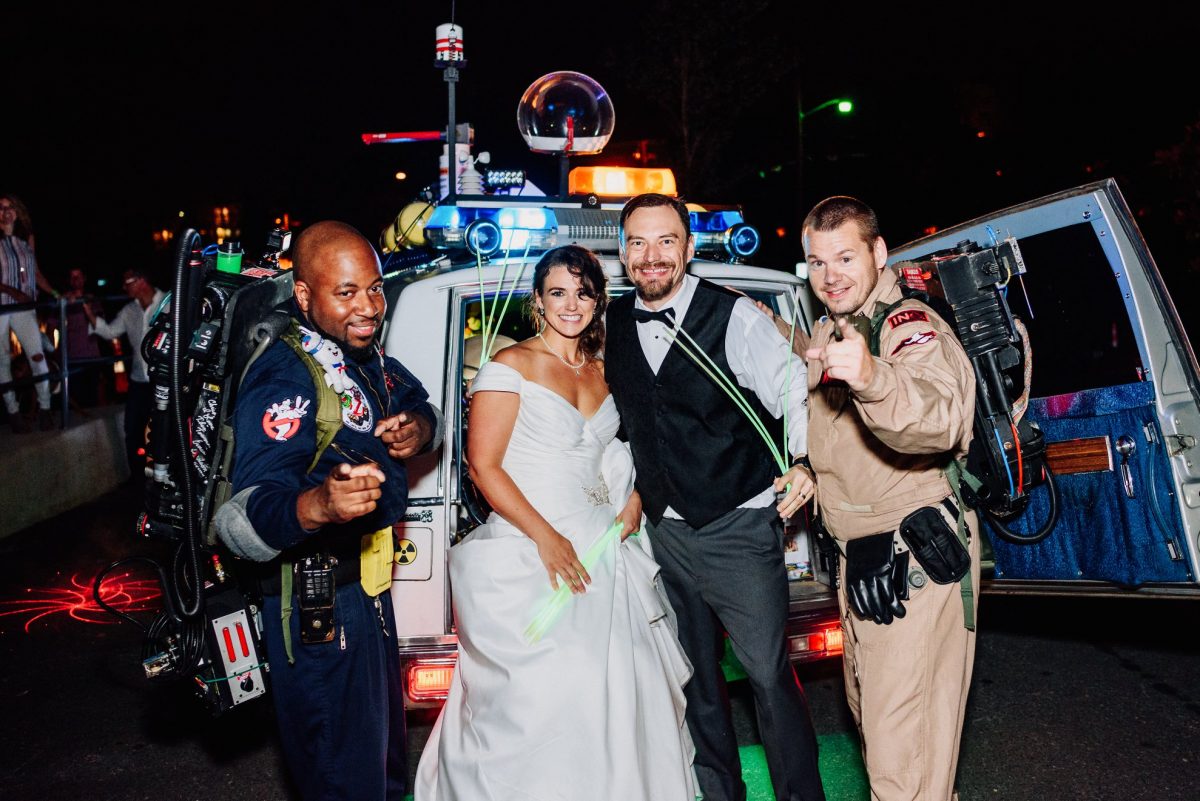 Mayo also notes that couples aren't limited to brewery bar stools and tables, and are welcome to utilize any furniture options they want. She encourages wedding parties to look into all the fun shuttle options that exist in Charlotte — classic old cars, trolleys, carriages, party buses, or even being chauffeured by the Ghostbusters.
(READ: My 100-Mile Denver Brew Hike)
SanTan Brewing | Chandler, AZ
Indoor + outdoor space: 120 guests
Looking for a brewery that also serves excellent food? SanTan Brewing has made a commitment to "changing the face of catering by embracing a niche of being one of the only breweries in Arizona to focus on the importance of supplying great food alongside our own great craft beer," according to their Wedding.com profile. To fulfill this commitment, they offer a large menu with many dishes flavored with their brews, like their SunSpot Gold beer cheese, ale-soaked wings, and ale-battered fries. Their brewpub pizzas, funky burgers (one is topped with a mac and cheese cake!), fun tacos and handcrafted sandwiches will have your guests chowing down in between sips of their craft beer.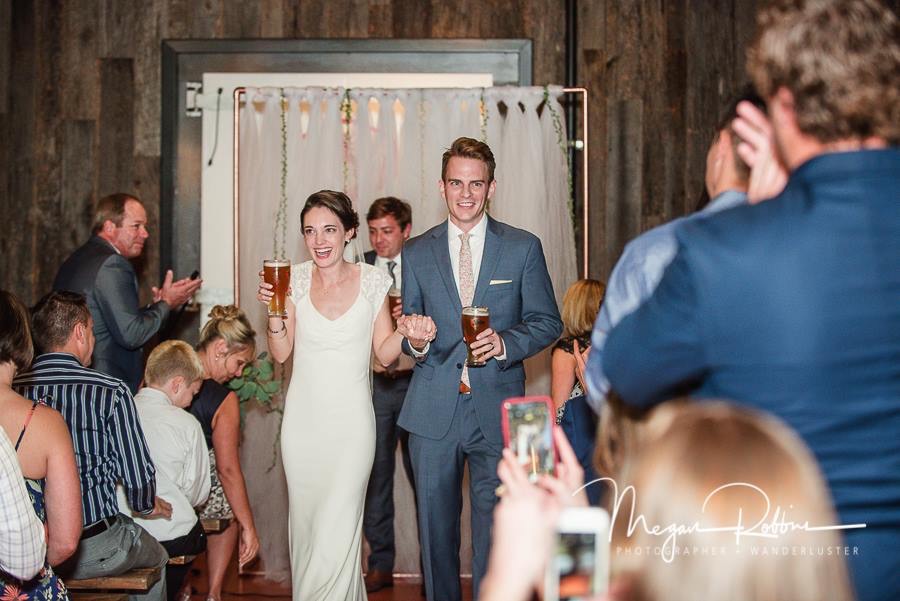 Besides a focus on offering great food, Special Events and Catering Director Kaitlin Godziela says she works with couples to make their day extra special. One such memorable reception? Godziela says that one couple arranged for Sparky the Sun Devil, Arizona State University's mascot, to hang out because they were both huge ASU fans. "I'm also a graduate of ASU, so it was fun to have Sparky in the house," she says.
Brown's Brewing Co. | Troy, NY
Revolution Hall: up to 300 guests; Trojan Room: 30 guests
For Brown's Brewing, transforming their 150-year-old warehouse into a taproom, barrelhouse and two special events spaces was something they wanted to do for their fans and New York community 25 years ago. Today, Brown's now hosts about 75 weddings per year, all focused on beer. "We allow couples a day with the brewers to make their own brew to be served at their wedding," explains Carrie Harkin, Brown's private events manager. Their rental space features eight taps and their catering menu also incorporates Brown's brews into their recipes — like their oatmeal stout cheese sauce, Cherry Razz Ale barbecue, and pale ale honey mustard. "We offer the option to customize your own menu, and for couples to take pictures right in our brewery and anywhere in our space … with exposed brick and beautiful lighting," Harkin says.
Revolution Hall is a two-floor European beer hall — complete with a lofted landing overlooking the dance floor — with the bonus of being located right on Troy's striking waterfront. Seating options include 100-person amphitheater or table seating for up to 300. A slew of lighting, audio, visual and wireless options come together to create a wedding experience that will be distinctly you and distinctly amazing.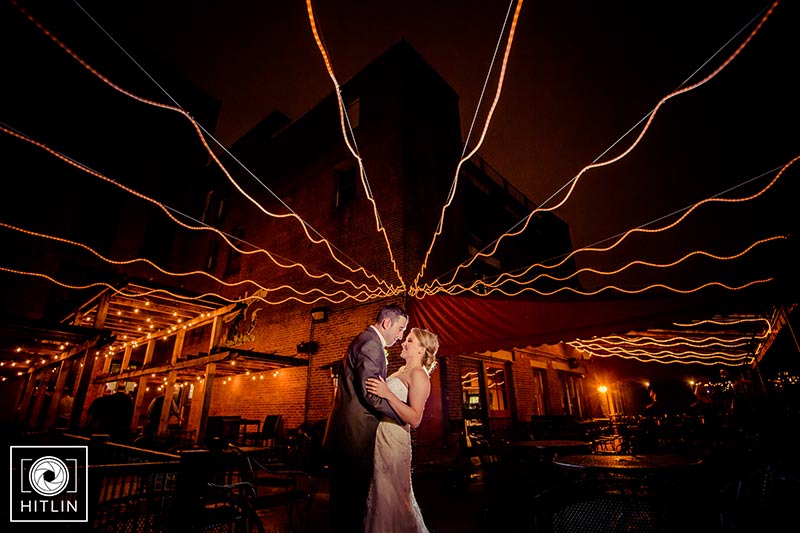 Cahaba Brewing Company | Birmingham, AL
Brewhouse: 3,000+ guests; Private Barrel Room: 350+ guests; Public Taproom: 75 guests; combination of Taproom, Patio, and Barrel Room: 500+ guests
A brewery wedding certainly has the benefit of being a place you can revisit again and again (annual anniversary trips, perhaps?) — and sometimes, a love story starts over a few craft beers. Christy Johnson, Cahaba Brewing's marketing director, shares that a recently married couple had their very first date at their brewery, got engaged at the brewery, AND got married at the brewery. "It's incredible we get to play a small role in such memorable moments in people's lives…it simply does not get better than that," she says. Cahaba Brewing's huge space —the historic Continental Gin building located in Birmingham's hip Avondale —can be completely rented out for gatherings of over 3,000 people.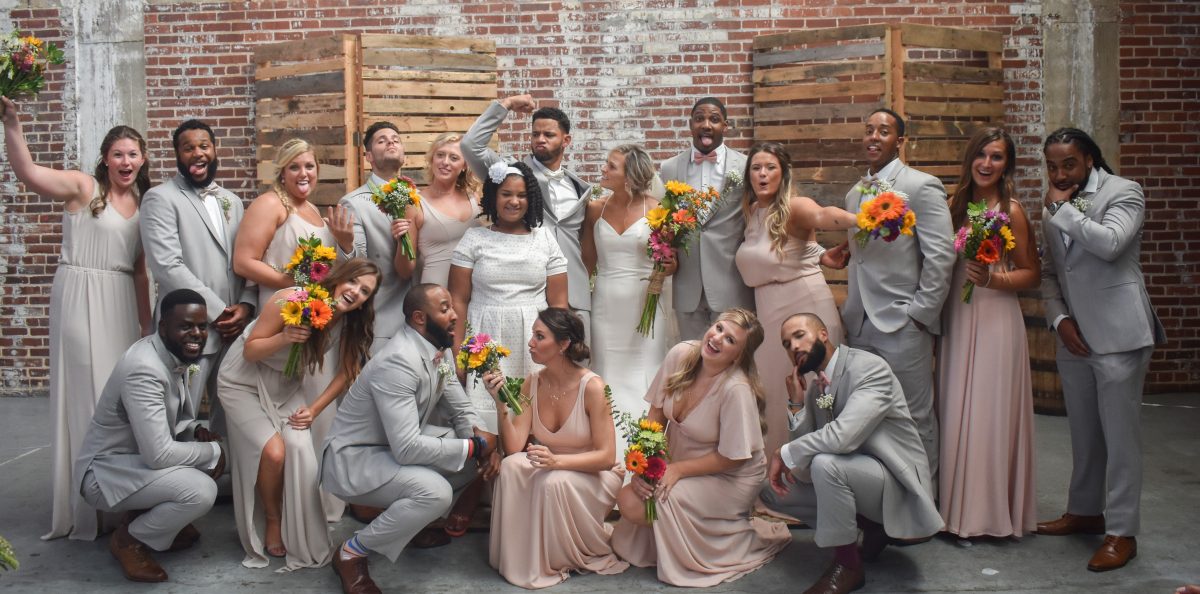 Yet most couples opt to book just the barrel room, a rustic space with exposed brick, concrete floors, and metal beams. Other configurations include incorporating the taproom and their patio. They've also hosted many engagement parties, rehearsal dinners, bridal showers and luncheons, and even post-wedding brunches. Johnson also notes that while they accommodate weddings seven days a week, year-round, Cahaba has noticed an uptick in more weekday and weeknight bookings.
(TRAVEL: 5 Epic Craft Beer Road Trips)
Fenton Winery & Brewery | Fenton, MI
Banquet: 280 guests
Fenton Winery and Brewery gives special attention to their events division as weddings and other gatherings make up a large part of their business. To make the process as easy as possible on the future spouses, Fenton describes their space as a full-service venue with its own dedicated staff. These efforts have paid off as they've been dubbed by WeddingSpot.com a "Best Wedding Spot," perfect for couples looking for an outdoorsy occasion that moves guests from an outdoor ceremony, to an outdoor cocktail hour, to their all-cedar banquet hall for receptions. "We do all our own in-house catering, craft beer and wine, and setup/cleanup for the special day," explains co-owner Ginny Sherrow, who opened Fenton with her husband Matt in 2007.
Other spaces available to wedding parties when they book Fenton include their outdoor patio with a fireplace, private dressing suites for the wedding parties and their families, and a wine and beer garden. Guests can opt for fully indoor or fully outdoor events, or a combination of both, with many wedding parties utilizing a combination of the two. Couples also get to select which craft beverages will be on tap at the site's various eight-tap bars. At the end of the day, Sherrow says nothing beats hearing from happy couples who received positive feedback from their attendees. "It's heartwarming that we could provide the experience for guests to rave about,"she says.
Bristol Brewery | Colorado Springs, CO
Barrel-Aging Room: 50 guests
For a unique setting with a twist for smaller weddings, receptions, or rehersal dinners, couples should explore Colorado Springs' Ivywild School, an elementary school-turned-gathering and event complex that includes a marketplace, brewery, cocktail bar, coffee roaster, distillery and music venue. The 100-year-old building was renovated in 2013, and the variety of businesses located under the same roof helps couples keep their vendor list small. "Everything is literally down the hall," explains Jason Littman-Quinn, Bristol Brewery's brand, sales, and marketing manager.
An unexpected perk has been the ability to offer a space to people who used to go to school at Ivywild. "We've had former students get married in the gym," Littman-Quinn says, "and it makes us all feel happy when couples are walking around the building in their dresses and suits, knowing we helped contribute to their wedding."
New Holland | Grand Rapids, MI
The Zeppelin Cocktail Lounge: 75 guests; Barrel Stave Loft: 200 guests; The Trees: 150 guests; Bridge Street Beer Garden: 250 guests
New Holland made sure to create a welcoming space for events of all types, hosting around 10 weddings each year, but one of their most popular options among wedding parties is the Zeppelin Cocktail Lounge, which overlooks their distilling equipment. Bonus: New Holland also has an Artisanal Spirits line, brewing up whiskeys, liqueurs, gins and rums, so guests can enjoy a full bar here. "As a thank you for hosting their wedding reception here, we typically customize a bottle of our Beer Barrel Bourbon with the bride and groom's names and wedding date, paired with two of our rock glasses," Caitlin Gallagher, New Holland's catering events sales manager, says.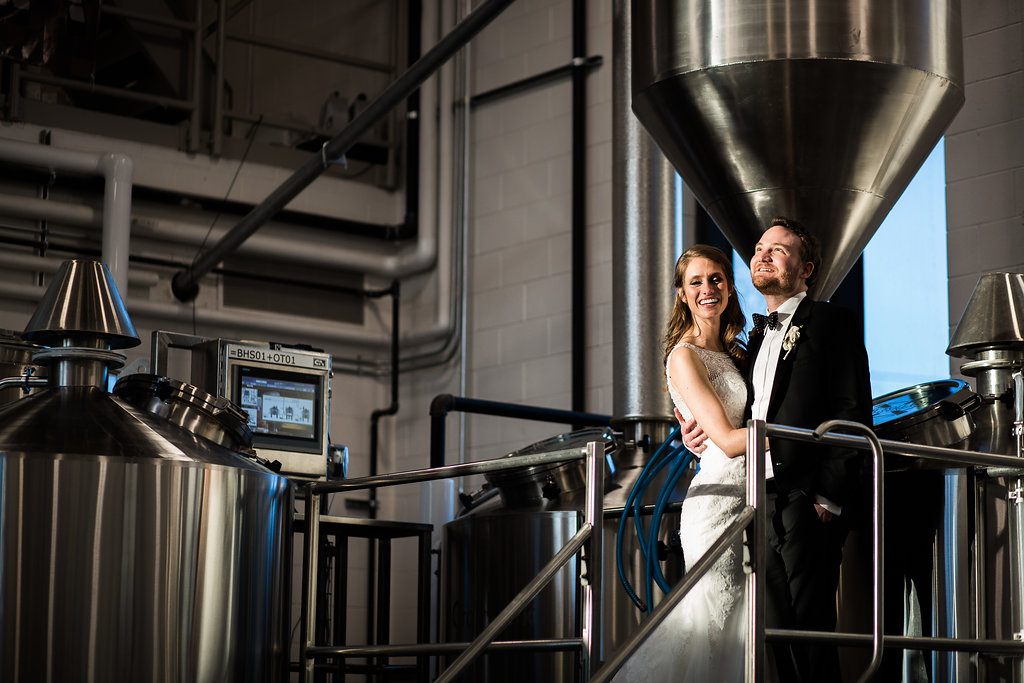 Gallagher says their venue typically attracts "laid-back" couples."Our mentality when it comes to weddings,and events in general,is 'the art of possible,'" she says. "There is no idea too crazy or too far-fetched to consider executing. You tell us what your dream wedding looks like — and we will try our hardest to make that happen for you." They even helped one panicked bride pull together her wedding in a month after their original venue became unavailable. Talk about rolling out the red carpet!
Pelican Brewing Company | Pacific City, OR
Haystack Room: 40 guests; Pelican Room: 90 guests, Barrel Room: 30 guests
For couples that want to combine a gorgeous beach wedding with a brewery wedding, look no further than Pelican Brewing Company in Pacific City, Oregon. This breathtaking venue has floor-to-ceiling windows to show off Cape Kiwanda and Haystack Rock, and the Pelican Room connects to their outdoor patio and private beach, where many couples opt to hold their ceremonies before returning to the elegant indoor space for the reception. Plus, their Barrel Room also makes for a fun atmosphere for a rehearsal or cocktail reception for up to 30 guests, making Pelican a potential one-stop shop for all your wedding weekend activities at Oregon's only beachfront brewery.
(COOK WITH CRAFT BEER: Find Recipes Galore)
Pelican hosts about a wedding or so per month, and while Mariah Surat, Pelican's event and marketing manager, says they love receiving feedback about how much guests and wedding parties enjoy the venue's views, food, and brews, an unexpected reward comes with hosting weddings. "The best compliments are when previous wedding couples fall in love with our restaurant, people and town and move to Pacific City! We have about a handful of our couples that are currently residing in Pacific City now or have a vacation home in town."
With unique brewery wedding venues that run the gamut from beachfront locales to intimate barrel-room spaces, it's no wonder that more beer-loving couples than ever are turning to their favorite local craft breweries (or favorite craft brewery destinations) to make their wedding day extra special. Besides, isn't an event at a craft brewery almost a guaranteed good time? Your guests will certainly think so!
CraftBeer.com is fully dedicated to small and independent U.S. breweries. We are published by the Brewers Association, the not-for-profit trade group dedicated to promoting and protecting America's small and independent craft brewers. Stories and opinions shared on CraftBeer.com do not imply endorsement by or positions taken by the Brewers Association or its members.