For many people across the country (beer drinkers or not), the end of summer is often accompanied by thoughts of one last long weekend, road trip, or spontaneous adventure. Days are getting shorter, cool temperatures are on the way, and the clock is ticking on your unused vacation time. Brewery tourists, however, are faced with a persistent and pesky hurdle: driving. Fortunately, in quite a few cities now, companies like City Brew Tours, Brewvana and other small group beer tour operators make it easy to safely sample quite a few ales and lagers over the course of a leisurely afternoon. But what if you want to visit breweries outside of an urban core?
[newsletter_signup_box]
The answer is regional rail, and New York City is the perfect example. Numerous train lines radiate out from Penn Station and Grand Central Station in Manhattan, none more scenic or well suited for beer travel than the Hudson Line, which parallels its namesake river.
Between the cities of Yonkers and Poughkeepsie (the terminus), no less than a dozen breweries can be found in the small towns dotting this historic river valley, almost all of them a fairly short walk from the corresponding Metro North railroad station. So whether it's one more hurrah to cap off summer travel, or a trip meant to dovetail with the Hudson Valley's colorful peak fall foliage, here's your guide to breweries near the Metro North train line from Westchester to Dutchess County.
NY Breweries Near the Metro North Train Line
Metro North Train Stop: Yonkers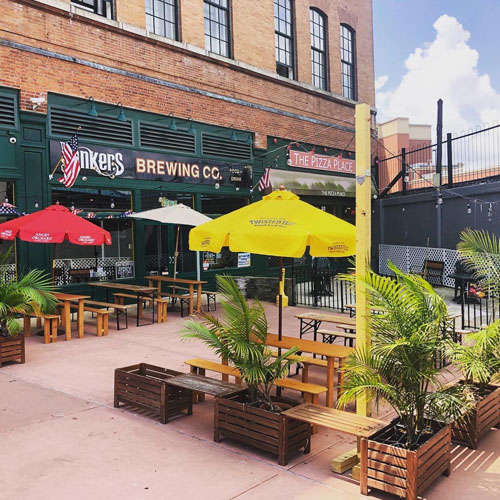 From Grand Central, Yonkers is the first opportunity you'll have to hop off Metro North to sample beers. Yonkers Brewing Company is a mere 400 feet from the train station, and its taproom opens at 11:30 am daily, earlier than many of the others farther up the line. With a full-service restaurant and 12 taps that run the gamut from a rye brown ale to a classic Bavarian-style hefeweizen, you might find it hard to move on from this early waypoint. Don't give in to inertia. Instead, take a deep breath, finish that deep-fried hot dog you ordered for lunch, and check the timetable for the next train. Ray's IPA, 914 Vienna lager, Honey Blonde, and Hop Runner IPA are all available by the six-pack, if you're the type to buy liquid souvenirs.
Metro North Train Stop: Ossining
Perhaps best known for its maximum-security correctional facility, your next potential stop out of Manhattan is Ossining. A short 10 minute walk uphill from the station, you'll find Sing Sing Kill Brewery. If you can't decide what to order, try Killer Cream Ale, made with New York-grown Cascade hops and Pilsner malt from New York Craft Malt in the northwestern part of the state. At 10.25% ABV, the Triple Double IPA might be better suited for a sampler glass this early in the day. Those who skipped the food at Yonkers might want to order a locally-baked pretzel, savory tart or empanada here. Again, should you happen to sample something you really like on tap, look for it by the crowler in the to-go cooler.
Metro North Train Stop: Peekskill
From Ossining, ride north to Peekskill, a town that hugs the shoreline at a bend in the Hudson opposite Bear Mountain State Park. A stone's throw from the train station on South Water Street, the family-owned Peekskill Brewery has been cranking out a steady variety of styles since 2008. A move from a cramped location a block away to its current four-story space has enabled the business to distribute beer more widely while also attracting plenty of urbanites to a more spacious restaurant with an expanded menu. Its pale ale, Amazeballs, picked up a silver medal in the International-style Pale Ale category at the Great American Beer Festival competition in 2013, but the margherita pizza with smoked mozzarella and basil practically begs for a glass of crisp, clean Skills Pils. And Peekskill is no longer the only game in town. Last year River Outpost Brewing Company opened in the waterfront entertainment complex called Factoria at Charles Point. Order a flight of four 4-ounce pours and admire the river views.
(VISIT: Epic Craft Beer Road Trip Along Route 66)
Metro North Train Stop: Beacon
To reach the next cluster of breweries, you'll speed through Putnam County–its lone brewery is well out of striking distance from the train stop–and detrain in Beacon, home of Dia:Beacon, a large art museum that occupies an old factory building. Once again, beer is not far from the railroad in this river town. Follow West Main Street about three blocks north to reach 2 Way Brewing Company, complete with outdoor seating for sun seeking beer hunters. Eight taps offer just enough variety for a fleeting visit, and Confusion, a farmhouse ale fermented with a yeast strain isolated from a nearby farm's black raspberry bush, is the pint to order if you're only going to have one. The other beer company in town sits at the eastern end of Main Street on Fishkill Creek, a good half-hour walk from the Beacon station or a 10-minute ride on the free Beacon loop shuttle bus. Although only open four days a week, Hudson Valley Brewery has made a name for itself with variations on sour IPAs and double IPAs like Silhouette (brewed with raw wheat and hopped with Mosaic and Citra) or Glycerin (fruited and brewed with raw wheat, lactose, and malted oats).
Metro North Train Stop: New Hamburg
Without a sidewalk or multi-use trail to rely on, getting to Obercreek Brewing Company in the village of Wappinger Falls isn't the easiest thing to do on foot. It's also only open on Fridays and Saturdays. But if sipping heavily dry-hopped double IPAs and oak fermented wild ales conditioned on local fruit at a working farm sounds like your idea of a great afternoon, make time to visit. For those who decide to leave the train here, note that Wappingers Falls gained another brewery, Cousins Ale Works in 2018. Find it behind the Imperial Shopping Center on Route 9 and try the smoked stout.
Metro North Train Stop: Poughkeepsie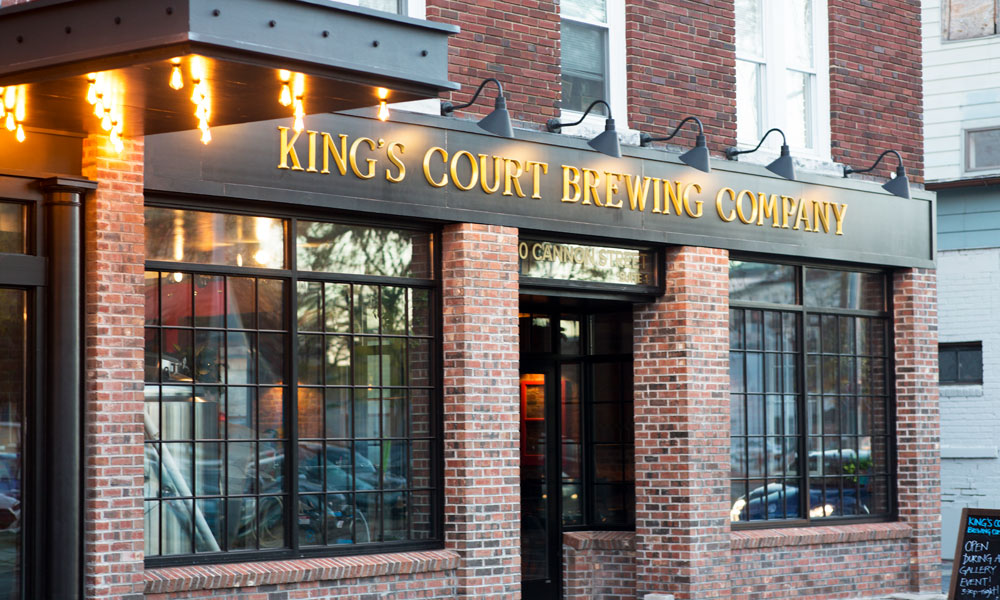 The Metro North's Hudson Line ends in Poughkeepsie, where you'd need to switch to Amtrak if you somehow had the stamina to continue your ale trail by rail. Fortunately, there's plenty to see and taste in the county seat of Dutchess County, starting with Mill House Brewing Company, a 15-minute walk from the station through Wheaton Park and down Mill Street. Year-round offerings like the German-style Kölsch called Köld One, and seasonal beers like Pandamonium imperial stout have helped Mill House expand production from its brewpub beginnings to a larger 20-barrel facility a few blocks away. Using the ground floor of an old hotel downtown, Poughkeepsie's newest beer business, King's Court Brewing Company opens its taproom four days a week to thirsty travelers and neighborhood regulars alike. The draft list typically includes juicy, hazy IPAs like Spiritual Affair, but King's Court also makes Bat Exodus, a nitro coffee milk stout, a number of fruited sours, and a German-style Pilsner dubbed Chill Pill. Slightly farther from your public transportation back to Manhattan, Blue Collar Brewery sits on a quiet side street near College Hill Park. Don't expect any trend chasing at this unassuming spot. Instead, count on tried and true styles like Irish Red Ale, Dry Irish Stout and IPA–of course. Finally, about two miles from town (call a cab for this one), Plan Bee Farm Brewery uses heritage grains, estate-grown hops, wild cultivated yeasts, and homegrown fruits and herbs to make beer with an Empire State of mind.
(VISIT: 9 Remarkable Brewery Taprooms to Visit)
If you made it all the way to Poughkeepsie, you've got a two-hour ride back to Manhattan, and the last train south isn't going to wait for stragglers. Then again, a hotel room might sound better than a passenger car after a day of beer touring. And with so many Hudson Valley breweries to visit, you could always save a few for a return trip.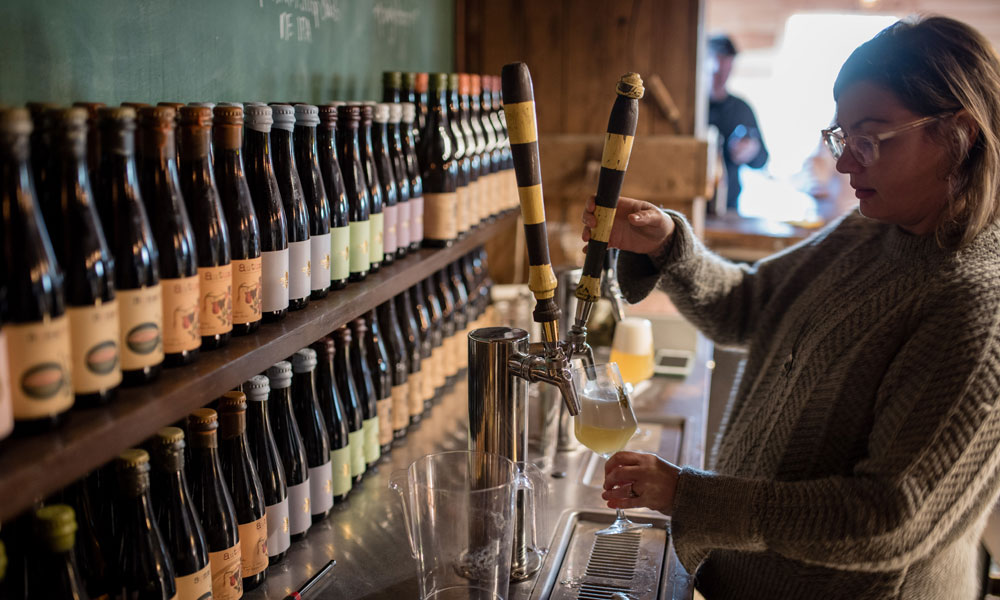 CraftBeer.com is fully dedicated to small and independent U.S. breweries. We are published by the Brewers Association, the not-for-profit trade group dedicated to promoting and protecting America's small and independent craft brewers. Stories and opinions shared on CraftBeer.com do not imply endorsement by or positions taken by the Brewers Association or its members.