Under the weight of a global pandemic and the subsequent shutdown rolling through the United States, the hospitality industry is suffering unprecedented loss and uncertainty. While to-go and delivery sales can help in states where they are allowed, they, unfortunately, can't stave off closures for some and layoffs for many. Restaurants, bars and breweries need help: from the government and the community.
The craft beer community is indeed answering that call. One of the widest-reaching initiatives is a global beer collaboration called All Together, spearheaded by Brooklyn's Other Half Brewing. According to alltogether.beer, nearly 560 breweries worldwide have signed on. All Together will raise money for participating breweries' local hospitality industries, as well as the breweries themselves.
"With our industry connections, we felt like we could use as many as those as possible to mobilize people to help," Other Half co-founder and brewer Sam Richardson says. "There's only so much one brewery can do, so we wanted to do something with enough parties involved that would make a difference but wouldn't negatively impact any single brewery, all giving small amounts to a larger cause."
At alltogether.beer, Other Half has listed the purposefully simple All Together beer recipe, with the choice of a New England or West Coast IPA. "We used a malt bill that's fairly inexpensive, and hops that are pretty widely available," Richardson explains. They enlisted Stout Collective to design can artwork that can be customized by each brewery, and Blue Label Printing to print labels at cost.
(More: Nationwide List of To-Go Beer Options by Breweries)
Proceeds from Other Half's own All Together brew will benefit the Restaurant Workers Community Foundation (RWCF). Richardson hopes to have the beer ready by mid-April. After that, the invitation to brew All Together is open-ended. "If a brewery wants to brew it in June, that's great," Richardson notes. "Our goal is to make it something that people can keep making and keep giving."
You can keep track of what breweries are joining in at alltogether.beer. However, there are even more breweries participating who haven't signed up on the website. CraftBeer.com talked to some breweries around the country about their versions of All Together.
Non Sequitur Beer Project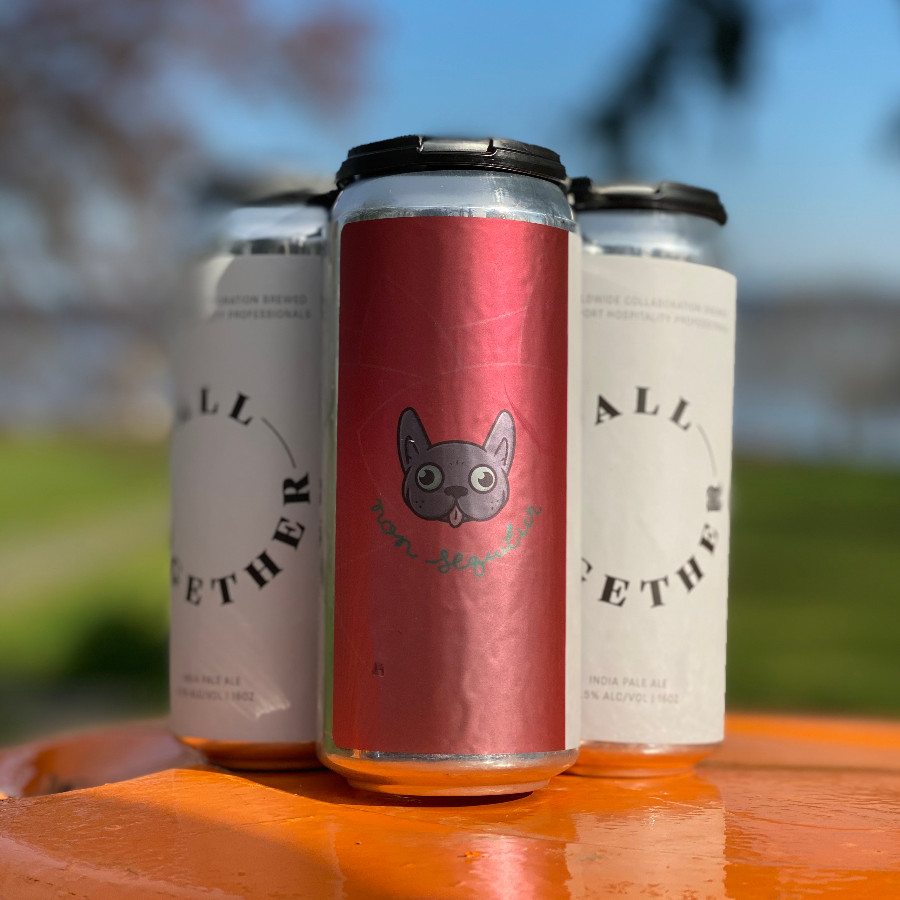 For Non Sequitur's All Together, the New York City brewery will use pilsner malt instead of two-row (a Non Sequitur trademark). Founder Gage Siegel says they'll also use some Mosaic hops on hand from a different beer, plus HBC-586. Non Sequitur had planned to travel to Houston to partner with Sigma Brewing on an IPA using the experimental Pacific Northwest hop. Since the trip couldn't happen, Siegel proposed that both breweries still use it as a kind of collaboration between them.
Non Sequitur is already in the habit of giving proceeds from their beers to charity, and Siegel is happy that to maximize that effort by joining such a large-scale collaboration. "I'm glad because it gives us a direction and we know our impact, however small, is going to pool with Other Half and a lot of other people," Siegel says.
Non Sequitur plans to release All Together around the end of April, and will also donate to the RWCF.
Side Project Brewing
Co-owner and brewer of St. Louis's Side Project Cory King started waiting tables at 18. "The hospitality industry is what he knows and loves, and the Side Project team had been looking for a way to help it when All Together came along."
"The economies of so many cities run on the vibe and the feeling and the nightlife, which is almost all derived from the food and beverage industries," King says. "When this ends, and everyone wants to go out, a lot of those places won't be open. So, [we're doing] anything we can to help, for places to maybe make it on the fringe."
For Side Project, 100% of their beer's proceeds will be donated. Their cause is the Gateway Resilience Fund. Side Project is following Other Half's prescribed malt bill and Citra, plus they'll be testing out an experimental New Zealand hop blend. Side Project's All Together, called Shared, will be released at the end of April.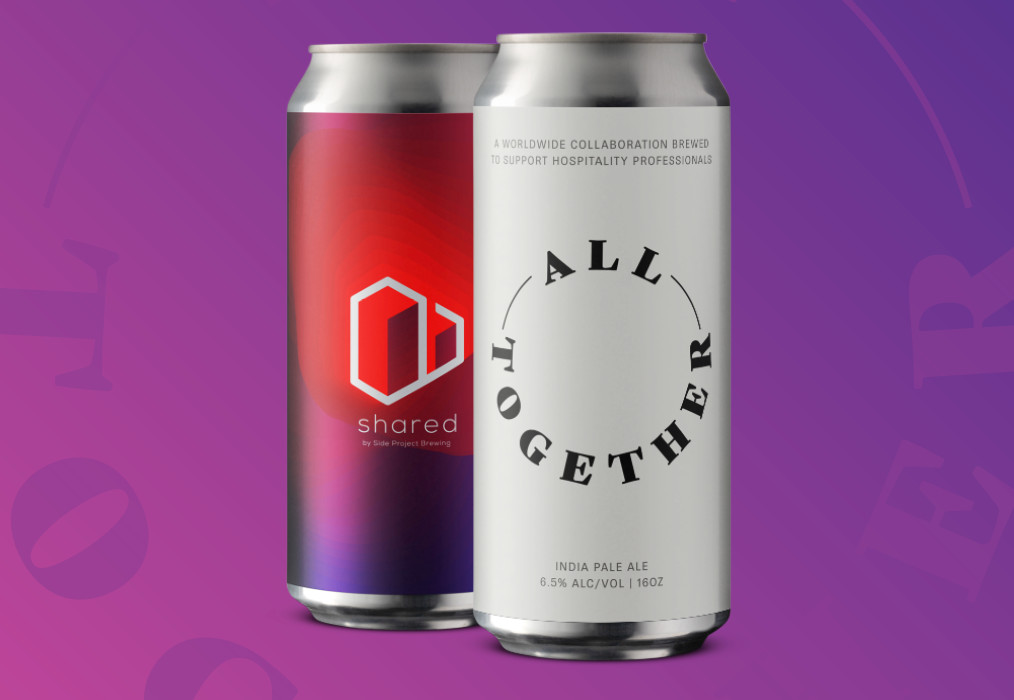 (More: What Happened to the Beer? World Beer Cup Entries Saved From Going Down the Drain)
Southern Grist Brewing
"We are overwhelmed and humbled by the support of the community," says Southern Grist's Kevin Antoon. "Our bartenders are making what they used to before COVID-19 due to the generosity of customers and [our] delivery program." The team has also felt the love from fellow breweries. "In times of crisis, there is no industry I have ever been a part of that pulls together and supports each other in so many ways."
Southern Grist is paying it forward, donating All Together proceeds to the Tennessee Craft Brewers' Guild. "The guild mobilized immediately to request tax relief and abatement from our governor, push for delivery, and relief on laws against out-of-state shipping," Antoon says of the guild's impact. For the beer, brewer Jared Welch says they are taking the hazy route and sticking mainly to the recipe. "We're particularly excited to play around with Cascade and Simcoe, which are not normally a part of our hop repertoire," Welch says. Southern Grist's All Together will debut mid-to-late April.
Mikerphone Brewing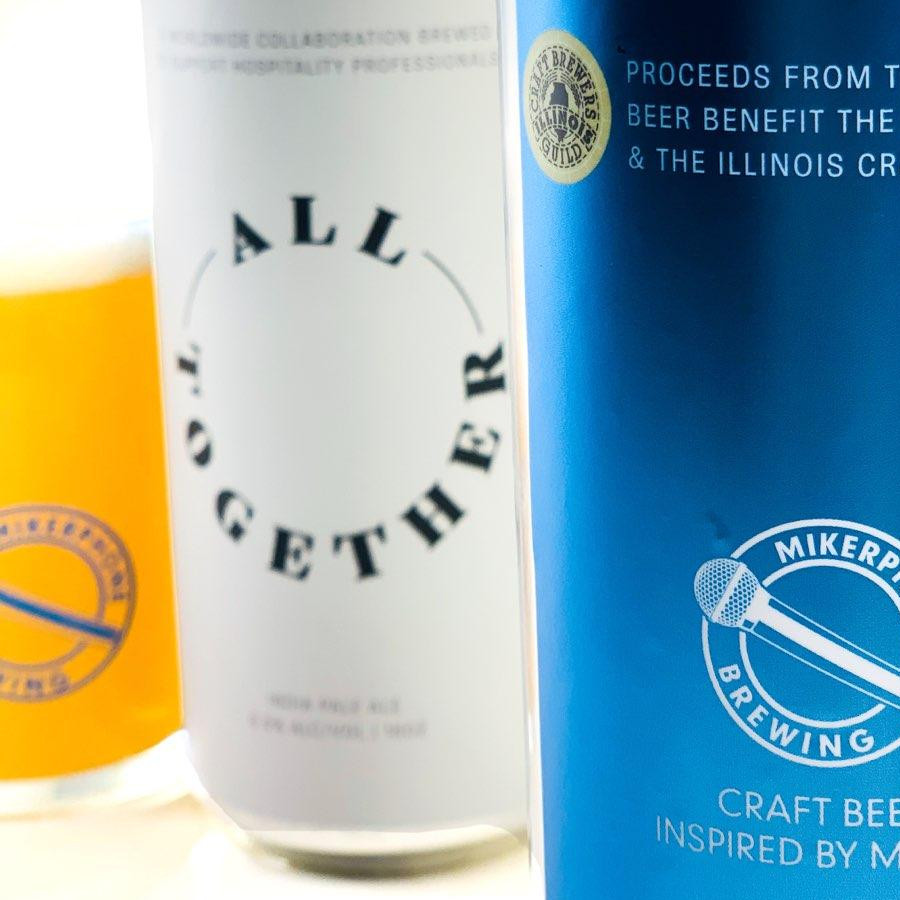 Chicago's Mikerphone Brewing went from celebrating its fifth anniversary on March 15 to figuring out how to survive the shutdown and support the community. Founder and head brewer Mike Pallen says so far they've participated in a raffle of exclusive bottles of beer, and have donated to a "brewery of the week." All Together is another way they're helping. Mikerphone will mostly follow Other Half's recipe and will brew a fruity New England style. "We'll go a little harder on the hops," Pallen notes. "[The recipe] is a little lower than what we typically use, and we want to keep it in line with what we do." It will be available in early May, with proceeds going to Mikerphone staff members and the Illinois Craft Brewers Guild.
Fifth Hammer Brewing
Queens, New York brewery Fifth Hammer is planning to brew a "soft, hazy 6.5% ABV" New England IPA, according to co-owner and brewer Chris Cuzme. "If the NE IPA is one of the best selling styles in the current market and this project is about raising the most money possible for a great cause, then let's make the most delicious version…so that we can give our hospitality workers one hell of a charitable gift," he says.
Explaining that he sees beer as "a people business," Cuzme is hopeful about how All Together can help brewery, bar and restaurant employees who are out of work. "This project aims to alleviate some of the fiscal complications and fear they are enduring," he says. "None of us know how long this is to continue and being able to completely cover the fiscal hit for hospitality workers would be impossible with this project. But in this climate, any small amount directed to the appropriate place is a large amount!" Fifth Hammer's All Together will be available in early May.
(More: The Curb Economy: Craft Breweries Rise to Pandemic Challenge)
Modist Brewing
"The hospitality, food service, and craft beer industry work extremely hard to create memorable experiences for our patrons, and that can be overlooked or undervalued by convenience," says Keigan Knee, co-founder and director of product development for Modist Brewing in Minneapolis. "Local businesses in our industries are essential to our culture, both here in Minnesota and across the world." Knee feels All Together will help hospitality workers financially "while showcasing how important it is to support local hospitality businesses in our communities."
Modist will only make a few tweaks to the All Together recipe, substituting Sabro hops since they don't have Cascade hops on hand. Their brew will be available at the end of April (Modist's Instagram page will have updates). It will benefit Minnesota-based collective The North Stands.
Outer Range Brewing Co.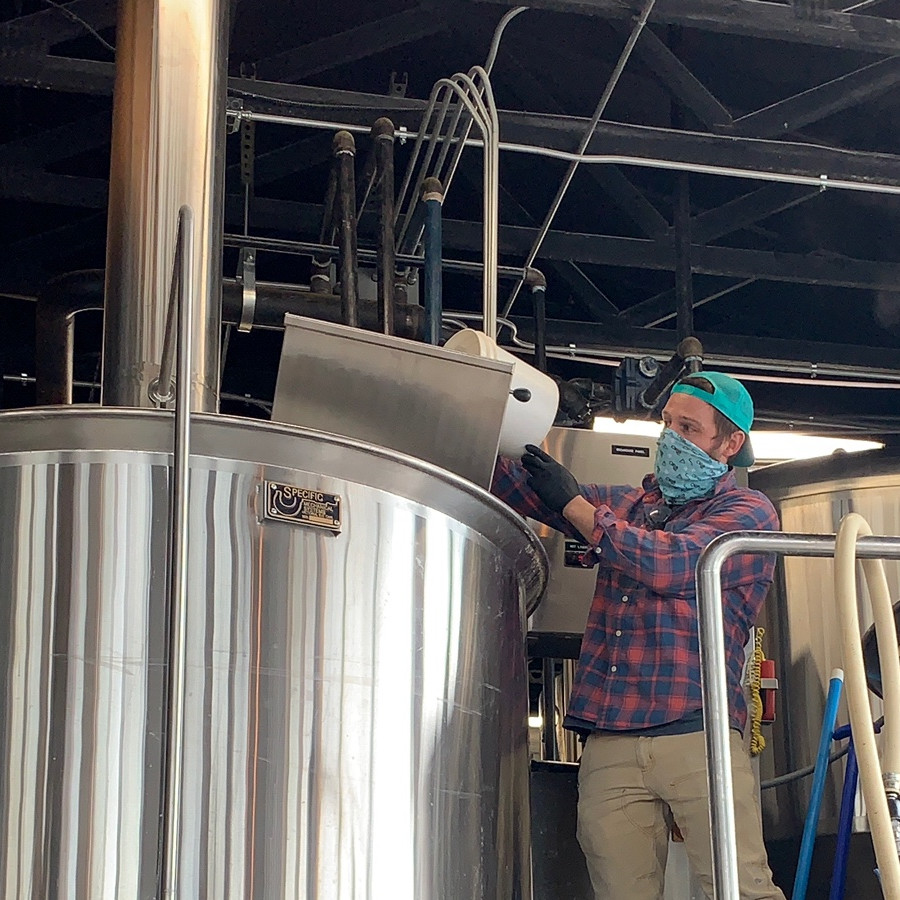 Emily and Lee Cleghorn, co-founders of Outer Range Brewing in Frisco, Colorado, responded quickly to the shutdown's impact on their community. They started a "cans for cans" drive, where customers get 20% off to-go beer when they bring canned goods for the local food pantry. "We have unbelievably received well over a thousand pounds of food donations already," Lee Cleghorn says. "Our food pantry estimates that three out of four families in our area are now unable to cover all of their expenses, so the donations go a long way."
All Together essentially helps Outer Range help even more. Their New England IPA will follow Other Half's recipe, and proceeds will go to the Colorado Bartenders Guild's Colorado Family Meal Initiative. The brew will be available mid-April.
Industrial Arts Brewing Company
"[All Together] is a way we can reinforce a tenet of craft beer that has made it the truly great community it is: the sharing of knowledge and resources to help raise each other up," says Sofia Barbaresco, brand director of Industrial Arts Brewing Company in Garnerville and Beacon, New York. "But mostly, this is a way to show support for the people who have supported us in our three and a half years. We wouldn't be here without all the hospitality workers that have been behind us since day one."
Industrial Arts will carefully follow Other Half's recipe, "but given the individual characteristics of our brewing system, water profile, and fermentation processes. "It will definitely come across as an 'Industrial Arts' beer," Barbaresco explains. They will release their beer on April 30 and give proceeds to the RWCF.
Keep an eye on alltogether.beer to see what breweries by you are participating, and follow breweries' social media feeds for exact dates of All Together releases.
CraftBeer.com is fully dedicated to small and independent U.S. breweries. We are published by the Brewers Association, the not-for-profit trade group dedicated to promoting and protecting America's small and independent craft brewers. Stories and opinions shared on CraftBeer.com do not imply endorsement by or positions taken by the Brewers Association or its members.