Through chaos comes clarity. In the early days of March 2020, the United States was on the brink. For the craft brewer trade group and CraftBeer.com's publisher, Brewers Association (BA), such clarity was the sad reality that Craft Brewers Conference (CBC) wasn't going to happen. To compound this unprecedented and painful move was that, along with CBC, the biennial World Beer Cup competition would be canceled.
It was the right move.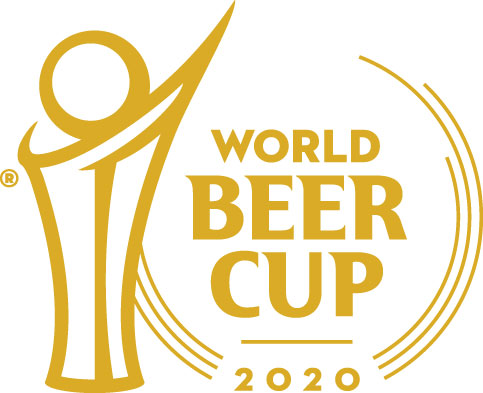 The BA would not risk the health and safety of its members, staff, contractors, anyone. There would be more Craft Brewers Conferences and more World Beer Cups, just not this year. That was clear – one thing that was unclear? What to do with all the beer.
As the organization acted to halt the preeminent industry conference and community gathering, shipments of beer entries for the World Beer Cup had already begun to arrive at the BA's consolidation warehouse. Staffers and volunteers had spent weeks preparing beer entries for judging in the World Beer Cup's host city, San Antonio. At the time of the cancellation – late on March 12 – international consolidation points and individual breweries were in various stages of sending even more beer, but growing reports of a pandemic loomed over the future of many large events. Earlier that day, Dry Dock Brewing head brewer Alan Simons' musing on Facebook about his entry preparations proved prophetic, "I have a feeling I'm sitting in a cooler bottling beer for nothing."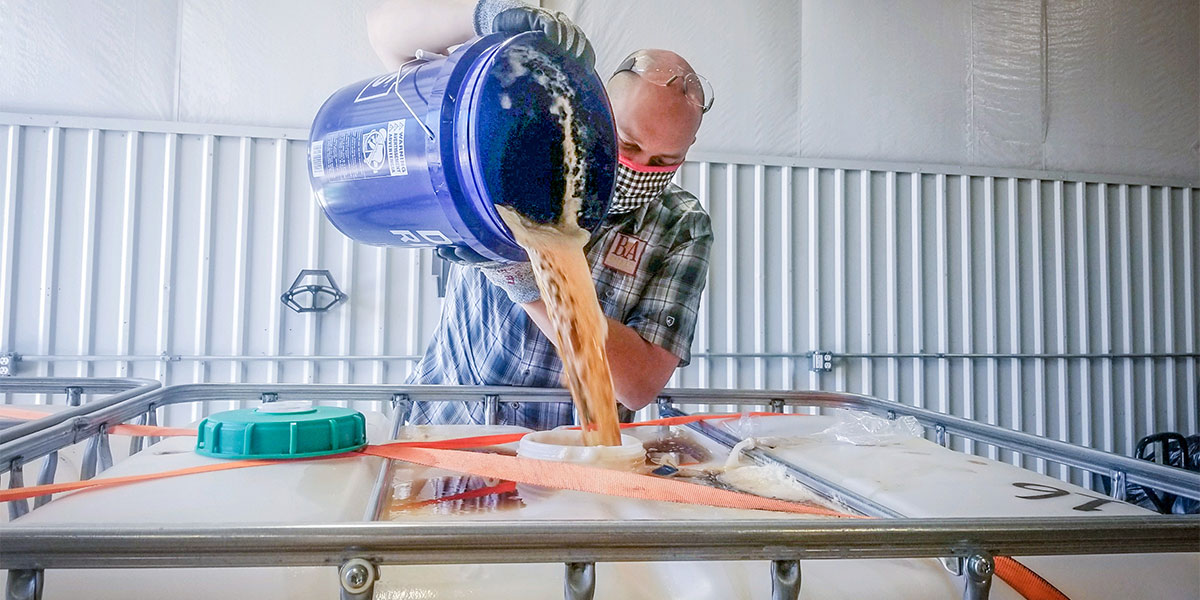 While many of the beers collected at the international consolidation points never made it out of port, early entries that did arrive sat sorted and ready for a competition that would never happen. Organizers were left with approximately half of the beer entries slated for San Antonio. Calls to judge the beer remotely, ship the beer back or donate it to a good cause were met with logistical problems and red tape that proved too large to overcome.
"It was super depressing." said Chris Williams, the Brewers Association's Senior Event Manager, speaking on the prospects of having to destroy the entries.
"It made me want to cry."
A Clear Solution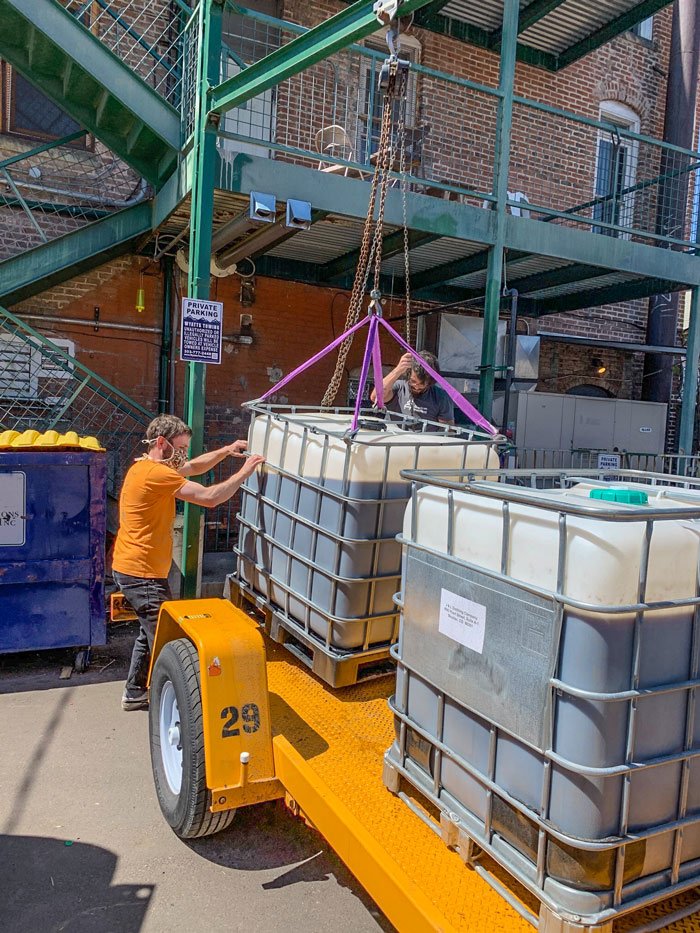 On a sunny Tuesday in April, tucked away in a mixed-use area of Boulder County, masked volunteers are busy dumping beer. Inside a warehouse, five tables flank a path to a trailer with large, industrial plastic totes. Adam Dulye banters with his team of volunteers like he would with his kitchen staff.
(Related: Agonizing Decisions, 2-Day Drives, and the Spectacle Behind America's Largest Beer Competition)
Adam is the Brewers Association's executive chef. Normally charged with developing the menu for the World Beer Cup Awards dinner, Dulye spends a lot of time working with Williams and the events department. Faced with such a grim fate for the thousands of bottles and cans, some – in very different circumstances – could have been awarded gold medals, it was Dulye who offered a path forward.
In the days since COVID-19 swept across the country, the need for disinfectant solutions has become a vital weapon for those on the frontline risking their personal safety to care for the ill. In the search for cleaning agents effective against the novel coronavirus, the Center for Disease Control guidelines suggest solutions that are at least 70% alcohol as being an effective disinfectant. The same alcohol locked up in bottles and cans in the BA's warehouse – albeit in a diluted state.
"How do we not destroy the beer?" Explains Dulye, "I have a truck. I can pull a trailer. I think we can make this work."
Dulye began calling around to local distilleries to see if they'd be interested in distilling the World Beer Cup entries, eventually connecting with Denver Distillery and Ballmer Peak Distillery.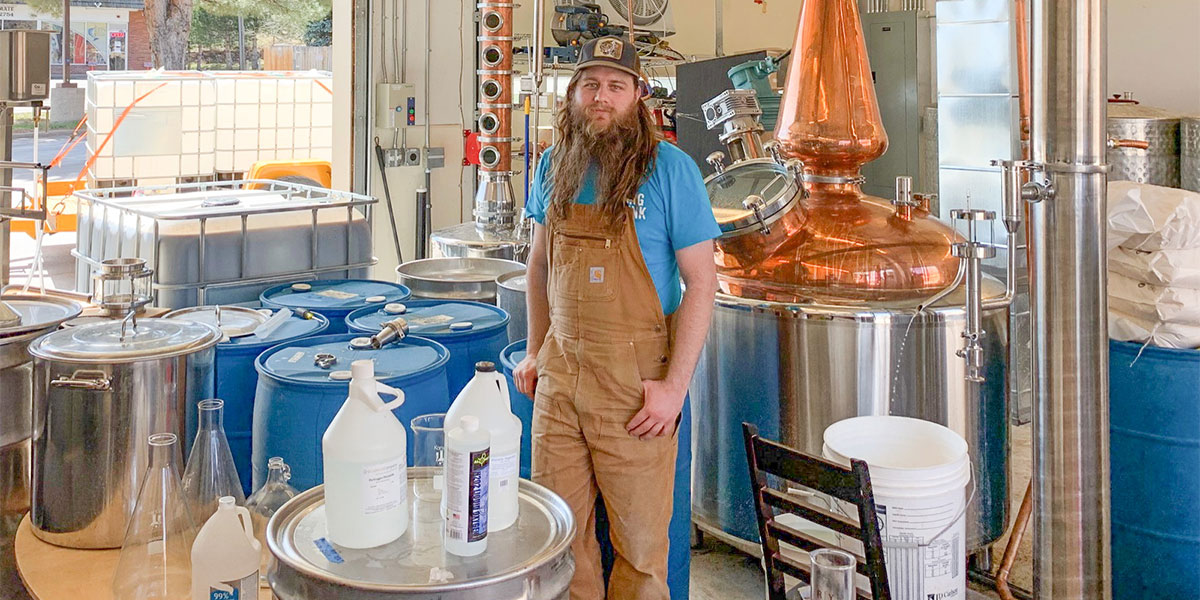 (More: Nationwide List of To-Go Beer Options by Breweries)
Alcohol evaporates at a lower temperature than water. The distillation process utilizes this by heating wash to capture alcohol vapor, then cooling and condensing it back into a liquid. The resulting liquid is a more pure form of alcohol. The plan was set; convert all of the World Beer Cup beers into high-grade alcohol to be used as a sanitizer for frontline workers. One problem: get the beer out of the packaging to be distilled.
Adam's Kitchen
True to form, chef Adam's table was the cleanest in the warehouse. BA staffers, Mille Shamburger, Joe Damgaard, Stacey Wetzel and Emily Silver joined longtime GABF volunteers, Lindsey Barela, Jordan Cleppe and Heather Camerer to open each bottle of beer, dump them into 5-gallon buckets and eventually into 275-gallon totes. The totes will then be driven by Dulye to the distilleries via the chef's truck. Despite the masks and social distancing, the atmosphere is light, with music playing. Barela, Cleppe, and Camerer all work in event planning. Without any events to plan, they are helping out in Adam's kitchen, of sorts. The team has been working daily since the previous Thursday. They will eventually empty enough entries to produce between 400 – 500 gallons of high-grade alcoholic hand sanitizer.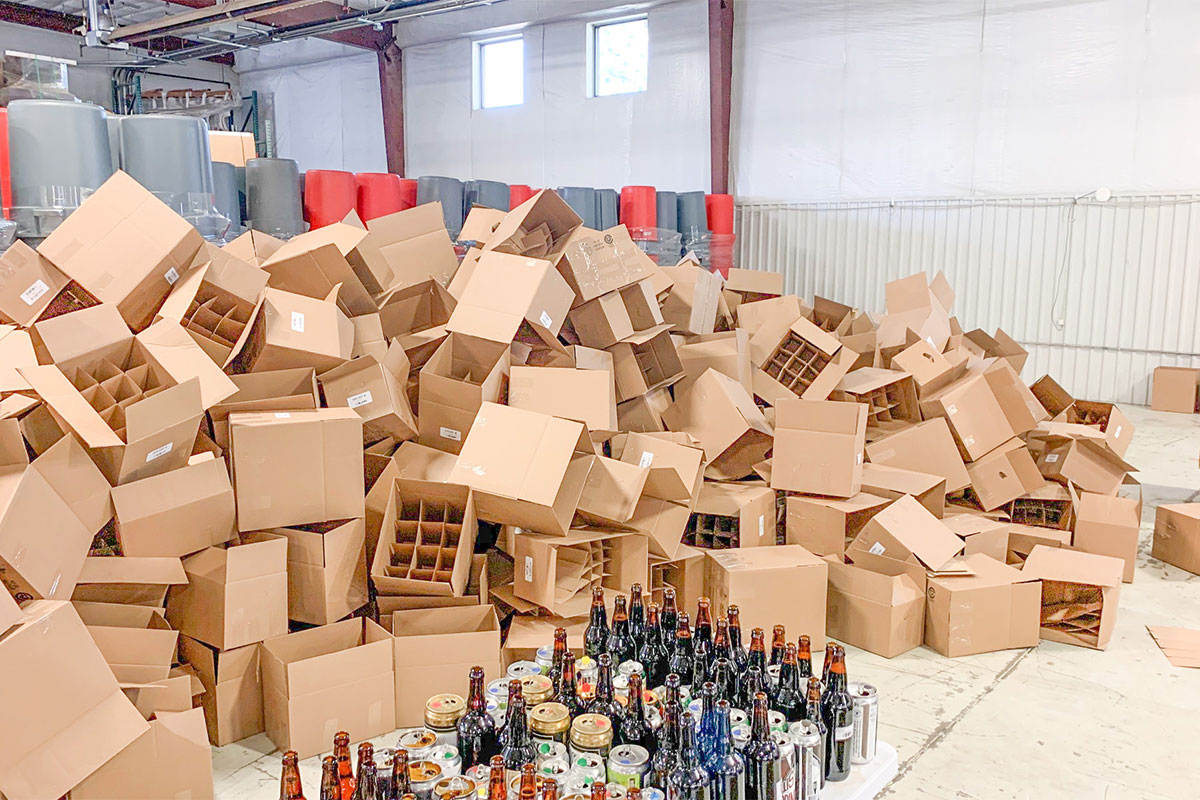 "I doubt this was the fate that brewers expected when they tasted through their entries," Dulye acknowledged, "but based on the options we had available, I hope they feel a sense of closure, maybe some relief."
It was not the solution that most would have hoped for the beers. Brewers put their hearts and souls into brewing them for the World Beer Cup, but for those who had hopes of earning gold on an April night in San Antonio might find some solace in knowing that their effort did not go down the drain. And that, in hindsight, perhaps being a part of a solution is more meaningful than a medal. In this case, clarity came from chaos – and that clarity packs a 140 Proof – nasty virus killing – punch.
Most of the sanitizer distilled by Denver and Ballmer Distilleries will be donated to first responders. Customers at Denver Distillery will have a chance to get a bottle of sanitizer with the purchase of one of their other products. Ballmer Distillery is providing the community their sanitizer on Wednesday and Saturdays. Customers should bring a container.
CraftBeer.com is fully dedicated to small and independent U.S. breweries. We are published by the Brewers Association, the not-for-profit trade group dedicated to promoting and protecting America's small and independent craft brewers. Stories and opinions shared on CraftBeer.com do not imply endorsement by or positions taken by the Brewers Association or its members.