For craft beer lovers, you can't beat the cool quotient of a brewery wedding. Spaces range from industrial to rustic to wide open outdoor areas that all make for a striking backdrop, and many have relationships with local farms, caterers and food trucks or have on-site restaurants.
[newsletter_signup_box]
Brewery weddings also offer a unique venue that comes with two huge bonuses: a larger variety of craft beers on tap than you'd find at normal reception halls, and the ability to visit again and again to relive the day (unlike most wedding venues!).
(MORE: So You're Marrying a Beer Geek)
There are hundreds of independent craft breweries eager to host you on your big day. Here's a look at how nine roll out the red carpet for a brewery wedding.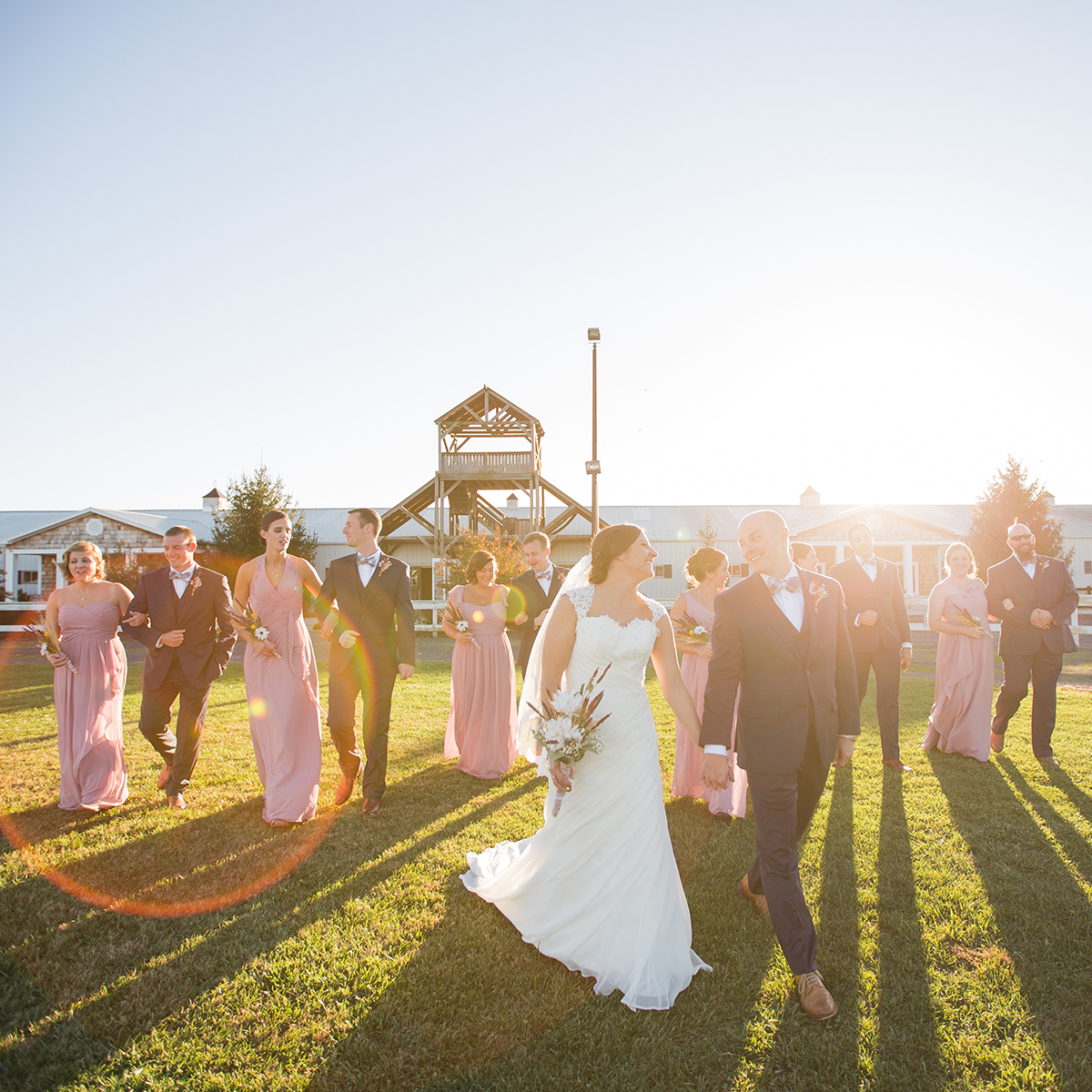 Stable Craft Brewing at Hermitage Hill Farm | Waynesboro, VA
Saddleback Ballroom: 50-200 seated 
We've all seen pictures of winery weddings that take our breath away, and the pastoral setting at Hermitage Hill Farm, home to Stable Craft Brewing, evokes the same reaction. As a working farm and stable, Hermitage's ballroom overlooks hop yards and has its own tasting room. Guests can participate in a Carrot Happy Hour, feeding the horses while sipping on cocktails between the ceremony and reception. Couples can also opt to craft their own wedding beer.
Owner Nikki Nargi says, "We have noticed a rise in interest from brides and grooms wanting to host a brewery wedding," and notes that couples love "the uniqueness of the facility from the incredible woodwork to the surrounding mountain views."
Mission Brewery | San Diego
The Cellar and Loft: 2 levels, 300 people cocktail or 120 seated
In 2016, Mission expanded their event space and hired an event manager. As a former Wonder Bread factory, the entire building combines brick with exposed beams, rafters and massive skylights to make for a charming urban and rustic setting. Past weddings have featured food trucks, taco carts and traditional catering, with a few couples ordering pizzas for everyone as a late night snack.
(VISIT: Find a U.S. Craft Brewery)
Revolution Brewing | Chicago
Brewer's Lounge: 130 cocktail or 110 seated; Kedzie Tap Room: 250 cocktail or 150-180 buffet seating
Revolution has hosted over 500 weddings over the past six years and has a team of three dedicated to party planning.
"Nearly every couple comments on how easy we make things for them. We have a team of people running the show the day of the reception to ensure things are set up and run smoothly," shares aptly titled "Party Captain" Steph Aksland.
Booking Revolution's taproom requires a minimum of 150 guests, and the space features high ceilings, a long mahogany bar and tall windows looking into their 90,000 sq. ft. production facility. Yet if it's elegance you want, opt for the Brewer's Lounge with its eye-catching wood elements including an intricate ceiling, glossy floors and built-in bookcases flanking a fireplace. Fun globe fixtures and brick walls complete the look.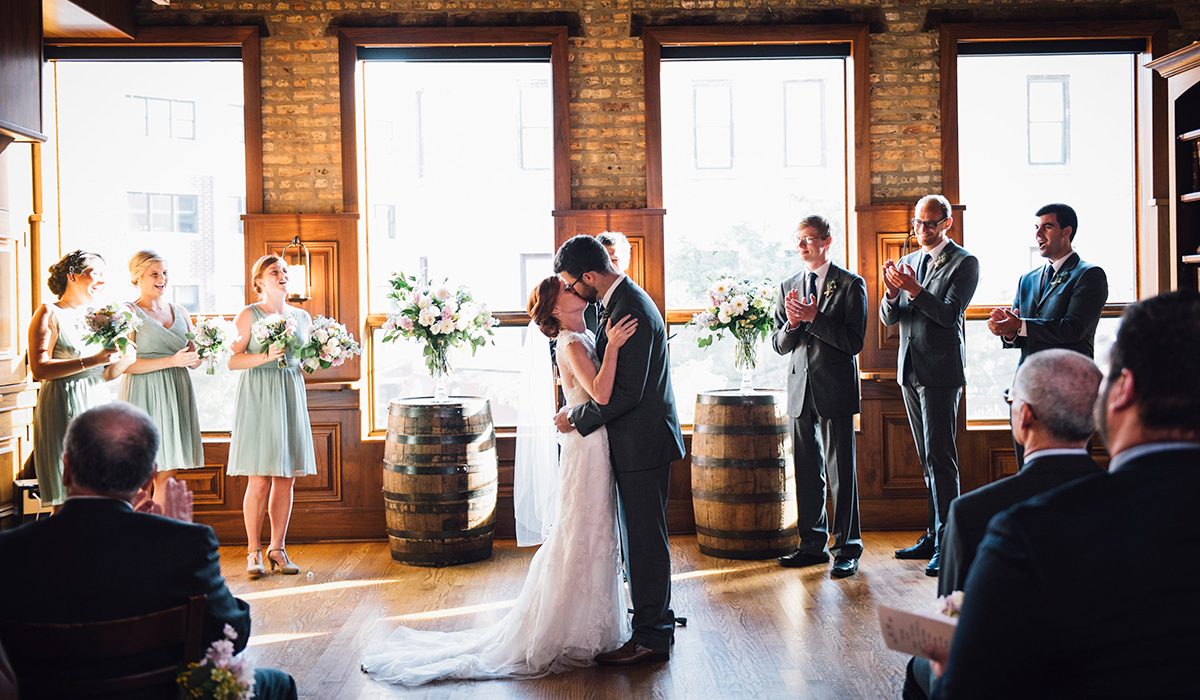 Monday Night Brewing | Atlanta
Tasting Room: 4,000 sq. ft. for 200+ seated; Outdoor Patio: 5,000 sq. ft. for 200+ seated
For a slightly funky vibe and space large enough to accommodate over 400 guests, consider Monday Night. White lights hang from the ceiling, neckties cover one wall (a homage to their mantra, "Weekends Are Overrated"), and oversized black-and-white graphics don the space. A few couples have opted to utilize their outdoor patio for the ceremony, then bring the party inside post-nuptials.
Monday Night Tasting Room Director Carlen Funk actually hosted her own wedding at the brewery and loves working with couples because "brides and grooms who want to get married at a brewery are generally super easy to work with and are really excited about getting married here." It's often convincing the parents (or grandparents) that's the harder sell.
(TRAVEL: Plan Your Next Beercation)
Night Shift Brewing | Everett, MA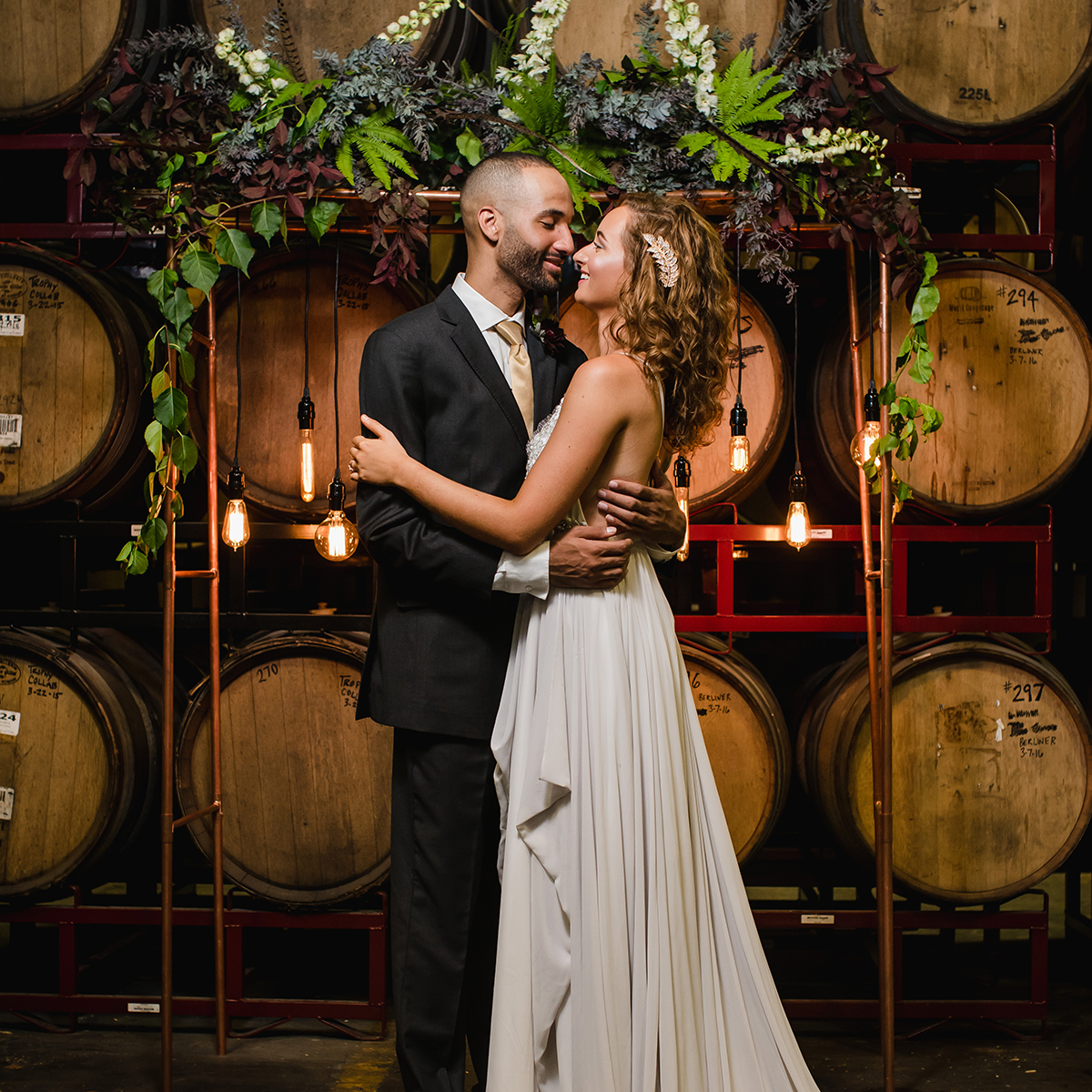 Taproom: 180 standing or 60 seated 
Night Shift's industrial warehouse aesthetic features Edison light bulbs and metal piping supporting shelving adjacent to an outdoor patio and their beautiful new second tap room, Annex. Some couples have chosen to blend beer as part of a unity ceremony, while others have included corn hole tournaments. Couples can book Thursday, Friday or Saturday night affairs, and brides can make grand entrances through the loading dock or the Annex, which remains open to the public during weddings.
Lakewood Brewing Co. | Garland, TX
Taproom: 4,000 sq. ft. for 200+ seated
Lakewood got into the wedding venue game because they noticed a lot of proposals happening on-site.
"Beer brings people together, so it makes sense to have unions happen here as well," says owner Wim Bens.
The inside has a sleek aesthetic with two stories of windows separating the taproom from the production area, while their covered outdoor beer garden sits under an open-sided metal barn.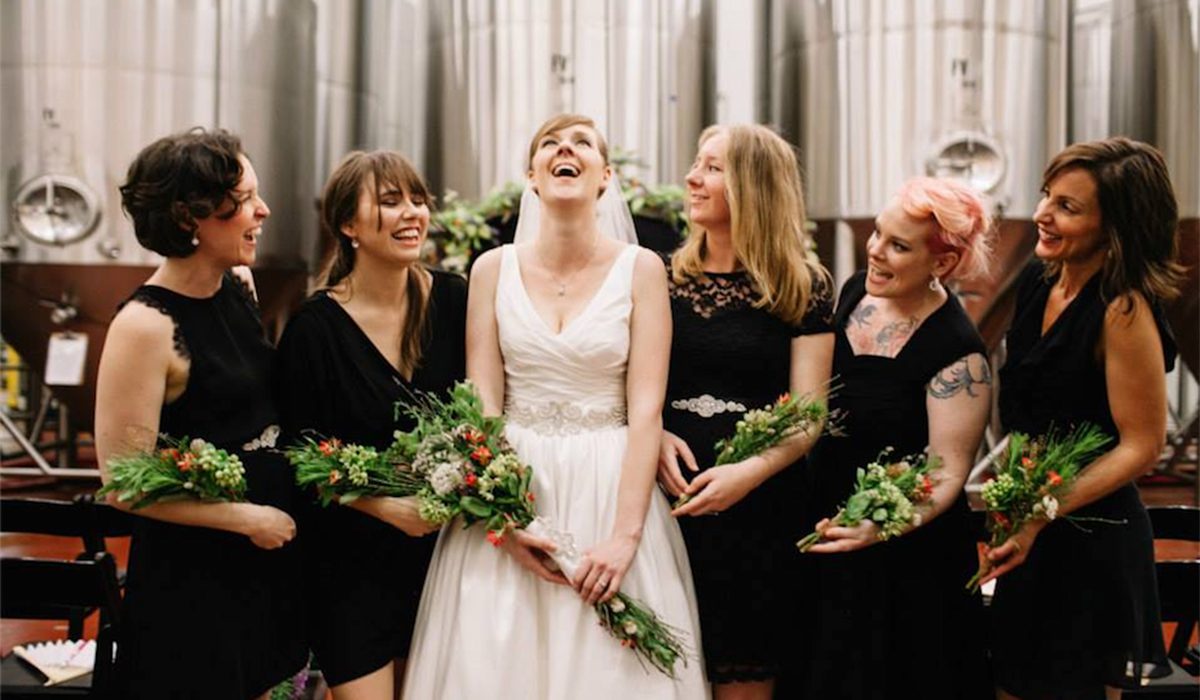 Stone Brewing World Bistro & Gardens | Escondido, CA
Garden: 25-150 guests
As one of America's largest craft breweries, Stone Brewing's commitment to quality extends to their wedding venue, too. In Stone's one-acre garden, you'll be surrounded by a bubbling brook, fragrant herbs, natural stone walls, fruit trees and mature trees that provide a stunning backdrop for your wedding festivities. They offer ceremony, decor, and reception packages, while tables can be set up on the grass or on the wood patio. Their award-winning chefs abide by a commitment to Slow Food, and receptions can include wine and champagne.
(READ: 7 Offbeat Places to Drink Craft Beer)
Southern Star Brewing | Conroe, TX
Taproom: 3,200 sq. ft. for max 200 seated
Southern Star's property allows for several ceremony or reception locations, including a second-story taproom overlooking their barrels, an outdoor beer garden, or a tree-covered plot in the back for those looking to up the romance factor.
"Each wedding we host is like recreating the day we first fell in love with beer and that is a moment we want to share," explains Events Director Danielle Betz. They also have a stage for live music and a beer shack to keep the party going.
Boulevard | Kansas City
Muehlebach Suite: 3,600 sq. ft. for 170 seated, 225 standing 
The wow factors at Boulevard include a tiled round bar, huge windows overlooking the city, and gorgeous lighting. Boulevard's spokeswoman Julie Weeks shares that for her team, one of the best perks about being a wedding venue is getting to be a part of each couple's story.
"The couples that chose Boulevard as their location for such an important celebration usually have a story that includes the brewery in some meaningful way–whether they took our public tour on a first date, or perhaps made a mental note when they saw our unique event venues," she says.
CraftBeer.com is fully dedicated to small and independent U.S. breweries. We are published by the Brewers Association, the not-for-profit trade group dedicated to promoting and protecting America's small and independent craft brewers. Stories and opinions shared on CraftBeer.com do not imply endorsement by or positions taken by the Brewers Association or its members.