On a typical Wednesday afternoon, it is not unusual to see some of Atlanta's most dedicated beer enthusiasts, retailers and brewery representatives gather at Brick Store Pub. But on June 7, 2017, the turnout of more than 100 of them was extraordinary.
That morning, the frenzied exchange of emails, Facebook messages, phone conversations and word of mouth announced the legendary pub would make their second-floor Belgian Beer Bar private for the evening starting at 5 p.m. It was reserved for an impromptu bottle share to honor the tragic passing of a beloved local beer advocate, and co-founder of Georgia's MAZURT Brewing, the morning before.
(VISIT: Find a U.S. Brewery)
His name was Dan Rosen, a globetrotting, humorous and award-winning brewer of especially imperial stouts; he was adored by everyone. The Brick Store was undoubtedly one of Rosen's favorite destinations not only in Georgia, but worldwide, so it was ideal to commemorate him there.
One of the BSP's three co-owners, Dave Blanchard, was the facilitator on site to make sure there was glassware, complimentary small bites and a microphone to amplify the often tear-jerking stories attendees had with Rosen. It was the perfect sendoff.
"Although that just happened a couple days ago, I will never forget that day," Blanchard says. "It was like we lost a member of the family, but that evening proved just that: Everyone there was a family."
A Co-Founder Recalls Memorable Moments
Sitting on a stool nestled between the right side of Brick Store's first-floor bar and the exposed-brick wall, Blanchard, 48, was fielding this question: With Brick Store's 20th anniversary approaching, what are three of your most memorable moments? It was a loaded inquiry for sure. The Dan Rosen memorial was his first selection.
After taking a taste from a tulip glass filled with the recently tapped Hops-De-Leon IPA crafted by Torched Hop, a new brewpub just a few miles away, Blanchard nods in satisfaction on how good the beer is and then becomes pensive so he could deliver the second instance. There were so many to choose from.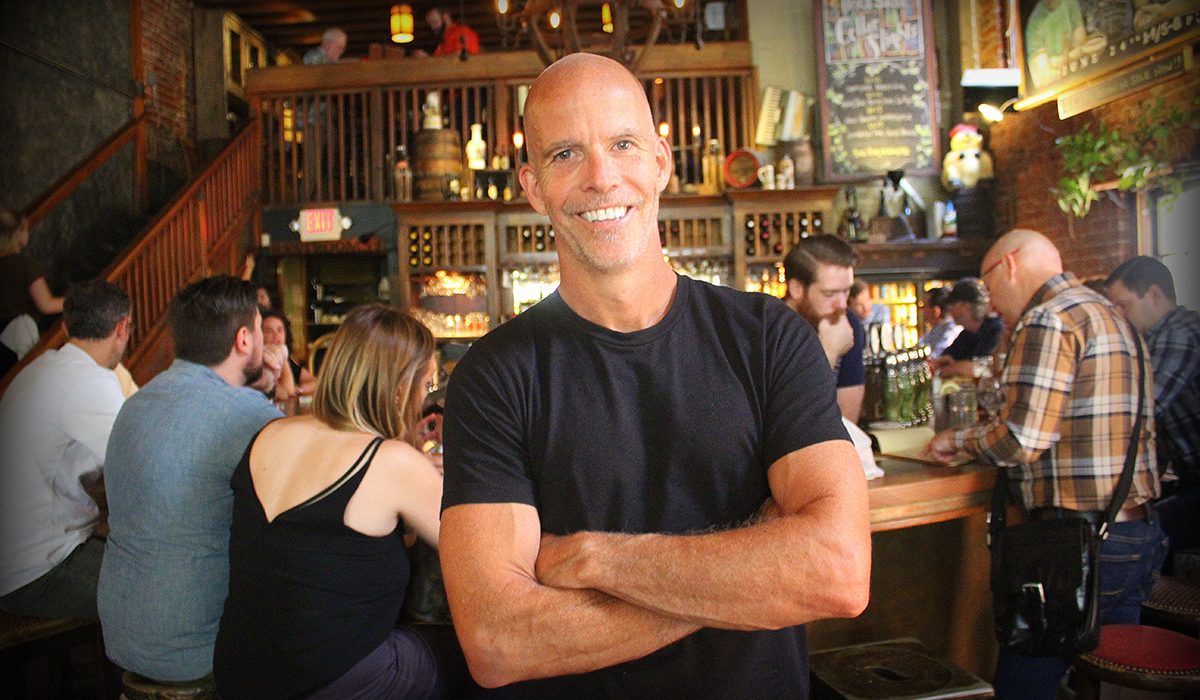 An Atlanta native, Blanchard could have easily told the story of how he and his two other business partners — Tom Moore, 48, and Michael Gallagher, 46 — started the Brick Store on June 29, 1997. It was the first true craft beer bar in Georgia's capital. Respected beer authorities now label it a world-class beer bar.
He even has a piece of art suspended six feet above his head to serve as a storyboard. It exhibits a striking chalk portrait of Blanchard, Moore and Gallagher laughing with a chalice, snifter and Kölsch glass containing beers. The artist, Josh Jameson of Jameson Studios, brilliantly captures the consistently jovial personalities of the trio. There's the bald, thin, yet chiseled Blanchard wearing a fitted t-shirt and horn-rimmed glasses on the left. In the middle is Moore with a full mane, beard, rectangular glasses, and a plaid shirt who could easily pass for that hippie professor of philosophy you loved in college. On the right is the brawny yet always approachable Gallagher laughing the hardest out of the three.
(PLAN A TRIP: Beer Travel Destination Ideas)
Although the Pub's airy, main floor is seasoned with English pub influences, local art for sale, and an eclectic assortment of collectibles from world travels serving as décor, that large chalkboard is arguably the most captivating.
Brick Store Pub's Recent Decision to Solely Support Craft Brewers
Blanchard does tell some amusing anecdotes about how all three owners met and founded the Brick Store, but doesn't make any of them his second official memory for the interview. He wants to disclose something that is not easily accessible on the Brick Store's website, through internet searches, or past articles.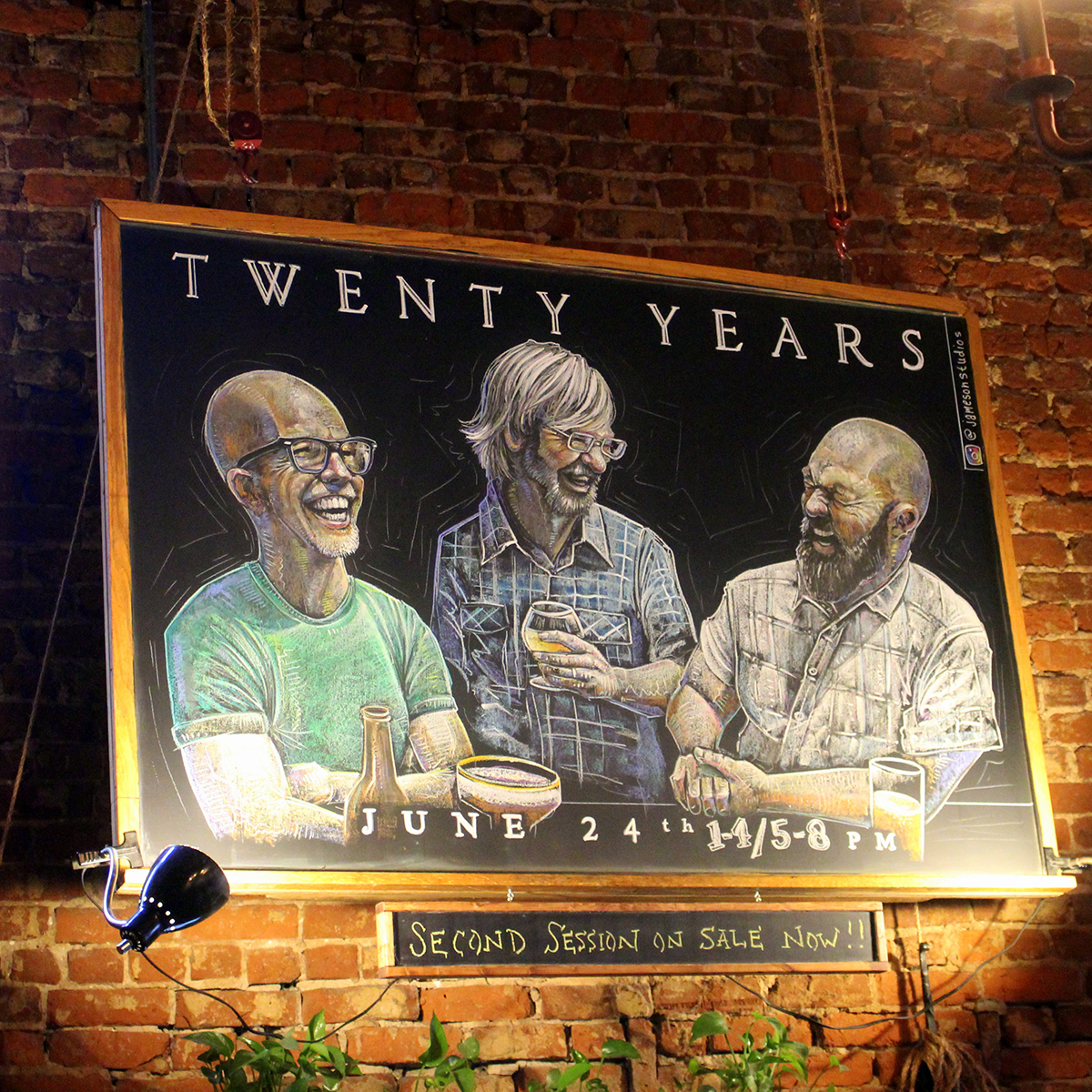 And then it hits Blanchard. His tone gives the impression of a sour breakup with a longtime girlfriend that resulted in simply a cordial hello when in passing.
"It was the day we said goodbye to Wicked Weed," Blanchard recalls, regarding the morning Anheuser-Busch InBev announced their purchase of the formerly independent Asheville, North Carolina-based brewery. That was almost two weeks prior on May 3.
"They finally forced our hand into making a definitive decision regarding solely supporting craft beer," he continues. "We had not drawn a line in the sand until then. Unfortunately, because of the Wicked Weed purchase, we knew we had to make a stand. It was sad because we had to part ways with some of our closest friends ever in Terrapin [Brewing Co.] as well. We have also said goodbye to Guinness after 19 and a half years. Essentially, we decided to go by the Brewers Association guidelines for craft breweries. We figured they are the ones championing this industry and so we will abide by their decision on who is deemed a 'craft brewery' and who is not. This allows us to sell who is craft and to not be hypocritical in any way."
(READ: What is a Craft Brewery?)
The official Brewers Association qualification Blanchard almost repeated word for word, states on its website, "Less than 25 percent of the craft brewery is owned or controlled (or equivalent economic interest) by an alcohol industry member that is not itself a craft brewer."
"Saying goodbye to those breweries have sucky points for sure," Blanchard tells us. "They have been good people and they make fantastic beer. I do not begrudge them for the decisions they make, but we as a company have decided that where our money was going ultimately does not favor craft breweries. And more importantly, we as the Brick Store Pub need to be the ones waving that flag. It is too fantastic of an industry to have the big boys come in and squash it all."
"Because of the Wicked Weed purchase, we knew we had to make a stand." Dave Blanchard, Brick Store Pub Co-Founder
With Blanchard subtly aggravated, it's surprising he stays with the subject of departing ways for his last of three memorable Brick Store moments. And this time, he is saying goodbye to two members of his family.
"My last one is when it actually occurred to me Ryan and Todd were not going to be here anymore," Blanchard says.
He's referring to longtime employees — general manager Todd DiMatteo and beer manager Ryan Skinner. They are ending their tenure with the Brick Store to open Good Word Brew Pub in Duluth, Georgia.
"Ryan has been here for six years and has done a phenomenal job running our beer program," Blanchard says. "And, man, we had Todd for 12 years. Twelve. And once he became the general manager, things changed for the better. He took on the responsibility as a central figure and has awesome decision-making ability. He really helped us make things easier and smoother at the Brick Store. They are both just really good guys."
However, the duo's transition is more bittersweet than entirely sour. Blanchard, Moore and Gallagher are also managing partners of Good Word.
Brick Store Serves as a Launch Pad
Besides having a menu of biblical proportions boasting hundreds of craft brew varieties and a talented culinary staff popularly recognized as the Kitchen Killaz, the Brick Store is also renowned for being a launchpad for successful ventures initiated by its owners, their relatives and former staff.
By parlaying their years of work experience and education, Blanchard, Moore and Gallagher opened Leon's Full Service gastropub directly around the corner in early 2009. Then in 2013, they opened the highly acclaimed restaurant Kimball House a few blocks away.
"Mike, Tom and I started and own the Brick Store and Leon's," Blanchard explains. "We made Mike's brother Ryan a partner about four years ago in Leon's. Mike, Tom and I partnered with our employees at Leon's–Miles [Macquarrie], Bryan [Rackley], Jesse [Smith] and Matt [Christison] — to open Kimble House. Those guys own and operate it. The setup will be very similar with Todd and Ryan with Good Word."
Leon's and Kimball House are more cocktail forward with an emphasis on the culinary experience; purposely, they flaunt thematic independences in comparison to their oldest sibling.
But the Good Word will be a different animal altogether.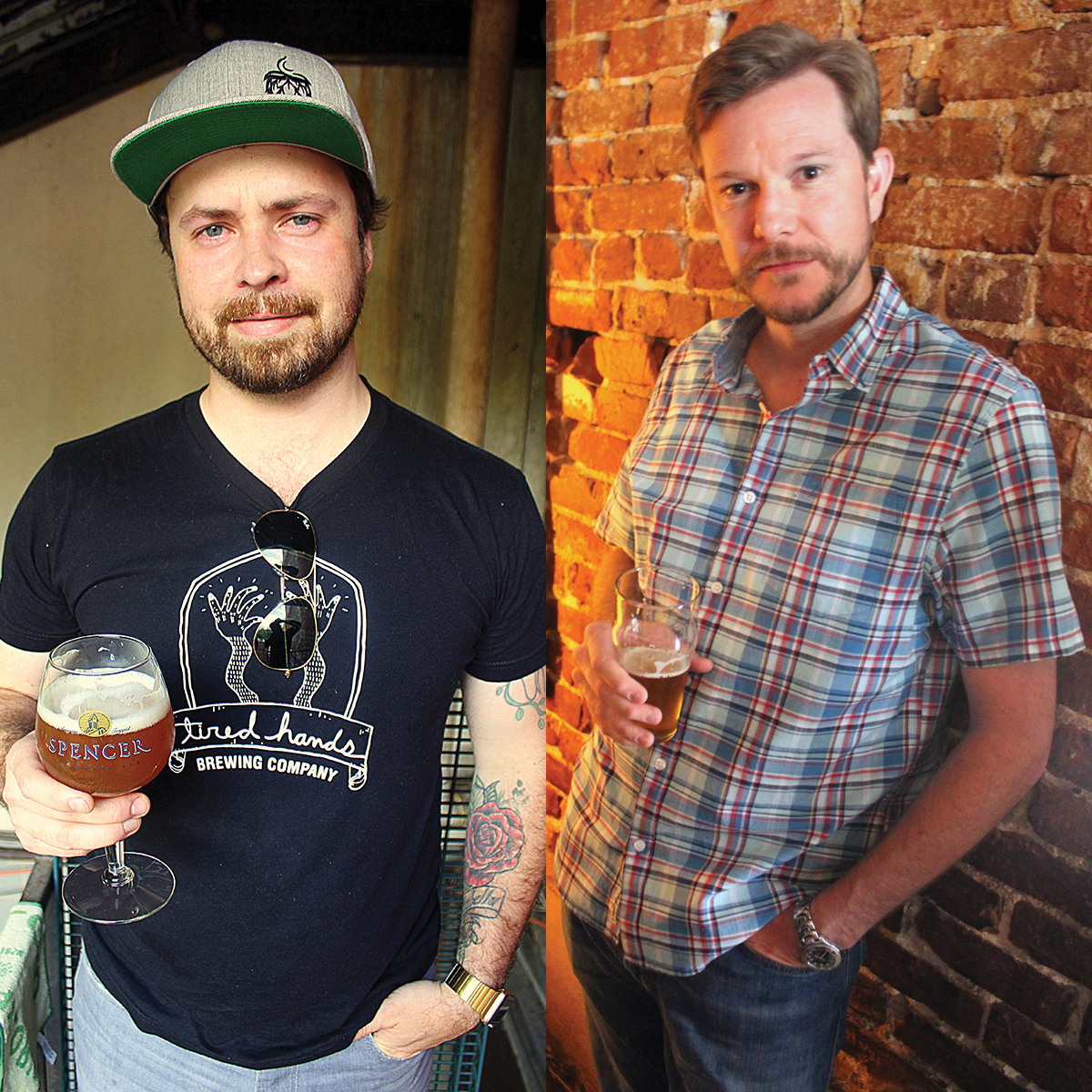 Employees and Co-Founders Partner to Create Good Word Brewing
Besides its location outside of Atlanta's perimeter, they will be building the approximately 7,500-square-foot property from scratch in the emerging Parsons Alley retail district and actually brewing beer on site. Those are all firsts for Blanchard and his partners.
"We initially were going to open Good Word nearby in Grant Park, but that didn't work out," Blanchard says. "Todd and Ryan really wanted it to be in Duluth because there's nothing really out there on the beer side. Well, I'm a city guy and love how Leon's and Kimball House are close by. That commute more than 20 miles away didn't excite me, but when Todd said he would move his family out there and live near the pub, that changed things dramatically in a good way."
Blanchard says he's confident there will be a smooth transition at the Brick Store.
(READ: 5 Habits of Highly Successful Beer Bars)
"Longtime manager Erin Sargent has assumed the reins as the general manager. Our new beer manager Dan Fontaine is taking over for Ryan. The beauty of this lag between Brick Store and Good Word is Erin and Dan have been able to spend ample time with them learning all they need to know. I have the utmost confidence in the level in which they will perform. Brick Store will continue to stay as strong as ever with these two guys doing their thing."
Following Blanchard's interview, I pulled aside Skinner and DiMatteo to get a little more perspective of what Good Word will be like when it opens sometime in October.
"Good Word will be community driven with great food that will inspire conversation, plus balanced, drinkable beers," DiMatteo says. "We'll have something for the beer geeks and something for the beer geek's dad or uncle who's just getting his craft beak wet."
Skinner adds, "The Good Word is the natural progression of the Brick Store; honest, hard-working people who want to contribute to their community. Our goal is to provide a place where we treat people the right way and serve them the best beer and food we can possibly make."
(READ: 6 Craft Beer Bars That Changed Their City's Beer Scene)
Passing the Torch
Thursday, June 15 was officially DiMatteo and Skinner's last day working at the Brick Store. They excitedly pulled the taps of six different Good Word beers. American sours dominated the sextet; the sole IPA was a 6.2% ABV collaboration with a burgeoning local brewer named Jon Shari of Little Cottage Brewery. All of them were impressive and lived up to the hype.
At one point, the turnout was almost identical to the late Dan Rosen gathering, but it was a celebration of a passing in a different sense. Blanchard, Moore and Gallagher were passing a torch to two enterprising friends on a mission to fill a void in a neighborhood that needed a communal place to dine, converse, and enjoy an extensive selection of strictly craft beer. Sound familiar?
The Brick Store Pub collaborated with 20 different craft breweries to make 20 different beers to pour during two sold out sessions to celebrate their 20th anniversary in June.
Happy Birthday, Brick Store Pub.
CraftBeer.com is fully dedicated to small and independent U.S. breweries. We are published by the Brewers Association, the not-for-profit trade group dedicated to promoting and protecting America's small and independent craft brewers. Stories and opinions shared on CraftBeer.com do not imply endorsement by or positions taken by the Brewers Association or its members.