Breweries and craft beer bars have a symbiotic relationship. Pubs have been community centers of social activity for hundreds of years.
[newsletter_signup_box]
Over the past 30 years or so, a growing number of bars and pubs have focused on bringing beer drinkers a better variety of beers, especially those from small and independent brewers.
The connection between beer bar and community is stronger than ever, be it a showcase for beers made steps from the bar, or a place where beer geeks from all over the world can come together to drink and discuss the newest trend to classic styles.
(READ: Craft Beer on Major Airlines)
In cities with passionate local beer scenes, you'll often find a craft beer bar that's anchored the scene, be it for five, 10, 20, or 30 years. The longer the beer bar has been around, the earlier that community of brewers, publicans and drinkers came together as a cohesive community enriching everyone.
Here are six iconic U.S. craft beer bars which have strengthened beer communities in the cities where they operate, from oldest to newest.
The Toronado | San Francisco
As a brewer, Jesse Friedman from Almanac Beer Co. says being able to say you're on tap at the Toronado is a big deal – a life goal. As a customer, he adds, the gruff demeanor of the Toronado bartenders is part of the whole experience.
Dave Keene opened the now-iconic Toronado about 30 years ago in San Francisco's Lower Haight neighborhood on August 5, 1987. The service is no-nonsense, the beer is cash-only, and the bathrooms are well known for being small and grungy. It's also one of the most prestigious and well-respected beer bars in the world.
Friedman says that while the pioneering Toronado cares about freshness and cultivates relationships with breweries, hype doesn't really matter to Keene & Co. "They set their own path and invariably it works out their way."
Vinnie Cilurzo, co-founder of Russian River Brewing Company in Santa Rosa, California, notes that the Toronado is one of the oldest craft beer bars in the United States.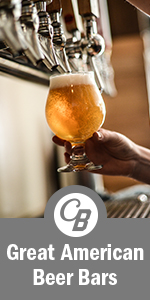 "I think it goes without saying that Toronado has influenced the San Francisco and Bay Area beer scene more than any other establishment," Cilurzo says. "It really means something to a brewer or brewery to have their beer on tap at the Toronado."
(READ: 8 Farm Breweries to Visit This Year)
San Francisco's 21st Amendment Brewing co-founder Nico Freccia jokes, "I love to talk about the Toronado. It's one of my favorite subjects and where I asked my wife to scatter my ashes." (He notes that Keene does not know about this plan.)
When Freccia started going to the Toronado regularly in 1994, he describes it as primarily a neighborhood bar, but also one of the few places anywhere where Belgian beer was available. He also points to the bar's Barleywine Festival, which started as an annual event in 1993 until 2015, as evidence of Keene's beer-forward thinking.
"People didn't know what a barleywine was [in 1993] and most breweries didn't brew one," Freccia says. But the Toronado found more than 30 examples in those early years, and as the festival progressed over time, added multiple verticals, which helped people understand how beer ages.
The cash-only bar only sells two things, beer and t-shirts, which Cilurzo sees as one of the reasons for the Toronado's success. "Because of this, they can focus on selection, inventory and clean lines."
Hopleaf | Chicago
Michael Roper, owner of the 25-year-old Hopleaf beer bar in Chicago, remembers that in 1992, there wasn't much of a local beer scene in the area.
"It was a very small, very troubled scene," he says. Chicago city leadership did not issue one permit for breweries or taverns in the 22 years Richard M. Daley was mayor (1989-2011). That's why Three Floyds opened in Indiana, Roper says, and all the employees live in the Chicago area and commute.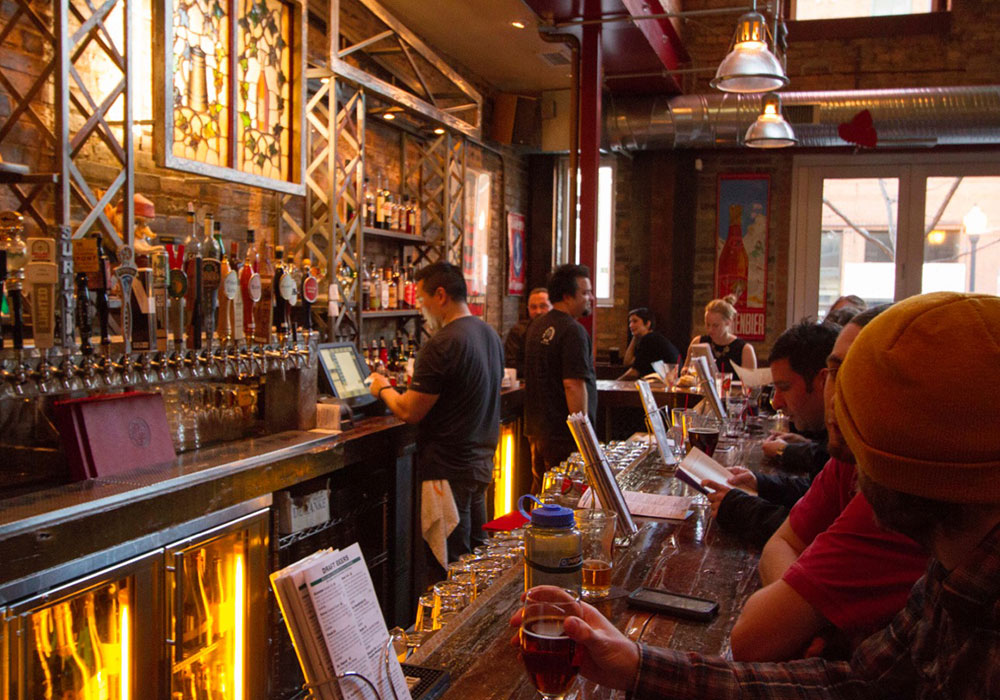 Hopleaf opened in February 1992 with eight beers on tap and 35 bottles. Roper refused to carry the popular standard macro lagers of the day. Early customers who walked through the door were always surprised.
"Why do I have to carry beer that I'm not passionate about?"
Of the bar's 65 taps, 15 are reserved for Belgian beers and 15 for Chicago breweries. He believes carefully curating your beer list is the key to staying relevant.
"Our draft list changes every day," he tells us. "I print out 250 menus every day. It's a full-time job just to keep up with the thousands of beers available now."
The Hopleaf has supported the legacy breweries like Firestone Walker, New Belgium and Sierra Nevada from the very beginning.
"Because of that loyalty we get a lot of special releases from those breweries," Roper says.
Gabriel Magliaro founded Half Acre Brewery in 2006, and prior to that (and since then) visited the Hopleaf frequently.
"It had the best selection of Belgian beer, and early on provided a true, authentic publican experience," he says. As soon as Half Acre was incorporated, he started working with Roper. "It's a great example of a place we'd love to have our beer sold."
(LEARN: Take CraftBeer.com 101 Course)
Falling Rock Tap House | Denver
Falling Rock Tap House's 20th anniversary is June 2017 and owner Chris Black has scheduled a week of celebration. He's flown all over the country to brew collaboration birthday beers with some of the breweries that have come to think of Falling Rock as a second home, especially during the Great American Beer Festival (GABF).
GABF is a big part of why Black opened Falling Rock Tap House in 1997. He'd moved to Denver from Houston, following a career in beer, working for beer bars like the Ginger Man, breweries and distributors. He moved to Denver to do something with beer, and although the Wynkoop Brewpub was popular at that time and Great Divide was making local beer for the market, there were no beer bars.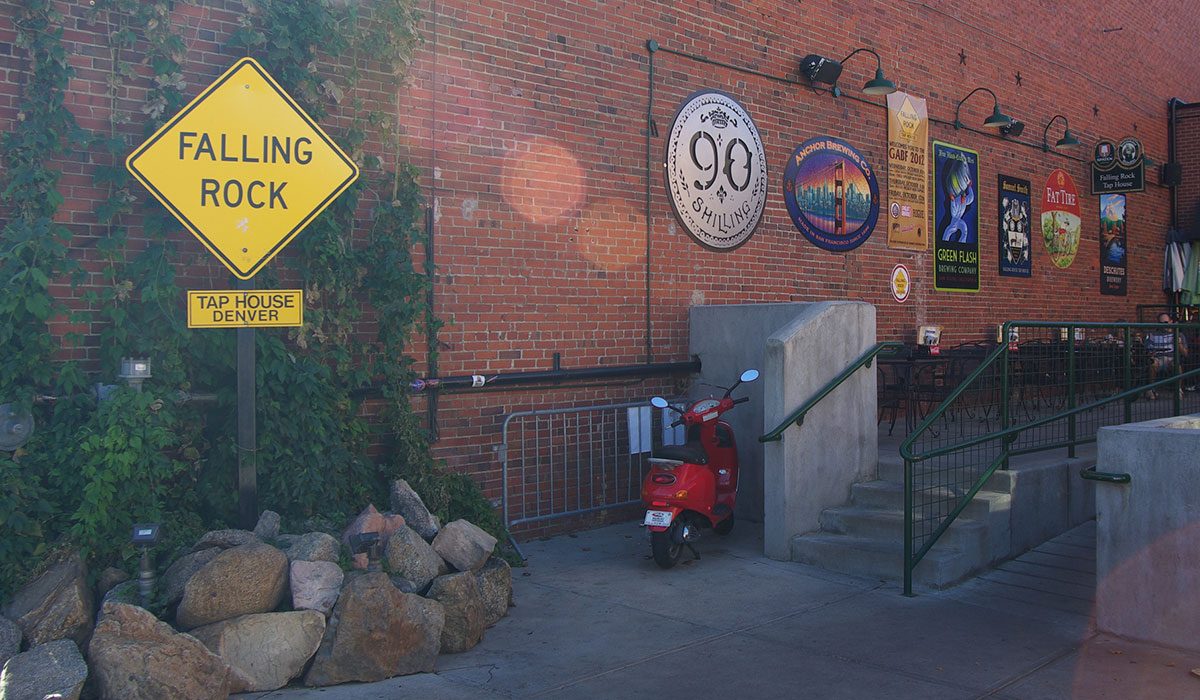 "During GABF, bars would put up banners, and sell a bucket of Sam Adams longnecks for $20, but that was the extent of it," he explains. "I thought if I opened a place and put on a whole bunch of cool beers, no one else is doing that and I had all these contacts going back 10, 15 years. That would appeal to the uber beer geek coming out to the festival."
Lauren Limbach (formerly Salazar), the specialty brand manager and wood cellar blender at New Belgium Brewing in nearby Fort Collins, says, "During GABF, we share [the Tap House] with the entire beer drinking community. It's the maddest of all madhouses. Tappings every hour on the hour. Everyone comes out of the woodwork."
Last year at GABF, the Falling Rock Tap House held 31 events in six days, with special brewery offerings being tapped almost every hour. Although during the high season of the Great American Beer Festival, rare kegs are plentiful.
(LEARN: Our Big List of Beer Schools)
"We were the only game in town for a decade. Then things exploded. Now, there are three or four places in Denver I really like to go. Great Divide is my local haunt if I don't want to be at the Tap House."
Brian Dunn from Great Divide verifies this, adding that his staff are regulars at Falling Rock. "Chris comes to our taproom bar, he's a big supporter of local breweries. We go there all the time, and he brings his crew to brewery events."
"We're lucky to have them in Denver," Dunn says. "And after 20 years frequenting the Tap House, there are so many stories I can never tell."
J. Clyde | Birmingham, AL
The Birmingham scene was bleak when Jerry Hartley opened the J. Clyde on April 13, 2007.
"There was nothing here. No place to get craft beer, and only one brewery in the state," Hartley says.
He moved to Birmingham in 2004 after living in Germany for several years and tried to find quality beers in his city, like the ones he loved overseas.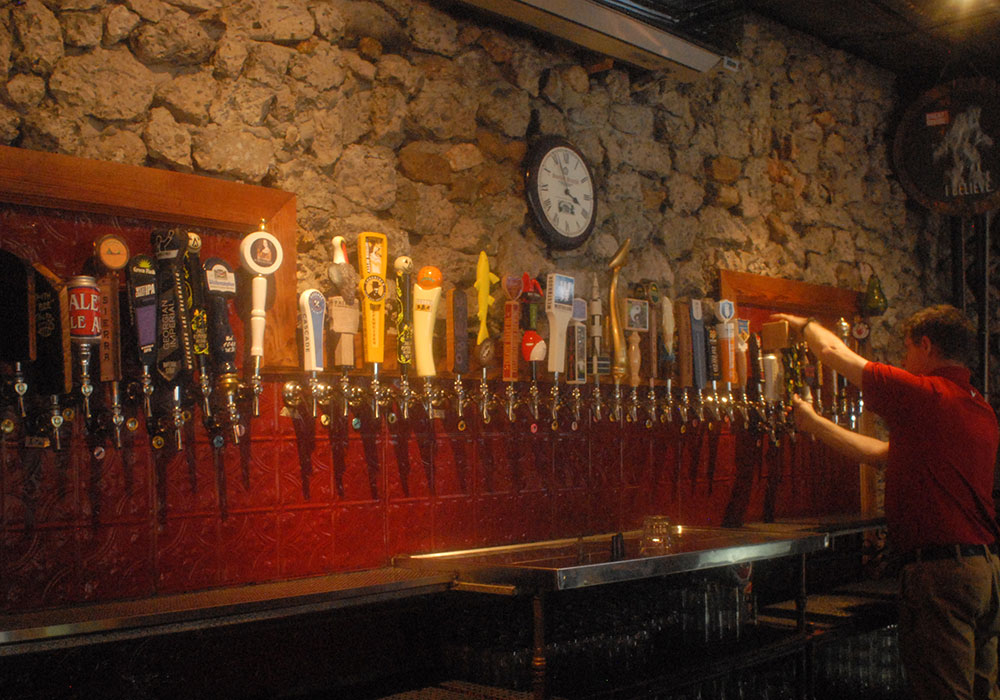 Originally, Hartley wanted to open his own brewery, but Alabama's restrictive laws regarding breweries and beer at the time made it too difficult. Instead, he opened the J. Clyde, a beer bar and restaurant and worked to help change state laws and the local beer culture.
"If there were people like me looking for quality beer," Hartley says, "I knew there would be others."
The J. Clyde started with 40 taps, which Hartley filled with imports and quality craft he could find under the state's legal ABV limit. He worked with the legislative advocacy group, Free the Hops, to change the antiquated beer laws and the group used the J. Clyde as a meeting place and rallying point.
In 2009, the ABV limit was raised from 6% to 13.9% and in 2011, The Brewery Modernization Act was signed into law, allowing breweries to open taprooms and sell their beer on site.
"As taprooms opened in 2012, that ignited people's interest in local beer," Hartley says. "We remodeled our back bar with 13 taps exclusively for Alabama beers and four more to pour at cellar temps."
(LEARN: Details on 75+ Popular Beer Styles)
The J. Clyde helped Good People, Birmingham's first brewery, in their early days with "research and development."
"Whatever they brewed, we'd tap it and give them the feedback we heard," he says.
Michael Sellers, Good People Brewing co-founder, says that both the brewery and the J. Clyde started around the same time, which created a common goal between the two businesses to promote craft and local beer.
"You could get beer there you couldn't get from other bars and you were exposed to different styles of beer," Sellers says "There's so much more craft now, so the impact is lessening but for years, it was the place to be for craft beer in the area."
ChurchKey | Washington, D.C.
Greg Engert worked at the Brickskeller in Dupont Circle before joining the Neighborhood Restaurant Group as a partner and beer director. The Brickskeller first opened in 1957 and was the site of the first tasting that Michael Jackson held in the United States, due to its strong Belgian beer program.
The owners of the Brickskeller, the Coja family, took advantage of Washington DC's singular import and distribution laws that permitted bars to serve beer from all 50 states.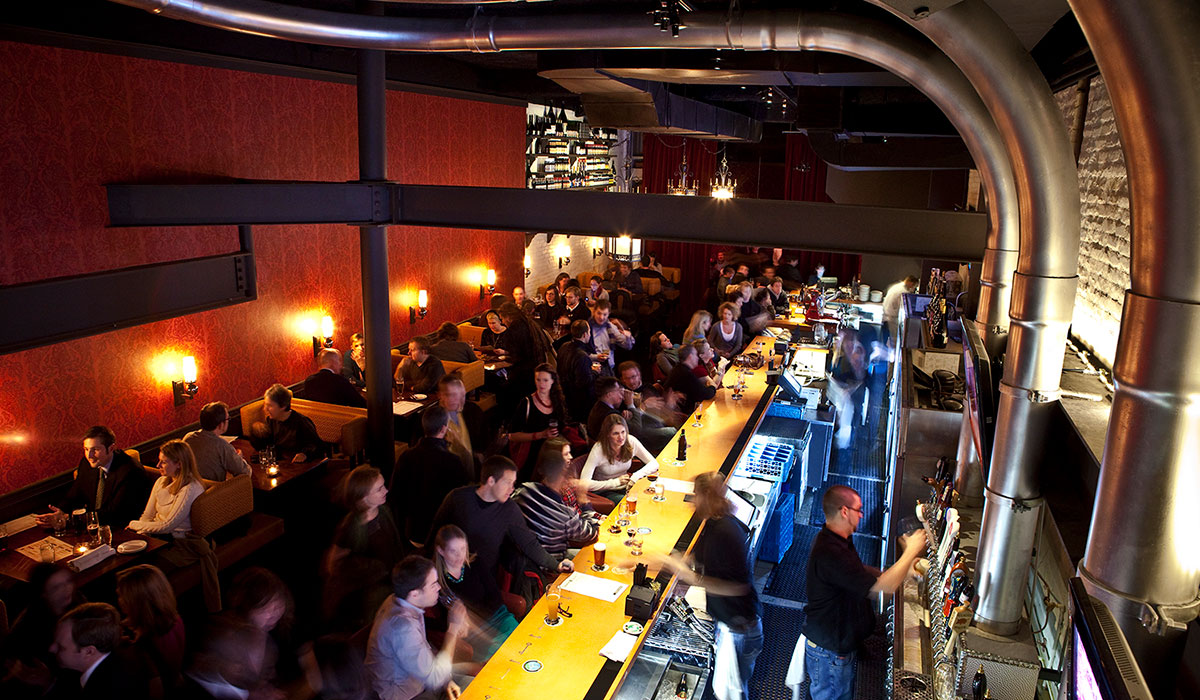 Although the Brickskeller closed in 2010, its owners set into motion a progressive beer culture, which is directly responsible for the current success of all beer bars in Washington, D.C. The legendary beer hall, Engert says, continues to influence DC beer culture due to the Coja family's pioneering vision.
Engert and his partners opened ChurchKey in 2009, the group's first property in Washington, D.C. The concept, as overseen by Engle, includes a five-engine cask program, heightened levels of service, and a temperature-controlled draft system. The 50 beers on tap are carefully sourced. The attention to service means menus are always updated, the food menu complements the beer, educated staff is at the ready, and proper glassware will be deployed.
(COOK WITH BEER: Hundreds of Recipes)
"ChurchKey has provided a lot of consumer education – for example, breaking the menu down into approachable style categories with descriptors," DC Brau founder Brandon Skall says. "Now it's an educated populace."
DC Brau, the first distributed brewery in Washington, D.C., opened in 2011, two years after ChurchKey.
"The city's been purveying great beers since the 1950s," Engert says. "We were a city of beer bars before having a brewing community."
The Avenue Pub | New Orleans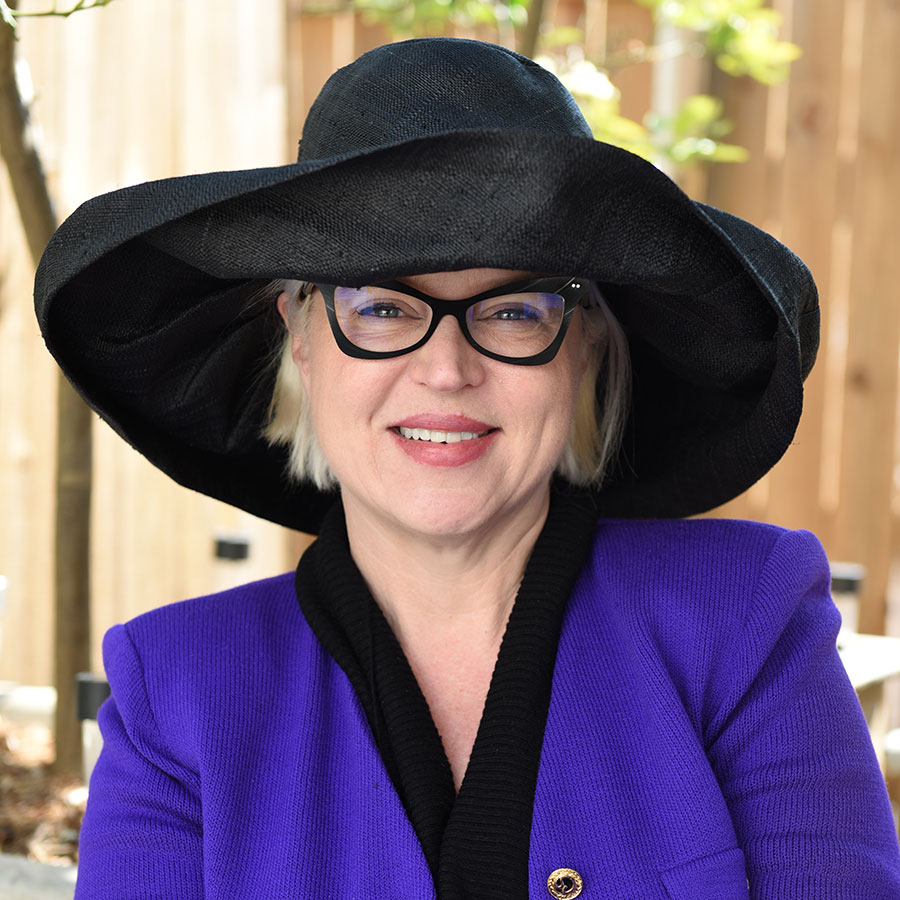 Polly Watts took over her father's neighborhood bar on St. Charles Avenue knowing nothing about beer. Now, she's the local leading expert.
The Avenue Pub converted to a craft beer bar in 2009, the same year that NOLA Brewing began producing beer. At that time, the only other local option was Abita, Watts says.
"The only other breweries we had access to were Rogue, North Coast, Harpoon and Brooklyn. That was it," she tells us. "There was very little out there."
National breweries and local distributors were unwilling to take a risk and send specialty styles to the untested New Orleans market. But Watts began talking to her connections with importers, and they would go through their list line by line with her.
"We started turning people onto sours, Belgian pale ales, saisons and barrel aged imperial stouts," Watts says. "And all the beers were exceptional – they blew people away. You do that a few times and you get a beer person."
She transformed the beer selection.
"No one had heard of anything on the menu before, and that was a deliberate strategy. If you put on a bunch of new beers and one familiar, people will gravitate toward the familiar," Watts says. "This way, at that time, chances were that no one knew anything about the beers or the styles and they had to talk to the bartenders to learn about them. It got people to be more experimental in the city."
"The Avenue proved that there was safety in showcasing the higher end, experimental beers – and they could really shine there," says Dylan Lintern, COO of NOLA Brewing.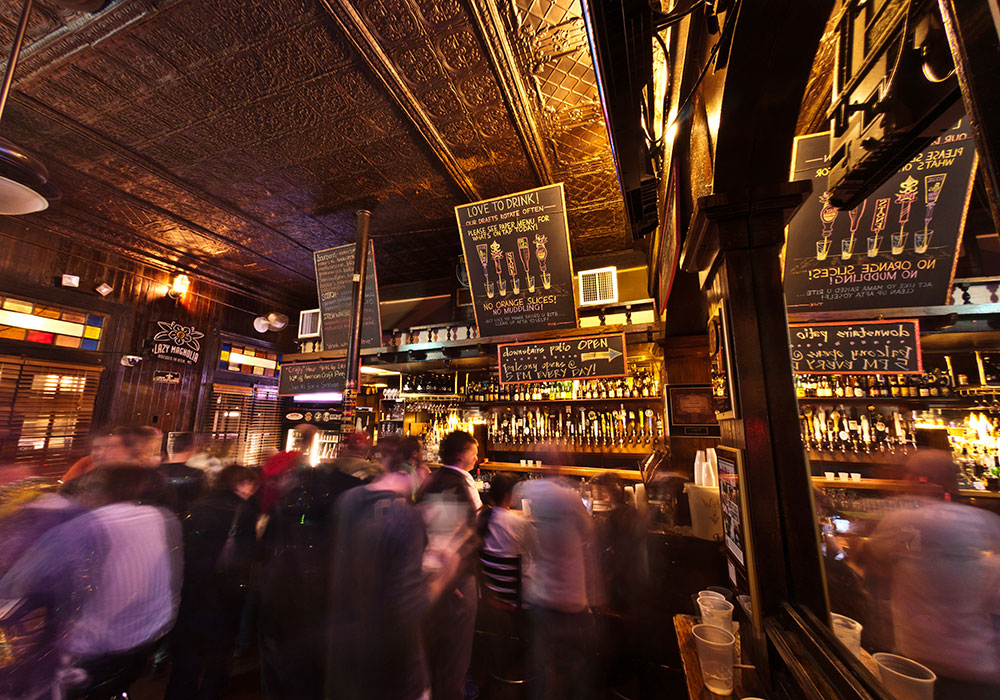 Watts says after a while, American breweries started to trust her, so they started sending her special beers.
Over the past five years, the number of breweries in Louisiana has tripled, and working with the Avenue Pub has helped local breweries succeed.
(FOOD: Craft Beer and Cheese Guide)
"Part of our job is to champion the best local beer. And I always give new breweries a chance," Watts says. "At first, if they brewed it, we'd tap it — but now we have to be more selective."
"She changed the game and there are still no other places like it," Lintern says. "She brought a new element to the beer world here."
Save
Save
Save
CraftBeer.com is fully dedicated to small and independent U.S. breweries. We are published by the Brewers Association, the not-for-profit trade group dedicated to promoting and protecting America's small and independent craft brewers. Stories and opinions shared on CraftBeer.com do not imply endorsement by or positions taken by the Brewers Association or its members.