American craft brewers have never been shy about borrowing techniques from one style and applying it to another. If barrel-aging can add oak and bourbon flavors to stouts, why not try it on Belgian-inspired quads? If serving a porter on nitro adds a pleasing creaminess, could we not also try it on pale ales or IPAs?
Almost as soon as a technique, ingredient, or process hits brewers' tool kits, they can't wait to see how far it can stretch. The latest example of stylistic exchange: brut lagers.
Birth of the Brut IPA
Brut lagers wouldn't be possible without their parent style, brut IPAs. And brut IPAs wouldn't have been possible without an enzyme called amyloglucosidase or amylase. Thankfully, you don't need to know how to spell it or even pronounce it to understand its effects on beer.
This enzyme piqued brewers' interest at the tail end of 2017, when Kim Sturdavant of San Francisco's Social Kitchen and Brewery used the ingredient, which craft brewers typically reserved for big beefy stouts, to brew an IPA.
(Related: Hot Experimental Hops Create Compelling Flavors)
Amyloglucosidase breaks down malts' sugars into smaller bites, making them easier for yeast to eat. That changes the character of the beer by drying it out, decreasing its perceived weight on the palate, and making it highly effervescent like the brut champagne that brut IPAs are named for.
The style spread, and now you might find brut IPAs in six-packs on grocery store shelves. But it got a couple craft breweries wondering: What if they applied the enzyme to lagers?
Brut Lagers Filling a Void?
While no one had used the term "brut lager" until 2019, brewing lagers with this type of enzyme goes back to the 1960s. It was a key component of some large breweries' light beers, as it helped remove the malt sugars that would add a fullness to beers, and it made the final beers lower in calories.
So when Dave Berg, brewmaster at August Schell Brewing Co. in New Ulm, Minnesota, heard about its use in brut IPAs, he thought it was a natural fit for the lagers his brewery is known for. His goal in brewing August Schell's Brut Lager was to replicate what drinkers liked in brut IPAs—aromatic hops, a light body—and translate it to a lager.
"We used a lot of late-addition hops trying to imitate the brut IPA style, and we used some newer hop varieties," Berg says. "I think people are apparently more calorie conscious but they still want flavor, and so it seems like that's a pretty large untapped area right now."
(More: Brewers Association Releases Brewery Employee Diversity Data for the First Time)
Drinkers seeking lots of hop character but in an easier-drinking package than an 8% IPA could find their answer in the Brut Lager, which was part of the brewery's summer variety pack that debuted in June. The word brut, so associated with IPAs in the beer world, helped convey effervescence and aromatic hops.
"I think it was something different to try. Brut had become a name that people actually recognize in beer," Berg says.
While he's not sure the word brut will still grace beer cans five years from now, Berg thinks the refreshing, flavorful components of a brut lager have staying power.
"Everybody's been doing the big imperial stouts and really boozy beers for a long time and they're great, but especially as you get older, you can't drink that much. I think there's probably a market for reduced carb beers that have more flavor," he says.
It's Not Wine, It's Brut Lager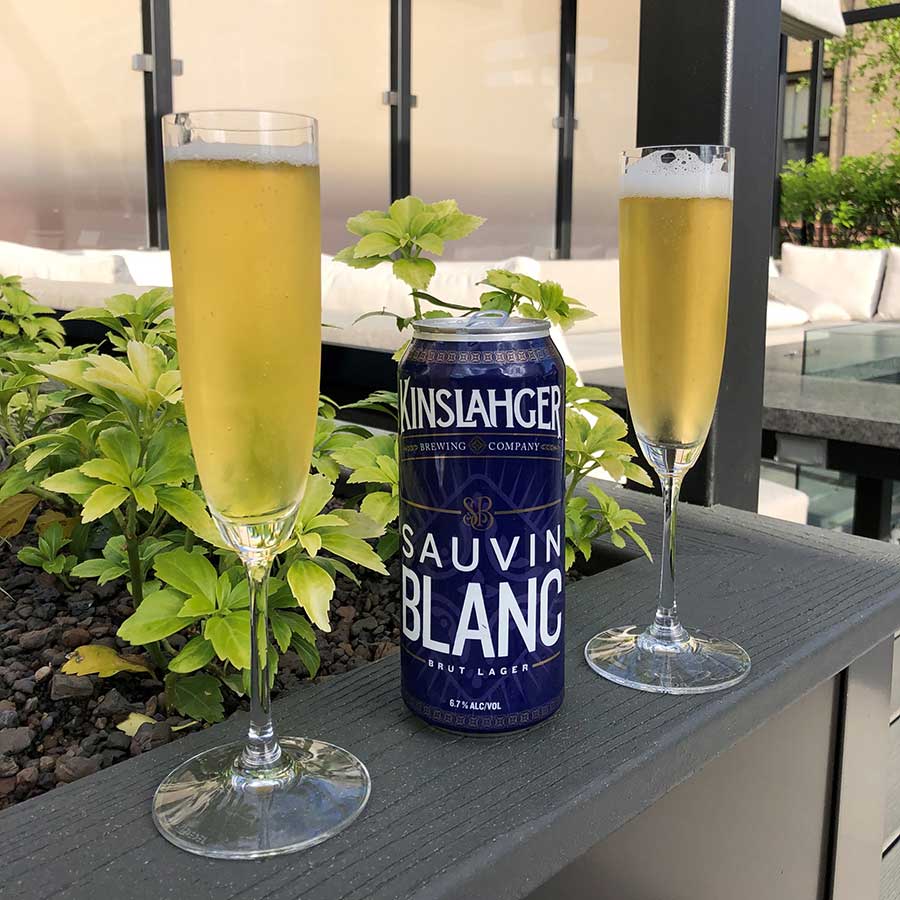 But the lower-malt aspect of brut lagers wasn't initially what drew Kinslahger Brewing Company to the emerging style. For co-owner Keith Huizinga, it was all about its proximity to wine.
The brewery in Oak Park, Illinois, has brewed primarily lagers for just over three years, and its brewer Steve Loranz is constantly on the search to expand drinkers' perceptions of what the category can be. When people hear lager, Huizinga says, they think of a certain flavor. But lager is just a type of fermentation, a part of a beer's overall design that doesn't pigeonhole it any more than the word "ale" would.
"We wanted to create a different type of experience, something almost like a sparkling wine, but 100 percent beer," says Huizinga. "The idea was combining the dry brut techniques with a hop selection that would emphasize that almost grapelike character."
Their hop choice was a blend of Nelson Sauvin and Hallertau Blanc hops which teamed up to give the lager, named Sauvin Blanc, its vinous aroma and flavor. That the beer's name sounds like the wine varietal sauvignon blanc only helped get Kinslahger's point across.
"Originally we released it as a taproom-only beer back in March. We loved it; the customers loved it, so we turned around and got an extra batch in the tanks," Huizinga says. "The initial feedback was strong, once we can get over people thinking it's wine."
(More: New List Ranks 10 Best Cities for Beer Lovers)
Brewers Experiment
Kinslahger adds the crucial amylase enzyme to the brewing process at the end of fermentation to break down those long-chain sugars. But August Schell's brewers actually add the enzyme in the mash phase. Brewers seem split on the question of when to add the enzyme in the brewing process; both August Schell and Kinslahger say their methods achieved their end goals for the beer.
Because brut lagers are an even newer spinoff of the relatively new brut IPA style, there's much for craft brewers to still explore when it comes to processes and ingredients. But its defining characteristics—a barely-there malt bill and aromatic, usually wine-reminiscent hops—seem firmly established. As with any new beer style, though, where it goes next is anyone's guess.
CraftBeer.com is fully dedicated to small and independent U.S. breweries. We are published by the Brewers Association, the not-for-profit trade group dedicated to promoting and protecting America's small and independent craft brewers. Stories and opinions shared on CraftBeer.com do not imply endorsement by or positions taken by the Brewers Association or its members.