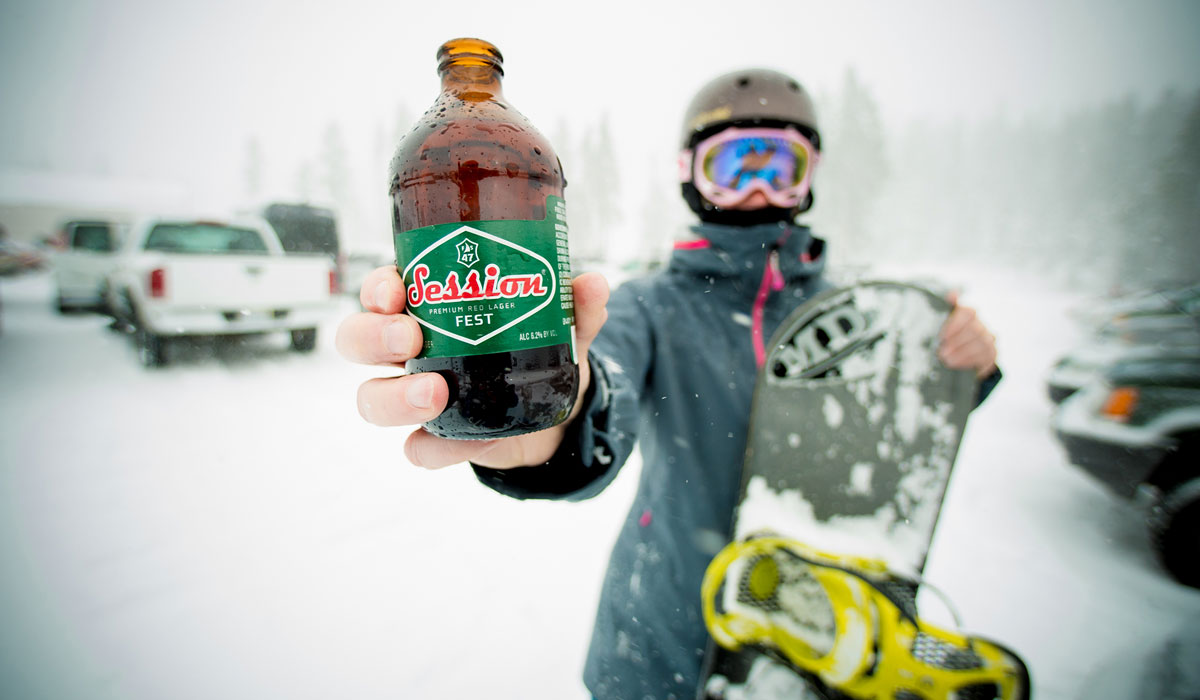 9 Ski Destinations for Craft Beer Lovers
Après ski is as much a part of any winter vacation experience as price-gouged lift tickets and frozen extremities. Thankfully, the post-slopes experience is no longer defined by shot skis and mulled wine. Craft beer has infiltrated ski towns and traditional bastions of snow sports are now home to breweries, craft beer bars and enviable bottle shops. We've put together a list of some of the better locales to inject your après with craft beer.
Hood River, Oregon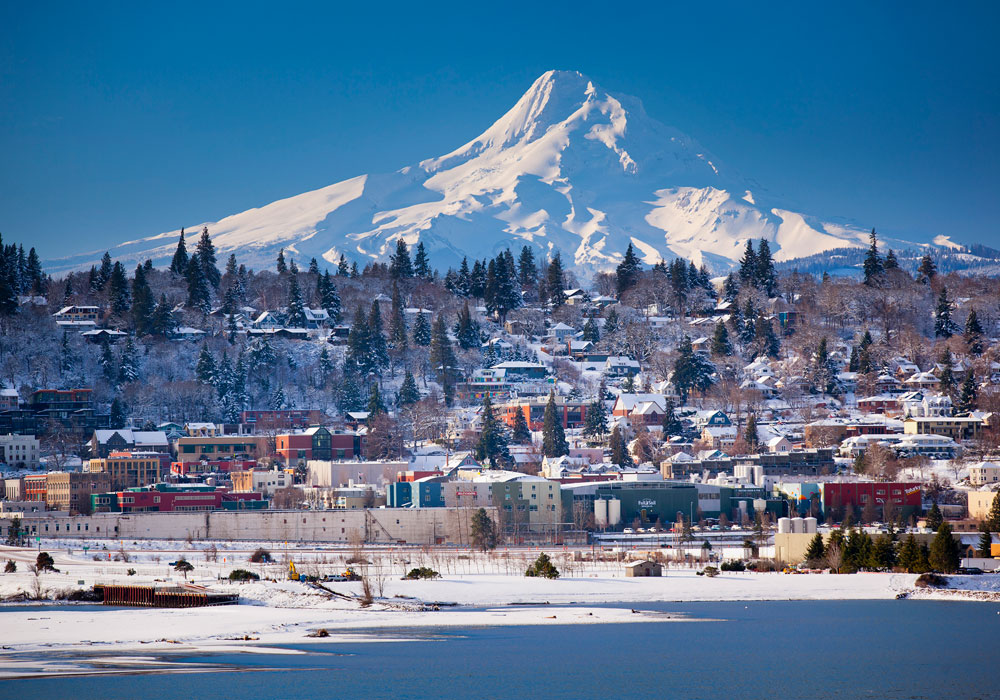 Mount Hood casts an imposing shadow over the city of Portland and though that city's beer pedigree cannot be overstated, hitting the slopes requires at least an hour and a half car trip. Another option much closer to the mountains with its own burgeoning beer scene is Hood River. Home to four breweries with another two located en route from the mountains, Hood River is a great basecamp or stopover on your way back to Portland.
The stalwart of the Hood River brewing community is Full Sail Brewing Company having opened in 1987. Widely distributed, their amber ale has won an astounding 12 World Beer Championships gold medals. The upstart in town is pFriem Family Brewers, makers of flavorful and elegant artisanal ales influenced by Belgian brewers but embodying a Pacific Northwest flair. After carving up Mt. Hood Meadows or Timberline Lodge, belly up to pFriem's fire pit with a glass of Winter Ale or Belgian Strong Dark. Double Mountain Brewery & Taproom is located just around the corner from Full Sail as is the Logsdon Brewery Barrel House & Tasting Room (the Logsdon Farm Brewery is about 10 miles south of town). The former serves up hop-forward IPAs while at the latter you'll find delicately crafted saisons, farmhouse ales, sours and fruit beers including the Great American Beer Festival (GABF) medal winner, Cerasus, a West Flanders style red ale with cherries. Solera Brewery in nearby Parksdale is another possible pit stop on your way down the mountain and back into town. On a clear day, the views are unmatched and the huge burrito will sate your hunger after a day on the slopes.
(MORE: What 'Selling Out' Is Actually About)
---
Waterbury & Stowe, Vermont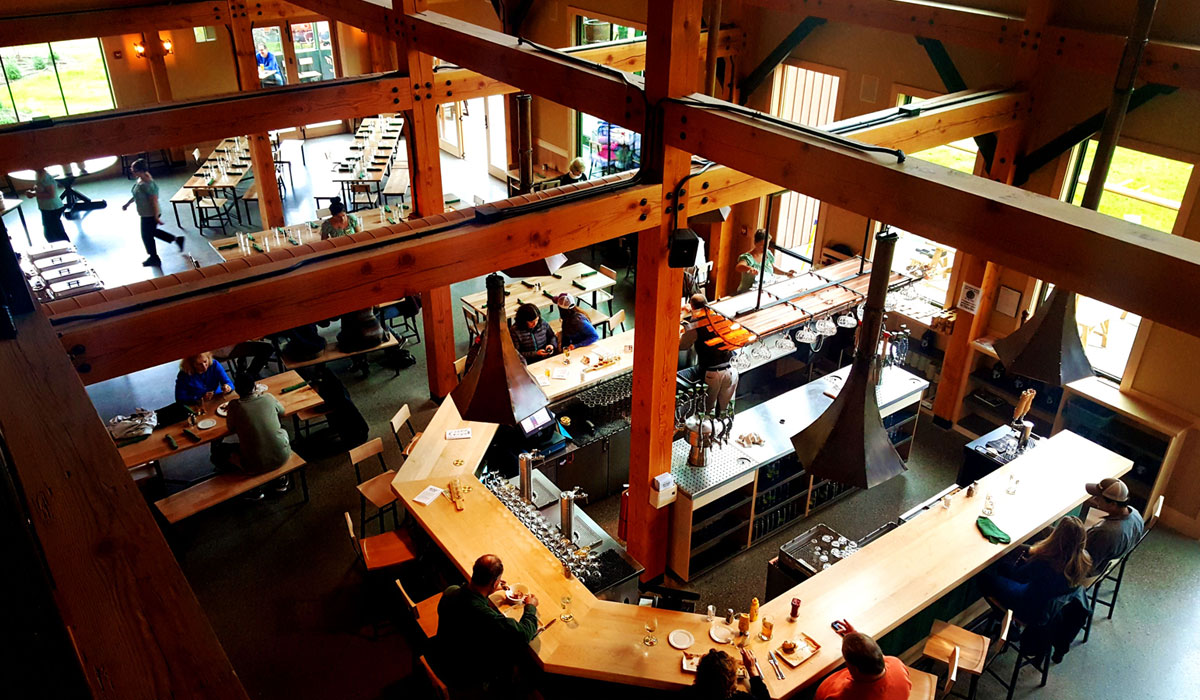 Vermont, where the double IPAs flow like water and locally brewed beers such as Heady Topper have gained national cult status. Ranked as one of the top beers in the world, it's also relatively difficult to acquire outside of its home base in north central Vermont. But when you do find yourself in that neck of the woods, even the bar at the Best Western beside the highway stocks cans of the desirable elixir from The Alchemist, headquartered just up the road.
For food, Prohibition Pig is the go-to for succulent pork products along with selections from their in-house brewery alongside Lawson's Finest Liquids and Hill Farmstead Brewery. Visit the Craft Beer Cellar where you can sample and purchase small batch beers from the likes of Zero Gravity Craft Brewery, Hermit Thrush Brewery and Frost Beer Works. For a taste of Austria after a day shredding the Front Four at Stowe take a tour of the newly opened 30,000 square foot facility and Bierhall operated by von Trapp Brewing on the grounds of the Trapp Family Lodge (yes, those von Trapps).
---
Taos, New Mexico
While "snow" and "New Mexico" are far from synonymous, Taos Ski Valley in the state's northern mountains averages around 300 inches of snow per year. What's even more inviting is that the actual town of Taos, down valley from the resort, averages only about 30 inches of snow complimented by nearly 300 days of sun. Translation: Welcome to the best of both worlds. Once you've picked your way down Kachina Bowl, stop in the new downtown location of Taos Mesa Brewing for tacos and an Old '96 Sticke Alt. The mothership brewery is located just outside of town and features live music in a truly unique setting. For vegetarian, vegan and gluten free fare paired with the distinctly New Mexican Green Chili Ale, check out Eske's Brew Pub. The state's big guns like Marble Brewery, Santa Fe Brewing Company and La Cumbre Brewing can be found on tap at the Taos Ale House.
(BEER 101: Test Your Beer Knowledge)
---
Carbondale, Colorado
Nestled serenely in the Roaring Fork Valley far from highway congestion and Colorado's Front Range riff-raff sits the town of Carbondale. Located between the touristy yet charming city of Glenwood Springs and the ritzy yet eclectic ski haven of Aspen, Carbondale is an ideal destination if you're looking for an authentic small town Colorado experience.
Before heading out of Glenwood Springs, make a pit stop at Cooper Wine and Spirits to pick up the latest from Casey Brewing & Blending or, better yet, purchase a ticket ahead of time for an intimate tour and tasting of the brewery's extremely limited mixed-culture oak barrel-aged offerings. Once you've settled in, swing by the town's original brewery, Carbondale Beer Works, for a bourbon bacon grilled cheese paired with a Yo Bro Midnight Porter. After a day on the slopes, Aspen Brewing Company's taproom in downtown Aspen is the après ski destination for pours of Independence Pass Ale, Cloud 9 Saison or Pyramid Peak Porter. For more memorable accommodations, check out a cozy two-person shepherd's wagon or a multi-bedroom cabin up the road in Avalanche Ranch that includes a soak in their natural hot springs after a long day on the slopes.
---
Park City, Utah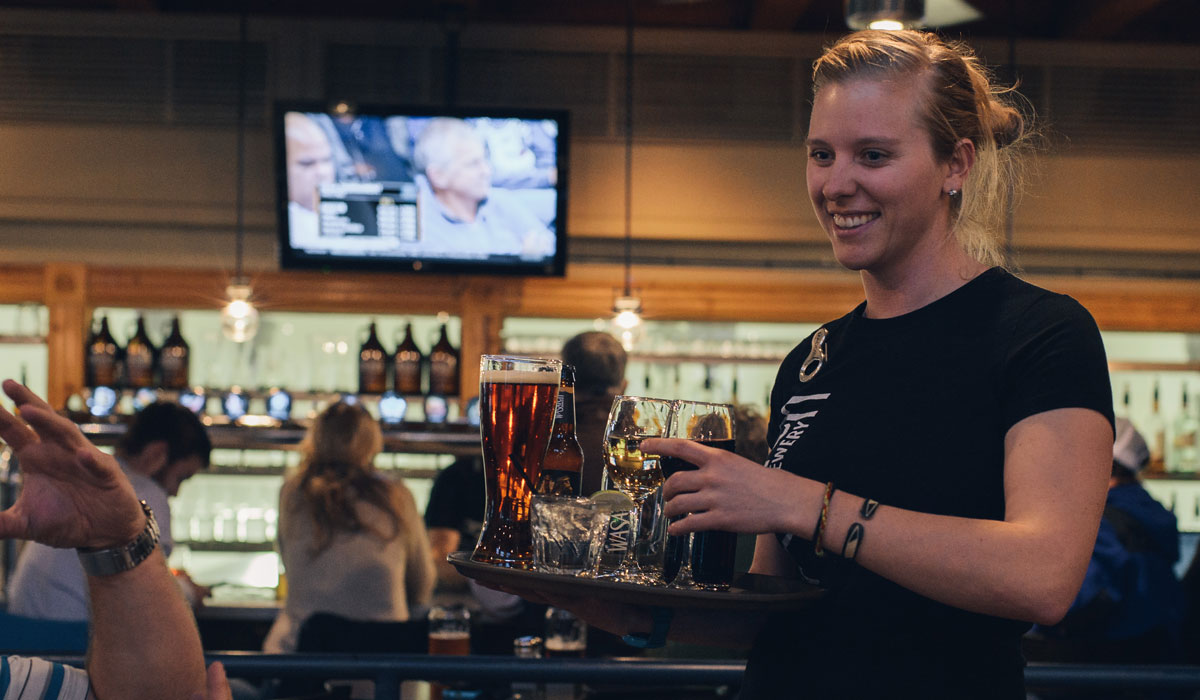 Though Utah is still home to many bizarre liquor laws (See: Zion Curtain), it could be argued that the proximity of top notch skiing to quality craft beer is seldom closer than in Park City. The lower mountain runs at Deer Valley, Park City (Resort) and Canyons basically dump you into downtown while Solitude, Brighton, Alta and Snowbird are a mere hour's drive away. In Park City, you'll find Wasatch Brewery, the state's first brewpub and makers of tongue-in-cheek beers like Polygamy Porter and Evolution Amber Ale. The town is also home to Park City Brewery and the soon to open RoHa Brewing who will come out of the gate with cans. For an Old West nightcap, mosey down to the High West Distillery saloon where you can find selections from Utah's Red Rock Brewing Company and Uinta Brewing alongside High West's various bourbons, ryes and aged whiskey blends.
(FIND A BEER SCHOOL: CraftBeer.com's Big List of Beer Schools)
---
Truckee, California
Lake Tahoe boasts 15 different ski resorts around its shores none more legendary than Squaw Valley, a 1960 Winter Olympics site. Rest your head in Truckee on the north shore of the lake, 20 minutes from Squaw and home to the award-winning FiftyFifty Brewing Company. Ask for the Spring Fever blonde ale or Totality Imperial Stout, both GABF medal-winning beers. Keep an eye out for the Eclipse series, various barrel-aged versions of Totality. After your heart has stopped racing from sending Squaw's famed Palisades headwall it's on to Mellow Fellow. A gastropub with 40 taps, the beer selection includes the latest from California heavyweights like
After your heart has stopped racing from sending Squaw's famed Palisades headwall it's on to Mellow Fellow. A gastropub with 40 taps, the beer selection includes the latest from California heavyweights like Stone Brewing, The Lost Abbey and Modern Times Beer as well as selections from smaller guys such as Belching Beaver Brewery, Heretic Brewing Company and Coronado Brewing Company.
---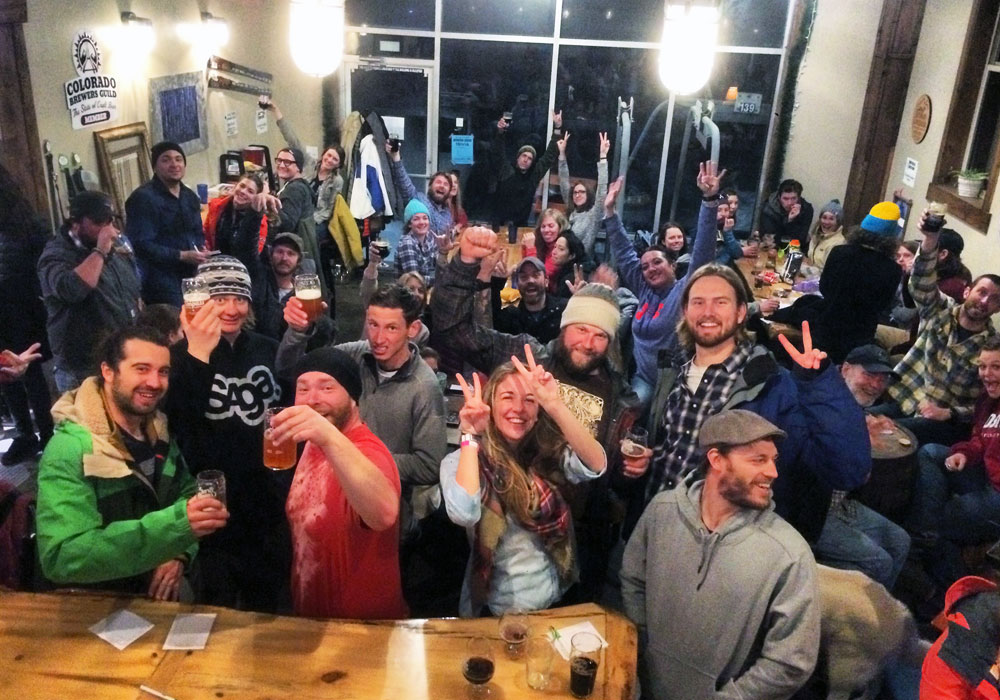 Frisco, Colorado
Centrally located along Colorado's main ski corridor, you could spend an entire lifetime exploring the eight resorts within an hour of Frisco. Plus, you'll avoid the notoriously dreadful I-70 traffic. Dubbed the "Main Street of the Rockies," the town sits along the scenic expanse of Lake Dillon and is home to the aptly named Backcountry Brewery.
The town of Breckenridge is a quick jaunt south where you can soak in the rustic ambiance of Broken Compass Brewing Company while enjoying local favorites like their Coconut Porter or Ginger Pale Ale. One exit east of Frisco you'll find the neighboring towns of Silverthorne and Dillon, home to The Bakers' Brewery, Dillon Dam Brewery and Pug Ryan's. Just remember, you're skiing the next day so get some rest.
---
Victor, Idaho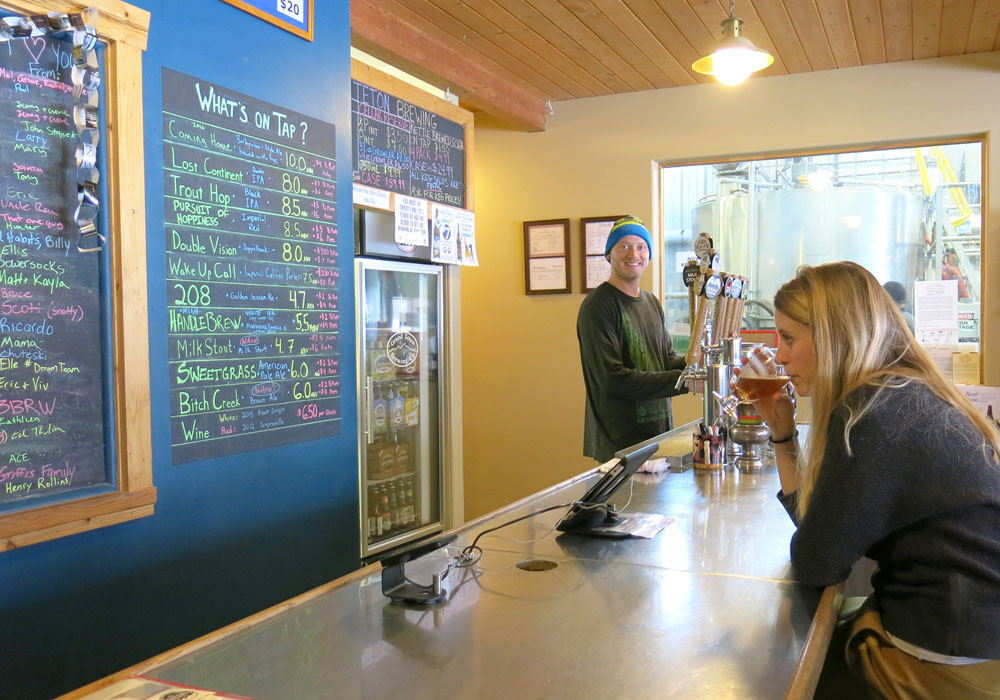 Want to ski the best the Tetons have to offer but don't feel like isolating yourself in Grand Targhee or breaking the bank in Jackson Hole? Opt for Victor, Idaho, conveniently located halfway between the two resorts. There you'll find Grand Teton Brewing, the godfather of Wyoming/Idaho breweries. Founded in 1988 by Charlie and Ernie Otto, the brothers were paramount in lifting restrictions on brewpubs and are also credited with reintroducing the growler to the American drinking public. Just as passionate is Wildlife Brewing, makers of inventive hoppy IPAs like their recently brewed 10th Anniversary Ale and 8 Grain IPA.
You'd be remiss, however, if a stop at Thai Me Up in Jackson was not on the agenda. Besides above average Thai cuisine and Kung Fu movies, you'll discover the latest from Melvin Brewing among the restaurant's 20 taps. Time your trip to the Tetons at the right time of year and you might even witness the Gelande Quaffing National Championships, the ultimate in team après ski imbibing.
(HAPPY HUNTING: 2017's Biggest Craft Beer Releases)
---
Bethel, Maine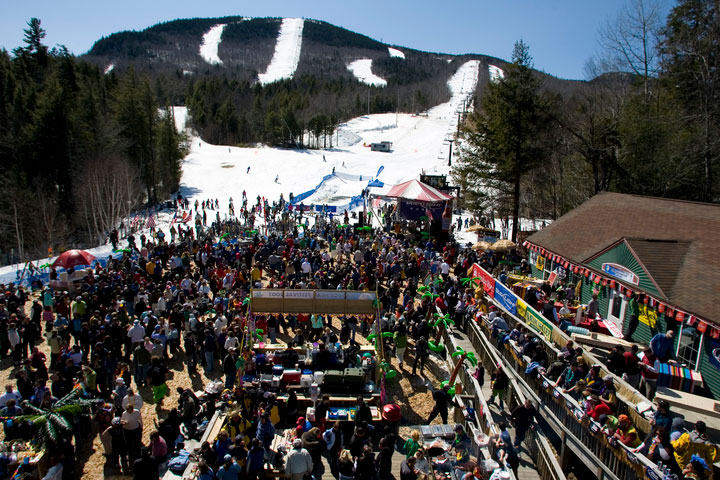 New Englanders have been skiing Sunday River since 1959 and the mountain is still Maine's most visited resort. That's almost as long as Shipyard Brewing has been in operation so it makes sense that the venerable Portland, Maine, brewery has an outpost on mountain. There you can warm up between runs with a classic export ale or something more seasonal such as the Prelude Special Ale, a rich, nutty winter warmer.
Before heading back to town, check out the après scene at the Foggy Goggle where you can score brews by Banded Horn Brewing Company and Rising Tide Brewing Company. In town, Sunday River Brewing Company pours flagships like Mountain Mamma IPA and Sunday River Alt to help you wash down a lobster roll (this is Maine after all). At Farmer's Market & Taps the draught list is stocked with sought-after selections like Lunch from Maine Beer Company or The Substance from Bissell Brothers — both juicy New England-style IPAs — ditto at Suds Pub where the bar carries Foundation Brewing Company, Bar Harbor Brewing Company and Sebago Brewing Company.
CraftBeer.com is fully dedicated to small and independent U.S. breweries. We are published by the Brewers Association, the not-for-profit trade group dedicated to promoting and protecting America's small and independent craft brewers. Stories and opinions shared on CraftBeer.com do not imply endorsement by or positions taken by the Brewers Association or its members.