The heat of summer is in full swing and the only way to deal is to find a swimming hole and a cold beverage. Thanks to the Jimmy Buffet and the original Parrothead, fruity and tart margaritas are more or less synonymous with summer vacation, and thankfully craft brewers are creating their own take of the beloved tequila concoction.
No need to break out the blender, rocks, or salt for National Tequila Day (or the rest of the summer for that matter) with these craft beers made for margarita lovers. A little sweet and a tad salty, these beers are oh-so refreshing and will make the blazing summer sun bearable.
Redbud Cucumber | Independence Brewing Co. | Austin, TX
Austin is no stranger to heat waves or margaritas so a beer from the live music capital of the world should come as no surprise. Nick Hiller, Independence Brewing's director of marketing, says a particularly brutal summer here in Austin, Texas, working in a 110ºF brewhouse spurred the creation of Cucumber Redbud. "Bored with plain water, the brewers started adding cucumber to the water cooler. Of course it wasn't long before we started adding cucumber to our tart and lemony wheat beer, Redbud Berliner Weisse." Independence took their OG lemony Redbud Berliner Weisse formula and added a twist of crisp, freshly distilled cucumber water for the Cucumber Redbud, for the most refreshing spritzy tipple any margarita lover will enjoy. The cucumber addition cuts some of the lactic tartness, and delivers a lingering and refreshing cucumber flavor on the finish. Hiller continues, "It's a great option for people who love the profile of a margarita and are looking to cut that tartness with something other than sugar." Paired with your favorite bloody mary mix, it makes a mean michelada too.
(Style Spotlight: Contemporary Gose)
Blood Orange Margarita Gose | TrimTab Brewing | Birmingham, AL
Blood Orange Margarita Gose beer is a saving grace in hot weather. The beer is juicy with tangerine and blood orange puree, and lime peel. Add in Himalyan pink sea salt for a margarita-like brininess that will keep you coming back. It'll remind you of juicy popsicles of your childhood and happy hour margs all at the same time creating a satisfying thirst quencher.
Cultural Convergence Imperial Gose | Coal Mine Brewing & Seedstock Brewery Collaboration | Littleton, CO
Craft breweries love a chance to collaborate and experiment with friends and that's exactly what happened between these two Colorado craft breweries. Cultural Convergence Imperial Gose  starts with Seedstock's Czech/European heritage using simple Czech/European ingredients like Czech Pilsner malt, traditional Czech Saaz hops, European yeast, and slight gose sourness. Then Coal Mine adds some Latino-inspired flavors using cilantro, lime, jalapeno and salt and the result is a truly unique imperial gose. The lime and jalapeno flavor are light on the nose and palate, and you just get a tinge of spice and then a hit of salt, almost like a spicy margarita. This one would be absolutely perfect with a pile of nachos.
Tres Amigos | Elevation Brewing Co. | Poncha Springs, CO
Tres Amigos is brewed with key lime juice and sea salt and is the definition of easy drinking and with the heat waves of the summer. This summer sipper is crisp and clean and finishes with a hint of lime and salt making it the ideal happy hour sipper after a long day. Founder and Director of Brewery operations, Christian Koch, says the beer came to be during bike rides to work with some of the production crew. "We have a 4-mile ride from Salida to the brewery in Poncha Springs and it is just uphill enough that you have to work a bit and you start dreaming about refreshing beers. Leading up to Cinco de Mayo, we wanted to do a spin on our 8 Second Kolsch with adding lime and sea salt and named it Tres Amigos in honor of the bike crew. It was an instant hit with everyone from brewers to ranchers in the tap room. The lime flavor added a second layer of refreshment on top of our already refreshing lager-like Kolsch recipe. The salt is subtle, but detectable on your lips and reminds me of a margarita."
(Related: Spirit Quest: Aging Beer in Tequila Barrels)
SeaQuench Ale | Dogfish Head | Milton, DE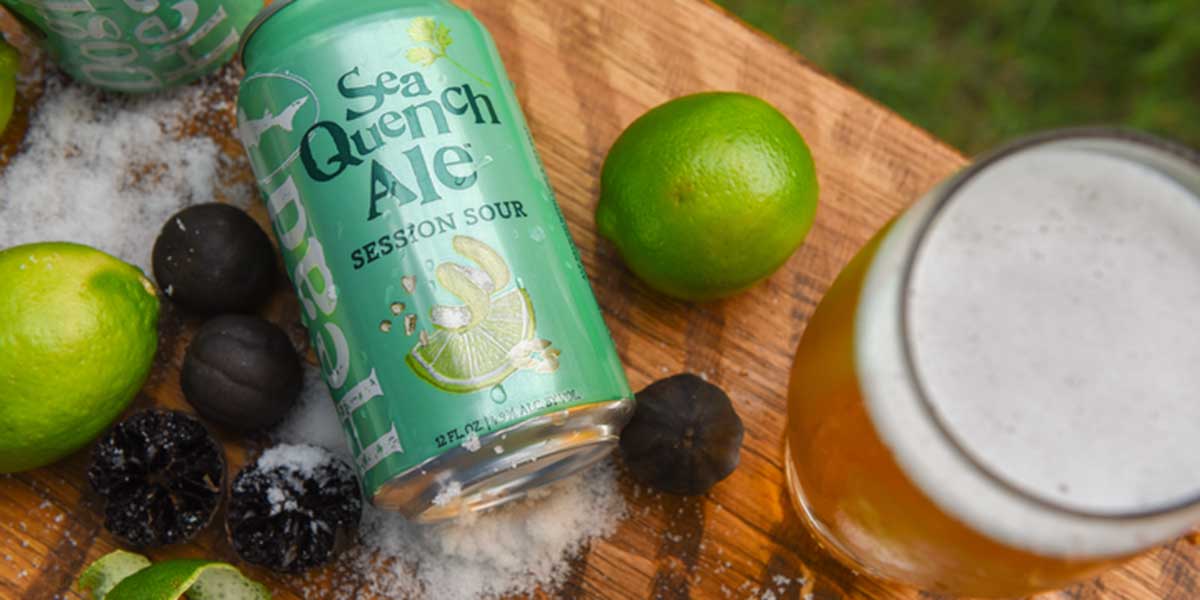 The first taste of the salt on your tongue will make your mouth water and beg for more. The brewers at Dogfish Head originally developed this beer to pair with seafood dishes at Dogfish's restaurant Chesapeake & Maine, and the result was a unique sour mashup of a crisp Kolsch, a salty Gose and a tart Berliner-style Weiss brewed in sequence with black limes, sour lime juice and sea salt. The more you sip the more you'll swear you can feel a gentle sea spray from ocean waves, even if you're just sitting in your backyard with a lawn chair in a baby pool (No judgement–it's freaking hot out there!). Try rolling your can in salt, drink just a little SeaQuench from the vessel and add a splash of tequila on top for to kick it up a notch.
Prickly Pear Zinger | Tarpon River Brewing | Fort Lauderdale, FL
 Located in Fort Lauderdale, Florida, Tarpon River clearly knows how to beat the heat because there's no way you could feel prickly in the humidity with a Prickly Pear Zinger beer in your glass. If you've ever had a prickly pear margarita, this award-winning beer mimics the sweet and sourness of that drink almost too well. Not too sweet or sour, the 4.5% ABV Zinger is a Berliner-style Weisse walks that thin the line well thanks to the fruit forward prickly pear giving you melon/berry jam notes and finishes with a delicate tartness.
(More: How Long is My Crowler Good For?)
Tritonia with Cucumber and Lime | Creature Comforts Brewing | Athens, GA
Creature Comforts Brewing co-founders Adam Beauchamp and David Stein both love margaritas and knew a Gose-style beer would be a great opportunity to make a beer with similar flavors. The lime in this Tritonia is definitely what sets it off in that direction, and the addition of cucumber adds to the refreshment. Pro-tip is to add in a splash of your favorite silver tequila for a beer cocktail packing a punch.
Key Lime Pie Gose | Westbrook Brewing Co. | Mt. Pleasant, SC
With just a hint of cinnamon and vanilla, this one may be more key lime pie than margarita, but it is no less refreshing or delicious. If you're going to have dessert in the summertime, a cool slice of key lime pie is the way to go, don't you think? Westbrook goses always bring that cheek-pinching pucker, and this one's fragrant key lime aroma and tart flavor makes your palate sing with every swig, like dancing down Key West's Duval street without a care in the world.
Margarita in Gose | Second Self Brewing Co. | Atlanta
Margarita in Gose—dubbed MIG around the midtown Atlanta brewery—is a partner beer to Second Self's Maverick in Gose. (Yes, if you're following along at home, both beers are "Top Gun" themed!) Second Self brewers use organic Florida orange peels and fresh-squeezed lime juice to give MIG its margarita-like taste. Margarita in Gose is also saltier than Maverick, adding to the margarita-like experience. At 4.3% ABV, this gose is the perfect patio-sipping wing(wo)man — or, as the brewery suggests, "flying inverted."
(More: American Brewers Fall for Brazil's Spicy Amburana Wood)
Briny Melon Gose | Anderson Valley Brewing Co. | Boonville, CA
 Salted watermelon is one of the most refreshing summer snacks, so why not have those flavors in a beer? The Briny Melon Gose from Anderson Valley Brewing starts off with subtle sweetness from the watermelon and then sea salt tickles your tongue creating a sessionable, thirst-quenching beer.
Tropical Blast Gose | Iron Hill Brewery & Restaurant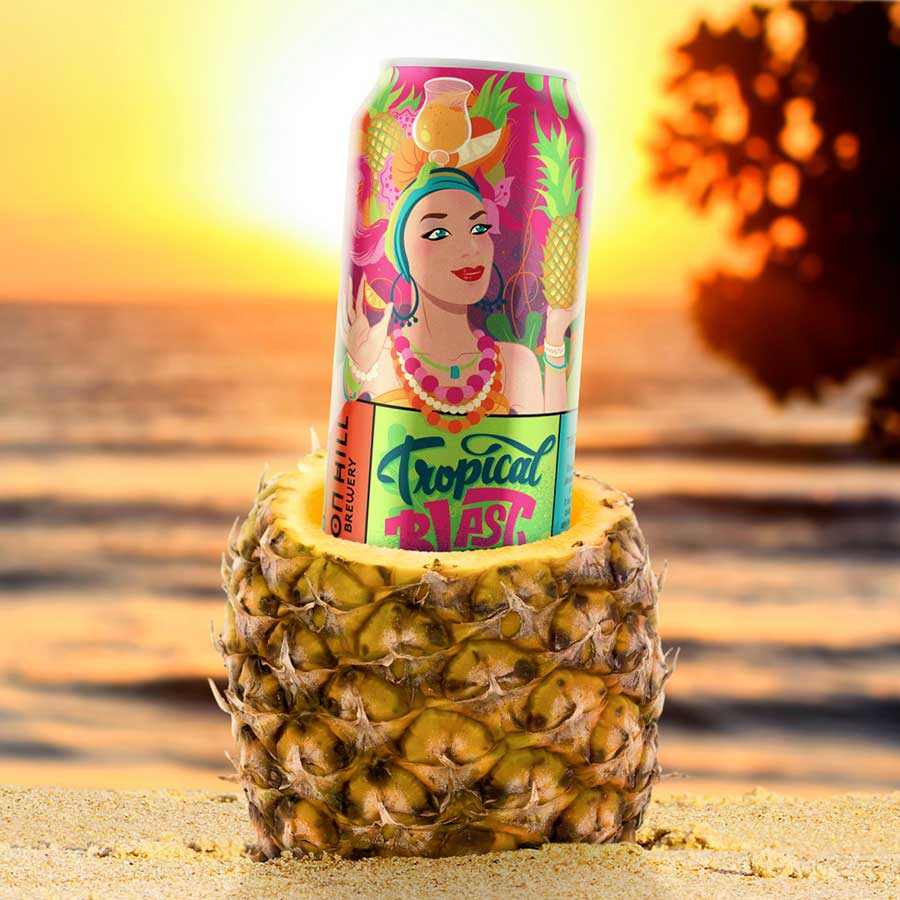 Vibrant flavors of blood orange and pineapple dance the samba together in this tropics-inspired beer. It starts off juicy, slightly sour, and totally refreshing. Then the Gose style breaks out its signature move–a subtly salty finish that will leave you craving an encore. Mark Edelson, director of brewery operations, says, "A gose is the perfect beer alternative for a margarita lover due to its slightly tangy and salty flavor. Typically, goses are brewed with the addition of spices such as coriander and are fermented with wild, top-fermenting yeast to produce a dry, bubbly and puckery product. That, combined with a low ABV and sweet, acidic taste, creates a great summertime beer."
When it is 90 degrees and the humidity is like a wet blanket, channel your inner Jimmy and think of soft sandy beaches, a salty ocean breeze, and crack one of these beers made for margarita lovers. Even if you're completely landlocked this summer, these tart margarita-like beers will keep you feeling cool through Labor Day.
CraftBeer.com is fully dedicated to small and independent U.S. breweries. We are published by the Brewers Association, the not-for-profit trade group dedicated to promoting and protecting America's small and independent craft brewers. Stories and opinions shared on CraftBeer.com do not imply endorsement by or positions taken by the Brewers Association or its members.