A staple offering of any craft brewery is their brewery tour. It serves as a needed introduction to the brewery's operation, their beer and their people. The most memorable offer a combination of free beer and entertaining antics from the tour host. At their core, brewery tours connect the brewery behind the beer with those who drink it. 
Recently, brewers across the nation have begun to reimagine their tours in an effort to be more inclusive to the unique needs and desires of their drinking audience. One particularly underserved group has been those craft beer lovers who are deaf.  
Thankfully, that is now changing as breweries add American Sign Language (ASL) interpreters and other elements in an attempt to better embrace these members of their drinking audience. 
Streetcar 82 Leads the Way 
While implementing ASL-guided tours might be new to some, it makes up the foundation of Streetcar 82 Brewing Company, which is one of the few 100 percent deaf-owned and operated breweries in the country. According to Owner and Founder Jon Cetrano, Streetcar 82 "pretty-much" only conducts their brewery tours in ASL. 
To Cetrano, the ASL focus is important because it's both an inclusive practice and a smart business strategy. Based in Hyattsville, Maryland, Streetcar 82 is a short drive from the Washington, D.C. area. The district is a hub for the deaf community due to the proximity of Gallaudet University, a private university for the deaf and hard-of-hearing, and the availability of accessible federal government employment opportunities. 
Alongside tours, Streetcar 82 also offers ASL classes in their brewery that give community members and homebrewers alike a new way to learn and talk about beer in an ASL-focused format. 
An Opportunity to Build Stronger Connections 
Like Streetcar 82, many breweries across the nation have realized the opportunity in front of them to connect with these members of the drinking community. Some inspiration can come from simple observations in their taproom.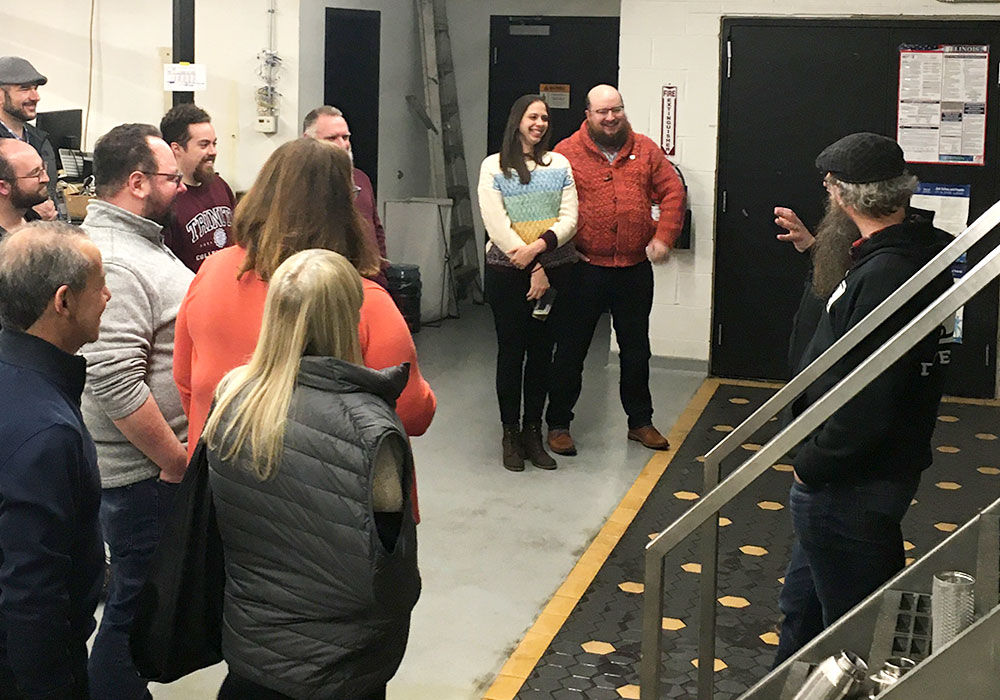 "We've noticed some folks signing in our taproom over the years," Dovetail Brewery's Tour Coordinator Shana Solarte says. "I thought finding an interpreter to come along was an easy way for us to make the tours more accessible and inclusive for all of our patrons."
(More: All Together: Breweries Collaborate to Help Hospitality Workers)
The popular Chicago brewer, most known for their authentic takes on easy-drinking European styles, just hosted their first ASL-guided tour earlier in March. 
For Industrial Arts Brewing Company in Garnerville, New York, the opportunity to introduce ASL-guided tours came as the brewery continued to expand its hospitality services in the hopes of establishing stronger connections with their consumers. The addition of ASL tours helps the brewery, now in its fourth year of operation, establish a more meaningful relationship with their growing audience. 
"One of our commitments of service is the focus on customized conversations we have surrounding our product with individual guests," says Christine Olivier, programs and events manager for Industrial Arts. "The addition of services for our deaf and hard-of-hearing customers makes it possible to reach deeper into our community."
The Importance of the Interpreter 
Similar to a brewery's standard tour, the only real addition for an ASL-guided version is the presence of an interpreter, who relays the verbal narration of the main tour guide via sign language to the deaf and hard-of-hearing patrons in the group. 
The point is to make everything the same, so that everyone can enjoy the unique intricacies of their local brewery. For Industrial Arts, their ASL-guided tour is composed of their bar manager along with an ASL interpreter. Unique to these tours is the 90 minutes of interpreted bar service that follows the tour, so that these patrons can communicate with the taproom staff without barriers. According to Olivier, the new tour format has been well received. 
(More: What Happened to the Beer? World Beer Cup Entries Saved)
"We just had our first tour on February 22, with 20 enthusiastic visitors from the hearing and the deaf and hard-of-hearing communities," she says. "The energy has been positive and enthusiastic so far!"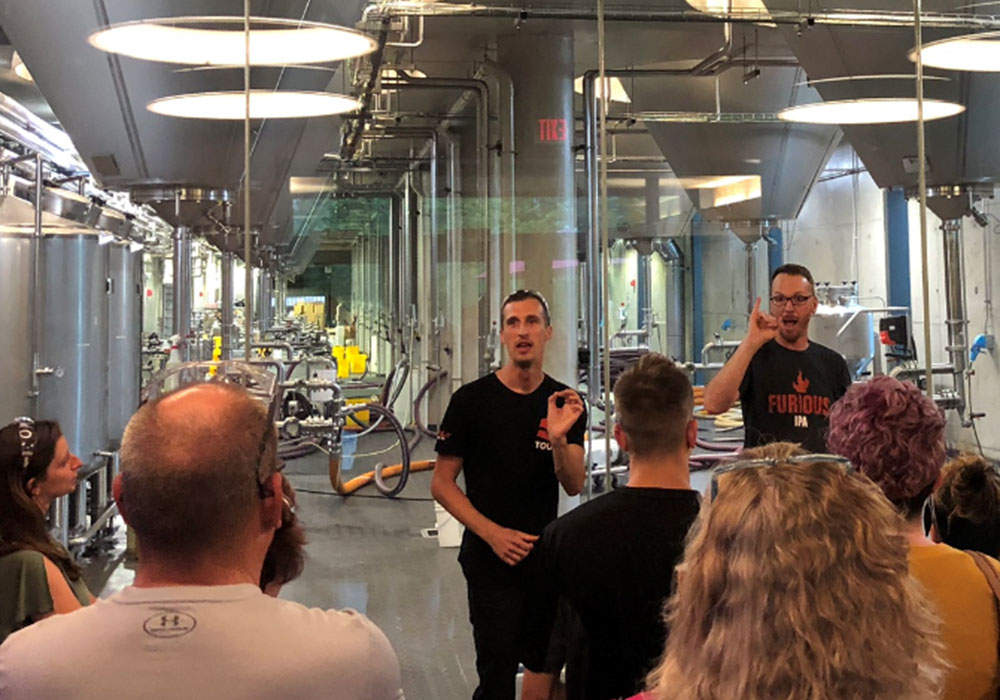 In an effort to make their ASL-guided tour more interactive, Minnesota's Surly Brewing Company partnered with local interpreting company CODA Brothers. Tour Coordinator Ty Rushmeyer says the presence of the CODA Brothers interpreter provides more opportunities for interactive learning, and encourages first-time visitors to ask questions they may not have had the opportunity to ask previously. 
"The feedback has been overwhelmingly positive, and we have received much heartfelt gratitude for providing this experience," Rushmeyer says.
Zilker Brewing Expands Beyond the Standard Tour 
Austin, Texas-based Zilker Brewing Company had similar aspirations for their ASL-guided tour. According to Taproom and Events Manager Rachael Hackathorn, the Zilker team hosted a four-day workshop for staff to learn the basics of ASL, in preparation their "Terp'd" tour. This ASL-guided tour had also been hosted by Austin brewing colleagues like St. Elmo Brewing Company and Austin Beer Garden Brewing Company. Unfortunately, the initial results for their "Terp'd" tour weren't great. 
"We didn't have a great turn out, and personally, I think that at some point most brewery tours blur together," Hackathorn says. "We all have shiny tanks and make beer."
So, instead of an ASL-guided tour, Zilker developed a new way to embrace the deaf and hard-of-hearing community in Austin. Through a partnership with Austin's ASL Craft Beer Club and a working relationship with community partners like Tabytha Rodriguez's Draft & Craft pop-up market, Zilker provides their taproom space for Deaf beer drinkers' happy hours, which Hackathorn says is much more successful.
Along with a trained staff that can properly communicate with their hard-of-hearing guests, Zilker goes above and beyond to make their taproom more accessible for these special happy hours. This includes bringing in vendors for interpreted tarot card readings, which is funded by Draft & Craft. Zilker is also cognizant of the proper lighting, music and other environmental factors needed to make these happy hours as enjoyable as possible. 
'Being Inclusive is Everyone's Priority'
Beer is supposed to be fun, and taprooms are supposed to be places that everyone can enjoy. The above efforts from these breweries – and many others around the nation – highlight how important these initiatives for inclusiveness are for the breweries and their staff. 
For Olivier at Industrial Arts, the thought process is simple. All members of the community, regardless of race, gender, sex, economic class or disability, are welcome to be part of the brewery experience and the brewery tour process. It's up to the brewery to ensure a warm welcome upon arrival. 
"If they are using their resources to enjoy our product, we should use our resources to engage their curiosity around it," Olivier says. "We are looking forward to expanding the ways we can have these conversations with all who are interested."
Breweries are vital to their communities and an essential service for so many, regardless of backgrounds. Encouraging an inclusive environment at your taproom shouldn't be seen as add-on, it should be part of the brewery's mission and purpose. 
Such is the case for Dovetail Brewing. 
"Being inclusive is everybody's duty, and all kinds of people drink beer," Solarte says. "Everyone is welcome at Dovetail, and we want to show that as well as say it."
CraftBeer.com is fully dedicated to small and independent U.S. breweries. We are published by the Brewers Association, the not-for-profit trade group dedicated to promoting and protecting America's small and independent craft brewers. Stories and opinions shared on CraftBeer.com do not imply endorsement by or positions taken by the Brewers Association or its members.