The leaves change, nights get crisp, and football thankfully returns to the lives of millions Americans around the country. The coming of football season induces waves of excitement, and sometimes anxiety, as your team launches into its schedule. Hopefully, choosing which tailgate beer to pack in the cooler for game days only elicits the first of those emotions.
[newsletter_signup_box]
We all have a few go-to tailgate beers, even the folks who make them. We wanted to know what beers craft brewers were stocking up on this football season. We asked 10 brewing minds for about favorites. Here is what they said.
Ben Smith, Surly Brewing Head Brewer | Minneapolis
Team: Minnesota Vikings
"The only team that matters is the Minnesota Vikings, if you're a true Minnesotan. I love to start Sundays at Surly Brewing Co., tailgating before taking the light rail down to U.S. Bank Stadium.  My go-to beer before games is Xtra-Citra. Low in ABV but big in tropical fruit flavor from 100 percent Citra dry-hop. If I'm not at Surly, I tend to gravitate toward Modist Brewing Co.'s First Call, a coffee-infused light lager. It's one of my favorite coffee-flavored beers in the market."
---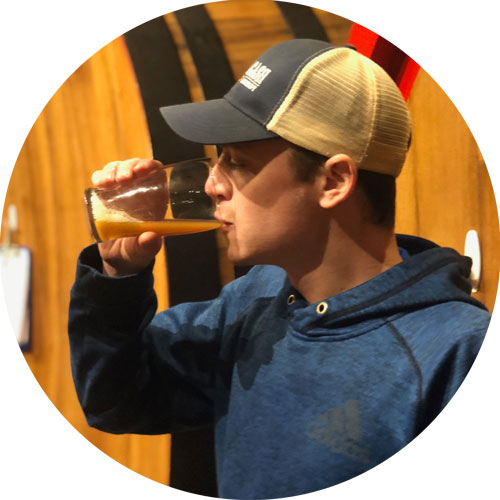 Shane Doherty, Off Color Brewing Head Production Brewer | Chicago
Team: New England Patriots
"It's a pretty easy choice for me. Growing up in Portland Maine, with Allagash Brewing Company just a short walk away, my go-to is Allagash White. In New England, seafood is a big part of the tailgating tradition and White pairs perfectly with all my favorites (i.e. lobster rolls) and makes watching the Patriots win every week feel even better."
(More: What is a craft brewery?)
---
Betsy Lay, Lady Justice Brewer/Owner | Wheat Ridge, CO
Teams: Green Bay Packers, University of Missouri Tigers
"The key to a good tailgate beer is that it needs to go well with whatever food you're grilling up and you need to be able to drink a few of them without becoming that one friend that no one wants to invite to the tailgate party anymore. My go-tos are Oskar Blues Brewing's Pinner and Upslope's Rocky Mountain Kolsch. I like to start with the Rocky Mountain Kolsch because it pairs well with starters like cheeses (Go Packers!) and salads, and it comes in at 5% ABV. Pinner is a session IPA that brings the flavor and depth of an IPA while keeping a low ABV of 4.9% and goes well with grilled meats."
---
Isaac Showaki, Octopi Brewing President and Owner | Madison, WI
Teams: Green Bay Packers, University of Wisconsin Badgers
"We love [Octopi Brewing's] Dachs Premium Lager. [It's a] 4.5% ABV premium lager made with all Wisconsin ingredients–malt, water, local yeast and Wisconsin hops. We are from Wisconsin, so we root for Green Bay Packers and the UW Badgers. Everyone wears either green and gold or red to games. We love our team and have the most fun rooting for them. Going to Lambeau is a true experience. Go Pack Go!"
---
Josh Bischoff, Indeed Brewing Head Brewer | Minneapolis
Team: Minnesota Vikings
"The Vikings are my favorite underachievers! Honestly, when I go to games, I "tailgate" at the brewery I called home for many years: Minneapolis Town Hall. I don't get to stop in often, but Mike's beers are my favorite to tailgate with! I may or may not have enjoyed a Pivo (Firestone Walker Brewing Co.) or Kellerpils (Summit Brewing).
(Graphic: Gold Medal IPAs 1989-2018)
---
Chad Henderson, NoDa Brewing Head Brewer and Owner | Charlotte, NC
Team: Carolina Panthers
"Roaring Riot Pale Ale has the perfect level of hop character for fans who need some hop bite in their beer, but want to remember the last moments of the game. Riot's unique malt backbone, along with rye spice notes, really helps to accentuate the hops used. While it's not strong in alcohol (5.5% ABV), it is still a pleasantly full-bodied and flavorful craft beer!"
---
Adam Curfew, Squatters Craft Beers Co-C.O.O. | Salt Lake, UT
Team: University of Utah Utes
"My favorite team is the University of Utah. I am third generation alma mater so my blood pumps Utah crimson (I guess everyone else pumps regular red). My absolute must-have beers for tailgating are Squatters Juicy IPA–it's nice and sessionable for a long game–and Oskar Blues Can o Bliss when I just need a little more octane."
---
Dan Weber, Dogfish Head Innovation Brewer | Milton, DE
Team: Iowa Hawkeyes
"In the Big Ten, tailgates can be a long haul, so I like to keep tailgating beers super light. This year I think a must-have for tailgating for my Iowa Hawkeye games will be Dogfish Head Slightly Mighty, which hasn't been around in previous falls. An IPA in flavor, but something you can drink for many hours as far as ABV and calories are concerned. Tailgate calories are for brats and burgers, not beer. Go Hawks!"
(More: The Art of Smoke Beer and How to Enjoy It)
---
Jake Schinker, Eagle Park Brewing Co-Owner | Milwaukee
Team: Green Bay Packers
"Tailgate season for me means one thing when it comes to beer: time to dig into the cellar.  One beer that is particularly perfect for Packers tailgate season is Central Waters Brewer's Reserve Bourbon Barrel Barleywine. The 12 oz. bottles of this soul-warming little beer are the perfect way to beat the frozen tundra of Green Bay. They are relatively accessible on shelves, their higher ABV means less long, arduous, trips to the restroom, and not being in a larger format bottle means you don't even need to share."
---
Adam Beauchamp, Creature Comforts Brewmaster | Athens, GA
Team: University of Georgia Bulldogs
"For me, our clean, crisp, and easy-drinking lager, Classic City Lager is the perfect tailgating beer. It's super refreshing for our warm fall afternoons here in the South, and low enough in ABV to reasonably have a few before the game starts. If you're tailgating in a cooler climate and want something a bit more fall appropriate, Death and Taxes from Moonlight Brewing Co. in Santa Rosa is a nearly perfect black lager that is worth seeking out."
With a bevy of lagers, IPAs and even barrel-aged beers listed above, it will be easy to drink local tailgate beers while cheering on your favorite team. I'm already daydreaming about the tailgate beers I'll be bringing to an upcoming Wisconsin Badgers football tailgate. Here's to hoping your favorite football team's game day dreams don't get dashed too soon. Cheers to Week No. 1!
CraftBeer.com is fully dedicated to small and independent U.S. breweries. We are published by the Brewers Association, the not-for-profit trade group dedicated to promoting and protecting America's small and independent craft brewers. Stories and opinions shared on CraftBeer.com do not imply endorsement by or positions taken by the Brewers Association or its members.