No two days are the same for Danii Oliver. She's the owner and brewer at Brooklyn's Island to Island Brewery as well as a homeschooling mother of two. Like many parents who are also small business owners, Oliver's life isn't neatly separated into "work" and "family," which means her kids are beside her every step of the way.
"My children are my coworkers. They are where I am," explains Oliver. "Breweries are classrooms. They are laboratories. They are places where people come together."
She laughs at the thought of having the option to take paid leave while recovering from pregnancy and birth, or even unpaid leave.
"When I was in labor, I was brewing beer," she says. "I think I brewed five beers in one week while in labor."
It wasn't that she wanted to work until her water broke. She had to. Profit margins at small breweries are notoriously tight, and while states like New York do offer paid family leave insurance plans for self-employed workers, there are financial costs and waiting period restrictions that can make it difficult to take advantage of the limited state assistance. On top of that, the manager handling day-to-day operations for Oliver left the company, which forced her to choose between caring for herself and caring for her brewery.
"I received advice to take time off, but how would I feed myself?" she says with a sigh. "There is no support."
As Oliver, 34, and her generation have children—albeit later and at a lower rate than generations past—more beer professionals are increasingly finding themselves in similar situations as Oliver. Child care costs, lack of parental benefits, and other obstacles mean employees working in the estimated 7,500 breweries across the United States face the potential of their children existing in alcohol-centric spaces.
This has contributed to a cultural redefinition of the modern role of breweries, how the industry views employees with children, and the challenges and stigma parents endure when working in beer.
The Astronomical Cost of Child Care in America
This isn't relegated simply to the beer industry. The "gig economy," a collection of part-time or temp work, has blossomed in the United States, thanks in large part to circumstances related to having a family. But the layer of context that alcohol adds makes parenting in-and-around beer contentious.
In recent years, there has been heated discussion in beer media and among beer lovers about whether children should be allowed in brewery taprooms in the first place. However, when it comes to working at a brewery, it's not always a question of choice.
According to the Brewers Association, publishers of CraftBeer.com, the American craft beer industry employs over half a million people, with 150,000 of those jobs attributed directly to breweries and brewpubs. They also estimate the average salaries for brewery employees of any level to be between $36,000 and $70,000 annually.
In 2018, writer Jeff Alworth held a survey that showed about half of responding industry professionals made between $30,000 and $50,000 per year.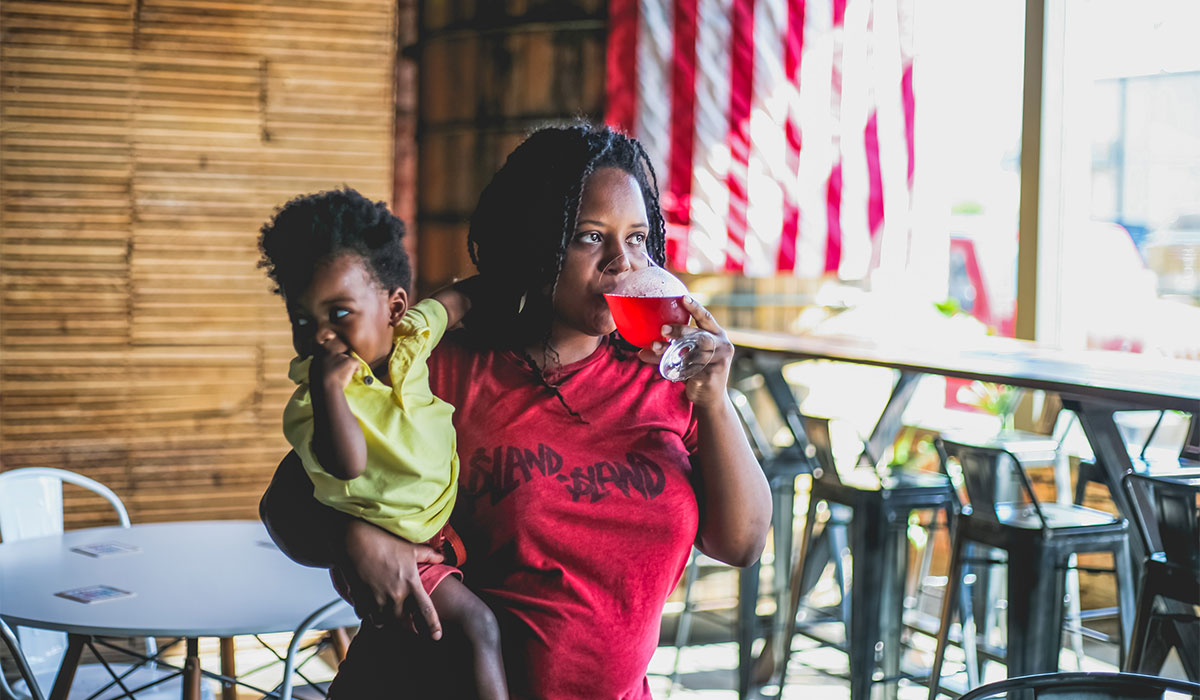 But as housing and child care costs continue to rise, wages in production and service have flatlined, if not dropped outright.
In short: choosing to work in craft beer means choosing a career path that's fun, but less often lucrative and not always accommodating to kids. Once children enter the mix, it becomes an even tighter financial squeeze.
America consistently ranks last when it comes to familial support policies and is the only country among 41 developed nations that doesn't require paid leave for parents after giving birth or adoption.
The price tag for child care is also astronomical compared to other countries. For instance, on average, couples in the United States spend over 25 percent of their income on child care costs. For single parents, it's over 50 percent. But in places like Denmark, the average cost percentage for couples is closer to 10 percent. Thanks to well-established societal support policies, for single parents it's less than 3 percent.
In beer-heavy places like San Diego County, California, a household can expect to pay $15,513 annually for full-time infant care. For someone that makes $50,000 per year, that's 31 percent of their salary. To put that in context, the U.S. government defines "affordable care" as spending 7 percent or less on child care. Considering that 95 percent of breweries make less than 15,000 barrels per year in the United States, which is the threshold to be considered a "micro" brewery by the Brewers Association, it's not likely that the average salary for an employee at a small brewery would be enough to make ends meet without a second job, spouse or partner's income, or outside assistance.
(WATCH: Beer, Punk Rock and Drag at Denver's Ratio Beerworks)
Gauging Employee Benefits for Small Breweries
Issues related to children don't start once a child is born and don't stop at child care costs. In the nearly dozen people directly employed by the beer industry who I spoke to for this story, paid time off—or even an official policy for it—was rarely mentioned. And while the Brewers Association doesn't specifically break out parental leave policies in its 2018 salary and benefits report, it does give insight into the overall state of benefits offered in a range of breweries.
The more barrels breweries produce annually, the more likely they are to offer benefits like health insurance, dental insurance, retirement, paid vacation, paid holidays, paid sick time, and unpaid leave of absences. The percentage of breweries who offer these benefits to full-time brewery production employees goes up exponentially with annual barrel output.
Benefits for part-time employees are reduced across the board, but that's to be expected. However, non-production brewery employees are also at risk of being offered fewer benefits than their back-of-house counterparts.
Paid sick time offered at brewery with output of 15,001-40,000 barrels annually

Full-time production employees
Offered to 90.0 percent of employees
Full-time non-production employees
Offered to 79.2 percent of employees
Part-time production employees
Offered to 50.0 percent of employees
Part-time non-production employees
Offered to 47.1 percent of employees
According to Bart Watson at the Brewers Association, women make up less than 10 percent of brewing positions. In fact, the only position where women make up the majority is in non-managerial service staff, which tends to be dependent on minimum wage and/or tips.
Women aren't the only ones suffering from parental bias, but it's disproportionately weighted towards them, inside and outside of the craft beer community. This is especially true for black, Latinx, Asian, and Native American women, who already earn even less than white women on average in any industry. As an Arawak American Indian (a group of people indigenous to the Caribbean) and as a woman, Oliver says she's faced personal and systemic prejudice for her race, gender, choice to have children, and to share her brewing life with her children.
"Every time I try to get a little higher, I hit a glass ceiling," Oliver explains. "And the glass ceiling for a woman of color is much lower than for a white woman."
When one considers the gender disparity of production vs. non-production employees, as well as the fact that women are more likely to be part-time employees solely because of familial pressures, women, and especially women who are parents, could be getting the short end of the stick.
(READ: Brewer Honors Grandfather's Legacy as Navajo Code Talker in WWII)
Breweries Can Attract More Women by Welcoming Families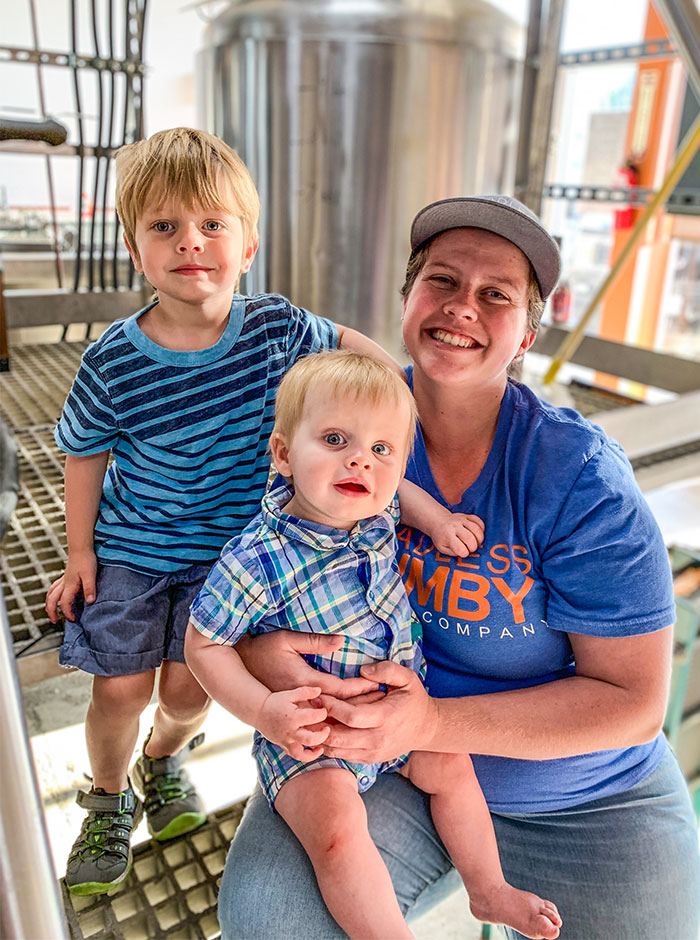 While moderating the 2019 Beer Marketing and Tourism Conference "Sharing Best Practices" summit, Stasia Brewczynski, director of communications at Pike Brewing Company in Seattle, addressed how women are less likely to go places where children are not allowed due to the fact they are statistically more likely than men to be the primary caregivers of families.
With these stats in mind—coupled with the fact that year over year, more women are entering the craft beer space as both consumers and employees—Brewczynski sees a moral and monetary value for breweries to support the new reality of beer lovers, employees, and their children.
"Between parents of all genders spending more time and leisure time with their kids and women being more likely to become mothers than they were a decade ago, it's good business to make spaces family-friendly," says Brewczynski.
Stacey O'Connor agrees. She started working as a cellar person when her first son was four months old and now works at Headless Mumby Brewing Company in Olympia, Washington. She handles the taproom, sales calls, deliveries, schedules events and festivals—and does it all often with both kids in tow.
"So many breweries are small, family businesses so it only makes sense that, as an industry, breweries make room for parents," O'Connor explains. "The craft beer industry is in a unique position of removing some of the stigma surrounding beer by opening up breweries and taprooms to families both as employees and as customers."
For so many, "craft beer" has taken on a meaning of "community," which by definition would include people of all ages. European biergartens were originally family affairs, and still are to some extent, where coexistence with guests of all ages is the rule rather than the exception.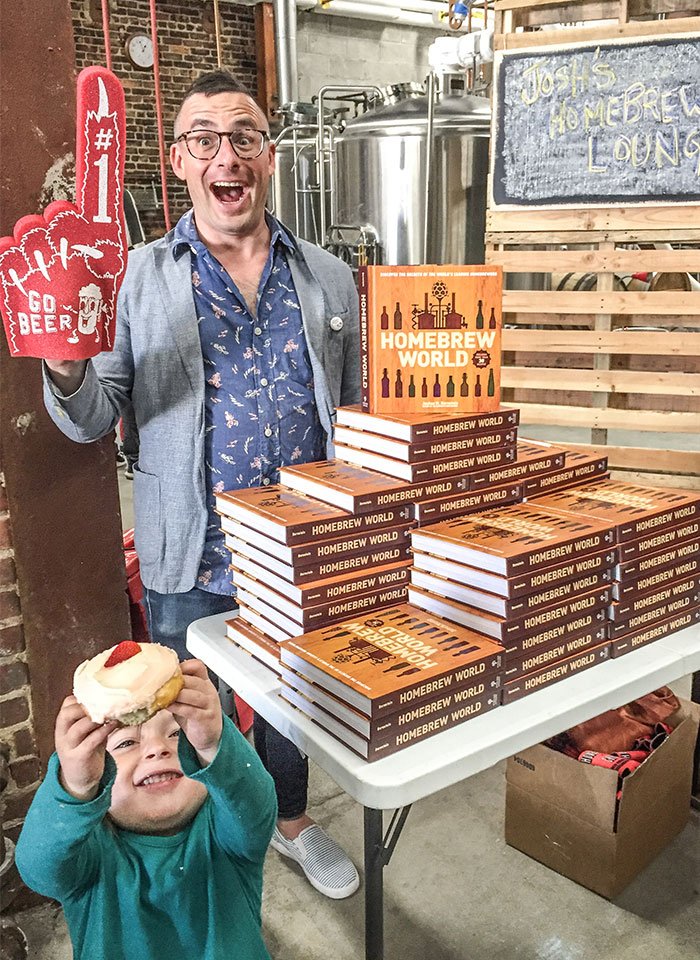 Joshua Bernstein, a New York-based beer journalist, author, and father of one, says a swing back towards acceptance and support of children-to-adults in drinking spaces is inevitable, although it's still in a nascent stage.
"There aren't a lot of guidebooks out there on how to raise a kid while working as a beer professional," says Bernstein. "It's all really new territory for all of us out there."
(READ: Epic Craft Beer Road Trip Along the Great River Road)
How Breweries Can Adapt to and Attract Working Parents
Parents who work in beer have plenty of suggestions on low-cost ways craft breweries could account for the growing number of parents working in the beer community. Julie Rhodes, a mother of two and former regional sales manager for a beer importer, recommends offering more flex hour options when possible or simply making reasonable (and temporary) accommodations for pregnant workers. Bobby Bump, head brewer for Right Proper Brewpub in Washington, D.C. hopes more breweries will consider adding flex spending accounts that parents can put towards the cost of child care.
Financial decisions like committing to paying livable wages or enacting a minimum paid parental leave policy could ultimately set a standard for similar industries to follow. One example is Modern Times Beer in San Diego; they offer unlimited time off and voluntarily committed to a $15/hour minimum wage in 2016. (Businesses in California aren't required to meet that minimum hourly wage until January 1, 2023.) That hasn't seemed to stifle Modern Times' growth. In fact, they have since opened numerous satellite locations across California as well as Portland, Oregon, with even more on the horizon.
Benefits to adapting to the new demographic of beer workers aren't limited to moral milestones. The cost of training new employees can run into the thousands. Without implementing policies to cater to this shifting demographic, breweries run the risk of losing valued employees. For instance, people like Rhodes, who ultimately found the demands of corporate employment too strenuous for a balanced family life. She called it "incredibly difficult," but decided to launch her own brewery sales and marketing consulting firm in order to craft the future she wanted for her family.
"There is no balance," she says. "Only your best effort." Like Oliver, Rhodes says that without support from the beer community at large, finding that equilibrium between work and family will always be a work-in-progress for those who choose to pursue both.
CraftBeer.com is fully dedicated to small and independent U.S. breweries. We are published by the Brewers Association, the not-for-profit trade group dedicated to promoting and protecting America's small and independent craft brewers. Stories and opinions shared on CraftBeer.com do not imply endorsement by or positions taken by the Brewers Association or its members.