In 1942 the United States Marine Corps recruited 29 Navajo men on a secret mission. The mission? Develop an indestructible, indecipherable code to confuse the Japanese in the Pacific theater during World War II. Using their native language, these Navajo Marines created a code transmitted by radio and telephone. At the war's end in 1945, over 400 Navajo Marines served their country and the code they developed remained unbroken. They are known as the Navajo Code Talkers.
One Code Talker is being memorialized by brewer LT Goodluck at the Hellbender Brewing Company in the District of Columbia. LT is dedicating a pale ale, Code Talker, to his grandfather, John V. Goodluck, a Navajo Code Talker. He served in Guam, Guadalcanal, Bougainville and Iwo Jima.
In 1942, it took machines 30 minutes to encode, transmit and decode a three-line English message. The Navajo Code Talkers could perform this same task in 20 seconds.
(More: Why Breweries are Making Non-Alcoholic Craft Beers)
The Navajo Code Talkers participated in every assault the U.S. Marines conducted in the Pacific from 1942 to 1945. They staffed elite Marine Raider battalions and Marine parachute units and transmitted crucial radio and telephone messages in their native language. The sentiment shared by Marines is that if not for the Navajos and their communication skills under duress, the U.S. could have lost the major battle on Iwo Jima.
"Growing up on the Navajo reservation you learn about them in school," brewer Goodluck says. "I was fortunate enough to be the grandson of a Navajo Code talker, so my dad's side of the family talks about Code Talkers all the time. It was around the 1980s when they began to get recognized outside the Navajo Nation."
(Related: Daughter of Fallen Marine Creates Beer to Fund Desert Storm War Memorial)
Code Talker Pale Ale is offered exclusively on draft at the Hellbender Brewing Company. A few kegs were on draft around Washington, D.C., but Hellbender's CEO and head brewer Ben Evans says the beer sold out quickly.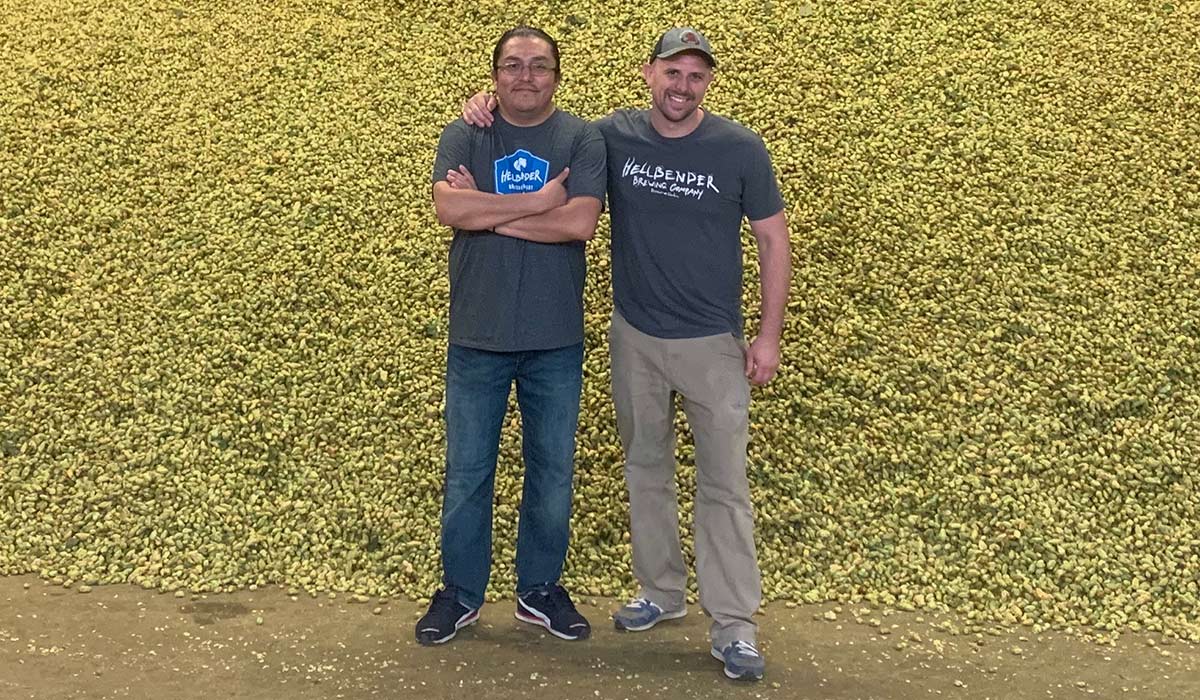 Code Talker Pale Ale is bursting with aromas of grapefruit and juniper. The flavor profile of citrus skin and pronounced pine comes from the use of Chinook, Columbus, and Comet hops. According to brewers Evans and Goodluck, only a handful of hops were used in the boil and it was dry-hopped with over three-and-a-half pounds per barrel.
"I miss those more resiny, dank, grapefruity characters–the more intense citrus without the fruitiness that those older school IPAs had but they all had this intense bitterness," Evans says. "LT wanted to do something that had the flavor and the aroma of those old school hops."
Ultimately Goodluck wanted to keep the bitterness down which he did with his pale ale.
Goodluck hopes his beer encourages people to learn more about the Native American Code Talkers and other Native Americans who served.
"There were more indigenous tribes that also became code talkers and each of them should be honored and respected," Goodluck says.
Hellbender Brewing Company has been brewing beer in the District of Columbia since 2014. Both Goodluck and Evans strongly encourage visitors to our nation's capital to come pay them a visit in the taproom.
CraftBeer.com is fully dedicated to small and independent U.S. breweries. We are published by the Brewers Association, the not-for-profit trade group dedicated to promoting and protecting America's small and independent craft brewers. Stories and opinions shared on CraftBeer.com do not imply endorsement by or positions taken by the Brewers Association or its members.