If you're making a resolution to eat more veggies, here's a better idea: drink them. Always seeking new avenues for innovation in brewing and flavor profiles, some craft brewers are turning to the garden for inspiration. It is perfect timing for those of us who have resolved to improve our diets by eating more vegetables. Let's not stop there. Let's resolve to drink better, too. These beers are infused with the finest vegetables (or fruits that we commonly know as vegetables) to create beers unlike any other. Set some goals to find a few pints of these garden inspired brews in 2017.
(MORE: What Is Craft Beer?)
Beet IPA (BIPA) from Bleeding Heart Brewery in Palmer, Alaska
This northwest coast style American IPA has a bright red color that comes from locally grown and harvested organic red beets that are cleaned, peeled, chopped and juiced in-house. A small amount of pure juice is added to the beer while it carbonates in the bright tank. Bleeding Heart describes BIPA as having an aggressive citrusy hop aroma with a touch of beet earthiness and pine aroma. Stone fruit flavors from the Amarillo hops gently fade to a nice balance of sweetness from the organic beet juice and clean bitterness from the Columbus hops.
WELD Rhubarb Sour Ale from Tin Man Brewing Company in Evansville, Indiana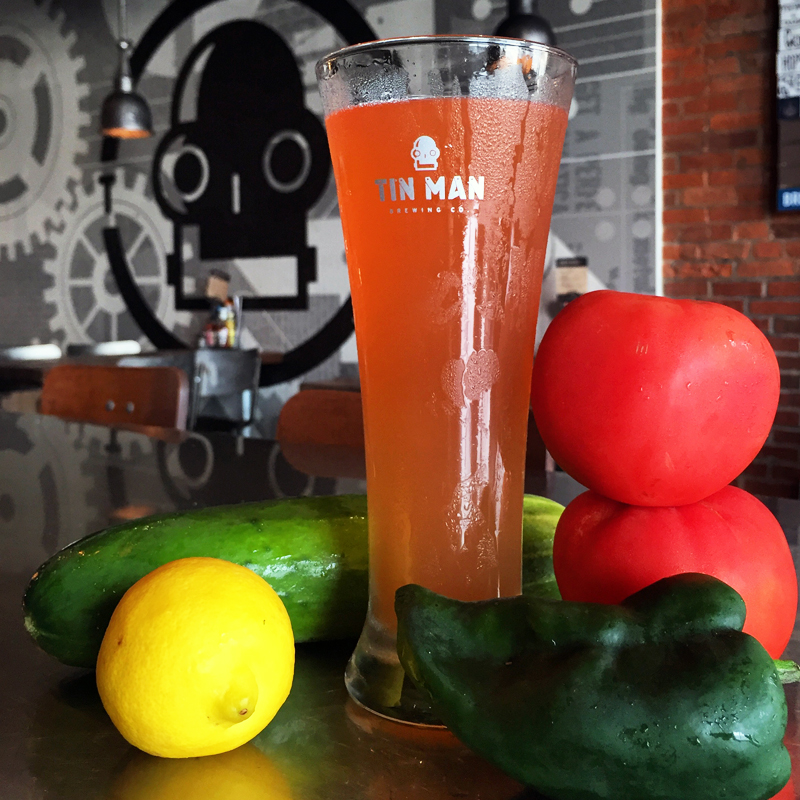 The tartness of rhubarb combined with a sour ale has one prepared for a first sip that is sure to cause a pucker, but this beer leaves the taste buds pleasantly surprised. Robust with rhubarb, it has a mellow sweetness that creates a balanced, drinkable brew.
Also look for: Tomato Gose – A seasonal release, this tasty Gose pairs perfectly with any brunch. Tomatoes, poblano peppers, cucumber and spices meld together with the slight sour and saltiness of the gose style, making for a refreshing beer.
Autumn Maple from The Bruery in Placentia, California
An autumn seasonal beer, this Belgian-style brown ale is brewed with 15 pounds of yams per barrel and provides a welcomed variation to popular pumpkin beers. Spices, vanilla, molasses, maple syrup and fermentation with a traditional Belgian yeast strain creates a bold and comforting brew.
Squash Bucket from The FarmHouse Brewery in Owego, New York
Founder and brewer, Marty Mattrazzo, says, "We love to support our local county farms by incorporating local fruits and veggies wherever we can." This leads to more obvious inclusions of ingredients like fresh berries in their beers, but also to some uncommon additions like the squash in their Squash Bucket, a light, crisp cream ale made with yellow summer squash. This favorite is one of the brewery's many locally grown beers that also uses malt and hops grown and processed in New York. With an ABV of 4 percent, it's a smooth beer that can be sipped all season long.
Also look for: Genovese Tomato Basil Saison and Don't Miss a Beet Saison – In the Genovese, the basil is first apparent on the nose. Once tasted, the basil and tomato are mild with the tomato adding some acidity that blends well with the Belgian saison. Don't Miss a Beet is a saison made with local beets. This red beer with a pink head has a balanced beet flavor up front with a solid French-style saison finish.
(MORE: Pastors Find a Second Calling in Craft Beer)
Cucumbier from Tioga-Sequoia Brewing Co in Fresno, California
One sip and you know that the crisp cucumber and bright pilsner were meant to be together. Hundreds of pounds of locally sourced organic cucumbers are hand-peeled and juiced to produce this well-balanced, refreshing beer. Its subtle cucumber flavor blends well with the aromas and flavors contributed by Bohemian malts and Saaz hops.
Nacho Bait from Country Boy Brewing in Lexington, Kentucky
A blonde ale aged on fresh habanero peppers, this beer has a subdued heat that is pleasantly drinkable. This is accomplished by partially removing seeds and veins from the habaneros to decrease the heat and bring out the mango and peach flavors hidden in the peppers. The comfortable heat and hints of stone fruit blend with the malty notes of the base that brings out a mild, corn-chip like flavor.
Also look for: Barreled Jalapeno Smoked Porter and Mexican Chocolate Stout – The smoked porter uses fresh jalapenos and is aged for 3 to 6 months in bourbon barrels. The stout is brewed with ancho, mulatto, pasilla and arbol chilies and aged in rum barrels.
CraftBeer.com is fully dedicated to small and independent U.S. breweries. We are published by the Brewers Association, the not-for-profit trade group dedicated to promoting and protecting America's small and independent craft brewers. Stories and opinions shared on CraftBeer.com do not imply endorsement by or positions taken by the Brewers Association or its members.