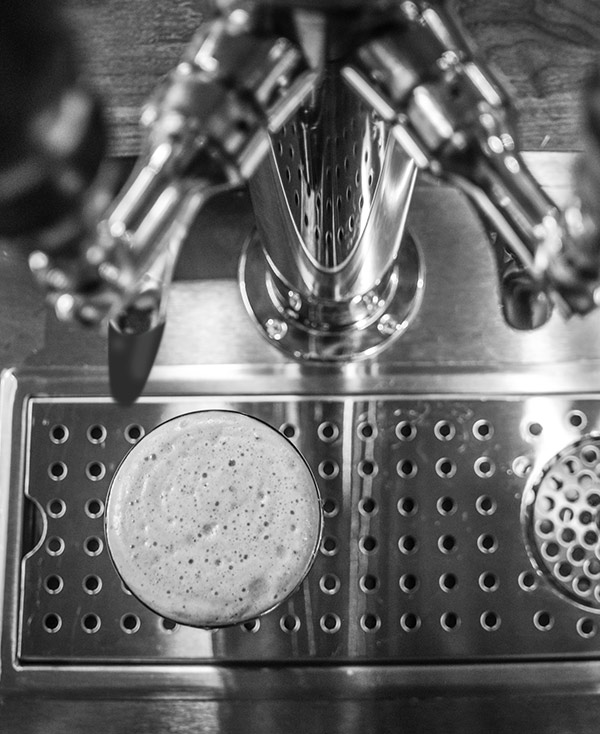 Good Beer Gas II: Nitro Beer Thrives
Be sure to check out part one of this series, "Good Beer Gas: Nitro Beers Explained" for a little more background on the style and early adopters of nitrogenated beer.
It's hard to do anything quietly these days, what with Untappd, Instagram, Twitter and other outlets documenting the drinking experience of beer lovers around the world. But the Boston Beer Co., makers of Samuel Adams, managed to quietly slip a new stout into the Boston and New York City markets.
The brewery already has a cream stout and a Belgian-inspired sour stout in their bottle lineup, but this one is available on draught only. When poured, it has that familiar cascading effect, where the bubbles seem to drop towards the bottom of the glass while a creamy white head forms on top—the kind of look that has become the global signature of a certain well-known Irish brewery.
It was a smart move for the Boston Beer Co., releasing a nitrogenated beer into cities where stouts are consumed en masse and every St. Patrick's Day is marked with large celebrations. But the appeal of nitro beers is spreading well beyond the Irish-American community.
While America's craft brewers continue to focus on the ever-popular India pale ale, increasingly dabble in sour styles, and churn out an endless release of lagers and ales with exciting and exotic ingredients, there remains strong consumer demand for roasty and balanced beers. Brewers have taken notice and are releasing porters and stouts, often offering them nitrogenated.
Who's Brewing Nitro Beer?
As discussed in "Good Beer Gas: Nitro Beers Explained," a typical nitrogenated beer contains about 70 percent nitrogen and 30 percent carbon dioxide. This lends a creamy texture to the head and creates that famous "reverse waterfall" of bubbles after pouring. While it is not uncommon to see more hop-forward beers on nitro taps, most brewers will tend towards maltier and sweeter offerings, because pouring from a nitro tap often strips many of the lupulin flavors and aromas that are so desired in hoppy styles.
"More and more and people understand what nitro means, and while people are hot on IPAs, this is the opposite," says Jennifer Glanville, manager of Sam Adams' Boston Brewery. "People do like a roasted beer, and with a lot of craft brewers coming out with stouts and nitro stouts, there is more interest."
Putting an established beer on nitro can help customers see the brew in new ways. Earlier this year, Colorado's Oskar Blues released their Old Chub Scotch ale in 16.4-ounce cans outfitted with plastic widgets that release nitrogen into the beer when the tab is pulled. The nitro effect on that beer, says brewery spokesman Chad Melis, is a richer mouthfeel and complexity that is different from the traditional CO2 version.
At Bridgeport Brewing in Portland, Ore., brewmaster Jeff Edgerton likes to pour two samples of his Kingpin Red Ale—one from a nitro tap, the other from a standard tap—so that customers can see how the gas can change the flavor of the beer. It's like having two separate beers on offer, he says. The brewery also does the same with their porter. Offering one beer two ways is becoming more and more common around the country as craft brewers and brewpubs are adding nitro versions of their established offerings.
Left Hand Brewing Co. Loves Nitro Beer
Arguably, the craft brewery leading the nitro charge is Left Hand Brewing Co. of Longmont, Colo. Three Left Hand beers are now offered in nitro bottles that demand a "hard pour"—upending the contents directly into the bottom of the glass—instead of relying on a widget to release the tiny bubbles. The brewery's milk stout remains its best seller, and a campaign was launched in March 2014 calling it "America's Stout"—a direct shot at St. James's Gate.
Eric Wallace, the co-founder of Left Hand, says the brewery recently began trademark applications for the newer nitro versions of its beers. The word "nitro" itself had a pre-existing trademark, but was "wrestled" away from people Wallace described as "squatters."
"I don't think anyone will be able to trademark the word 'nitro'," he says. "It's unlikely that anyone will be able to get that marker because it's moved into the trade and is a generic descriptor." In other words, the term has become too common to trademark, similar to 'IPA' or 'Brett' (short for beers made with Brettanomyces yeast).
There is no denying the popularity of the nitro style. This year, for the first time, Left Hand will play host to Nitro Fest, an all-nitro beer festival celebrating "all that is creamy, smooth and delicious." To date, nearly a dozen breweries are lined up to participate.
With more than 3,000 craft breweries operating in the country, it's a good bet that more and more will add the necessary draft systems to dispense nitro beers. While Wallace still calls it "a niche inside of a niche," nitrogen's sliver in the pie chart continues to grow along with evolving consumer palates.
As the word spreads, nitro carries the allure that comes from being the latest and greatest option for craft beer lovers. Says Melis, of Oskar Blues: "Craft beer drinkers like to be informed and in the know, and nitro is fitting into that category."
CraftBeer.com is fully dedicated to small and independent U.S. breweries. We are published by the Brewers Association, the not-for-profit trade group dedicated to promoting and protecting America's small and independent craft brewers. Stories and opinions shared on CraftBeer.com do not imply endorsement by or positions taken by the Brewers Association or its members.