During the 1980s, America's economic landscape was rapidly changing. The nation was coming out of a recession and among the economic reforms was legislation to incentivize companies to form employee stock ownership plans, commonly referred to as ESOPs.
The new ownership structure was gaining traction in the U.S. at the same time as scrappy young breweries were hard at work paving the way for a new course of American manufacturing centered around craft beer, as well as producing exciting new experiences for U.S. beer lovers.
ESOPs exist through a trust that purchases company shares and distributes the stocks to employees. These shares are given to the employees and remain in their ownership until they leave the company and reap the benefits as a part of their retirement plan. These shares become available in a variety of scenarios, most commonly when an existing owner is looking to sell their stock and relinquish control as part of their succession plan.
Since the craft brewing culture is built around a shared ethos of hard work, ingenuity and independence, a number of craft brewery founders saw turning more control over to their hard-working and passionate employees in the form of ESOPs a natural fit.
(More: From Conflict Zones to Craft Beer: Imagine Nation Brewing)
Brewery ESOPs and Company Culture
Prior to establishing a brewery ESOP in 2015, Odell Brewing's founders, Wynne, Doug, and Corkie Odell owned 98 percent of the brewing company. As the three founders began to think of their own retirement and what that would mean for the direction and ownership of Odell Brewing.
"We liked the way that the company operated and acted and we wanted to avoid a transaction that would compromise that—that was our most important priority," explains Wynne Odell. "Then we realized that really the best way to ensure the culture is maintained was to hand some of the company to the people who helped build it, which moved us in the direction of an internal transaction."
Odell's founders met with their executive team to gauge their interest in assuming ownership of the company. "The three executives were definitely interested in playing a part in the future ownership of the company but they weren't in a position to buy 100 percent of the company; nor did we want to give up 100 percent of the shares," recalls Wynne. "The six of us then realized that maybe we could spread the wealth more widely."
Odell's founders and executives began working on a transaction that would benefit the entire company. In 2015, Odell executives bought a controlling interest of shares (51 percent total) with their founders each retaining 10 percent. The remaining 20 percent was distributed to the brewery's workers in the form of an ESOP making it the largest single shareholder of the company.
Harpoon Brewing went through a similar succession of ownership in 2014; Harpoon is now part of Mass Bay Brewing Company, which operates as an ESOP.
"We loved the idea of employee ownership for all kinds of reasons," explains Mass Bay Brewing Company President Charles Storey, who was with Harpoon as the brewery formed the original ESOP. "We felt very strongly that our team wanted a transaction that ensured the company's independence and that shares would not become held by a strategic buyer like a big global brewer, or a financial institution like a private equity fund."
Harpoon leadership also knew employee ownership was a great opportunity for workers to enhance their own economic situation while strengthening teamwork.
"The culture of an employee-owned company is the best," explains Mass Bay Brewing Senior Financial Accountant Jennifer Pratt. "Everyone is working together to make the company the best it can be. Employee owners are looking for ways to save money, develop relationships, enhance the culture and make it a workplace employee-owners, and others, enjoy coming into."
ESOP as a 'Natural Step'
The learning curve to implement ESOPs can be a long and arduous path. Talks of Alaskan Brewing's 2012 ESOP transaction began over a decade prior to implementation with efforts to educate their future co-owners.
"The best metaphor that was put to me was, 'How can you play the game when you don't know the score?'" explains Alaskan Brewing Founder Geoff Larson. "Our takeaway in 1999 was that our staff needed to become more familiar with the business. So we started doing more open book discussions with our employees about what drives the finances."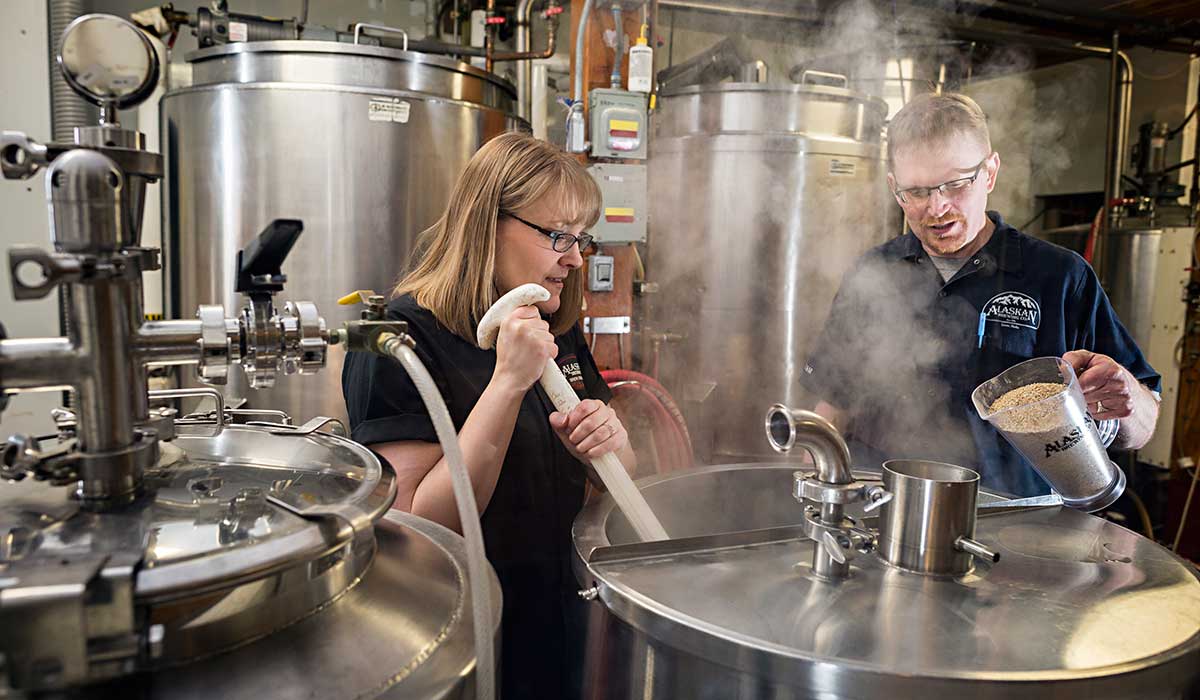 Since then, Alaskan Brewing has diligently shared its profit-loss statements, balance sheets, as well as the various challenges and plans for the company on an annual basis. Larson says that deliberate communication helps demystify the processes and allows the employee-owned company to thrive.
"I was an employee when our ESOP was announced," recalls Harpoon Cellar Manager Aaron Moberger. "At the time I had very little knowledge of what employee ownership meant; I didn't even know what ESOP stood for! But it seemed like a unique and special opportunity for all of us. When some people first hear about the ESOP, they think it sounds like the impossible free lunch. In some ways the ESOP is like a free lunch because the company contributes to the ESOP to buy shares on behalf of the employees—employees don't contribute money of their own. However, the value of the shares is based on company performance and it is our responsibility to make sure that value grows."
(More: How Art Helped Convince Post-WWII America That 'Beer Belongs')
Strengthening Employee Involvement
It's this unique combination of transparency and sense of responsibility that lead brewing companies to naturally pursue ESOPs.
"I think the ethos, culture of craft beer make it the perfect industry for ESOPs to work really well with their light- to medium-scale manufacturing," explains Deschutes Brewing's CFO Peter Skrbek. "Our team has a tremendous amount of pride for what we do every day, and that has existed long before employee-ownership. ESOP was the next logical step. The change is that people are very cognisant now that they better understand how we're valued as a company from an ESOP perspective; how their actions affect that evaluation and the value creation process within the company and the outcome that we all have as joint owners in this enterprise."
"…you don't wait for someone else to pick up the trash in the parking lot, you do it yourself."
"I'll never forget when Gary Fish, our founder, said that being an owner in this company means that you don't wait for someone else to pick up the trash in the parking lot, you do it yourself," explains Deschutes Executive Assistant Angie Anderson-May. "I think about that every time I do something outside of my job scope and, sometimes, that literally does mean picking up trash from the parking lot. At Deschutes Brewery, I feel that we all pitch in, even when the work is uncomfortable, because we realize that when the business thrives, we all thrive."
(Beer Biz: Why Brendan Watters and Kings & Convicts Bought Ballast Point)
Employee-ownership strengthens involvement. Like Deschutes, Odell Brewing made sure that the workers would be the principal communication vehicle for the ESOP through an employee-led committee.
Odell introduced an idea incubator through their ESOP committee for employees to freely share their ideas which go through vetting by the ESOP committee. This collaborative process has lead to some big changes including Odell's recently announced wine program.
"That has been a huge thing to come out of our ESOP," notes Wynne Odell. "We could have done it before, but now with the ESOP I think people do feel a greater responsibility for the future of the company and not just what we're doing on a daily basis."
Even today, young breweries continue a tradition of shared information and influence and are working ESOPs into their business models. Modern Times, for instance, adopted the ESOP structure after just three years in business. Modern Times Communication Manager Dan Reeds says the early adoption made sense since many of the people who had been with the company since day one will someday benefit substantially from the effort they put in.
(Seek the Independent Craft Brewer Seal)
"We also have a young median age among employees," explains Reed. "Meaning that an atypically high amount of the equity we'll eventually payout will most likely end up starting new businesses and career ventures rather than going solely into retirement funds."
Employee-ownership solidifies the independent spirit of craft breweries. The same independence that help progressed American craft beer since its inception.
"Back in the 1980s, the idea of starting a brewery was a far out idea," reminds Mass Bay Brewing President Charles Storey. "It required a certain spirit of independence and desire to go it alone that has always been a part of our DNA. I think that our ESOP is a reflection of our values and beliefs. Easier options would have been to sell shares to a strategic buyer or financial institution, but we would have lost a portion of our independence. I think that preservation is reflected in our decision and our value and belief system over the years."
CraftBeer.com is fully dedicated to small and independent U.S. breweries. We are published by the Brewers Association, the not-for-profit trade group dedicated to promoting and protecting America's small and independent craft brewers. Stories and opinions shared on CraftBeer.com do not imply endorsement by or positions taken by the Brewers Association or its members.