Washington, D.C. has great diversity within its brewing scene. Whether you prefer your beer brewed 62 or 930 gallons at a time, LGBTQ owned and operated breweries, as well as allied breweries who support LGBTQ and safe spaces, manufacture world-class beer in and around DC.
"We have a slogan: Just like craft beer, diversity is delicious," says Bryan Van Den Oever, one of three co-founders of Red Bear Brewing Company in Washington, D.C. Red Bear is the District of Columbia's first entirely gay-owned and operated brewery, which opened in March 2019.
By the looks of the crowds the D.C. brewery is attracting, it appears beer lovers agree. Red Bear reached the brewery's maximum capacity on opening day. Even after a few months in business, it's not unusual to see a line out the door.
"I'm hoping Red Bear can help move that [inclusivity] forward because our message is beer is for everybody," he says.
 "Just like craft beer, diversity is delicious." Bryan Van Den Oever, Red Bear Brewing Co.
(READ: Breweries Make Big Strides with Employee Benefits)
About 30 miles north in Silver Spring, Maryland, Denizens Brewing Co. has been promoting a similar message since 2014.
"To my knowledge, we're still the only majority women and minority-owned and operated [brewery in Maryland]" says Julie Verratti, chief brand officer and co-founder at Denizens Brewing Co. Julie and her wife Emily Bruno, along with brother-in-law Jeff Ramirez, founded the brewery.
Verratti is familiar with allied and LGBTQ-owned breweries nationally and locally in her time serving as chair of the Brewers Association's Diversity Committee.
"Most breweries are trying to be open and inclusive and welcoming…and people are making an even more concerted effort than they have in the past," she explains.
She says some of the strongest examples of inclusive breweries are in the Washington, D.C. area.
"Two [breweries] that I think of are DC Brau and Red Bear because DC Brau does the Pride Pils every year and Red Bear very openly identifies themselves as LGBTQ owned and operated," she says. "They're proud and I love that about them."
(READ: Brewing Safe Spaces for the LGBTQ+ Community)
D.C. Brau's Pride Pils Raises Thousands to Support LGBTQ Community
For the third consecutive year, the District of Columbia's largest production craft brewery, DC Brau Brewing Company, rebrands its flagship "Brau Pils" to "Pride Pils."
Brandon Skall, CEO & co-founder of DC Brau Brewing Company says, "Being an ally in the LGBTQ community isn't just about Pride Week for us. We work hard to ensure that DC Brau is a safe space for everyone, no matter their race, gender, sexual orientation, nationality, etc."
In June 1969, New York City Police raided the Stonewall Inn, a gay bar in Manhattan's Greenwich Village neighborhood; officers said they were investigating illegal alcohol sales. The violent clashes known as the Stonewall Riots have become some of the most significant events in the gay liberation movement. It is because of this series of demonstrations at Stonewall that June is recognized and celebrated as Pride Month.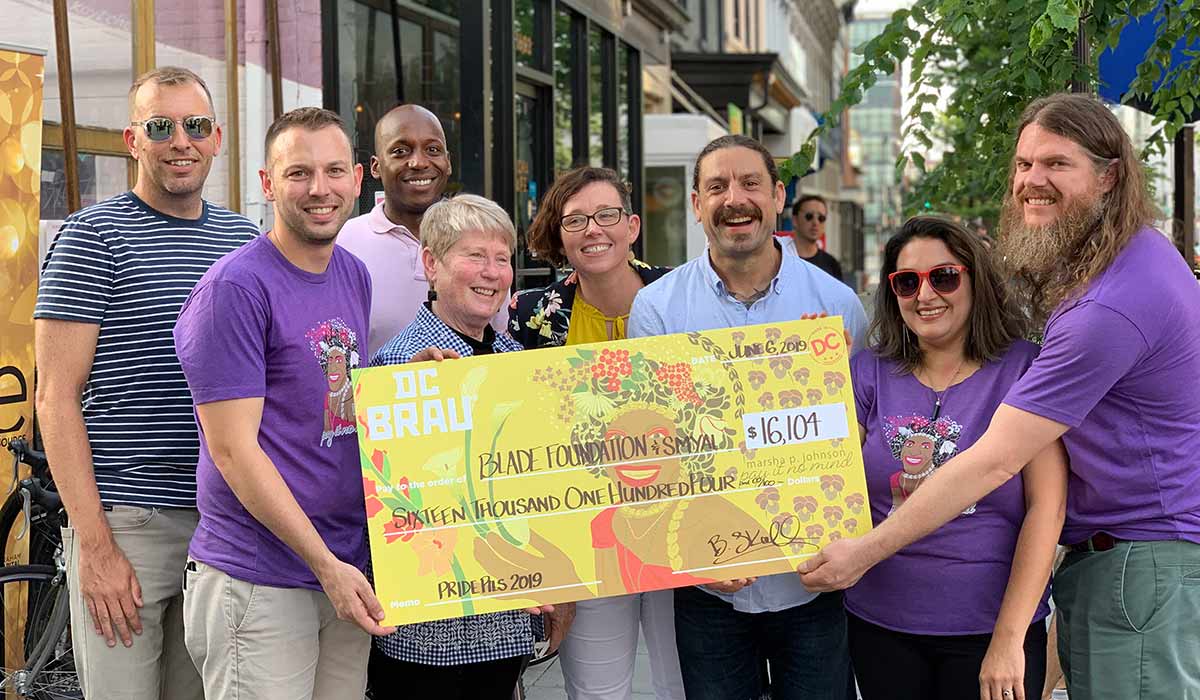 DC Brau Brewing Company has annually collaborated with the Washington Blade, America's oldest LGBTQ newspaper born a few months after Stonewall in 1969.
Sales from Pride Pils benefit SMYAL, the Sexual Minority Youth Assistance League, and the Blade Foundation. The Blade Foundation provides funding for journalism focusing on LGBTQ and other underrepresented communities and creates scholarships for LGBTQ journalists. DC Brau's Mari Rodela says the Pride Pils program has raised $40,000 over the past several years.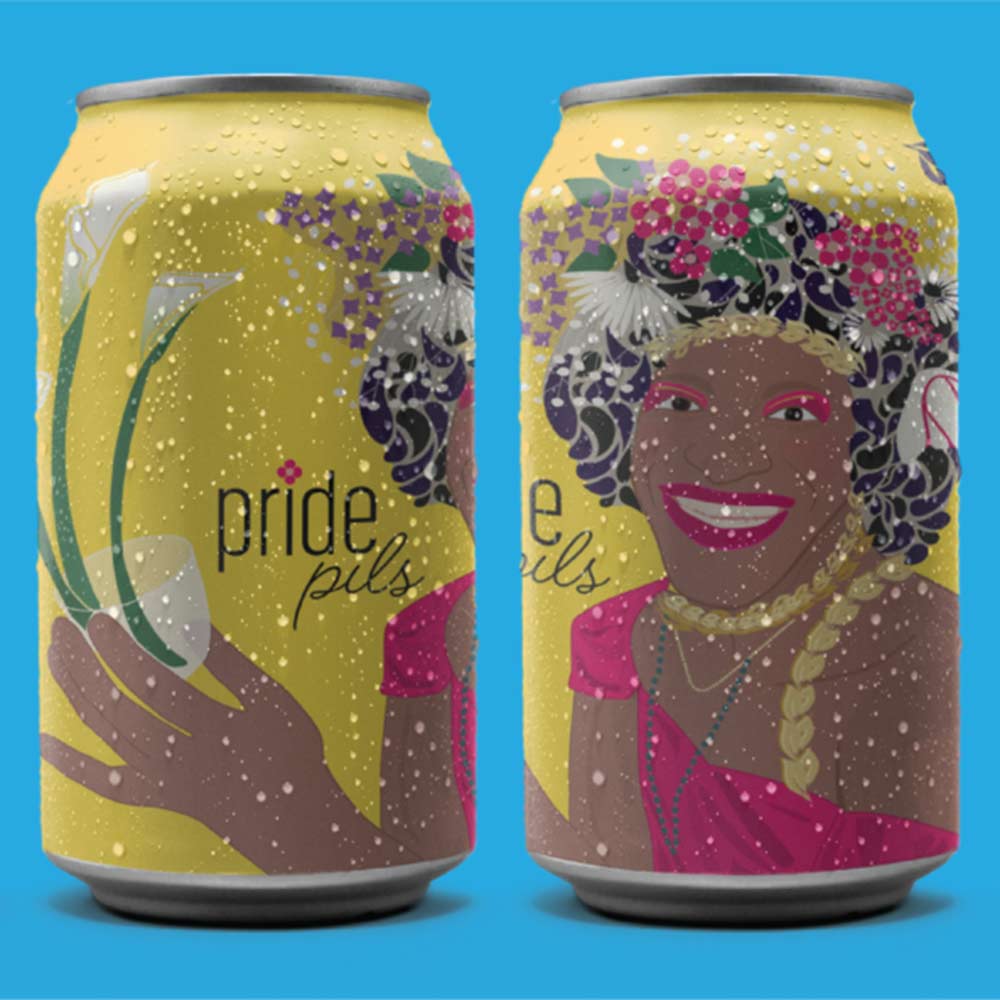 When the Washington Blade began in 1969, writers and gay journalists often hid their real names and concealed their identities for safety. Today there is a more secure climate for members of the LGBTQ community in Washington, and a large part of that is due to the region's strong queer culture. Still, many transgender people experience discrimination and harassment at disproportionate rates.
This year's Pride Pils cans showcase Marsha P. Johnson, a trans woman who was at Stonewall in 1969. The design was selected by an online contest co-sponsored by DC Brau and the Washington Blade.
D.C.-based artist Maggie Dougherty created the 2019 can design for Pride Pils. Her design features Marsha P. Johnson's face surrounded by flowers. She says the flowers carry important symbolism.
"The flowers on the label are for those blooms that Marsha was known to wear in her hair, as well as 27 pansies representing the 27 trans deaths that took place in 2018 and early 2019," Dougherty says.
(VISIT: Find a U.S. Brewery)
Capital Q Meets at Right Proper Brewpub
Another group working to bring about change in our nation's capital is Capital Q. The group is "a community dedicated to building inclusive queer spaces in DC."
One of those recurring spaces is the Right Proper Brewpub Shaw; the group gathers there about once a month.
Bobby Bump, Right Proper's head brewer, wanted to give Capital Q members a beer they'd love, so he created a survey specifically for Capital Q. The input he received helped the group formulate their own beer based on their personal preferences and tastes. The resulting beer created for Capital Q is a Belgian-style wit beer with peaches and nectarines. At 4.7% ABV the fruited wheat ale, "Brewed This Way" was released on June 6.
Breweries Can Play a Pivotal Role in Change
"I think that there's been a ton of progress that has happened for LGBT rights since Stonewall," says Denizens' Verratti. "There's obviously still work to be done."
Verratti says that change will happen when people get involved politically on a deeper level: "Elections matter; elections have consequences."
She believes breweries can play a pivotal role in change since they serve as community gathering places.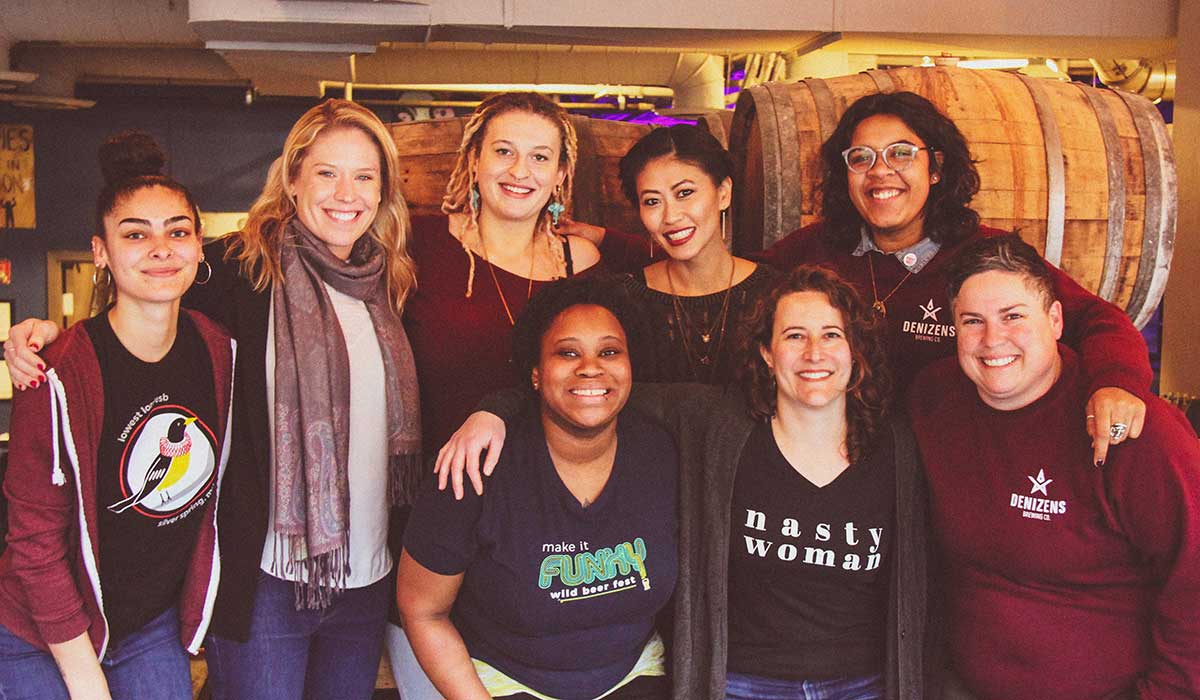 "I think that breweries, especially breweries that have taprooms, have a unique position to rally consumers into getting involved–whether it's the local county council election or it's the presidential election," she explains. "At Denizen's we get involved in this stuff on every single level."
As awareness grows and inclusivity is championed at all levels, some of the changes those at Stonewall were fighting for are actualized. The New York Police Department's Commissioner recently issued a public apology on behalf of the department for the 1969 Stonewall raid.
While Pride parades happen all over the country, members of the LGBTQ community experience discrimination and hate daily. Raise a toast to LGBTQ owned and operated and allied craft breweries rolling up their sleeves knowing there is more work to be done.
CraftBeer.com is fully dedicated to small and independent U.S. breweries. We are published by the Brewers Association, the not-for-profit trade group dedicated to promoting and protecting America's small and independent craft brewers. Stories and opinions shared on CraftBeer.com do not imply endorsement by or positions taken by the Brewers Association or its members.