Beer lovers the world over know Pliny the Elder as Russian River Brewing's exceptional double IPA. In beer there's hops. But the Roman philosopher famously declared, "in vino veritas," in wine there's truth. So what's in vinocervisia (wine beer), or better yet, what is vinocervisia?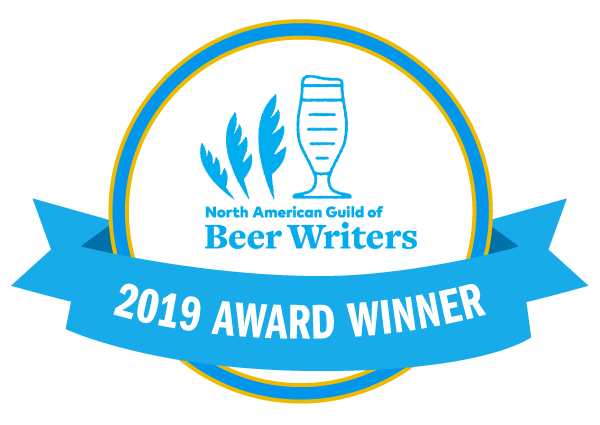 As the great American philosopher Fred Eckhardt declared, "Listen to your beer." And since beer speaks to people, at least those smart enough to listen and thoughtful enough to hear it, it speaks of hops growing on the bines, amber waves of barley blowing in the field, or yeast hitchhiking on the breeze.
Brewmaster Matt Van Wyk's beer obviously sings to him. He, along with brothers Brian and Doug Coombs, are the composers behind Alesong Brewing and Blending in Eugene, Oregon. And while they create a wide range of barrel-matured beers from earthy saisons to viscous imperial stouts, no doubt it's the emphasis on vinous, wild ales that is music to sour beer lovers' ears. But if their newest Great American Beer Festival (GABF) medals are any indication, they could almost rename the brewery WineAlesong.
[newsletter_signup_box]
Alesong hat-tricked at the 2018 GABF competition with two "Terroir" beers deep-rooted in wine grapes. The third medal was for a beer style more familiar to beer devotees—a Brettanomyces-fermented ale dry hopped with new-school Mandarina hops from old-world Bavaria.
Having launched in 2016, Alesong instantly struck gold in the Brett Beer category with Citra-laden Touch of Brett. It struck bronze in 2017 with Touch of Brett Mosaic. This year's Mandarina hopped iteration also earned bronze, thus three-peating in the Brett Beer category. But the beer that scored silver in the same category, Terroir Pinot Gris, was also from Alesong! What's more, Terroir Pinot Noir earned yet another silver, only this time in the Experimental Beer category.
"We are on a mission to find the best ways to use grapes with beer," says Van Wyk, whose first foray into wine beers came in 2013 when he and Brian Coombs worked at Oakshire Brewing, also in Eugene. There's an expression that says, "Grapes make wine; people make beer." That idiom wasn't prepared for someone like Coombs. After Oakshire, he worked at a nearby winery so it's only natural that he loves blending and blurring the lines in his wine-inspired beers.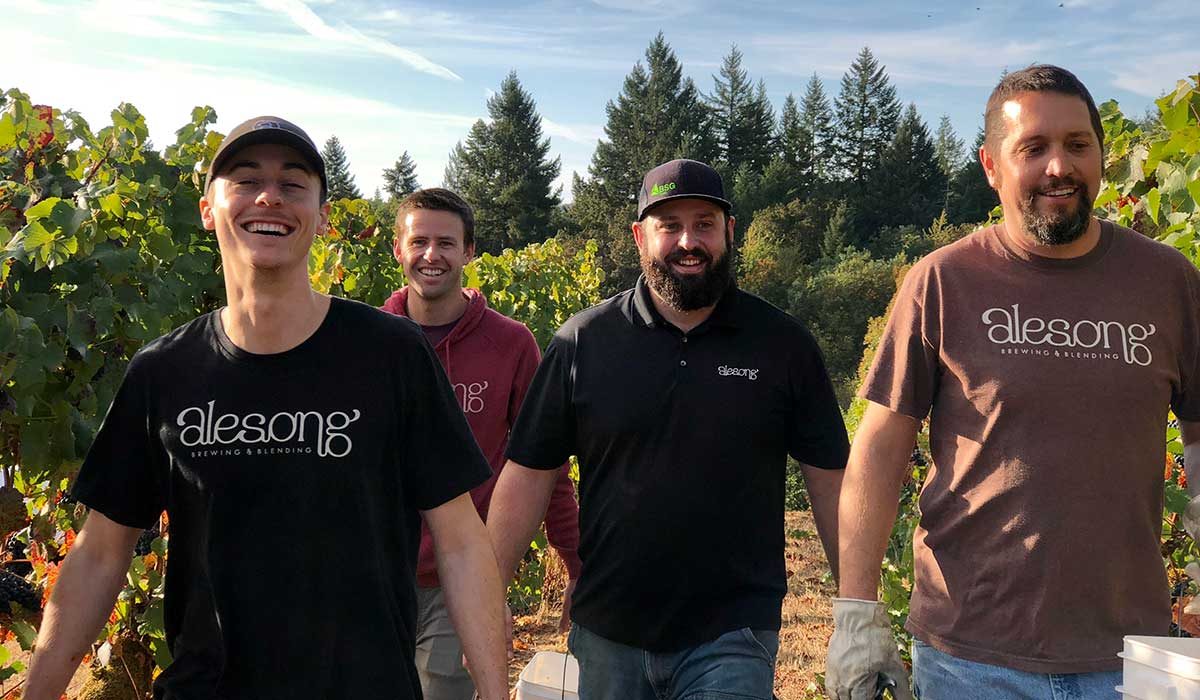 (Related: 2018 Great American Beer Festival Competition Winners Announced in Denver)
"The point of the Terroir series is to showcase not only the grapes grown in (the Willamette Valley), but also showcase our abilities in processing them. There are many ways you can use grapes in a beer," adds Van Wyk, pointing to juice, whole clusters, various skin contact time, and when to age in oak or stainless. "And there are a host of things we can do during the aging process to accentuate flavors, colors and aromas. We're trying to highlight all of those things, including the oak character, a valuable part of a wine's personality."
Wine Beers Take Root
Brewers who experiment with wine's raison d'être are sparse, yet Alesong's hardly the only brewery (or blendery) getting its grape goop on. Delaware's Dogfish Head Craft Brewery was among the first American breweries to muddy – er, musty the waters — dating back to the 1990s with Midas Touch brewed with grape must and continuing today with beers such as Sixty One (think 60 Minute IPA plus one extra ingredient: grapes) and another found in six-packs, Mixed Media, which is 51 percent saison, 49 percent fermented Viognier must. On the opposite coast, Craftsman Brewing in Pasadena, California, was equally aiming off center when brewmaster Mark Jilg conceived of Cabernale—yes, Cabernet wine accented ale—in late 2002. Jilg says he figured "all those bright tannins could dry out a malty red beer in a fun way."
In Denver, a new brewpub focuses exclusively on wine-beer-hybrids or, as Alex Liberati of Liberati Osteria & Oenobeers calls them, "oenobeers."
"I'm obsessed with oenobeers," says the Italy native who also operates a beer shop in Rome. "Oeno" is Latin for wine. In Italy, these drinks have their own acronym: IGA. They're not as pervasive as IPA, but Italian Grape Ales are made, by Liberati's estimate, at 20 percent of Italian craft breweries to varying frequency.
(More: Breweries Where You Can Have Your Cake and Drink Beer Too)
"An oenobeer is produced with grapes or grape products (must, pomace) and has nothing to do with wine barrel aging," says Liberati. "You encounter challenges that you normally wouldn't in brewing, such as tartaric acid, malic acid, wild yeasts, molds, bacteria, etcetera." But because he indicates IGA is exclusively an appellation for Italy the way spontaneously-fermented Lambics hail only from Belgium and the Senne Valley, he's pushing for his neologistic moniker, which can be brewed the world over. "There are no barriers here in the world of oenobeers, the space for exploration is unrestricted."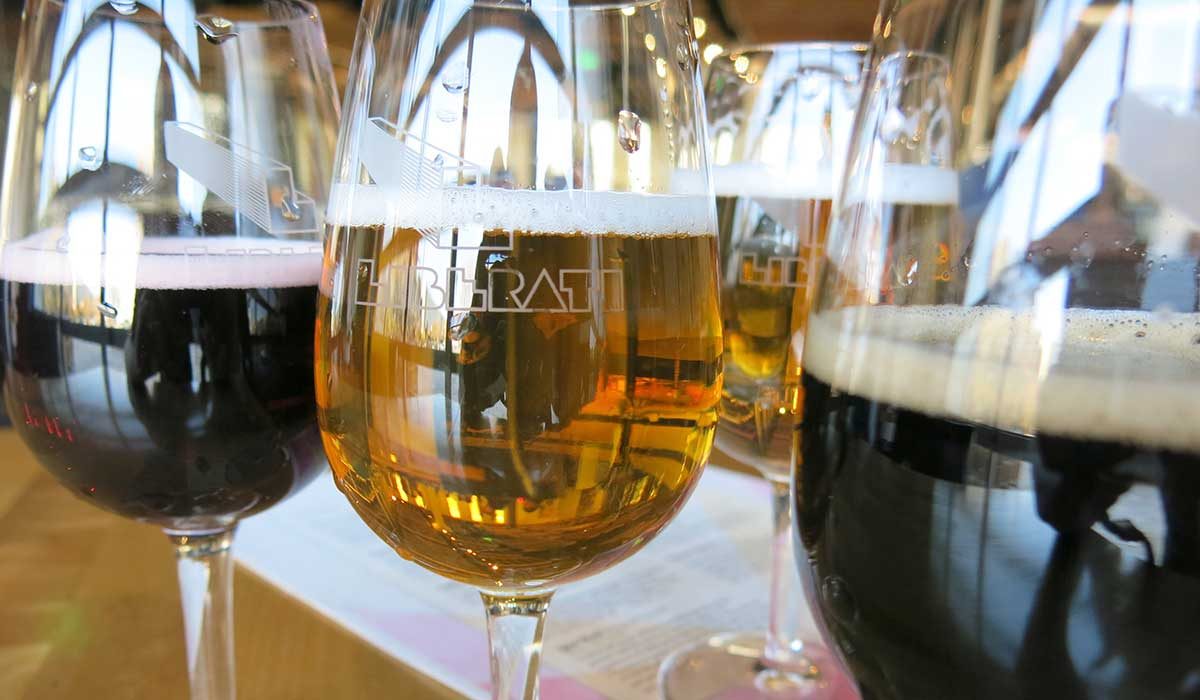 It's worth noting that Brasserie Cantillon, Brussels's vaunted Lambic brewer and blender, has been making Saint Lamvinus—a wild ale with Merlot and Cabernet Franc grapes—since 1995. It's the beer Van Wyk and others reference to dismiss any notion that wine beers are a fad for brewers just looking to use a new ingredient to move one more one-off beer.
(More: Artists Using Beer to Create Fine Art)
"I'm not a 'beer brewed with chicken burgers' fan," declares Liberati. "I love traditional styles. Oenobeers are not my reply to that 'make it weird' trend."
That said, he doesn't view these beers in the vein of other traditional fruit lambics or fruit beers such as kriek or framboise. "Cherries and raspberries are puny fruits in comparison to the excellency of grapes!" Liberati's Italian passion bubbled to the surface. "Grapes are truly a very unique fruit, with challenges and possibilities like no other. Oenobeers definitely do not have any place in the fruit beer style. They have a chapter of their own. To make oenobeers in the correct way, one must master brewing and winemaking."
Grapes of Mash
Interestingly, Liberati does not preach soil or sense of place as a chief requirement for oenobeers. "Italian Grape Ales are surely an expression of terroir, but I don't think oenobeer needs to be. We use grapes from all over the world, testing continuously to see what we discover." In Texas, a state not synonymous with wine country despite being the fifth largest wine-producing state, Jester King Brewery and New Braunfels Brewing also make beers in this style.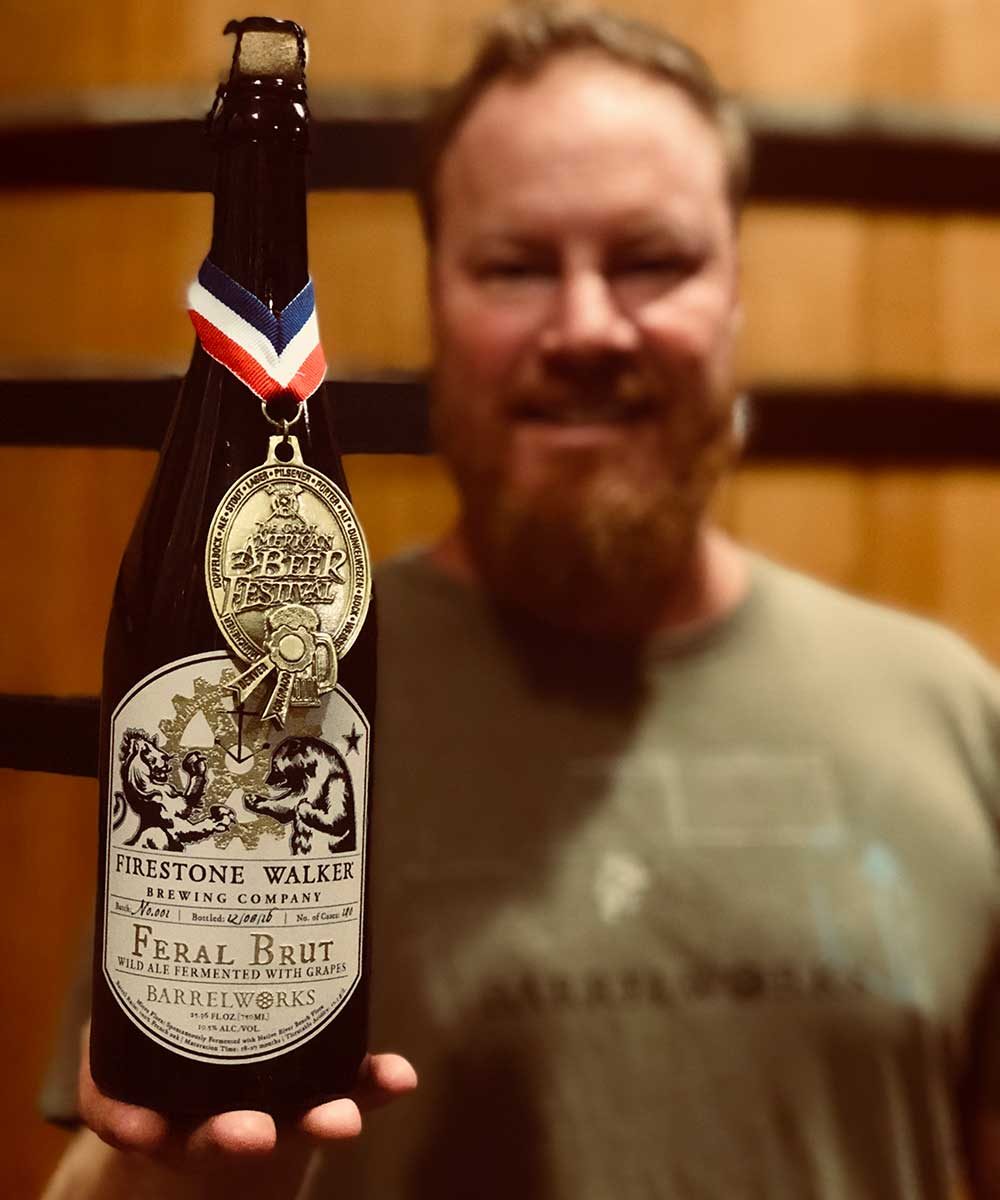 Breweries farther afield notwithstanding, it comes as no surprise that most examples hail from ones situated in established wine regions. Alesong is surrounded by vineyards. In the middle of the Santa Ynez Valley along California's central coast, Firestone Walker Barrelworks first used grapes in beer in 2013 with Mikkeller named "Little Mikkel," but nearly a quarter century before Firestone Walker Brewing launched in 1996, the family founded Firestone Winery.
(Explore: Escape to These Craft Breweries on Islands)
And for Firestone Walker Barrelworks's master blender Jim Crooks, wine beers are absolutely about terroir. Their Feral Vinifera series of wine grape experiments is dispersed among several barrels aging myriad beers co-fermented with mostly white wine grape varietals: Sauvignon Blanc, Chennin Blanc, Muscat. Crooks's barrels are equal parts playground and classroom. He doesn't come from a winemaking background, but he's surrounded by grape growers and winemakers. The grapes come from Andrew Murray Vineyards, but the expertise was derived from Andrew Murray himself. "Andrew was blown away (by the results)," says Crooks. "His winemaking terminology was like opening a new vocabulary to us."
Hence the oaky tannic depth and flinty minerality of Feral Vinifera #4, which earned a gold medal at the 2017 Brussels Beer Challenge and took home the Comac Trophy honoring the most notable "international revelation." Jumping from the world stage to the American one, Barrelworks's Feral Brut is the beer that bested Alesong's Terroir Pinot Noir in the Experimental Beer category last GABF. To be fair, Feral Brut is more of a beer-champagne hybrid than beer-wine since it was laboriously fermented using the Méthode Champenoise, but since it's from California, it's actually a sparkling wine-beer hybrid.
Ongoing Wine Beer Projects
To encourage this type of experimentation, Firestone Walker put on the inaugural Terroir Project Festival in the Santa Ynez Valley (at a nearby winery, no less, instead of their own brewery or barrel facility.) First-year invitees included Sierra Nevada, Jester King and Side Project. Each had to make a beer using grapes grown within 100 miles of the respective breweries.
It's safe to say that with two wins for wine beers at GABF including sharing the podium in the Experimental category, Alesong is on Firestone Walker's radar. And there's plenty more where those "Terroir" series beers came from (not that every drop of grape juice goes into that line). Visions is their tart ale primed with Muscat juice, making it a touch sweet and since it's carbonated, it's every bit as delectable as frizzante Moscato. What happens with the Chardonnay grapes as well as the Cabernet Sauvignon and Syrah is still TBD. "We seem to have more grapes available to us than tanks," quips Van Wyk.
(Find: A US Brewery Near You)
So whether the industry lands on a style name such as wine-beer-hybrids, wine-inspired beers, oenobeers, or graperific-grapey-grape ales, for now and the foreseeable future, this young sub-style will age like a fine wine as Category 19, Experimental Beer. It's immeasurably defined as "any beers that are primarily grain-based and employ unique and unusual techniques and/or ingredients." The guidelines further define them as "beers which represent a combination of two or more existing categories and exhibit distinctive characteristics of each of those categories." If we consider beer as one category and wine as another, breweries like Alesong are hitting the nail on the head.
"Terroir Pinot Noir utilized many processes used by winemakers in producing world-class wines, rather than just adding grape juice to a beer," states Van Wyk. "We have a few more variables to balance. Because there are four (or more) different ingredients in beer and (often) multiple fermentations, and then the grapes, and the wood, there are just more things to concern yourself with. In the end, we are basically complementing beer with wine."
CraftBeer.com is fully dedicated to small and independent U.S. breweries. We are published by the Brewers Association, the not-for-profit trade group dedicated to promoting and protecting America's small and independent craft brewers. Stories and opinions shared on CraftBeer.com do not imply endorsement by or positions taken by the Brewers Association or its members.