Expanding diversity in craft brewing among those who make it as well as those who enjoy it is not a silent matter. Data from a 2019 survey from the Brewers Association (BA), the Boulder-based trade organization for craft brewers and publisher of CraftBeer.com, shows that brewery employees skew heavily white-male, and the attitude that craft drinkers are also white males has yet to disappear from marketing campaigns, media coverage and taprooms. But as we launch into a new decade, leaders in beer diversity are sharing a general sense of cautious optimism for better representation and more equality from the brewing space to the public space.
Exciting initiatives have joined a roster of organizations and movements that have had their theoretical noses to the grindstone for years, from Queers Makin' Beers to the Pink Boots Society to the relatively newer Fresh Fest. In 2020, we get to see all these projects in action. We're talking to the leaders behind movements including #IAmCraftBeer, the Diverse Beer Writers Initiative, and Beer. Diversity. to examine where they gauge the community is in the push for greater inclusion in craft beer and what we have to look forward to in 2020.
#IAmCraftBeer: From Twitter Hashtag to Meetups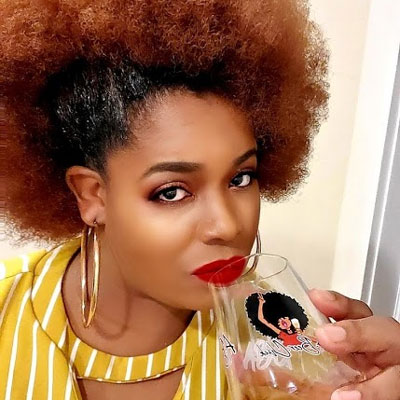 On September 9, 2019, Chalonda White — a.k.a. Afro Beer Chick — tweeted out a racist email she had received. Replies were of shock and disgust at the message as well as support for White, but the conversation didn't end there. The Brewers Association's Diversity Ambassador Dr. J. Nikol Jackson-Beckham saw the tweet and started the hashtag #IAmCraftBeer as a way for those who don't feel represented in the beer scene to see each other.
"[I] think it's really important to highlight the diversity that is already in the industry that perhaps we don't see," Jackson-Beckham says. "The hashtag was really more of an effort to say, 'You know what, in this industry where we have lots of opportunities in front of us and lots of work to do and progress to make, to make sure everybody feels that they have space.' It's not like there's no one in craft beer and it's not like the people in craft beer are all the same person. I just thought it made sense to take a moment and highlight the fact that we are all already very individual, unique people."
(More: Don't Drink Another Beer Before Reading This)
Craft beer drinkers of every background emerged to tell their stories, which Jackson-Beckham has been archiving.
"I am so happy that something so ugly turned out to be something so beautiful," White says. "People are always going to have their opinions who should and shouldn't belong. At first I wasn't even going to share the tweet, but I'm glad I did. […] When Dr. J started the whole hashtag, you're seeing that it's not just bearded white dudes drinking beer. It's a lot of other people–people of different races, religions, cultures, colors. Beer is a rainbow, and I'm loving it."
As inspiring as #IAmCraftBeer has been, White stresses that the movement must extend beyond social media to have a lasting impact.
"The conversation needs to kick off change. That's what I'm not really seeing too much because I'm starting to see that people are using this diversity and inclusion as a trend," she says.
As far as bringing a Twitter initiative to life in the real world, White has been taking charge alongside fellow advocates like Liz Garibay, curator of History on Tap and founder of the Chicago Brewseum. White and Garibay organize #IAmCraftBeer events at breweries in different cities where all beer drinkers can come meet each other.
"There are a lot of people who are talking about stuff, and there are people who are actually doing it," Garibay says. "You need both. When you actually physically come together and inform yourself and educate yourself, that's when real change happens."
Opportunities to Affect Change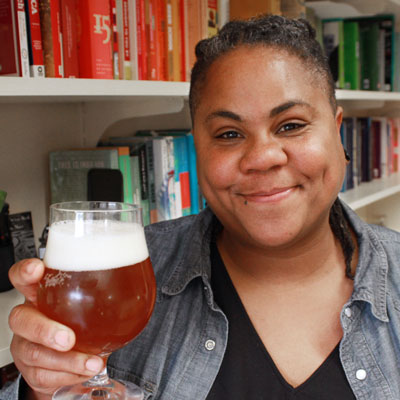 Jackson-Beckham, White and Garibay are all busy both talking about and acting on ways to improve representation, diversity and inclusion. Also an assistant professor of communication studies and beer scholar at Randolph College in Lynchburg, Virginia, Jackson-Beckham runs her own diversity consultancy called Craft Beer For All. Coincidentally on the same day that White received the email that catalyzed #IAmCraftBeer, Jackson-Beckham launched the nonprofit Craft x EDU, offering grants, scholarships, education, support and resources to people of all backgrounds looking to work in beer.
The work that Jackson-Beckham is doing intersects frequently with the rallying and unifying that White and Garibay do with their own projects and their enthusiastic #IAmCraftBeer outreach. #IAmCraftBeer's mission also includes partnering with breweries to brew collaboration beers for which the proceeds support the breweries' local nonprofits as well as the upcoming #IAmCraftBeer innovation grant fund.
All three advocates express optimism about the year ahead along with specific areas where they see immediate opportunities for improvement.
(More: Aurora Hunting and Craft Beering in Fairbanks, Alaska)
"One of the things that I find interesting and often frustrating is the way that we perceive and talk about inclusion, equity, diversity efforts," Jackson-Beckham says. "We tend to think of them as very end-goal … We expect that all of a sudden, places will immediately look different very quickly and that's just, for me, both dangerous and wrong-headed. Equity and inclusion, diversity, these are organizational business goals. This is not a cheerleading effort that you lay on top. These are things that affect your profitability, they affect your compliance with federal law, they affect your human resources, they affect your corporate culture."
Two specific actions White is calling for are improved representation in beer festivals' advertising, and for breweries to seek out partnering with black-owned breweries.
"I'm telling these beer fests, 'When you send me your media kit, if I do not see people that look like me, then don't invite me,'" she says. "Some of these beer fests I have attended, I know people of color are there, I've taken pictures with them, so why is it that when you're advertising for your beer fest, we are not included?"
Regarding collaborations as a conduit for representation, White tweeted her idea and says she immediately started hearing from breweries like 2nd Shift Brewing asking her for information on black-owned breweries they could contact.
"What happens is you're bringing them into a community that might possibly often overlook them," White encourages.
"Beer is the perfect place to set an example for other industries to start making some changes and bring people together." Liz Garibay
"People are really into this. They want to see change, they want to see different types of people in those spaces and different people making beer," Garibay says. "They're really rooting for more female brewers and more brewers of color—we want that, we want to see that sort of rainbow. This is the place for it to happen. Beer is more than just a beverage–it's a powerful cultural force with the ability to bring people together and the power to make change. This issue of diversity is one of those things that completely encompasses that mantra. Beer is the perfect place to set an example for other industries to start making some changes and bring people together."
The Diverse Beer Writers Initiative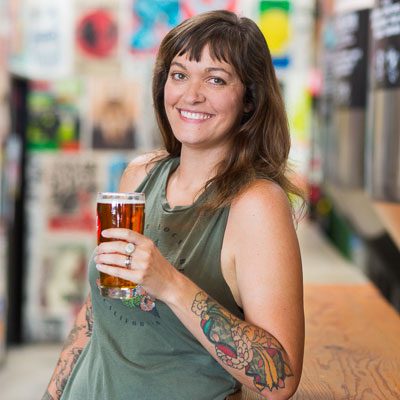 Yet another positive movement that sprung from #IAmCraftBeer is Beth Demmon's Diverse Beer Writers Initiative. Demmon is a journalist in San Diego focusing largely on craft beer, and often specifically on diversity in beer. She wrote about #IAmCraftBeer for Vice's food and drink vertical, Munchies, and one response to her story got Demmon thinking.
"I saw there was a woman who works in the beer community who is black and she basically said, 'Why is there a white writer talking about a black beer issue?'" Demmon recalls, paraphrasing the question. "At first, I was a little upset. I was like, 'Well, I've worked hard to build relationships with editors and I'm using my privilege to amplify a very important movement taking place. Then, I had to take a step back and say, 'Well, you know, should I be the person talking about these types of issues? Who else could be a better person within that community to discuss this on a much wider platform?'"
Demmon was one of two recipients of the North American Guild of Beer Writers 2019 Diversity in Beer Writing Grant; her article about parenting in beer published here on CraftBeer.com. She experienced firsthand how such an initiative can open the beer world up to fresh voices.
"It is difficult to break into beer writing or any media because there's a lot of gatekeeping in media and editorship," Demmon says. "That's not a critique, that's just the way that it is … So when the North American Guild of Beer Writers puts together an opportunity that is open to anybody and is specifically looking to amplify underrepresented voices with kind of no strings attached, that's the beauty of a grant, there's no ulterior motive.
Demmon wanted to play an active role in welcoming more diversity into beer writing, seeking to help others receive opportunities similar to hers through the NAGBW grant, and to work toward more representation in the discussions we have about craft beer.
(More: Is 2020 the Year of the Low-Cal IPA?)
"I thought, if I'm really serious about changing the landscape of the craft beer community as a writer, as a consumer, as an advocate, I need to put my money where my mouth is and help promote the writers who don't have the connections or the experience that I do to be able to tell [these] stories," she explains.
Demmon launched the Diverse Beer Writers Initiative in which she offers free consulting to anyone from anywhere in the world looking to write about beer. The range of advice she offers caters to total beginners as well as more experienced writers, pertaining to everything from monetizing a blog to finding publications to write for. Demmon is excited about what she has seen people she's worked with accomplish. Some have applied for the guild's 2020 Diversity in Beer Writing Grant while others are pitching editors.
Between the Diversity in Beer Writing Grant and movements like Demmon's initiative, 2020 offers hope that beer lovers will continue to hear more diverse voices and perspectives when they read about beer.
Ren Navarro's Beer. Diversity.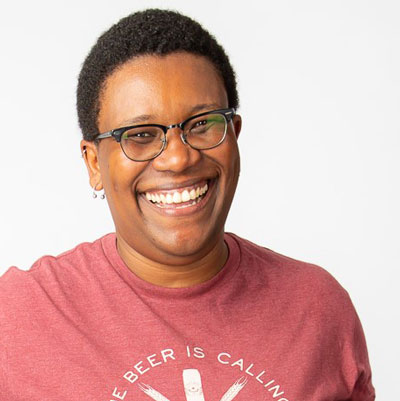 Ren Navarro entered the craft beer world through sales. On the side, she began doing talks as Beer. Diversity., focused on improving inclusion in the community.
She thought consulting on and discussing diversity in beer would be a side hustle, but by May 2018, it was clear that enough breweries and businesses in the U.S. and Canada (where she calls home) had the need for guided conversations about representation. Beer. Diversity. became Navarro's full-time calling.
Through Beer. Diversity., Navarro not only speaks at breweries and on various panels, but she also helps organize events aimed at speaking to underrepresented communities who work in or want to work in beer. One initiative is focused on bringing those voices to conference stages.
(Find a U.S. Brewery: Brewery Finder)
"You'll look at a conference and be like, 'Yeah, that's this guy who always speaks at this thing, that's that same guy who always speaks at that thing.' We thought we'd just kind of divert it. Say we want a group of indigenous brewers speaking–[or] I want a group of black women. So, we have people who don't normally get up on stage to be like, 'Hello, this is my experience.'"
Through Beer. Diversity., Ren wants to reach both brewers and drinkers, encouraging breweries to expand their demographics and the general public to go out into the world and discover new breweries where they can be seen and participate in the beer community. Navarro teaches staff workshops to help breweries assess how they hire, how they address the public, and how they treat their employees. She says it's important for these small businesses to create an open dialogue so everyone is heard.
Navarro says another vital goal for 2020 is continuing to "make room at the craft family table … I would really love to see more people of color, more differently-abled people, more LGBTQ+ people, more indigenous brewers."
Navarro doesn't want to see complacency hinder progress, but she's cautiously optimistic about the year ahead.
"I'm still getting booked," she says. "Until I don't get booked, I don't think we've done it yet. My calendar is filling up, I'm booking into the summer. That tells me that we're not at that point where people are like, 'Yeah, we've got it.'"
CraftBeer.com is fully dedicated to small and independent U.S. breweries. We are published by the Brewers Association, the not-for-profit trade group dedicated to promoting and protecting America's small and independent craft brewers. Stories and opinions shared on CraftBeer.com do not imply endorsement by or positions taken by the Brewers Association or its members.