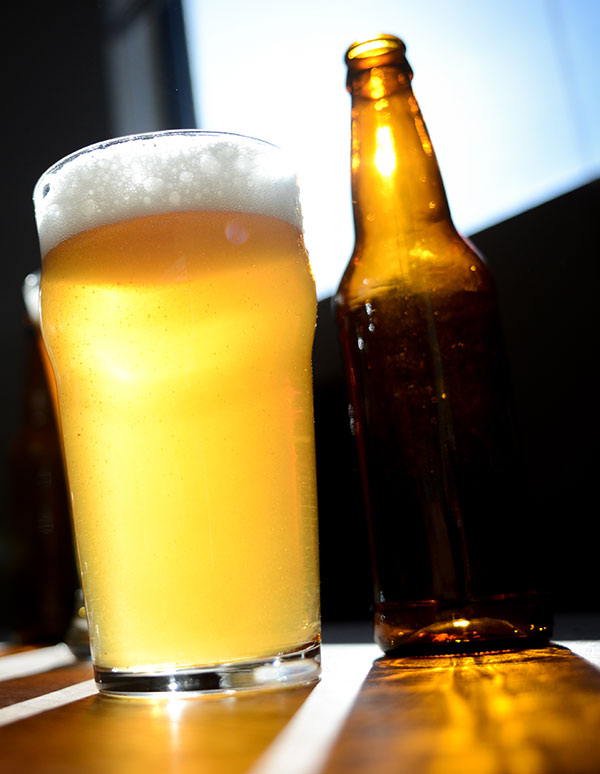 The Shaker Pint
Ah beer, a beverage that is said to have literally led the human shift from nomad to farmer. Now in modern times with engrained and established (but not always enlightened) beer traditions, adult Americans are enjoying ale and lager beyond any other fermented beverage!
America's craft beer producers have created a shift in the food arts world by helping beer reclaim its place at the dinner table. It's fair to say that the image of craft beer is evolving, and with that, everything from beer appreciation and service to beer glassware is evolving too.
(TRAVEL: 7 Breweries Worth a Detour)
On the topic of glassware, there are grumblings from deep within the craft beer movement centered around one of the fundamental beer vessels—the classic shaker pint. Never mind the fact that many in the craft beer community are still fighting just to get beer lovers and retailers to actually use a glass when enjoying a beer. So what are the concerns about the U.S. shaker pint and are they warranted?
Let's Go Grab a Pint
Throughout my adult life, and probably for most of you, the beer glass I've been presented with most is the shaker pint. "Let's go grab a pint," is such a common phrase that it fits the bill even when we know we might not be having our beer out of that exact glass. But, what I'm hearing lately is that this glass, which was originally designed to shake cocktails, should not be the standard. Some, dare I say, even want this glass to go away.
Vinnie and Natalie Cilurzo, founders of Russian River Brewing Company in Santa Rosa, California, and innovators of American craft beer styles including the imperial IPA and American Belgo-style wild ales, share their feelings on the shaker pint in this video for CraftBeer.com.
They state, "The standard shaker pint glass … is actually one of the worst things you can use for a beer tasting." They encourage you to do a taste test of the same craft beer in a shaker pint and a stemmed glass, explaining that the later will deliver an enhanced aromatic and more flavorful experience.
Personally, I have many a beer-lovin' friend who has said they've done this experiment and are convinced that the beer in a stemmed glass goes flat less quickly, stays at the preferred temperature longer, and appears to be fuller-flavored and more aromatic.
(VISIT: Find a U.S. Craft Brewery)
The Majestic Pint
Dr. Michael Lewis, Ph.D., professor emeritus of brewing science at U.C. Davis, and highly regarded as one of beer's leading advocates, is on a personal and professional campaign for a move back to what he calls the "majestic pint." Simply put, he wants to dropkick the shaker glass back behind the bar where it originally came from. In a paper he presented at the Master Brewers Association of the Americas (MBAA) World Brewing Congress, he states some jarring points about the spirits shaker:
Dr. Lewis' Arguments Against the Shaker Pint
Almost all beer, whether craft-brewed or made by the national brewers, is served in the ugly, nondescript "shaker" glass, or straight-sided pint, that fails in every dimension to promote and support the product.
The same glass is used throughout the bar and restaurant trade to serve water, soda, iced tea and milk; this assures beer of similar low-level commodity status instead of the premium status it deserves.
Though the straight-sided pint glass can be tarted-up with a logo to improve the perception of the beer it contains, the glass still offers no technical support for the product and cannot contribute in any significant way to enhancing the consumer's experience.
The glass [shaker pint] is almost perversely designed to dissipate those very items the glass should enhance — that is: to help stabilize foam and to help entrap beer aroma. Both these benefits best accrue when the glass is narrower at the top than below i.e. some variation of the tulip-shaped glass.
(READ: 6 Craft Beer Bars That Changed Their City's Beer Scene)
In speaking with Dr. Lewis about the majestic pint glass mission, he shared that as soon as one leaves the U.S., there is scarcely a shaker pint glass to be found. Based on his — and maybe confirmed by your beery travels too — the shaker pint is a phenomenon unique to the good ol' US of A.
The MBAA has a very useful educational Beer Steward Certificate program that I've been working my way through. In chapter five they address serving beer and ask an interesting question: "How many $100 bottles of wine would a restaurant sell if the wine was poured into an iced tea glass?" Good point if you ask me.
So where do you stand on this topic?
CraftBeer.com is fully dedicated to small and independent U.S. breweries. We are published by the Brewers Association, the not-for-profit trade group dedicated to promoting and protecting America's small and independent craft brewers. Stories and opinions shared on CraftBeer.com do not imply endorsement by or positions taken by the Brewers Association or its members.