Gold, amber, brown, black – and pink – or should we say rosé? The color of a beer generally gives you a clue as to its style. But rosé? Yes, brewers across the United States are adopting a shade of wine that has gone in and out of fashion since Ancient Greece. Pink is the new black, brown and gold when it comes to beer.
[newsletter_signup_box]
The wine world defines rosé wine and cidermakers define rosé ciders, but you won't find a definition for rosé beer in any Beer Style Guidelines. While there's no standardized definition, I found that craft brewers are typically using the term "rosé beer" to refer to a color, not necessarily a flavor (some brewers of pink beers use the term and others don't).
Even without a clear cut definition, independent beer brewers recognize that these (typically) pink, often fruity beers, are an opportunity to introduce wine and cider drinkers to craft beer.
Rosé Beers Captivate a New Audience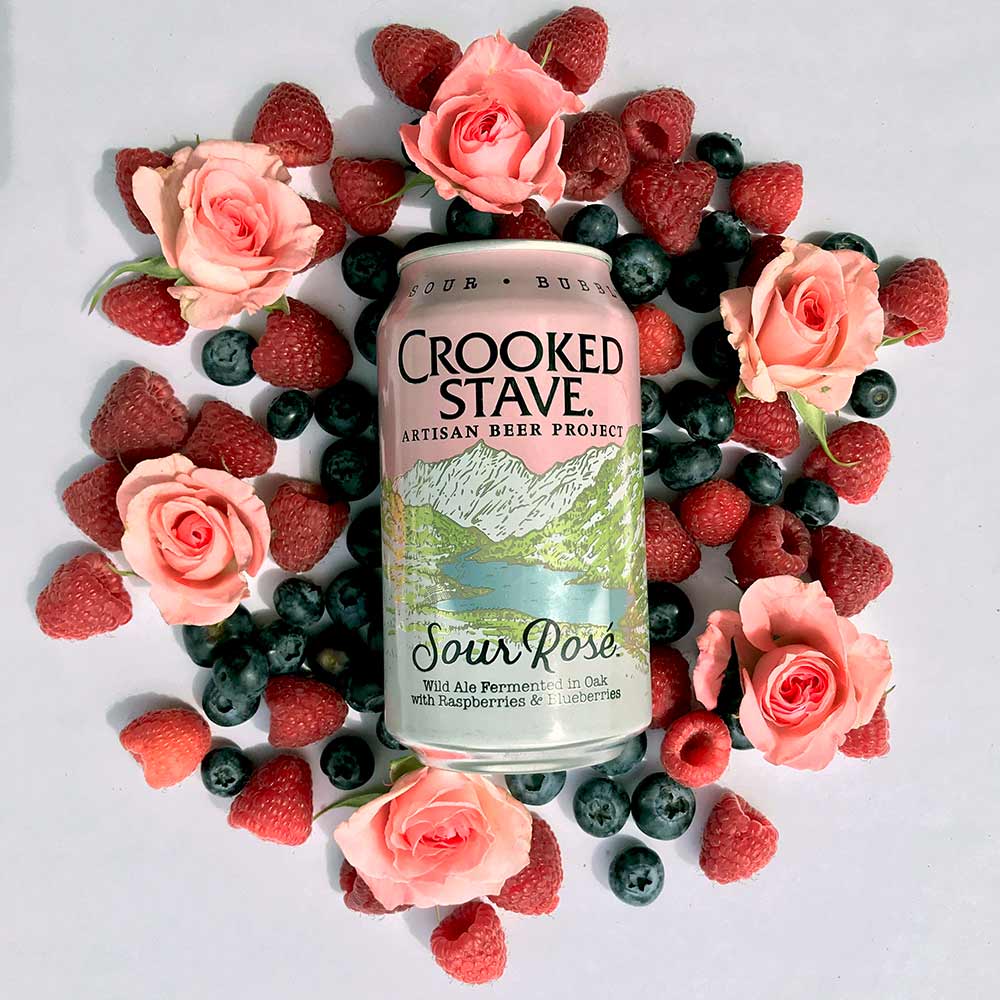 Innovative craft brewers over the last year or two have been coming up with these new pink "rosé" concoctions. They make for great summertime drinking. Some of the rosé beers take their inspiration from and even get mixed with wine or cider. If you find a pink beer, labeled rosé or not, the color could come from a variety of sources: fruit, vegetable, flower or spice.
Crooked Stave Artisan Beer Project of Denver ferments its Sour Rosé in oak barrels with raspberries and blueberries for color and flavor.
"It's primarily fermented in an oak foeder, with our house mixed culture. Then a secondary fermentation on whole raspberries and blueberries," explains Danny Oberle, Crooked Stave's production coordinator. "It was the first beer of its kind in a six-pack 12 oz. can packaging–a game changer–and is so much fun to make. You could say we're tickled pink that Sour Rosé has gained so much attention."
"The beer is approachable, easy drinking yet complex, light sour beer," adds Oberle.
(More: Stories Behind 10 Strange Beer Names)
Urban South Brewery in New Orleans uses cranberry puree with a little peach juice for its Carpé Rosé, a 5.5% ABV cider/ale mix introduced last fall.
"It helps us go a little deeper into demographics as we're especially marketing it to women," explains Jacob Landry, Urban South founder and president.
Marketing a beer to women allowed Urban South to expand sales by "going deeper in our home territory rather than looking for business out of state," he says. Midge Howe, Urban South digital marketing and office administrator, echoes "It is a gateway to get people to drink beer…who only drink cocktails."
Landry notes that, "If it looks like a beautiful rosé wine in a glass and comes across very wine-like on the palate, we can target some non-traditional craft beer drinkers."
Since it's sold locally, it works year-round in New Orleans' humid southern climate, while in other parts of the country, you may think of rosé beer as more of a summer concoction, he adds.
Rosé Beers in Wine Country
In California Wine Country, grapes give rosé beer its color and flavor. Firestone Walker Brewing Company of Paso Robles, California, lies right in the middle of wine territory; more than 250 wineries grow grapes in Firestone's home San Luis Obispo County. Its flagship products include Rosalie, a beer made with a variety of local wine grapes, including Chardonnay, Sauvignon Blanc and a little Muscat "which has a real interesting almost tropical aroma and flavor," Brewmaster Matt Brynildson explains. Firestone introduced Rosalie in 2018.
"When you get grapes in the mix" the acidity level changes "so there's a real divide in how wine and beer play on the palate," Brynildson says.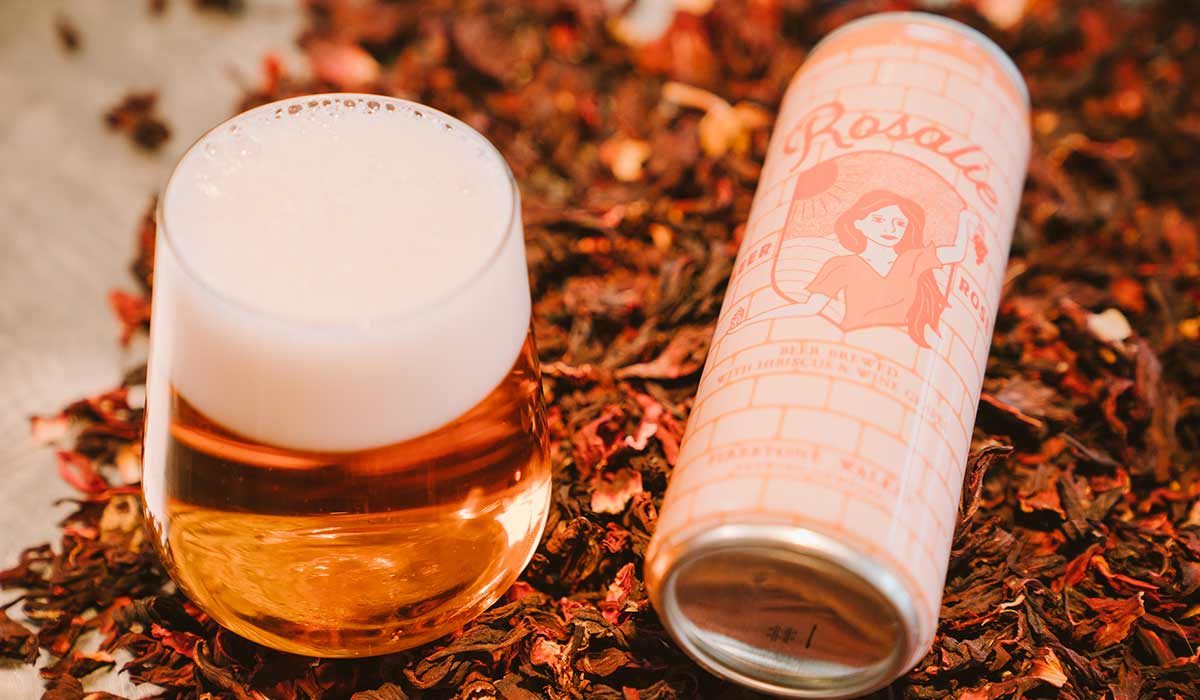 Firestone, therefore, learned to carefully balance the types of grapes through trial and error. The California brewery also adds hibiscus flower, which brings out the color, since the brewer needed to use a lot of white grapes to get the right aroma and flavor and the beer doesn't use other fruits that might give a pink hue. The amount of Rosalie the brewery makes is limited by the amount of grape juice available from the harvest, Brynildson says.
"It is a real departure from anything we've made to this point," Brynildson says. "We're in the middle of wine country, so it made sense to us. I suppose it's part of the rosé trend or craze or whatever you want to call it. To us, it is a wine/beer hybrid inspired by what is going on around us here."
(More: Great American Beer Bars 2019)
Brynildson acknowledges Rosalie as mainly a summertime drink and the test will come this summer as to how well it goes over.
"For me, it's the perfect poolside crusher." Rosalie has about half the alcohol of a typical wine (5% ABV) and "adding carbs leads to a refreshing drinkability," Brynildson says.
Calicraft Brewing Company of Walnut Creek, California, adds cherries and raspberries to the grapes. After releasing a series of rosé beers in the past–including a high-ABV Reserve Rosė similar to a dry barleywine–Calicraft now offers six-packs of its sparkling Rosė Ale at a mid-range 6.5% ABV.
"We wanted to make the flavor of wine with the ABV of beer, more easy to drink." Thomas Vo, Calicraft Brewing Co.
"We were thinking about the connection between malt beers and grape skins. But for the Rosė Ale, instead of the ABV of wine, we wanted to make the flavor of wine with the ABV of beer, more easy to drink," explains Thomas Vo, Calicraft marketing director and brewmaster.
"A lot of other rosé beers use hibiscus color as part of it. For me, color has to be reflective of the flavor. It has to taste pink. It has to have those notes. Color is important but only if the flavor is there. Otherwise, you feel like you're cheating the consumer," Vo says.
Long Before Rosé Beer was Trendy …
Grape beers don't need to come from California. Upland Brewing Company of Bloomington, Indiana, works with the nearby Oliver Winery and Vineyards to create its Oak & Rosé barrel-aged fruited sour ale, a blend with a higher ABV (7%) than most rosé beer. The brewery/winery collaboration started about 13 years ago, long before the rosé beer trend "when we swapped a couple cases of beer for their spent wine barrels," explains Pete Batule, Upland COO and head of brewing operations.
Upland used Oliver's barrels to age beer. Later, Upland started experimenting with Oliver's grapes. About two years ago, Upland started using the same grapes for its beer as Oliver does for rosé wine: Chambourcin, a relatively new hybrid that grows well in Indiana.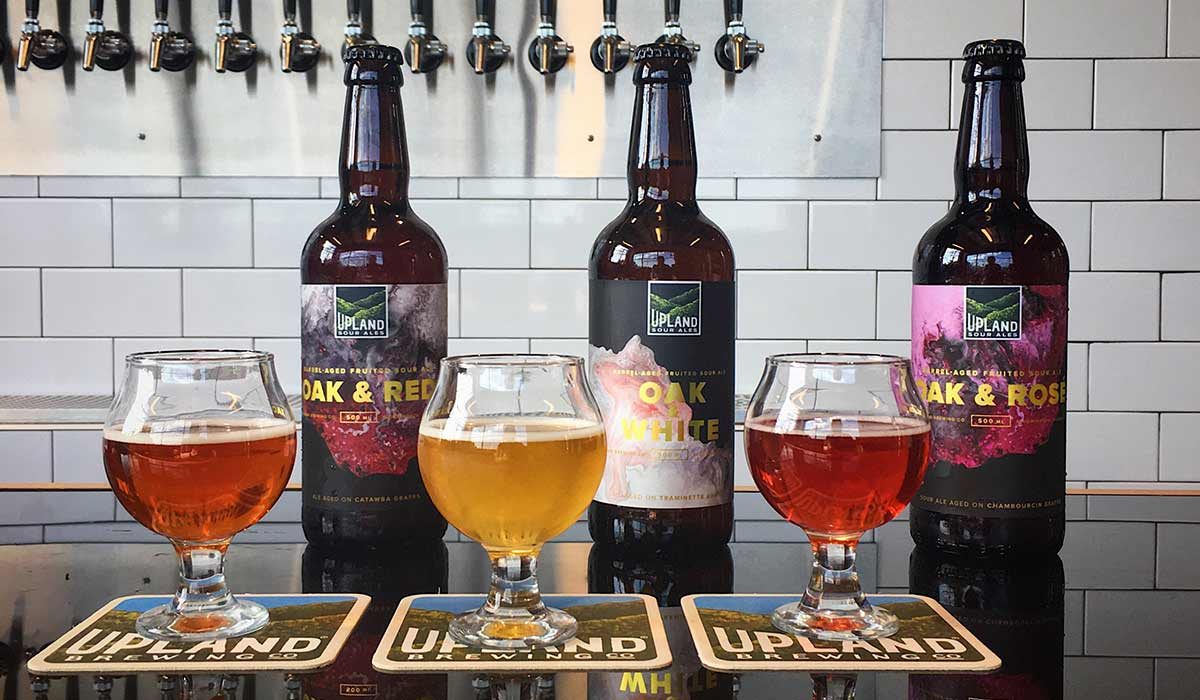 (Related: Is Skunky Beer This Summer's It Beer?)
"For us, the color was really important but we wanted to make sure it had wine-like properties. We experimented with color to make sure it was right," Batule says. Upland and other brewers consider the pink color so important, they suggest enjoying rosé beers in a stemmed glass to parallel the wine-drinking experience.
Oak & Rosé consists of a combination of Upland's base beer aged for a year, with the grape product aged three months. The combination leads to a higher ABV than most rosé beer.
"Folks that enjoy wine like this as it blurs the line a little because it tastes like wine," Batule says.
And it's not only fruits and flowers that are adding to these beer's rosé wine qualities. Try Himalayan salt? Hoof Hearted Brewing of Marengo, Ohio, brews a 5.5% ABV Rosé Gosé, which gets its color and flavor from a blend of hibiscus, Himalayan pink sea salt and coriander. While a salty gose might not seem vinous, many traditional French examples of the wine are known to be savory, sometimes with a note of allspice.
"It was definitely inspired by rosé from France," Hoof Hearted Manager Andrew Dolan explains.
"Coriander gives it an earthy tone," Dolan adds.
(Find: Breweries Near Me)
Future of the Pink Beer Trend?
What is the future of rosé beer?
"I don't see it being the new IPA or some giant movement of beers, but I think every time you come up with something a little new and it tastes good and looks good and is something people would want to have more than one of, you have some success," says Christopher Leonard, brewmaster and operations manager for Heavy Seas Beer of Baltimore. Heavy Seas makes several pink beers but doesn't call them rosé, though it could.
"It is just another step in the innovative process for the world of craft beers," Leonard explains.
And as the weather gets warmer, you'll likely see more of it around.
As Shakespeare nearly penned: "A rosé by any other name would taste just as sweet."
CraftBeer.com is fully dedicated to small and independent U.S. breweries. We are published by the Brewers Association, the not-for-profit trade group dedicated to promoting and protecting America's small and independent craft brewers. Stories and opinions shared on CraftBeer.com do not imply endorsement by or positions taken by the Brewers Association or its members.