Small and independent craft brewers saw a six percent rise in volume and accounted for more than 12 percent market share in the beer industry in 2016, according to an annual report released Tuesday by the Brewers Association (BA).
The report, which also gave insight into how acquisitions are impacting the segment, is compiled by the Brewers Association (the publishers of CraftBeer.com) and led by the BA's Chief Economist Bart Watson. Watson says it's important to understand what the numbers inside the report mean.
"The goal of this release is not to measure the health of craft beer (which the BA does not define). We are trying to measure the health of small and independent brewers," Watson writes in a separate blog post analyzing the findings.
The nuance is important. Polls show beer drinkers increasingly care about who makes their beer.
Here are more juicy numbers from the BA report:
16.6 Percent
The number of operating U.S. breweries grew 16.6 percent from 2015 to 2016.
99 Percent
Small and independent breweries accounted for 99 percent of the operating breweries in the U.S. in 2016.
The South Heats Up
Four Southern states — Virginia, North Carolina, Florida and Texas — each saw a net increase of more than 35 breweries in 2016. The BA report says it's a sign the region is establishing "a strong base" for growth. (Need proof? CraftBeer.com contributor Nora McGuinnigle shows you Craft Breweries to Watch in 7 Southern Cities)
129,000 Jobs
Craft brewers provided nearly 129,000 jobs, according to the BA. That's 7,000 more than in 2015.
(MORE: Who Owns Maui Brewing? Media Misprint Concerns Owner Garrett Marrero)
How Acquisitions Impacted Craft Beer in 2016
One factor to consider when looking at craft brewer growth year to year is how acquisitions of small breweries by large global brewers factors into the big picture.
"This has been a catalyst for slower growth for small and independent brewers and endangered consumer access to certain brands," Watson says. "Small and independent brewers were able to fill in the barrels lost to acquisitions and show steady growth."
And the smallest of those small breweries are helping keep barrel production numbers high. Watson says microbreweries and brewpubs delivered 90 percent of the craft brewer growth.
(MORE: Mark Your Calendar for American Craft Beer Week 2017)
The growth report is the second major news release out of the BA this month. Two weeks ago, the not-for-profit group released its list of Top 50 U.S. Craft Brewers. The rankings were objective, directly based on volume of beer produced by small and independent craft brewers (which some undiscerning readers mistook for a "best of" listicle, creating a firestorm on the CraftBeer.com Facebook page, asking why their favorite brewery wasn't listed).
The BA's methodology for today's growth report was based on data collected from the Beer Industry Production Survey (BIPS). You can read more about the data at the Brewers Association's website. Watson will give more insight into the numbers during April's Craft Brewers Conference in Washington, DC, and full industry analysis will be published in the May/June 2017 issue of The New Brewer.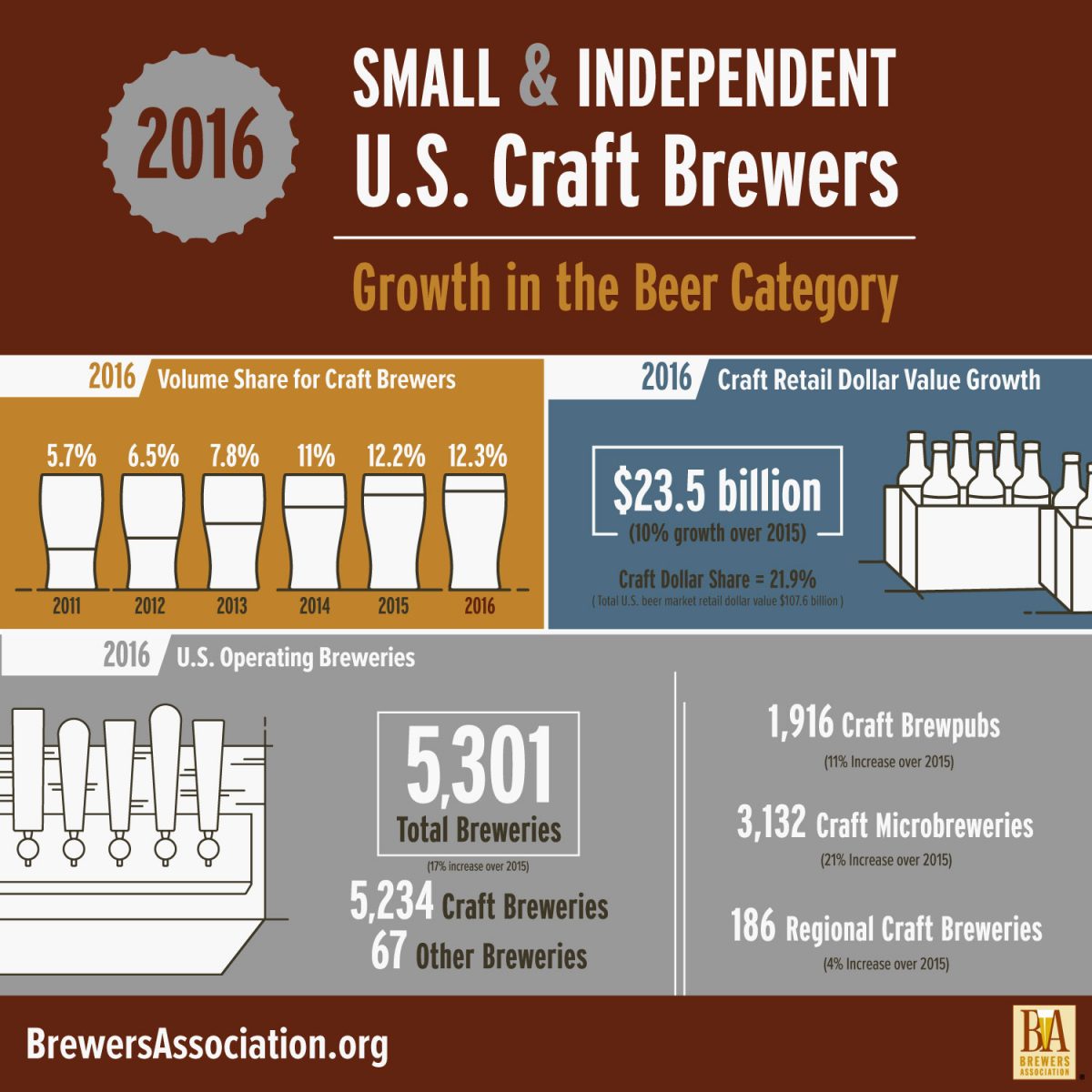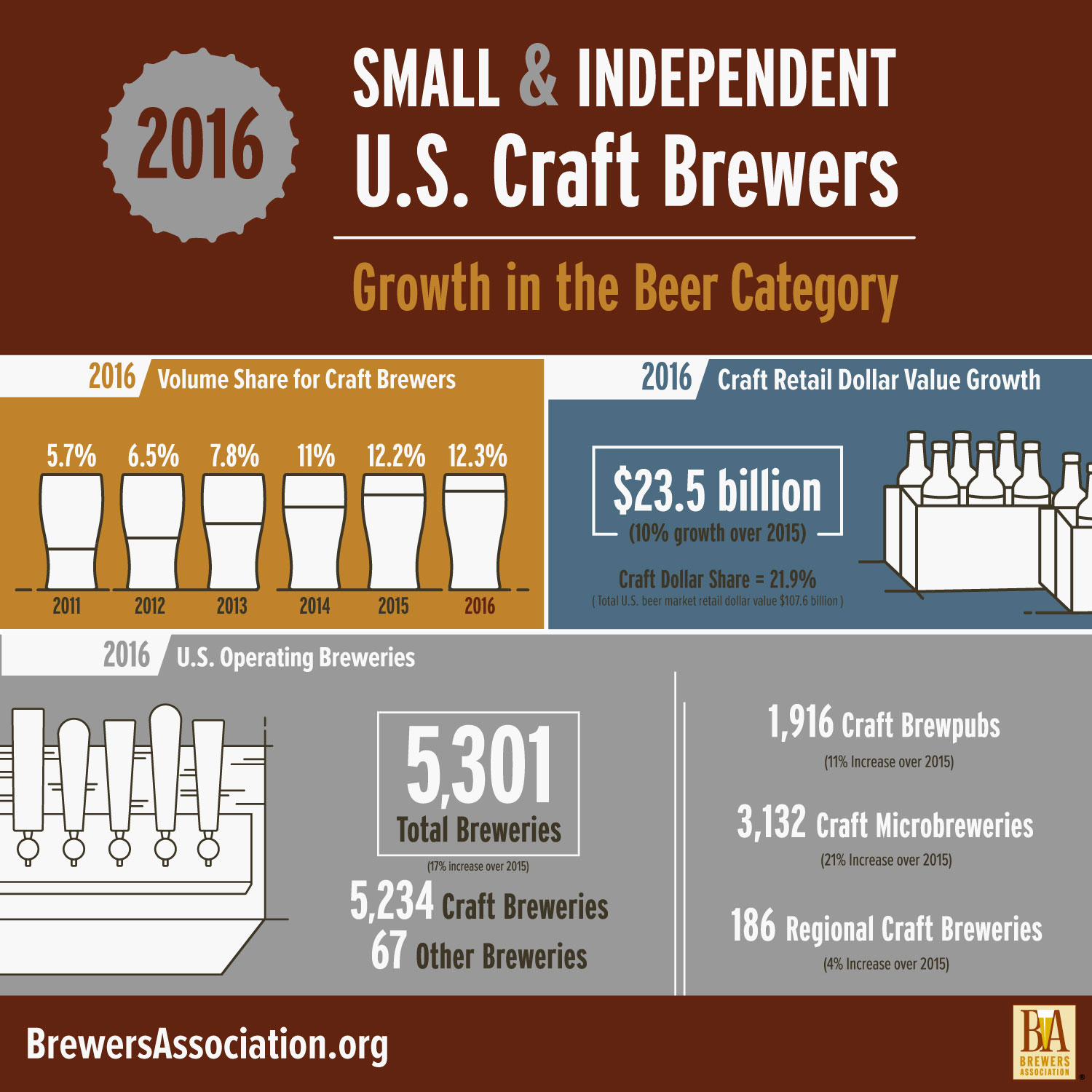 CraftBeer.com is fully dedicated to small and independent U.S. breweries. We are published by the Brewers Association, the not-for-profit trade group dedicated to promoting and protecting America's small and independent craft brewers. Stories and opinions shared on CraftBeer.com do not imply endorsement by or positions taken by the Brewers Association or its members.