A cease and desist letter delivered to a Minneapolis craft brewer is quite the viral sensation.
Minneapolis' Modist Brewing unveiled Dilly Dilly on Friday, Dec. 1, a double IPA made with Mosaic hops. If you've watch any primetime tv or NFL football this season, you'll instantly recognize the refrain "Dilly Dilly" from Bud Light's recent tv commercials which are set in medieval times.
When Modist announced the beer release, it got a big laugh from beer lovers on Facebook, but what happened during Friday afternoon's release is going viral. A video posted on Modist Brewing's Facebook page (see bottom of page) shows a man walking into the brewery dressed like an old-timey town crier and he's carrying a scroll. Then, the performance begins.
(VOTE: 2018's Great American Beer Bars)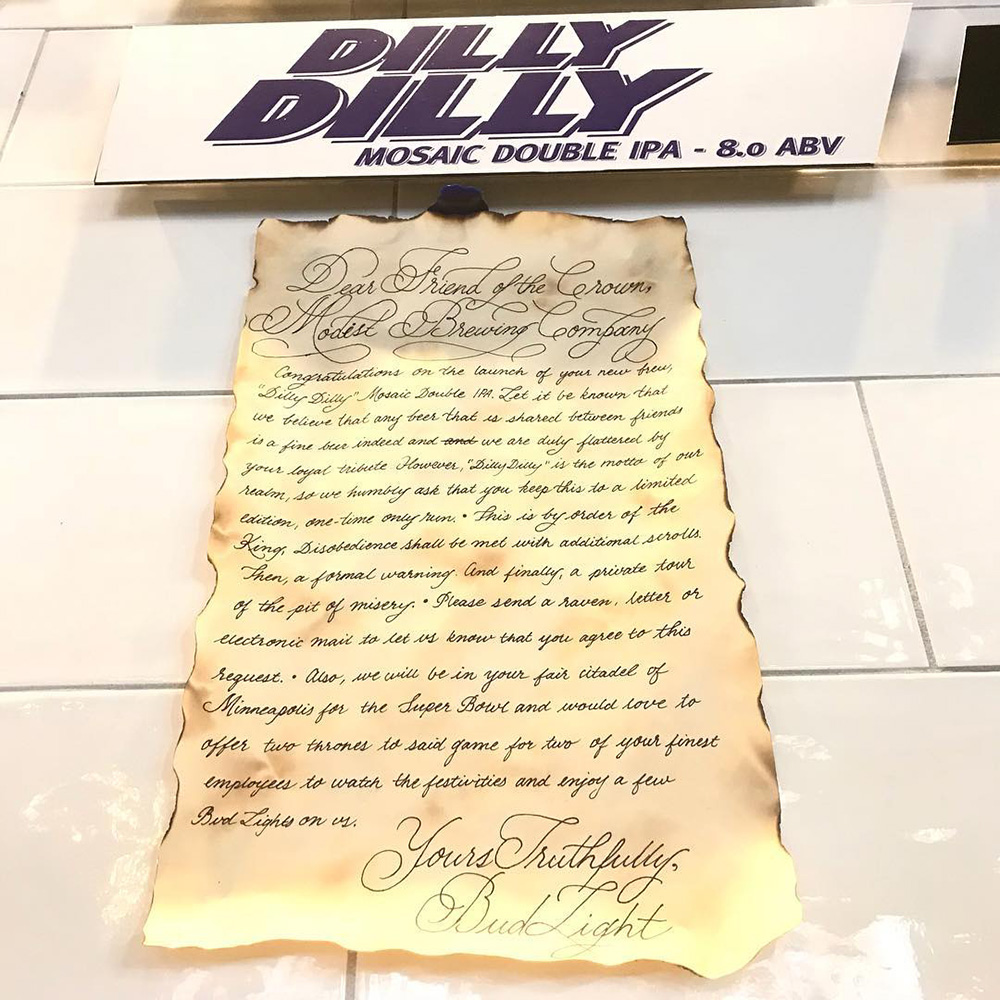 "Hear ye, hear ye. Dear friend of the crown, Modist Brewing Company," the town crier addresses the crowd. "Congratulations on the launch of your new brew, Dilly Dilly Mosaic Double IPA. Let it be known, any beer that is shared between friends is a fine beer indeed. And we are duly flattered by your loyal tribute."
As you watch the video, you see confused customers continue to walk through the door behind him, wondering what on earth is happening. He's not fazed and continues reading from the scroll:
"However, 'Dilly Dilly,' is the motto of our realm, so we humbly ask you keep this to a limited edition, one time only run. This is by order of the king. Disobedience will be met with additional scrolls, then a final warning, then a private tour of the Pit of Misery," — a reference back to the commercials.
(READ: Lake Erie Algae Crisis Inspires Ohio Brewery's Green Beer)
The town crier continues reading a little more legalese from the scroll before dropping yet another surprise: offering Modist two tickets to the 2018 Super Bowl in Minneapolis.
It sounds unbelievable, but Modist employees say, "It's 100% real," and "No one at the company knew it was happening." Co-founder Kale Anderson told Growler Mag they realized the slogan was trademarked by Bud Light, and "got a little scared … but then we said, 'Screw it. Let's see what happens.' And that's what happens."
The video has been viewed a quarter of a million times. The brewery has now also posted a photo of the signed scroll itself. Modist says it'll rename the beer "Coat Tails" and they're taking the cease and desist — and no doubt all the attention they're getting — in stride. Pretty classy moves by both sides if you ask us, since at the end of the day, beer is supposed to be fun.
CraftBeer.com is fully dedicated to small and independent U.S. breweries. We are published by the Brewers Association, the not-for-profit trade group dedicated to promoting and protecting America's small and independent craft brewers. Stories and opinions shared on CraftBeer.com do not imply endorsement by or positions taken by the Brewers Association or its members.