Ahead of International Women's Day, and to celebrate the 100th anniversary of the 19th amendment, nine pioneering and innovative women in craft beer gathered at a media event in Manhattan Thursday, March 5. During the event, organized by the Brewers Association, publisher of CraftBeer.com, the brewery leaders talked about the beer community, mentoring, and the value of building strong relationships.
From Mari Kemper, who opened Thomas Kemper Brewing in Seattle with her husband in 1984 and now co-owns Chuckanut Brewery & Kitchen in Bellingham, to Tamil Maldonado Vega, who launched Raices Brewing in Denver five months ago, nine women reflected on topics ranging from the need for gluten-free beer to the surprising number of women working in Mexico and Turkey's craft brewing industries. That said, much of the session revolved around ways the women make their US-based businesses more inclusive to females and ways they recommend women get ahead in their careers.
"My advice is similar to what I tell men: Put your head down and hand up. You would be amazed at how quickly you can get promoted," said Leah Cheston of Washington, D.C.'s Right Proper Brewing. "And be out there. Keep doing it. Be an example so that 'women in beer' is not a weird thing anymore."
(Related: Discrimination Lawsuit Targets California Brewery's Women's Beer Forum)
"Build relationships with other women," advises Maldonado Vega. "Be part of the craft beer community and be your best. Keep up with all the evolutions and patterns."
And Julia Herz, BA Craft Beer Program Director, who moderated the event, added that women who want to get into the craft beer world might first teach themselves how to homebrew.
"Start brewing," she said. "It gives you professional brewing experience in your own home."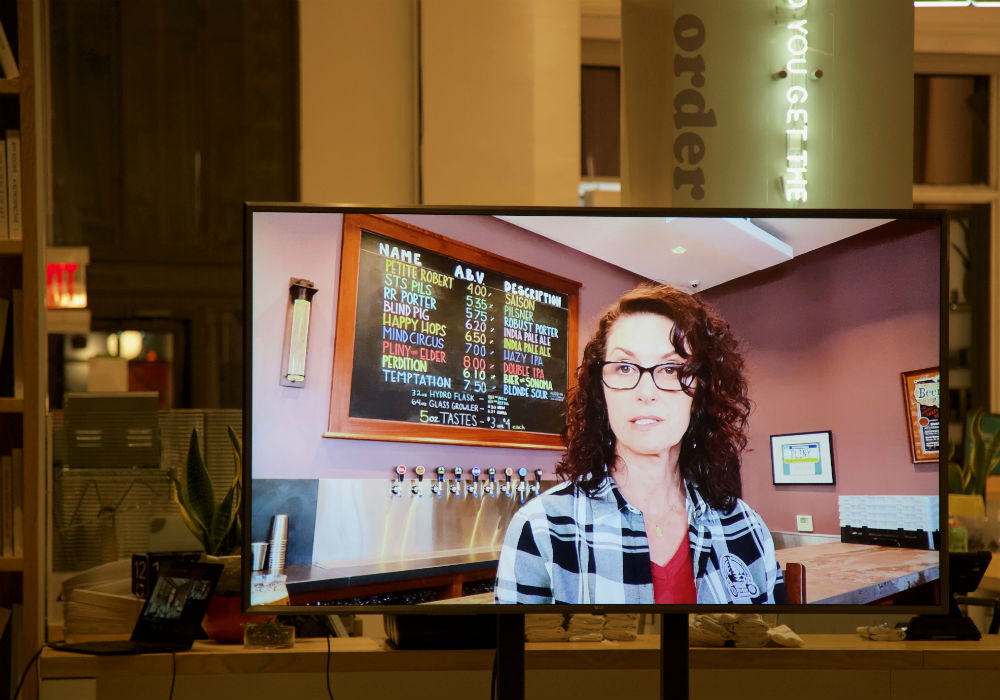 Speaking via recorded video because she caught a bug that kept her from flying in from Santa Rosa, California, Russian River Brewing co-owner Natalie Cilurzo said she makes herself available as a mentor to women just as she works to set an example for her employees.
"I consider mentoring to be very similar to how I run my company," she said. "I want my employees to feel they can come to me."
Karen Hertz of Golden, Colorado's gluten-free Holidaily Brewing, said in addition to learning everything possible about the craft beer industry, styles, pairings, and more, "Have female leaders (at the brewery) willing to show people the ropes."
"Look beyond just the industry," adds Dogfish Head Craft Brewery co-founder Mariah Calagione. "We look to our vendors, our banks, all the people supporting our brewpubs, and make them understand we want them to value this and we're looking at who they're sending in."
And Theresa McCulla, who's curating the BA-supported Brewing History Initiative at the Smithsonian National Museum of American History, takes care to include women in her collection and talk about them whenever possible. She rarely misses an opportunity to mention investors and workers Suzanne Stern Denison and Jane Zimmerman when she speaks about Sonoma, California's long-shuttered New Albion Brewing as the first ground-up brewery built in America since after Prohibition. Founder Jack McAuliffe usually receives all of the credit for that endeavor.
(More: Brewer Averie Swanson Starts a New Chapter in Chicago)
"Suzy had the van and brewed the beer herself when Jack wasn't there. Two women funded the first craft brewery," she told the audience.
And Virginia Morrison, of San Diego's Second Chance Brewing, tells men that women can't eradicate discrimination on their own.
"If you're in a room and someone talks over a woman or takes over an idea, speak up. Speak up. We will be your best friends."
In the above photo:
Front Row, L to R: Theresa McCulla, Smithsonian National Museum of American History, Washington, DC, Mari Kemper, Chuckanut Brewery, Bellingham, WA, Leah Cheston, Right Proper Brewing Company, Washington, DC
Back Row, L to R: Virginia Morrison, Second Chance Beer Company, San Diego, CA, Tamil Maldonado, Raices Brewing Company, Denver, CO, Karen Hertz, Holidaily Brewing Company, Golden, CO, Ting Su, Eagle Rock Brewery, Los Angeles, CA, Mariah Calagione, Dogfish Head Craft Brewery, Milton, DE, Julia Herz, Brewers Association
CraftBeer.com is fully dedicated to small and independent U.S. breweries. We are published by the Brewers Association, the not-for-profit trade group dedicated to promoting and protecting America's small and independent craft brewers. Stories and opinions shared on CraftBeer.com do not imply endorsement by or positions taken by the Brewers Association or its members.