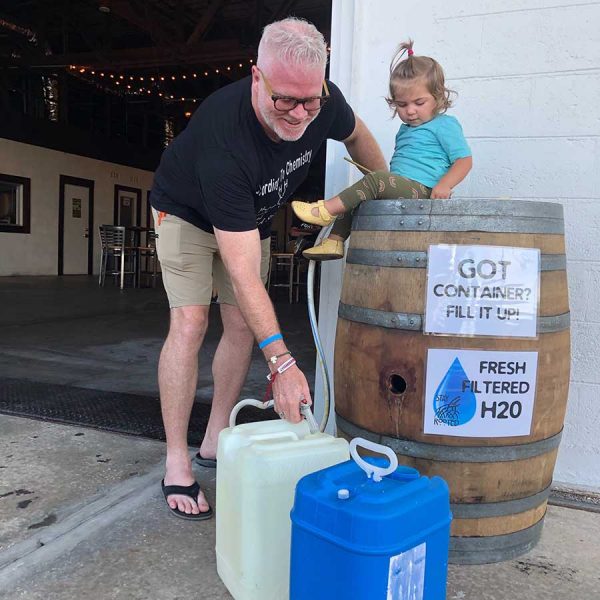 Florida Breweries Help Communities Prepare for Hurricane Dorian
While Floridians are rushing to grocery stores and big box stores to prepare for Hurricane Dorian, Florida's craft breweries begin offering an alternative way to prep during the frenetic hustle.
Each year when hurricane season begins on June 1, most Floridians meet the opening of this potentially dangerous time with disinterest and apathy until a named storm is a few days away; I'm a Floridian myself and I witness it every year. Once the storm has the Sunshine State in its crosshairs, Floridians start the Black Friday-esque rush of last-minute preparations.
As members of their respective communities, Florida's craft brewers are doing their part ahead of Hurricane Dorian. Many, like Tampa Bay Brewing Co., are using their social media channels as a platform to urge their communities to prepare now.
"Don't panic, don't hoard, take a deep breath and use time wisely," the brewery advises on Facebook, reminding people to prep first aid kids and flashlights now, and offering other tips in case people lose power for days after Dorian.
(READ: New List Ranks 10 Best Cities for Beer Lovers)
Some Florida breweries are offering to fill citizens' water containers from their brewing equipment for free both before and after the storm. Considering grocery stores and gas stations shelves are running out of bottled water, it's a generous contribution.
"We are first and foremost a community-centric brewery," Grove Roots Brewing owner Joe Dunham says in an interview with CNN. His Winter Haven brewery is among those helping. "We believe in our small town and will do all we can to help people. If the need arises, we will have plenty of water to share. It's the least we can do for the community we love."
Filling water containers is both practical and helpful for many craft brewers. When a hurricane approaches with the potential loss of power, brewers would rather play it safe than sorry. If a brewery were to lose power without a backup generator, then the beer in the tanks would not ferment at optimum temperature resulting in potential off-flavors or spoiled beer. In order to avert this problem, brewers often forgo brewing a batch of beer until after a storm.
Open time in the brewing schedule can leave water in the brewing tanks or the brewer can simply be proactive and fill their tanks ahead of the storm anticipating a need for clean water–after all, a brewery's tanks hold hundreds or thousands of gallons of water.
(VISIT: Epic Craft Beer Road Trip: Breweries Along the Great River Road)
Some breweries are already announcing that, if conditions are safe enough, they plan to swiftly open after the hurricane passes to offer people cool, dry places to escape while charging phones and tablets.
Breweries often have backup generators or are in industrial areas that may be restored first. Often, breweries who don't have severe damage will then open their doors to offer folks cooped up in their homes a respite, or even serve as donation centers like we witnessed when Houston breweries came together after Hurricane Harvey in 2017.
If you live in the path of the hurricane, or you have a loved one who does, keep a close eye on your local breweries over social media. It's the fastest way they'll alert you about water availability before the storm, and any plans they have for reopening after. I'm also monitoring and will update on floridabeernews.com.
Stay safe, fellow Floridians.
CraftBeer.com is fully dedicated to small and independent U.S. breweries. We are published by the Brewers Association, the not-for-profit trade group dedicated to promoting and protecting America's small and independent craft brewers. Stories and opinions shared on CraftBeer.com do not imply endorsement by or positions taken by the Brewers Association or its members.