Employees at two Pennsylvania breweries are probably pulling for their football team even more after agreeing to a wager where an Eagles super bowl loss would result in them wearing goat masks. (Is anyone else eager for GOAT (Greatest Of All Time) Tom Brady to retire just so we can stop hearing that phrase?!)
The super bowl wager played out this week on Twitter, with Massachusetts brewers Samuel Adams and Jack's Abby joining forces against Pennsylvania's Yuengling and Victory Brewing Co.
(READ: Modist Brewing Raffles Super Bowl Tickets from Bud's 'Dilly Dilly' Cease & Desist)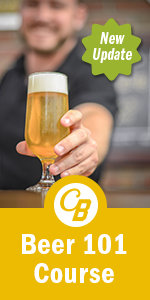 What's on the line? The losing breweries have to wear the opposing team's jerseys/colors at the brewery as well as don the opposing team's signature mask — (dog masks represent Philly and those GOAT masks rep New England).
But it's not all about competition. All four breweries are using the event to accept donations for some of their favorite charities. Jack's Abby and Samuel Adams will be taking donations to help preserve the bald eagle, while Victory and Yuengling will take donations to preserve the Freedom Trail.
(READ: Charlie Papazian, Homebrewing and American Beer Icon, Announces Exit)
Sam Adams employees know what it's like to be on top (and, like most Patriots fans I know, they don't hesitate to remind you about all five super bowl rings they've raked in during the Belichick and Brady era). After the Atlanta Falcons painful-to-watch fourth-quarter implosion at the hands of the Patriots during the 2017 game, Atlanta's SweetWater Brewing made good on their bet with Sam Adams and released their signature 420 Extra Pale Ale as Patriot Beer for a limited time.
CraftBeer.com is fully dedicated to small and independent U.S. breweries. We are published by the Brewers Association, the not-for-profit trade group dedicated to promoting and protecting America's small and independent craft brewers. Stories and opinions shared on CraftBeer.com do not imply endorsement by or positions taken by the Brewers Association or its members.